Sweet and crunchy Biscoff cookies, cinnamon bun frosting, and white chocolate chips come together in this super simple and fast fudge! Ready in minutes, this decadent candy will satisfy your sweet tooth!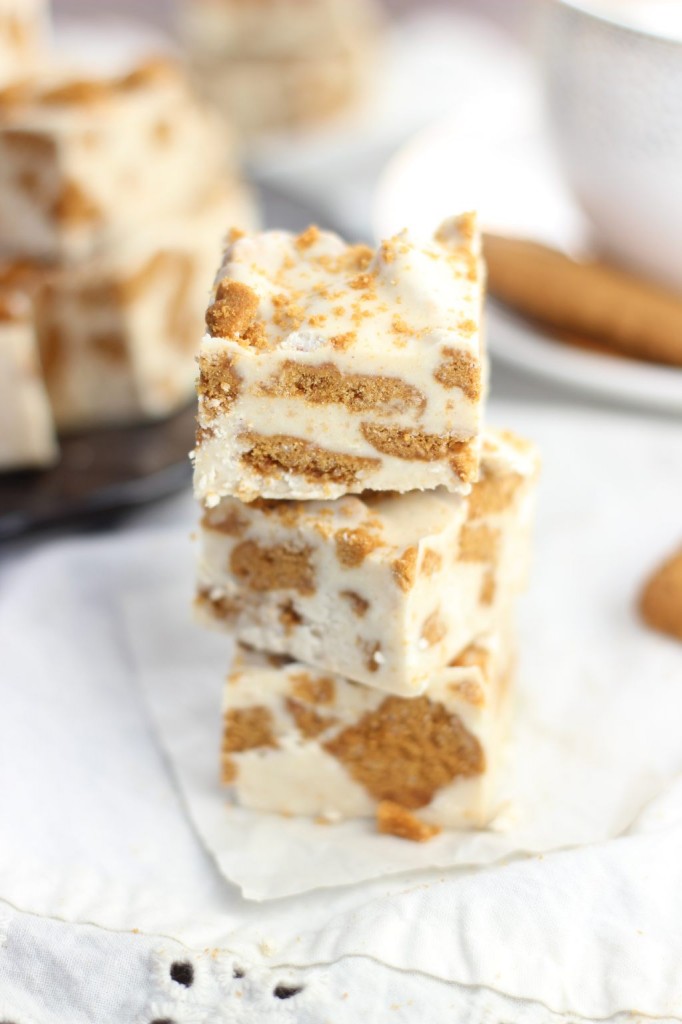 This was fudge was totally unplanned and turned into an unexpectedly awesome recipe. The recipes I share are typically thought out and pretty well-planned. I sit down for brainstorming sessions where I put together long lists of ideas (loooooong), and I spend some time thumbing through cookbooks and magazines for inspiration too. For a few weeks, I plan and debate what I want to bake, then I spend the bulk of my Sundays baking up a storm. Some things work, some definitely don't.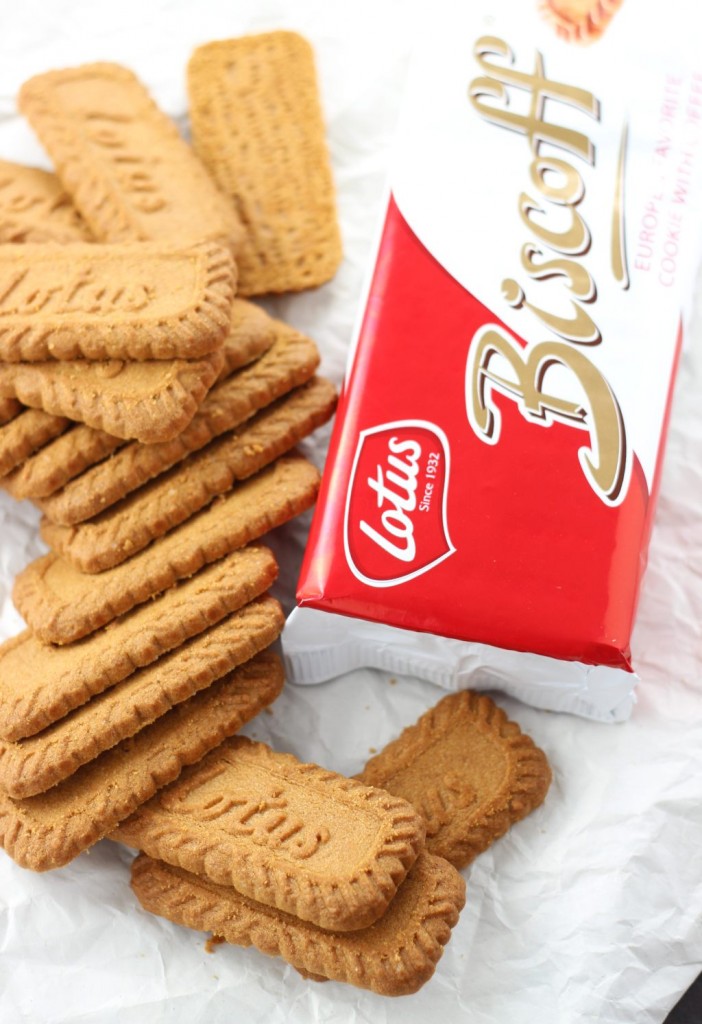 Either way, it's pretty planned out, and there's a lot of list-making for groceries, etc.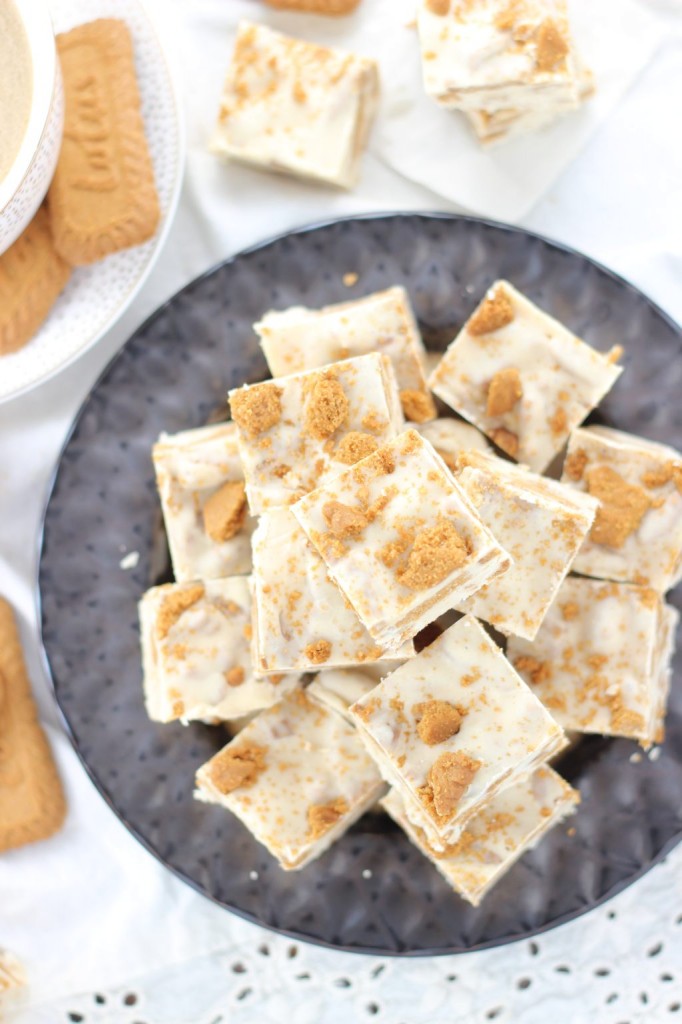 This fudge was 100% spur of the moment though, and what was cool about this spontaneous fudge-making moment, was that it only lasted about 5 minutes. Then it was over, and just like that, we were eating amazing fudge. Really, we were eating this delightful fudge in minutes.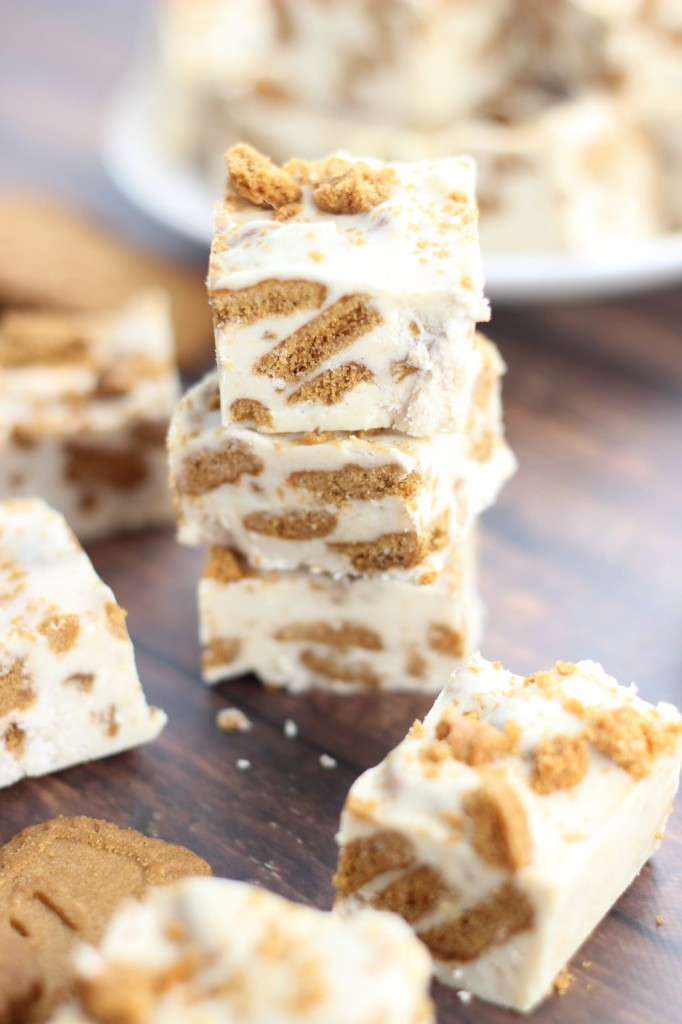 It was all meant to be. Here's why:
I bought a can of prepared frosting – which I never do – but it was Cinnamon Bun flavored, and I was very intrigued. I was tearing the label off the can (no clue why, never do that either), and I spotted a recipe on the inside of the label. It was for fudge. I thought, hey, you can make fudge from frosting? Now that's just awesome. Better still, I'm thinking that you could probably use ANY flavor of frosting that you want to – and there's a LOT of flavors. Endless possibilities.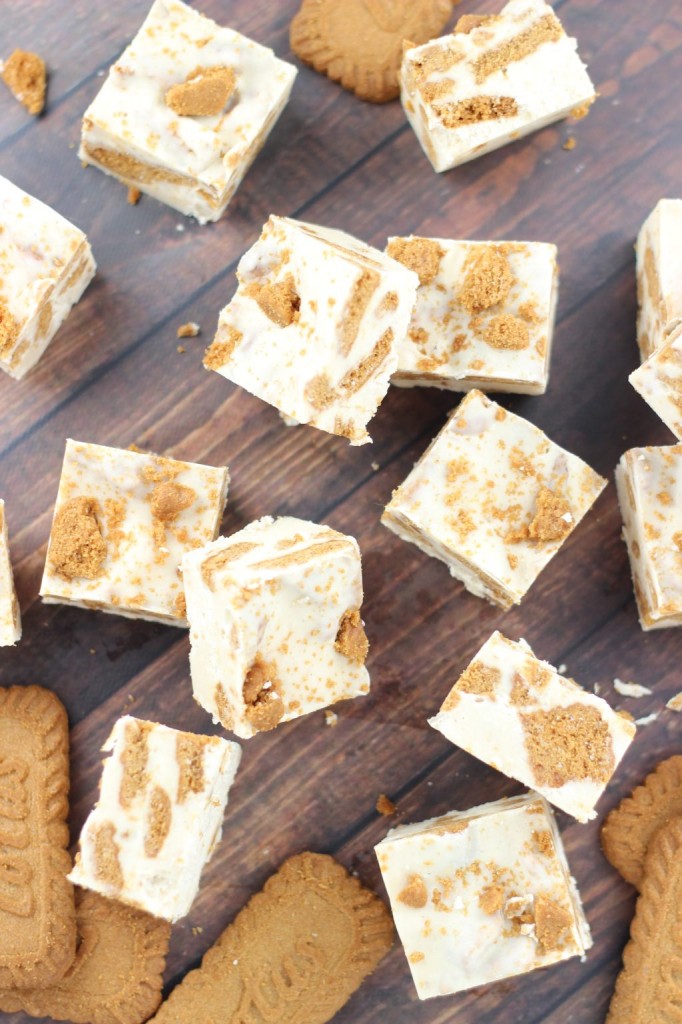 Once I decided that Cinnamon Bun fudge can and should be a thing, the wheels started turning as to how I could make it even more cinnamony and wonderful. And how I could make it kinda crunchy, because in my world, fudge is better when it has a little texture.
Biscoff cookies are the way to go here. They're a cinnamon cookie, so it's a perfect match. A crunchy, sweet, cinnamon cookie. Big pieces of Biscoff cookies, swirled together with Cinnamon Bun frosting and melted white chocolate, that sets into a decadent fudge. You can make it in the microwave within minutes. Easiest candy ever.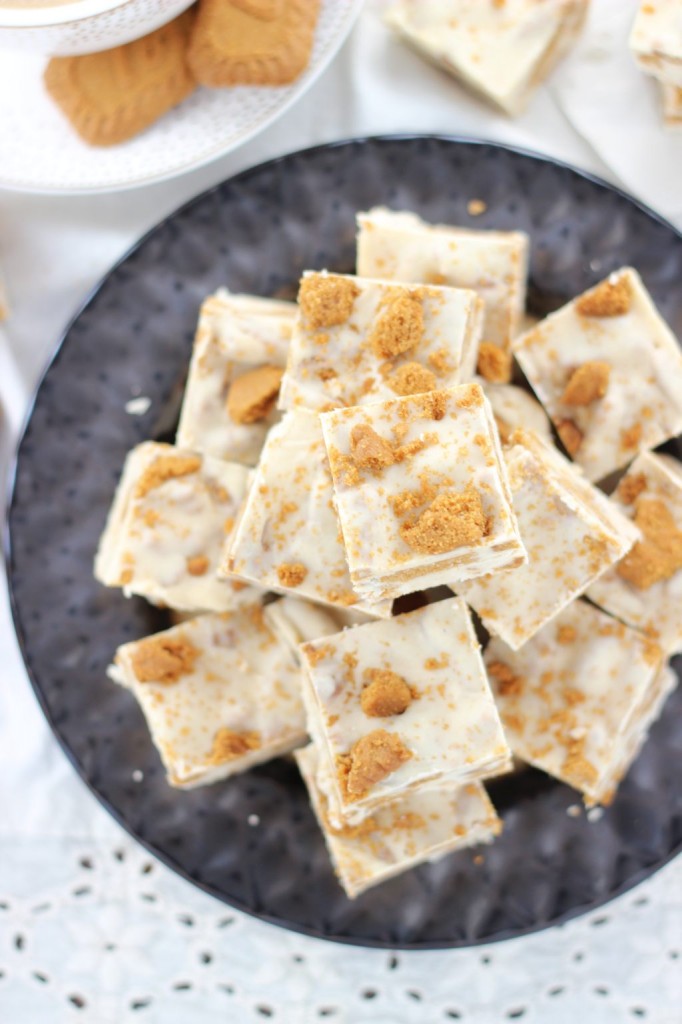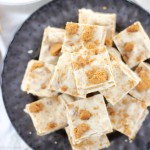 5-Minute Biscoff Cinnamon Bun Fudge
Biscoff cookies, cinnamon bun frosting, and white chocolate chips come together in this super simple and fast fudge!
Ingredients
1 - 16

oz.

container prepared Cinnamon Bun frosting

1 - 12

oz.

package white chocolate chips

3

tbsp.

butter

1

tsp.

vanilla

1 - 8

oz.

sleeve Biscoff cookies

coarsely crushed
Instructions
Line an 8-inch square pan with foil, extending it over the edges of the pan.

Lightly grease the pan.

In a large microwave-safe bowl, combine the frosting, white chocolate chips, and butter.

Microwave on high for 2 minutes, stir, then continue microwaving at 30-second intervals until the chips are completely melted and smooth.

Stir in vanilla.

Fold in the crushed Biscoff cookies until just blended.

Spread evenly into the prepared pan.

Allow to set at room temperature for about a half hour, or for 10-15 minutes in the refrigerator.

Remove from pan by lifting the edges of the foil. Remove the foil.

Cut into squares, and DEVOUR!