These M&M oatmeal carmelitas feature a buttery oatmeal cookie crust with a generous layer of caramel sauce, chopped walnuts, chocolate chips, and plenty of mini M&Ms.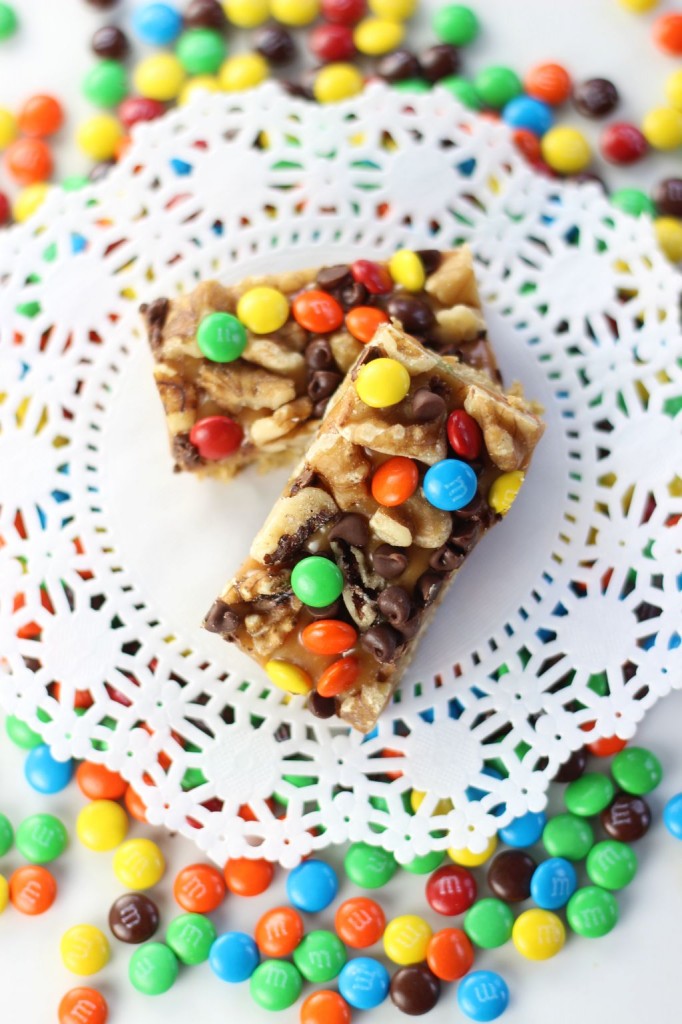 I have learned about myself that although I enjoy writing, I have to be in the right mood to sit down and actually do it. I have recipe after recipe that are ready to share, down to every last detail (and there's a shocking amount of detail that goes into putting together a post), except for actually writing about it. This little blurb here, that I'm pretty sure most people don't read anyway, is the hardest part for me to get done.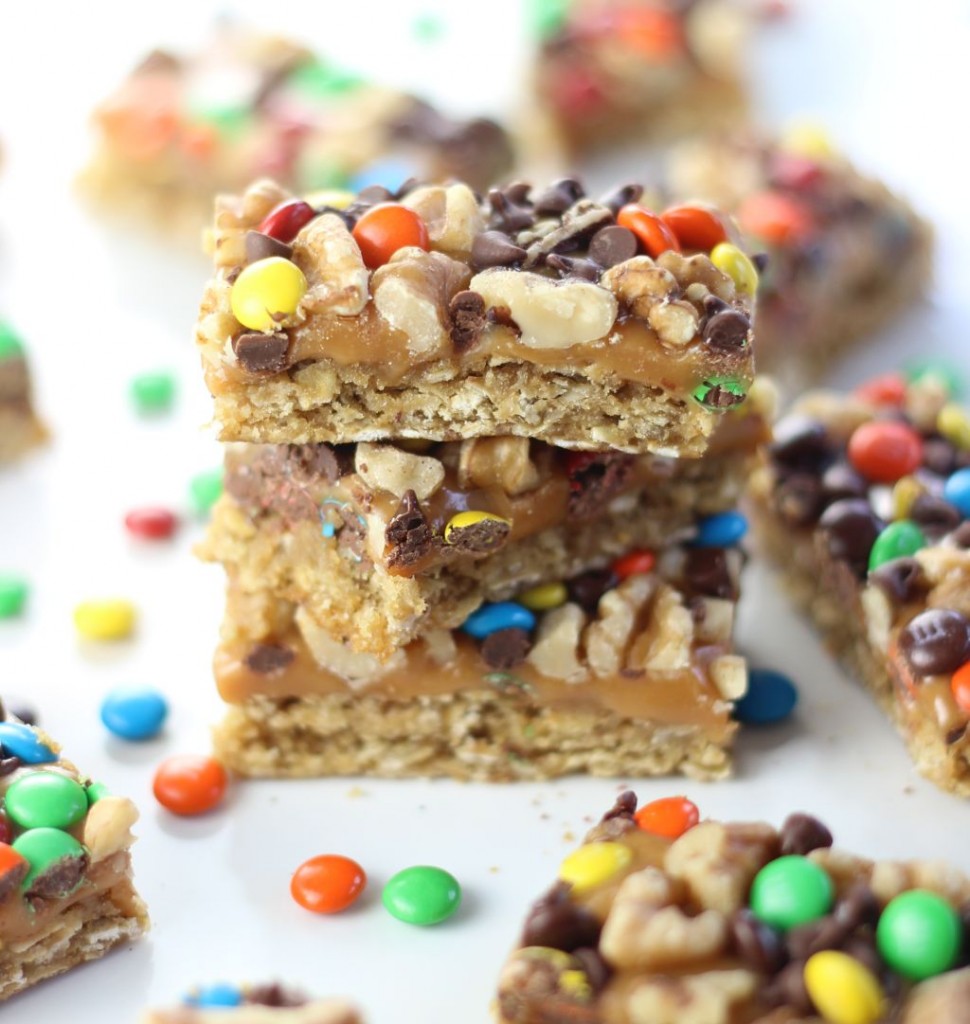 Unless I'm on a plane. Something about being on a plane. I can churn out the 'blurb' for anywhere from 4-7 posts on a 2-hour flight. Incredible, right? But if I'm sitting in my living room with my laptop, I can easily procrastinate for days. I guess it's the confined space where there's not much else to do but remain focused?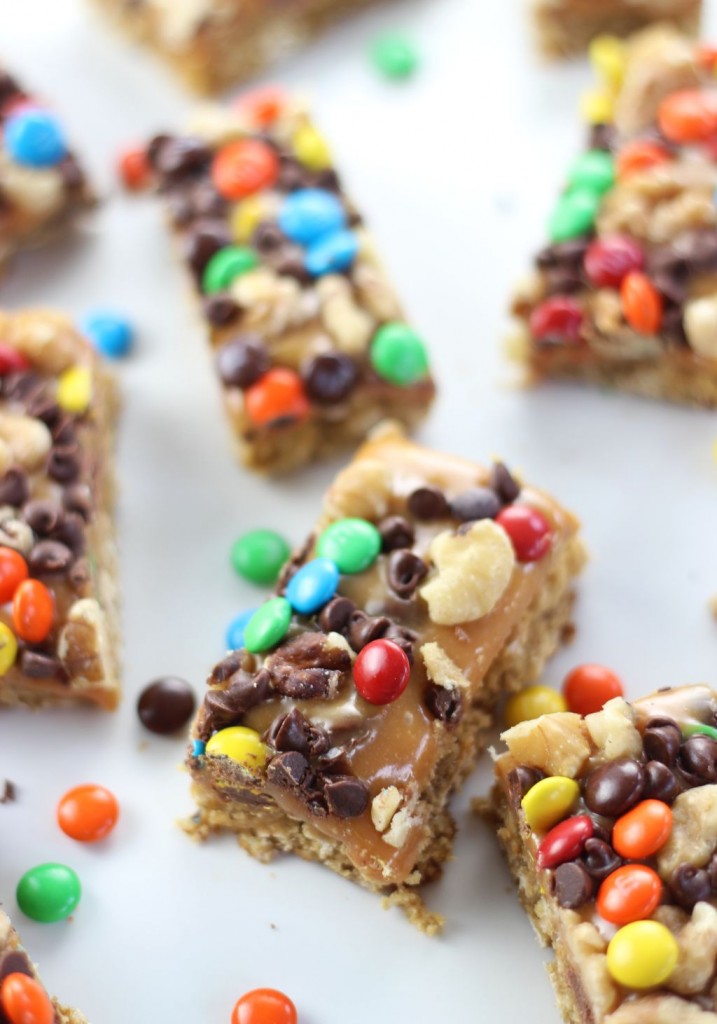 When we were traveling back from Buffalo a few weeks ago, I got sooooo much writing done… outside of the point in the flight where we paid $8 for airplane internet and streamed the Broncos game onto my laptop. Did you know you could stream live tv from an airplane?? Handy little tip there if you are hell-bent on not missing a football game.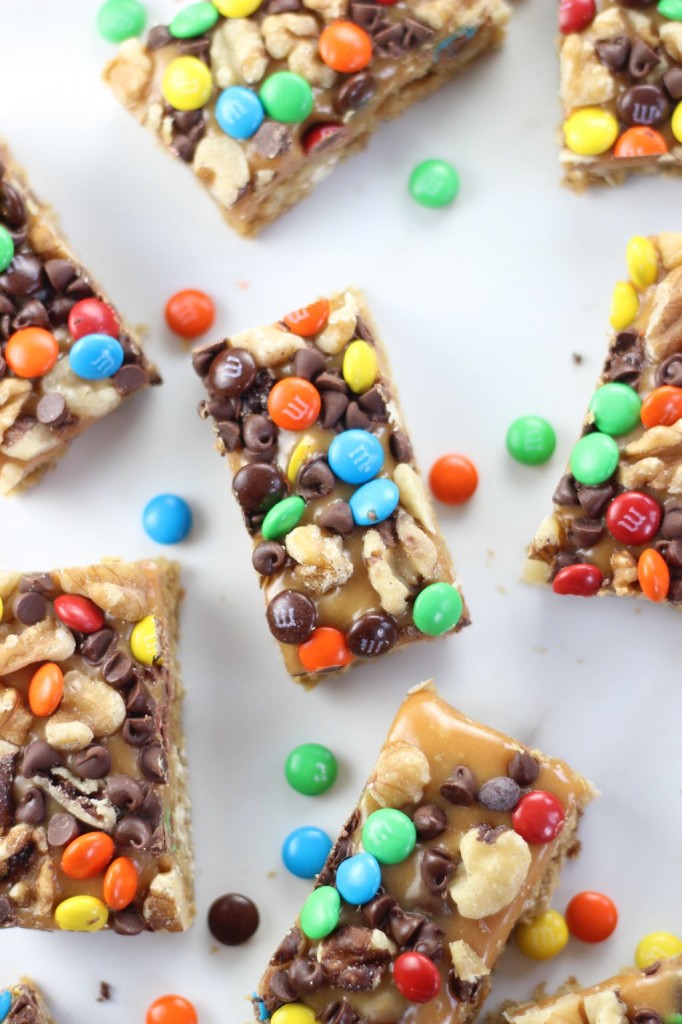 Since I can't rely on booking a flight simply for the purpose of getting blog posts written, I will have to find other ways to hunker down. Thoughts? Tips? Help!!!
Movin' on. These M&M Oatmeal Carmelitas are a derivative of a similar, very old, recipe that I have. I love my original Carmelitas recipe, but these M&M Oatmeal Carmelitas are fun because they feature a million colorful mini M&Ms instead of chocolate chips, and because they have only a bottom layer of crust, instead of a top layer too. The crust is GREAT, make no mistake, but less crust leaves more room on your tastebuds for all the chocolate and caramel goodness. With crunchy walnuts, loads of chocolate, and a buttery oatmeal crust, it is virtually impossible not to love these!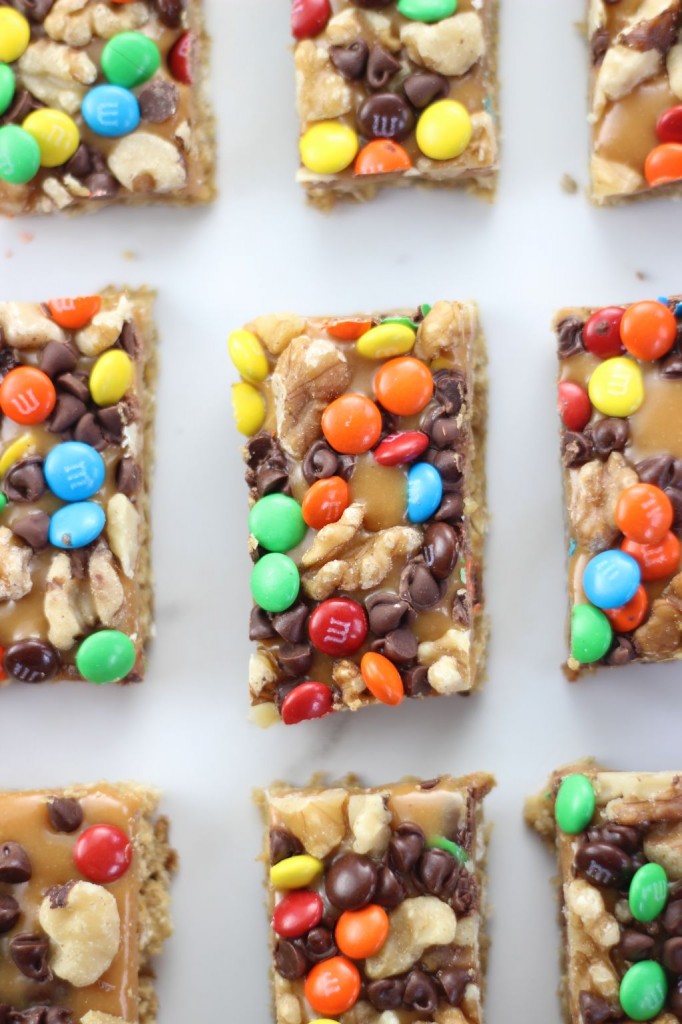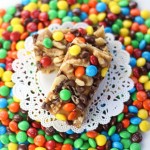 M&M Oatmeal Carmelitas
Oatmeal cookie crust with a generous layer of caramels, and topped with chopped walnuts, chocolate chips, and mini M&Ms.
Ingredients
1/2

c.

unsalted butter

softened

1

c.

packed brown sugar

1

egg

1

tsp.

vanilla

1 1/4

c.

flour

1/2

tsp.

baking soda

1/2

tsp.

salt

2

c.

quick oats

1 - 14

oz.

bag caramels

unwrapped

3

tbsp.

cream

1

c.

mini semi-sweet chocolate chips

1

c.

chopped walnuts

1

c.

plain mini M&Ms
Instructions
In a large mixing bowl, cream butter and brown sugar until light and fluffy.

Beat in egg and vanilla.

In a large bowl, combine flour, baking soda, salt, and quick oats.

Add dry ingredients to the mixing bowl, and beat until combined.

Press into a greased 9x13 baking pan.

Bake at 350 degrees for 12-14 minutes, or until golden brown on the edges.

Cool on a wire rack.

Combine caramels and cream in a microwave-safe bowl.

Heat at 30 second intervals until caramels are melted and smooth.

Spread over the crust.

Sprinkle with the chocolate chips, walnuts, and M&Ms, and gently press them into the caramel mixture.

Cool completely, and cut into bars.