Simple strawberry cake mix cookie cups are filled with from-scratch fluffy white chocolate buttercream!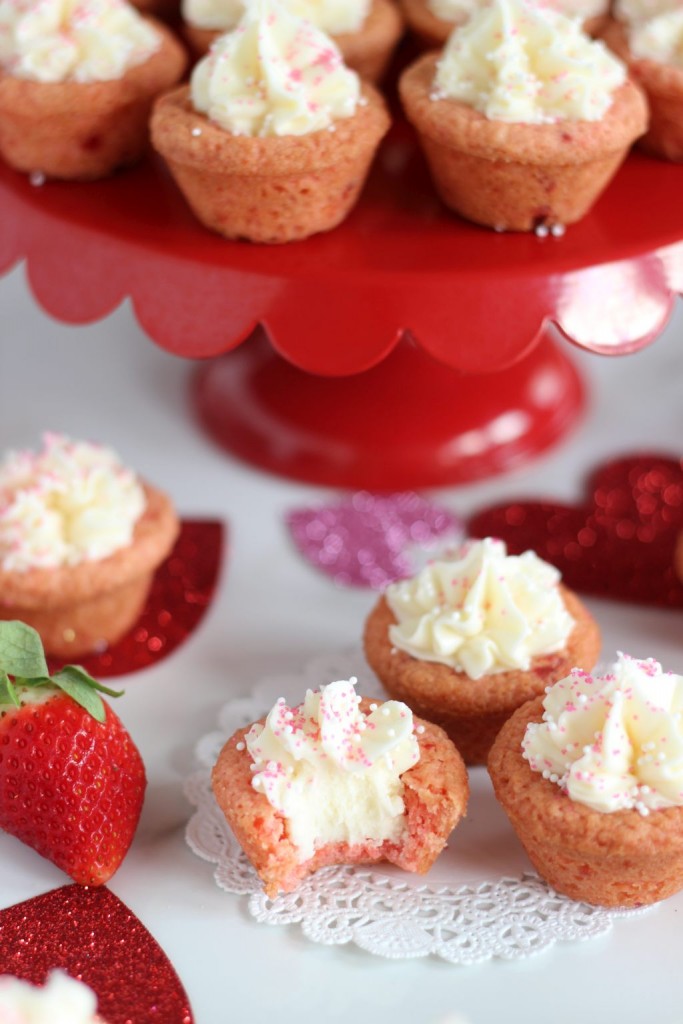 These guys… cookie cups. I love the endless possibilities and combinations that one can dream up when they discover the magic of using cake mix to make cookie cups.
So many options for cake mix these days, you could make cookie cups in a wide tapestry of flavors. And then, what do you put in the center to fill them with?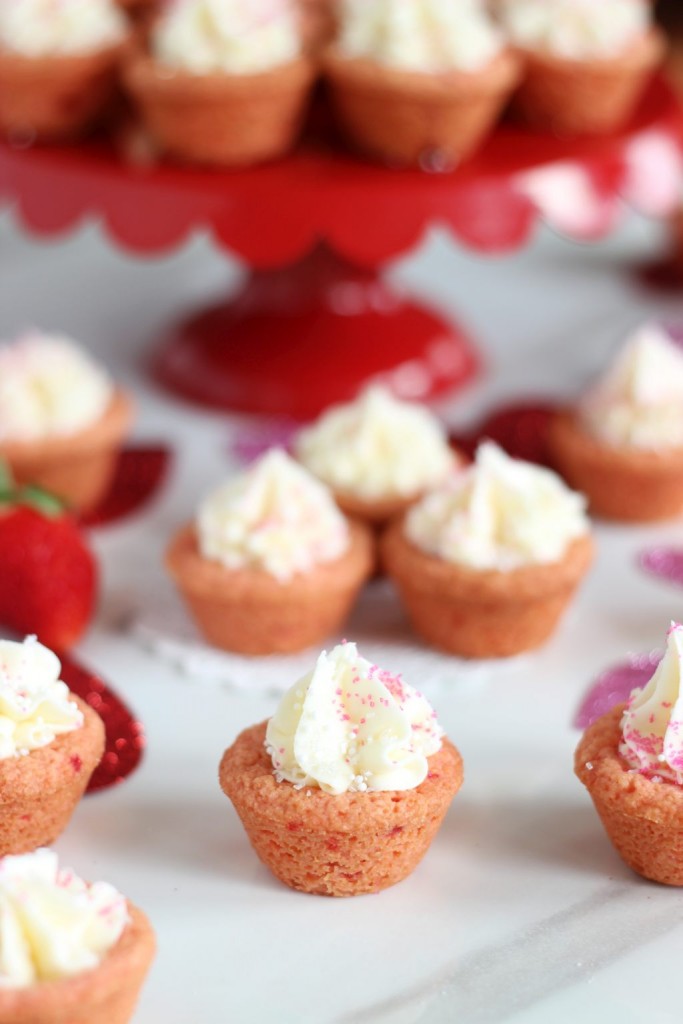 Decisions, decisions. Such difficult decisions. Fun decisions though.
I think we can all agree that strawberries and white chocolate are Valentine's Day-ish, and so I put the two together.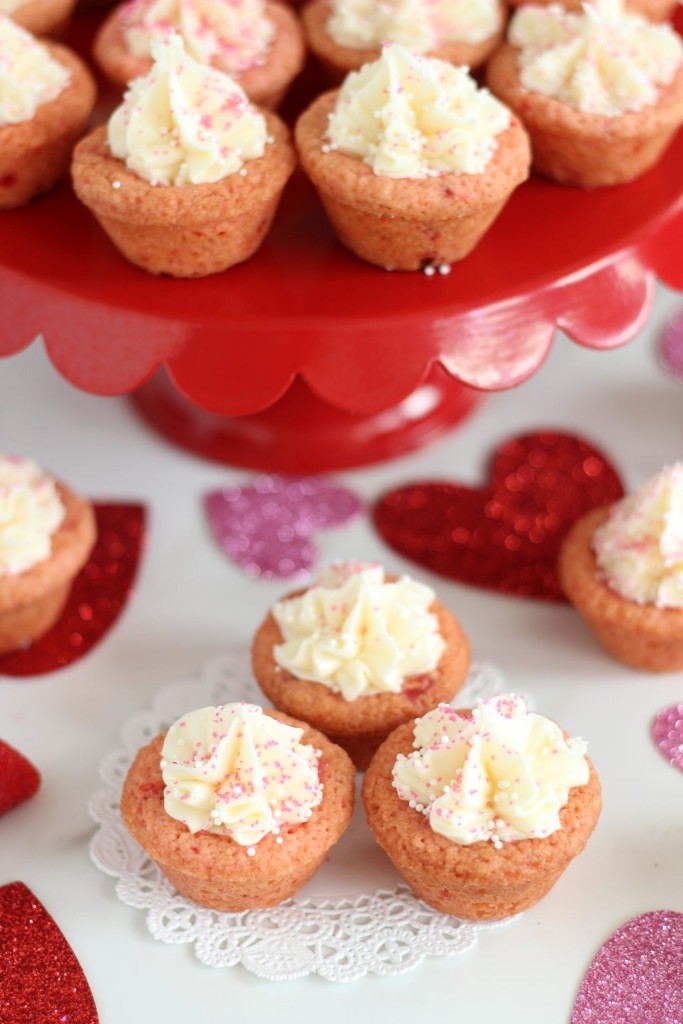 These Strawberry Cookie Cups are so fabulous because they are crispy on the edges, so the cup stays together sturdily, but they manage to still be soft and chewy in the middle. No shortage of strawberry flavor here, thanks to the magic of cake mix.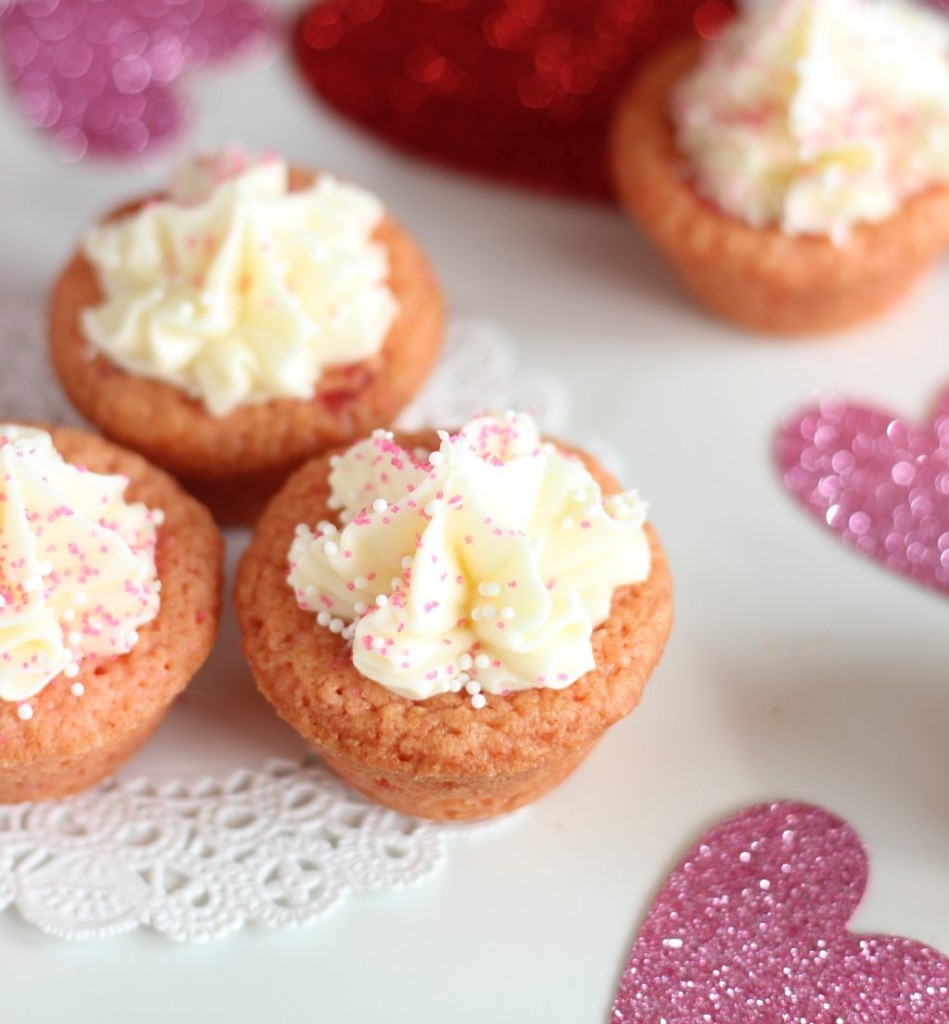 They're no more difficult to make than a regular cookie. You need a mini muffin tin, and you'll drop a small ball of dough in the center of it, and then just give it a good poke with your finger to create the center. When they are still hot from the oven, give it another good poke with the end of a wooden spoon, and you've got easy cookie cups.
Let them cool in the pan so they get a little stiff, and then carefully twist them out!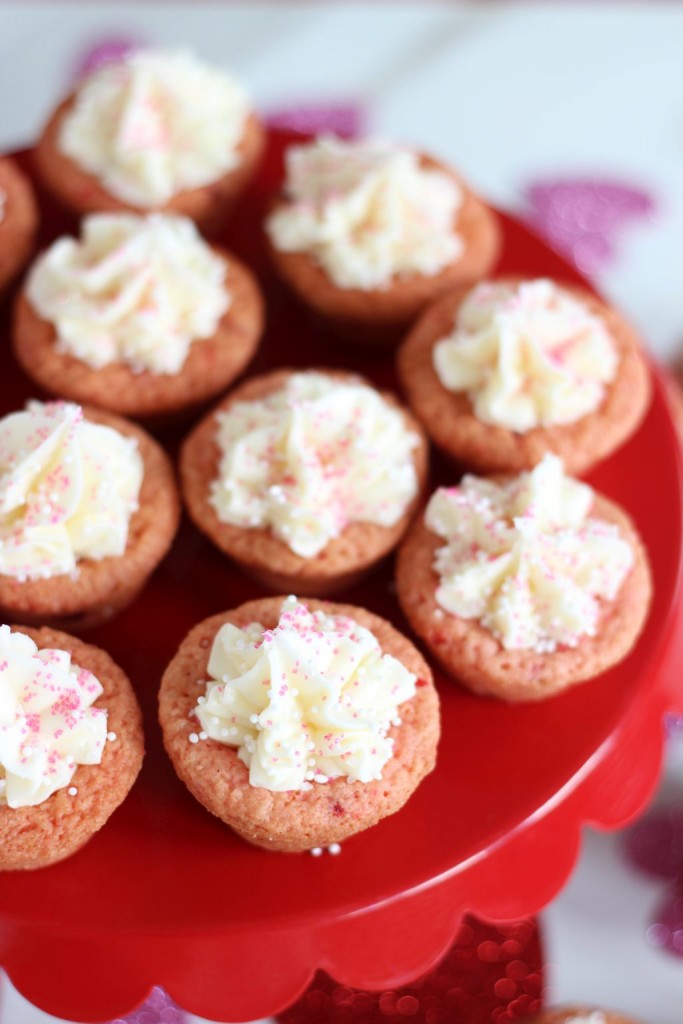 The only key part to successful cookie cups is thoroughly chilling the dough before baking them. It's sticky to handle if it's not properly chilled, so you must chill it lengthily. If you do that, it's smooth sailing, and as easy as making regular cookies!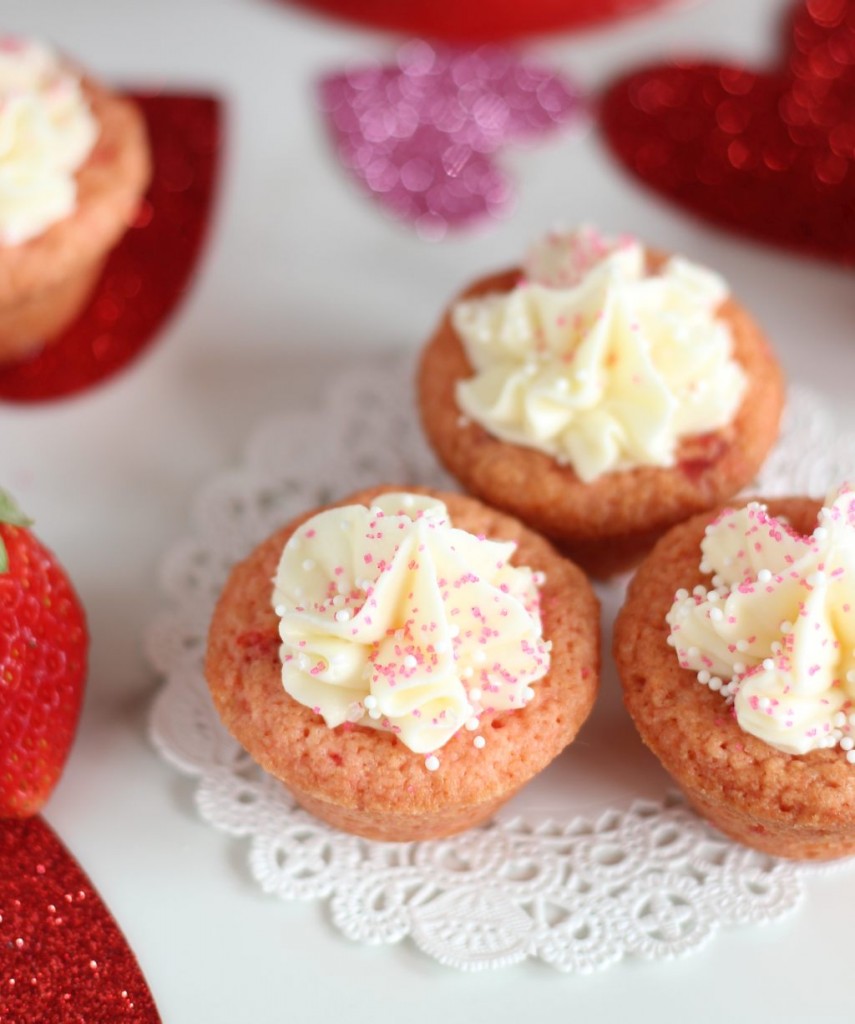 This is the same recipe for white chocolate buttercream that I've used here. It's tried-and-true, and works for me every time. It's rich, fluffy, and long on white chocolate flavor!
Strawberries and white chocolate aren't as classic as strawberries and regular chocolate for Valentine's Day, but this combination is arguably even better! Packed together in these adorable little cookie cups!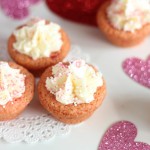 Strawberry Cookie Cups with White Chocolate Buttercream
Ingredients
For Strawberry Cookie Cups:
3/4

c.

butter

softened

1/2

c.

sugar

1

egg

2

tbsp.

water

1

box strawberry cake mix
For White Chocolate Buttercream:
6

oz.

white baking chocolate

not chips, must be baking chocolate, broken into pieces

1/3

c.

heavy cream

plus 3 tablespoons, divided

1

c.

butter

softened

1 - 2

lb.

bag powdered sugar

1

tbsp.

vanilla
Instructions
For cookie cups:
In a large mixing bowl, combine butter and sugar, beating until light and fluffy.

Add egg and water, beating until combined.

Add cake mix, and beat until combined. Dough will be thick.

Cover and refrigerate for 2-3 hours, or until it can be rolled into balls.

Coat non-stick mini muffin pans with cooking spray.

Roll dough into scant 1-inch balls, about 1 1/2 - 2 tsp. dough, and place in the bottom of each muffin cup.

Make an indentation with your thumb in the center of each dough ball.

Bake at 350 degrees for 8-10 minutes, or until edges are pale golden brown.

Immediately remove heat, and use the end of a wooden spoon to re-indent the center of each cup.

Allow to cool completely before removing to a wire rack. They're a little delicate to remove from the pans, so make sure you're careful, and it helps to sort of spin them out of the cup!

Meanwhile, prepare buttercream.
For buttercream:
In a small saucepan over low heat, combine white chocolate and cream. Stir until chocolate is melted and mixture is smooth.

Set aside and let cool to room temperature.

Meanwhile, in a large mixing bowl, beat butter until creamy.

Gradually add powdered sugar and cream, blending after each addition.

Add white chocolate mixture and vanilla, and beat until light and fluffy.

Pipe or spoon the frosting into the center of each cookie cup. Enjoy!
Cookie cups adapted from Life, Love, and Sugar.