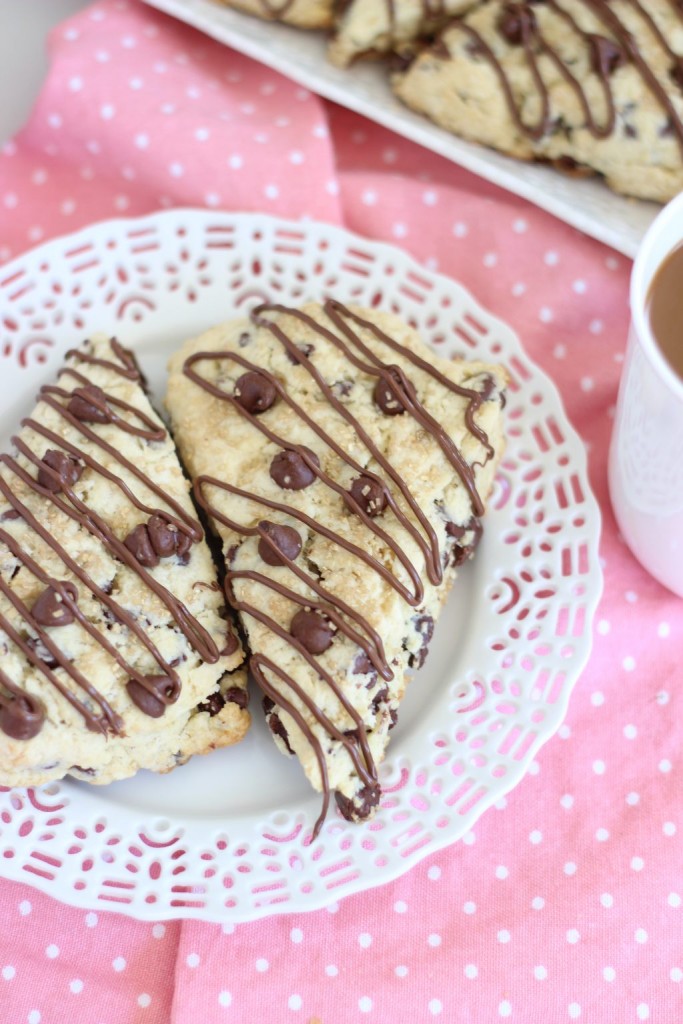 Here's how crazy we are about coffee in my house. We have TWO coffeemakers set up on our kitchen countertop at all times. You might not be surprised to learn that this was not my idea. I am pretty neat and organized overall, so I don't totally love having two coffee stations taking up precious counter space.
However, while my S.O. and I both share an intense love of coffee, like most people, we have very different preferences for how we drink it.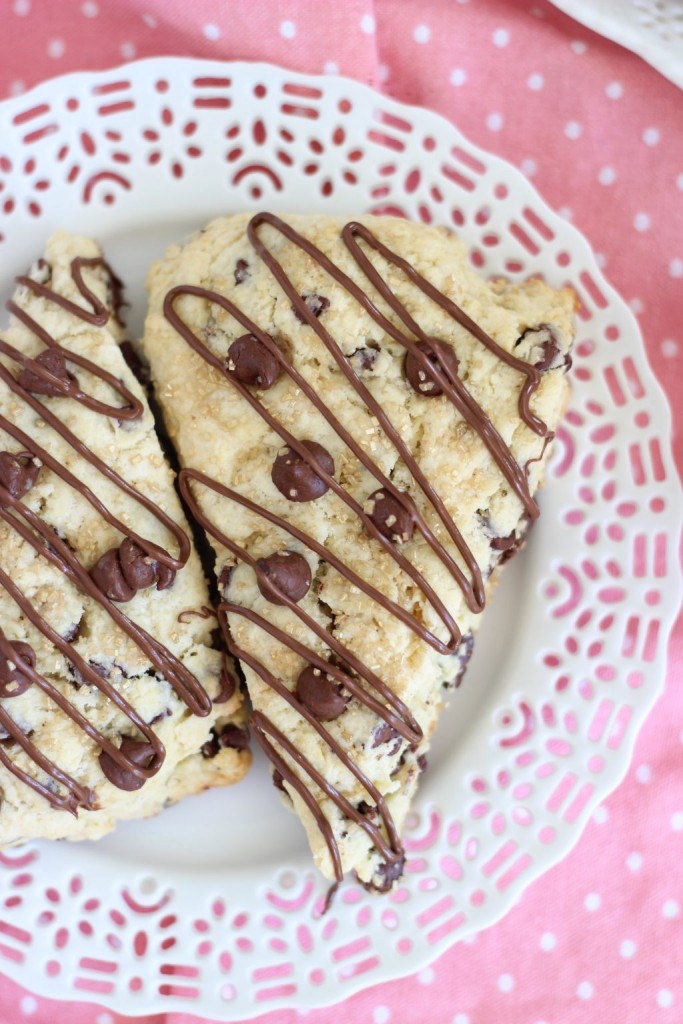 My coffee pot is a small 4-cup. That's plenty for me. I like to mix together bags of regular coffee and decaf, so I'm drinking a customized 1/3-caffeine beverage. Not quite half-caff. Yep.
My S.O. has a 12-cup coffee pot, and he brews his coffee like sludge. It is FULL-on caffeine, and then some. He's been known to add espresso shots to his coffee too. It is the strongest and most intense cup of coffee you can find. He also likes to grind his beans fresh every single morning.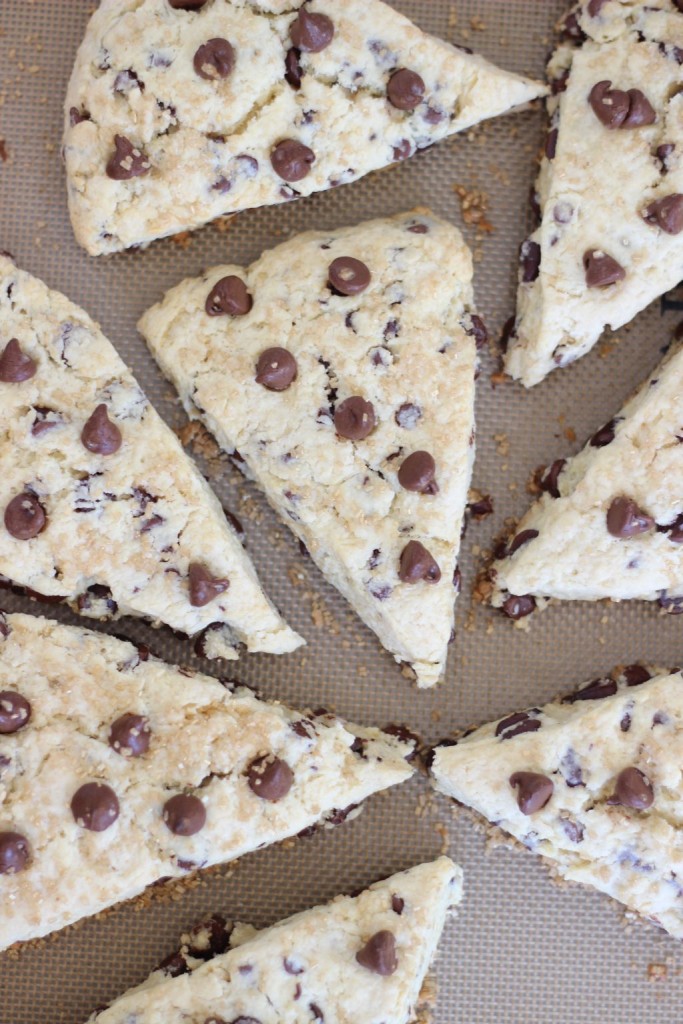 S.O. loves a lot of cream in his coffee, and he's very particular about which kind. He really likes a creamer that is more simple in ingredients, and while I don't use nearly as much creamer as he does, I totally agree. The less ingredients, the better.
In addition to using it for our morning coffee, I've also been using coffee creamer as the liquid ingredient in my scones recipe for the last year or so, and I love how much flavor and sweetness that creamer adds to scones. I discovered this little trick when I was making these Pumpkin Pecan Scones with Brown Sugar Streusel, and I ran out of milk. I'd used eggnog in the past to make scones, and I wondered if creamer would also work. It does. It definitely does.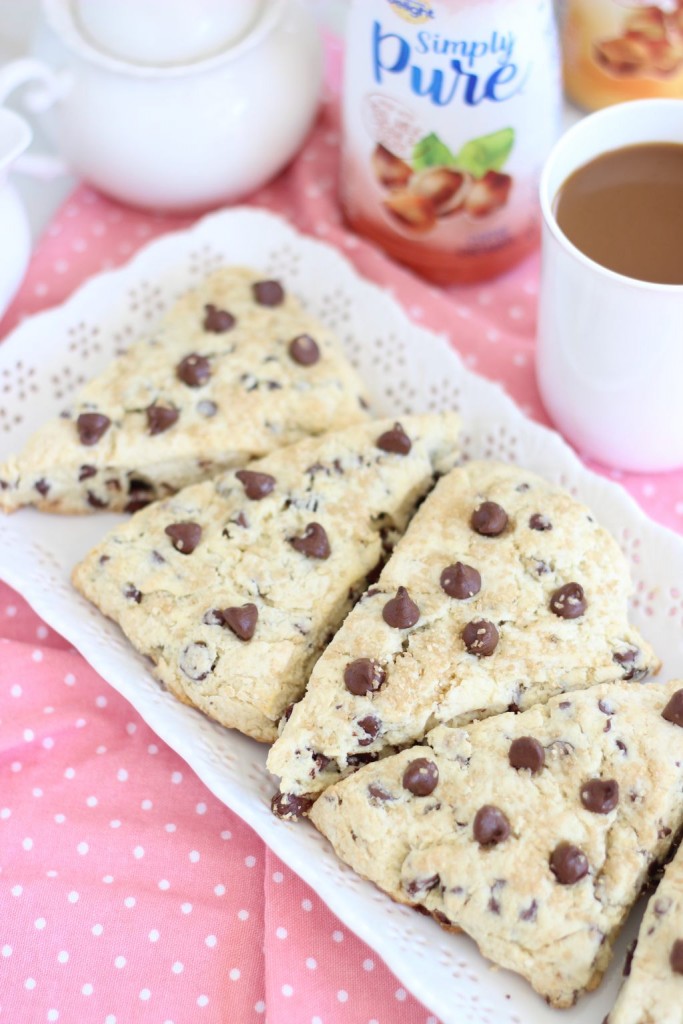 I picked up the hazelnut creamer to make these Hazelnut Chocolate Chip Scones. The creamer gives dimension to the other flavors, especially the chocolate-hazelnut spread drizzled on top, and adds an extra layer of flavor right in the dough itself.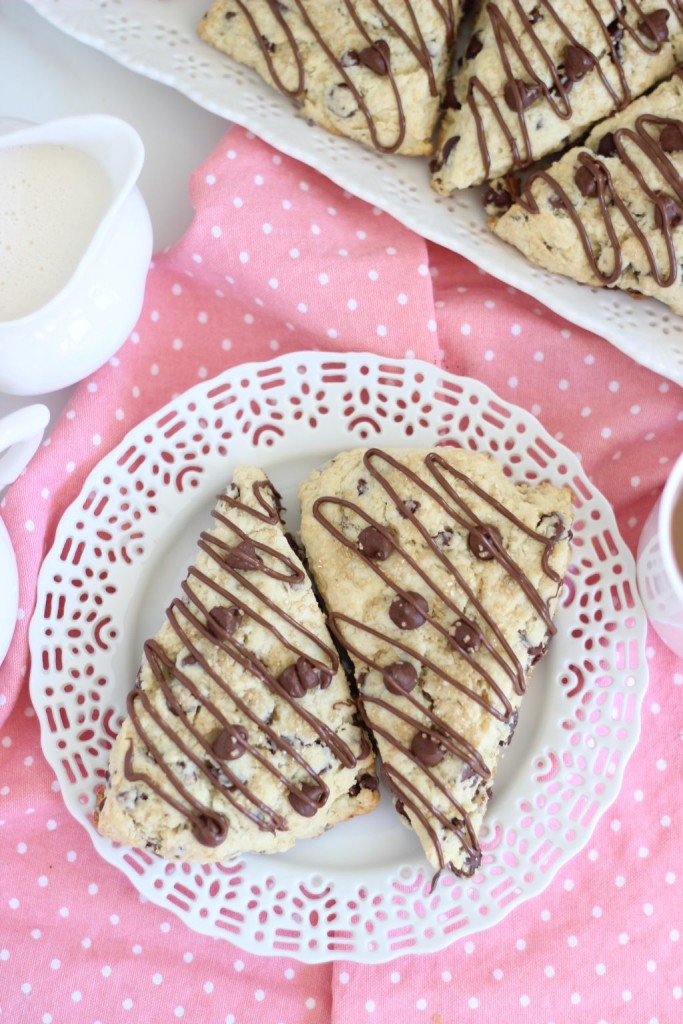 Creamer keeps the scones tender and flaky, with soft centers, and crispy edges, but adds an extra layer of flavor and sweetness. I don't hardly need any additional sugar at all. These are chock-full of chocolate chips, and with the hazelnut creamer, a touch of hazelnut extract, and a chocolate-hazelnut spread on top, they are not short on chocolate and hazelnut flavors!
Scones are also perfect for coffee-dunking!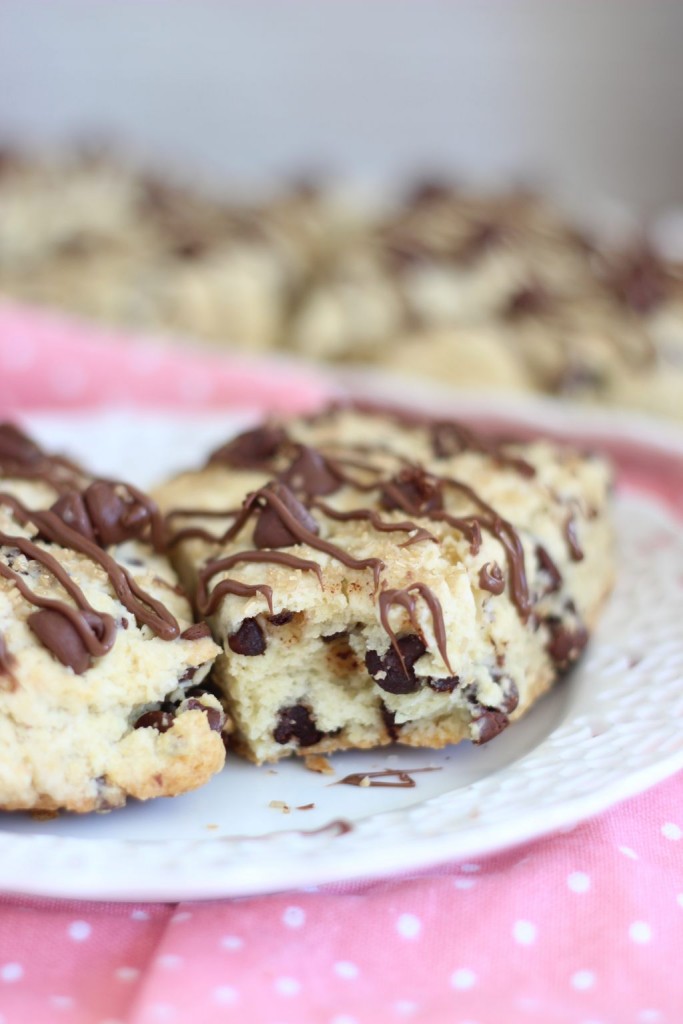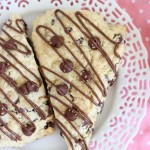 Hazelnut Chocolate Chip Scones
Ingredients
2 1/2

c.

flour

3

tbsp.

sugar

1

tbsp.

baking powder

dash of salt

1/2

c.

cold unsalted butter

1

c.

regular-sized semi-sweet or milk chocolate chips

1/2

c.

mini semi-sweet chocolate chips

2

eggs

lightly beaten

1/2

c.

International Delight Simply Pure Coffee Creamer Hazelnut

1

tsp.

hazelnut extract

1-2

tbsp.

International Delight Simply Pure Coffee Creamer Hazelnut

for brushing scones

sugar

for sprinkling

1/4

c.

chocolate-hazelnut spread

warmed
Instructions
In a large bowl, combine flour, sugar, baking powder, and salt.

Using a pastry blender or knife, cut in butter until mixture is crumbly.

Stir in chocolate chips.

In a small bowl, whisk together eggs, 1/2 c. creamer, and hazelnut extract.

Make a well in the center of the flour mixture, and pour the egg mixture into the well.

Turn dough out onto a lightly floured surface, and knead dough 6-8 times, slowly forming it into a large ball.

Place onto a greased baking sheet, and carefully flatten the ball into a large disk, about 1-inch thick.

Cut into 8 wedges, and gently pull the wedges slightly apart.

Brush each scone lightly with creamer, and sprinkle with a pinch of sugar.

Bake at 400 degrees for 15-18 minutes, or until edges are golden brown.

Allow to cool for 10-15 minutes before drizzling with chocolate-hazelnut spread. Enjoy!