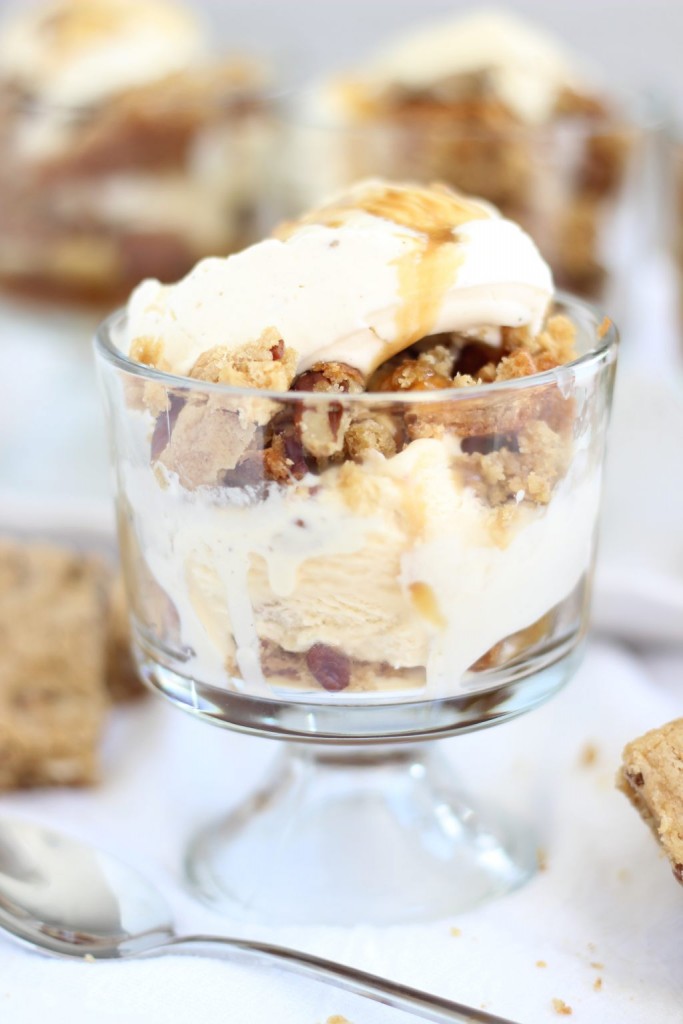 We love Blue Bunny® ice cream, and as soon as it starts to feel remotely like spring, we start craving it. In the warmer months, it's so refreshing and satiating. We'll eat it in the winter too – this is Florida after all – but it's especially satisfying in the spring and summer.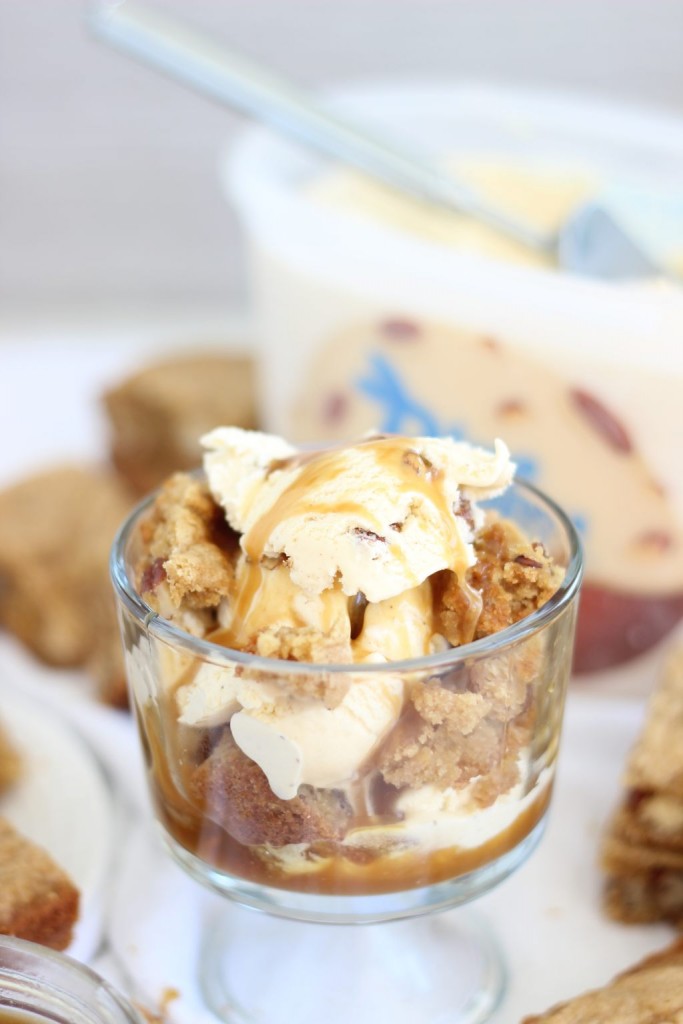 We eat it for dessert after dinner almost every night from spring through summer! We are ice cream people, for sure, and it's one of my favorite treats. It's one of those foods that tends to disappear in our house pretty quick. Occasionally I'll reach for a container in the freezer, and it will feel much lighter than I was expecting. Someone in the house makes substantial dents in our ice cream stash when I don't realize it, and it's NOT the cat.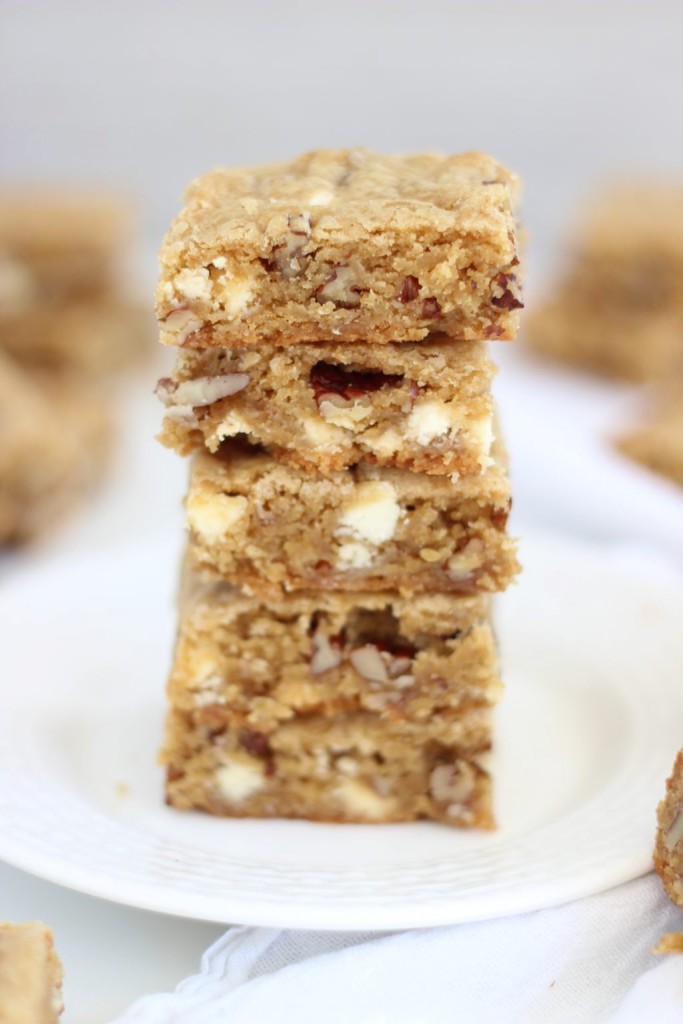 I kept craving maple blondies in the fall, but I never got the chance to make them. I decided to give them a spring makeover by incorporating them into sundae parfaits with ice cream.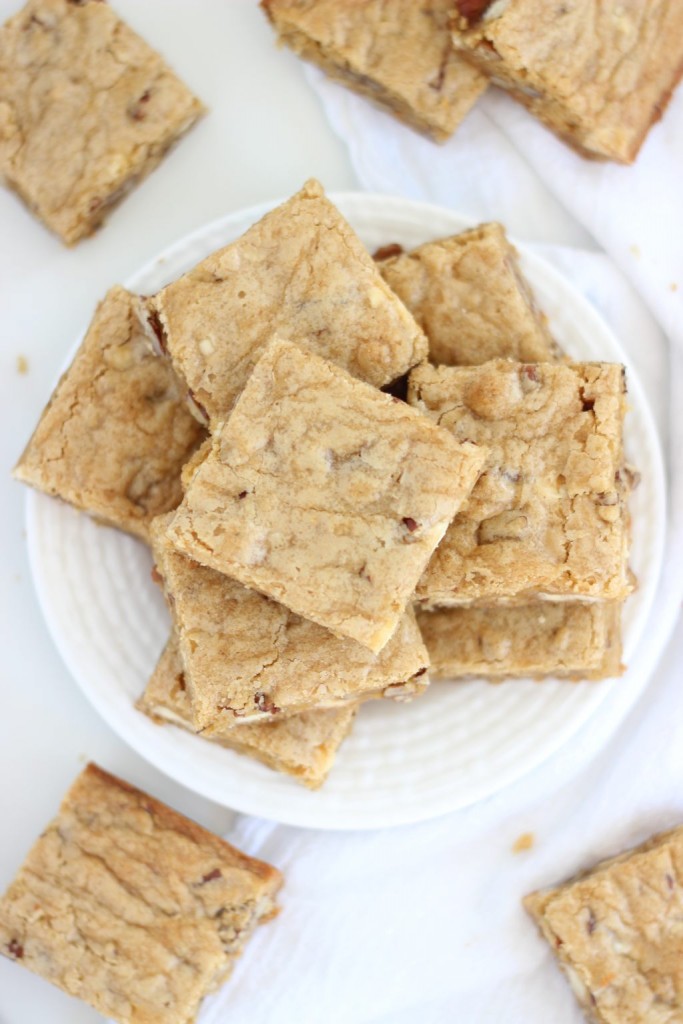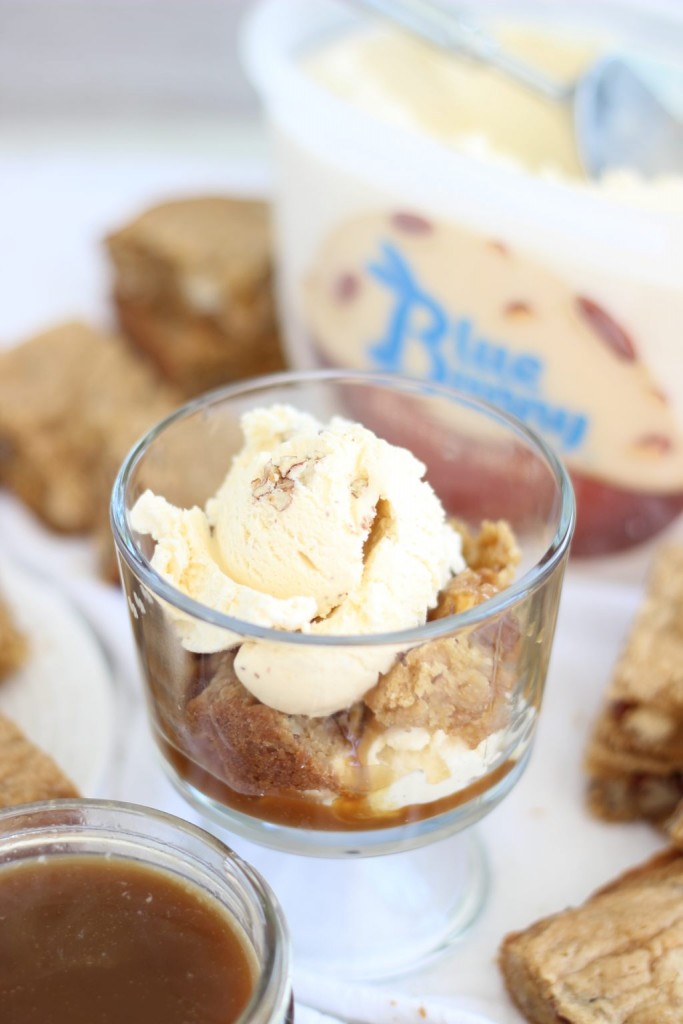 I used the Blue Bunny® Butter Pecan in these parfaits. These Maple Pecan Blondie Sundae Parfaits are heavenly. I made my favorite Maple Pecan Blondies – imagine the chewiest and most brown-sugary blondies you've EVER had. They are incredible. So much brown sugar in them! I crumbled up the blondies and layered them with Blue Bunny® Butter Pecan ice cream and a maple butter sauce to make these parfaits.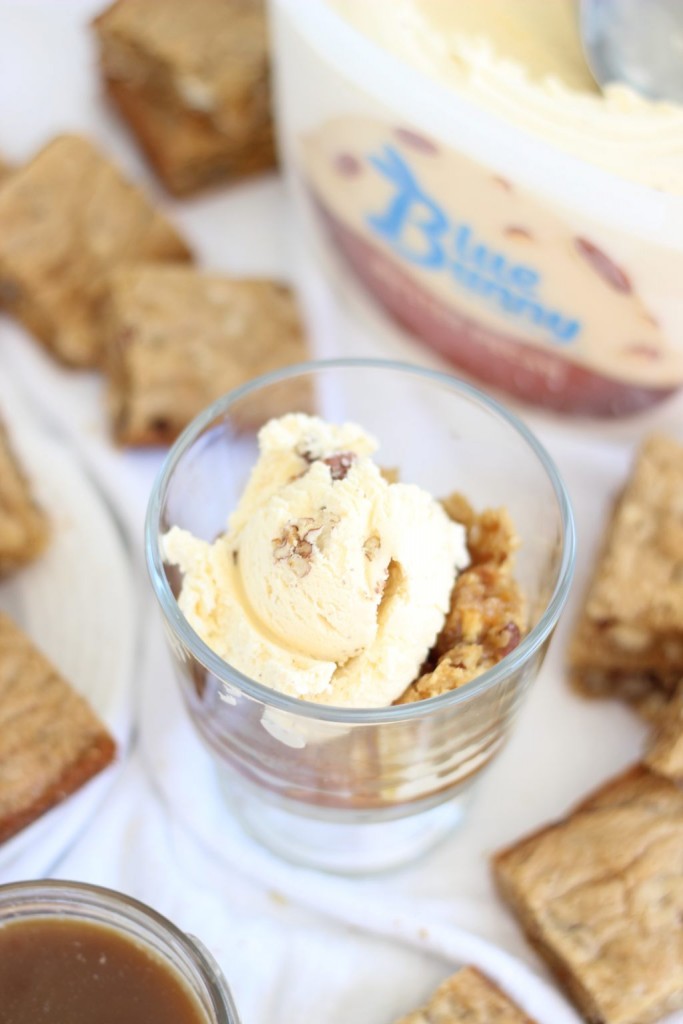 The creamy ice cream melts and seeps into the blondie crumbles, and mixes with the maple butter sauce. These parfaits are heaven on earth, I'm telling you!
The blondies are from scratch, and are seriously the most flavorful and chewy blondies you can find. The maple butter sauce uses a short cut. If I'm already making blondies from scratch, I'm going to cut a corner somewhere else! I used a jar of prepared caramel sauce, and doctored it up with heavy cream, melted butter, and maple extract, for an amazing (and quick) maple butter sauce. Much better than cooking it up from scratch.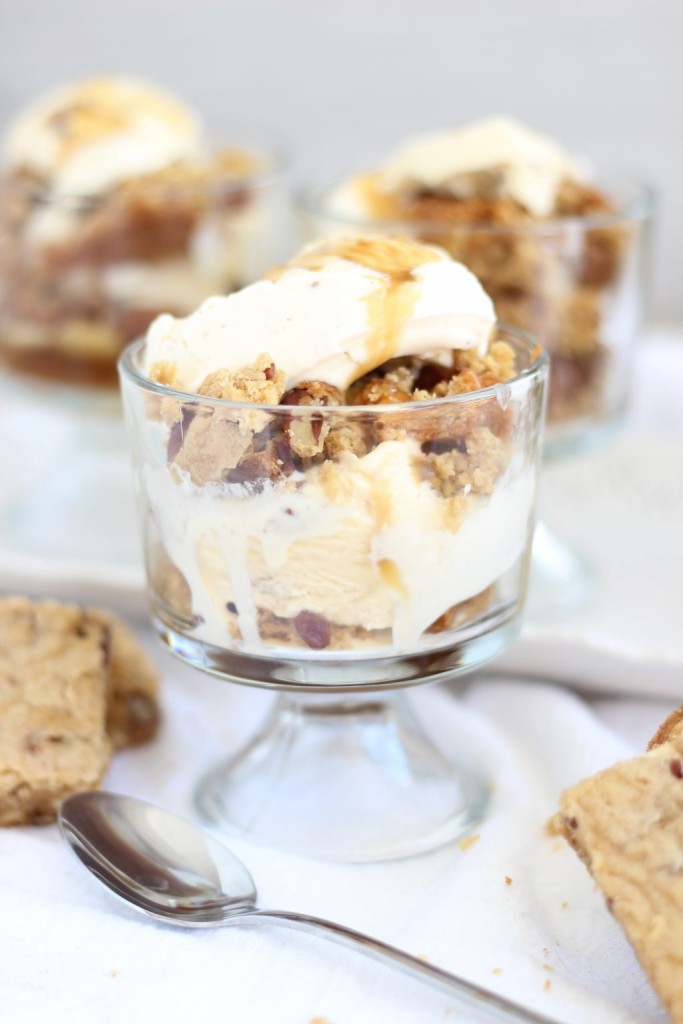 These parfaits make for an amazing spring dessert with refreshing and rich Blue Bunny® ice cream, and delicious springtime flavors!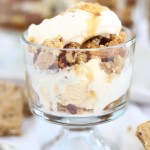 Maple Pecan Blondie Sundae Parfaits
Ingredients
For Maple Pecan Blondies:
1 1/2

c.

all-purpose flour

1

tsp.

baking powder

1/2

tsp.

salt

1 1/2

c.

packed brown sugar

3/4

c.

unsalted butter

melted and cooled

2

large eggs

2

tsp.

maple extract

1

c.

chopped pecans

1/2

c.

white chocolate chips
For Maple Butter Sauce:
1 - 12

oz.

jar prepared caramel ice cream sauce

4

tbsp.

salted or unsalted butter

cut into pieces

1/4

c.

heavy cream

1 1/2

tsp.

maple extract

Blue Bunny® Butter Pecan ice cream
Instructions
For Maple Pecan Blondies:
In a large bowl, whisk together flour, baking powder, and salt.

In a medium bowl, whisk together brown sugar, butter, eggs, and maple extract.

Fold the wet ingredients into the dry ingredients, mixing until just combined.

Fold in the pecans and white chocolate chips, careful not to overmix. The mixture will be quite thick.

Spread into the bottom of a greased 9x13-inch baking pan.

Bake at 350 degrees for 22-25 minutes, or until edges are golden brown, the top is shiny and crackled, and a toothpick inserted near the center comes out clean.

Cool completely in pan on a wire rack. Cut into 24 bars.
For Maple Butter Sauce:
In a small microwave-safe bowl, heat the caramel sauce for 30-60 seconds, or until thin and runny.

Add the butter, and stir until melted.

Whisk in the heavy cream and maple extract.
To assemble:
Crumble 1 blondie bar into the bottom of each of 6 parfait glasses. Top with a heaping tablespoonful of Blue Bunny® Butter Pecan ice cream, and a tablespoonful of maple butter sauce. Repeat so that each parfait has two layers of blondie, ice cream, and maple butter sauce.

Serve immediately!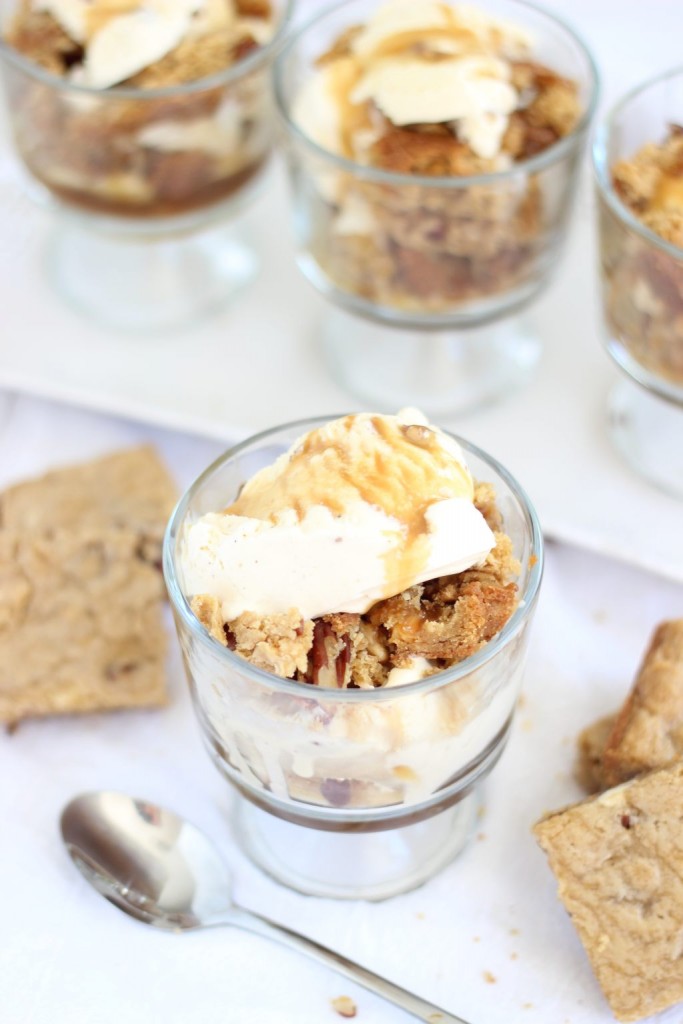 Oh, and you'll have extra blondies leftover than you need for the parfaits, but I'm assuming that's cool with you, yes?