Sugar-crusted French bread Tropical Bruschetta, with homemade mango curd, mixed tropical fruit, toasted coconut, and macadamia nuts!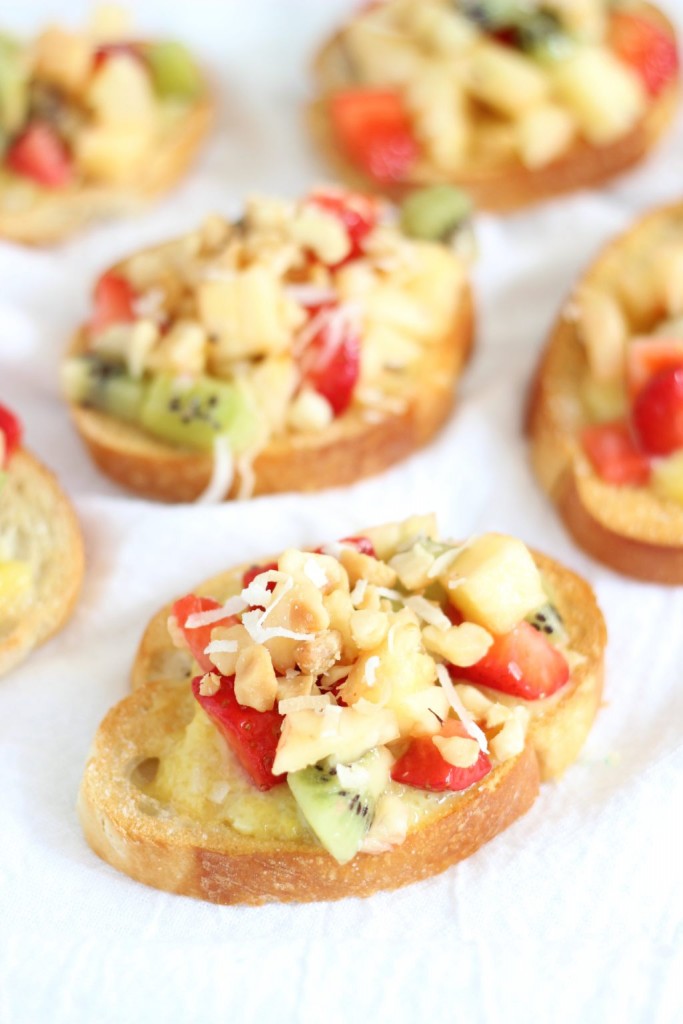 You know what… I've already been hammering you with recipes for homemade curd, and since I have a few more, let's just knock them all out this week. Sound good?
If not, come back next week. We'll be eating peanut butter again, and I've got a few orange recipes too! Oh, and brunch. Lots more brunch. That's what we are all about here on the blog basically: desserts and brunch.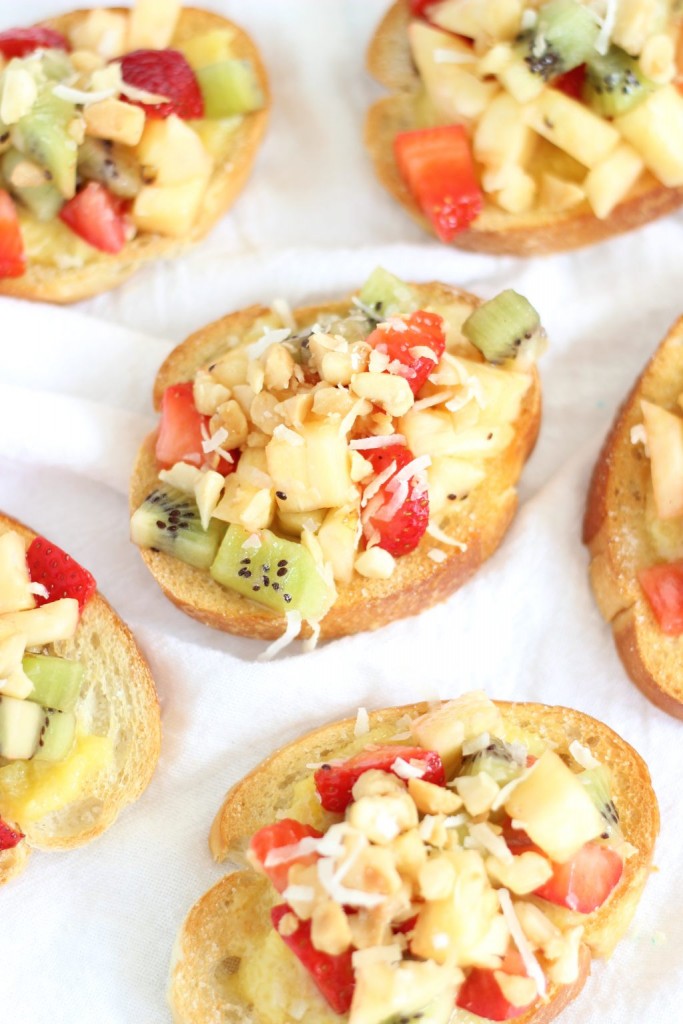 I brainstormed the idea for a summery and fruity Bruschetta shortly after making this Bruschetta with Sunflower Seed Pesto. I was just in a Bruschetta-type place, and wanted to try a sweet and fruity version.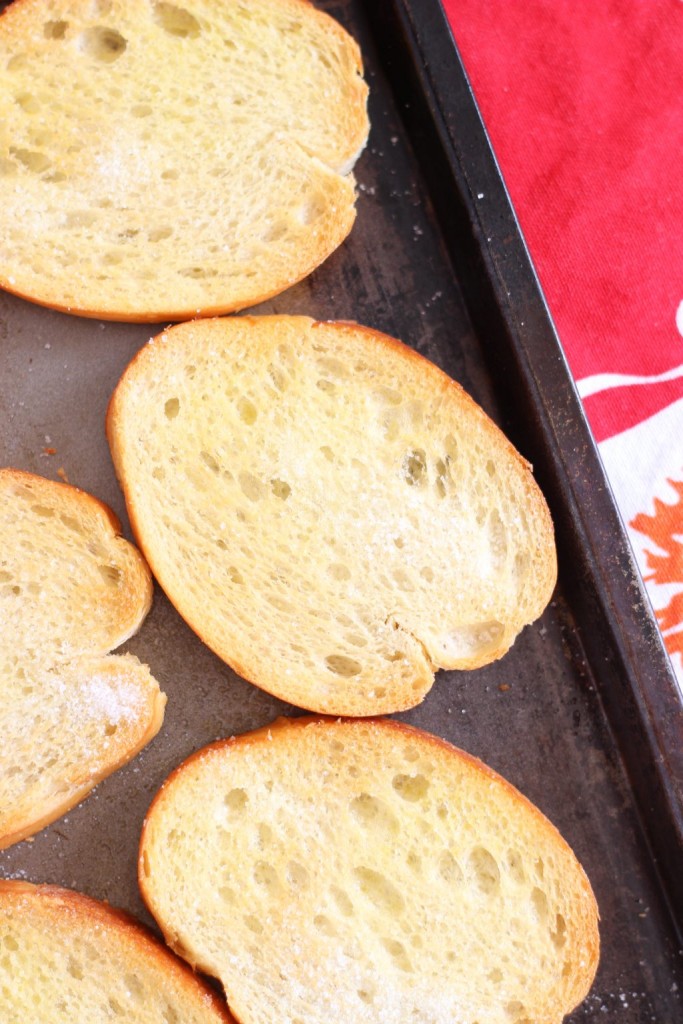 Sooooo pleased with the result, and it surpassed my most optimistic expectations. This Tropical Bruschetta is honestly to-die-for. It's fruity and refreshing, and it's a really nice, light, summery appetizer or dessert. It would be great as an appetizer for a brunch party, bridal showers, Mother's Day brunch, or Easter (you know, next year). Or as a dessert at summer picnics.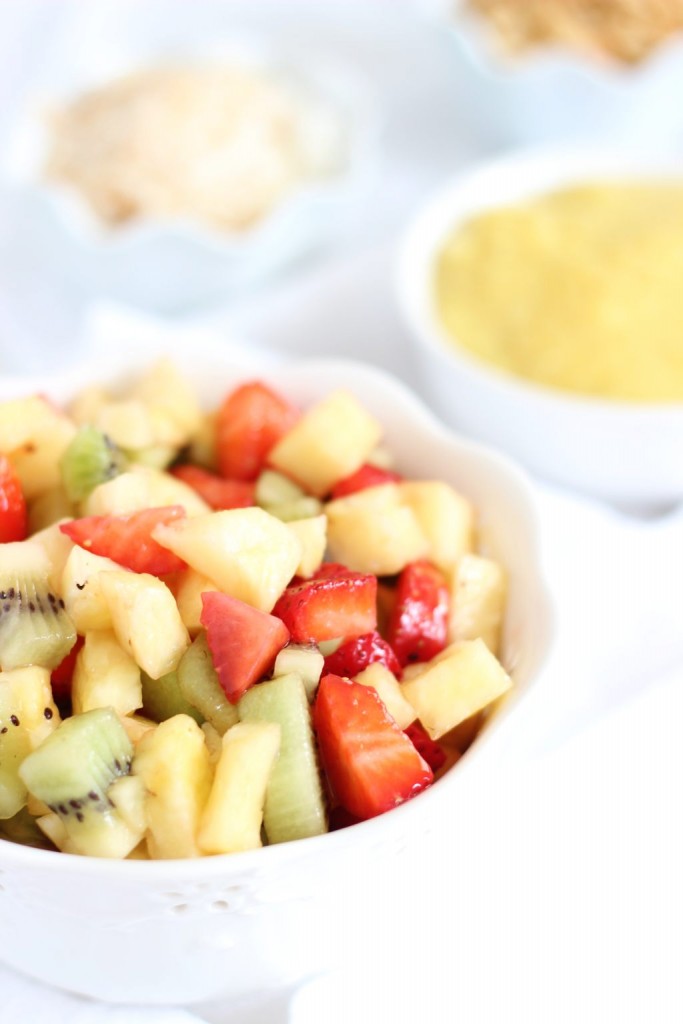 You must first make the mango curd so that it can thoroughly chill. I've made curd dozens of times, and it's amazing how versatile it is.
The mango curd is slightly more subtle and less tangy than citrus curds because mangoes don't have zest, so you lost a little potency, but it's still flavorful, sweet, and tropical. I actually added the zest of an orange, and it enhanced the mango fruit perfectly. You don't need to do that, but I think it's helpful.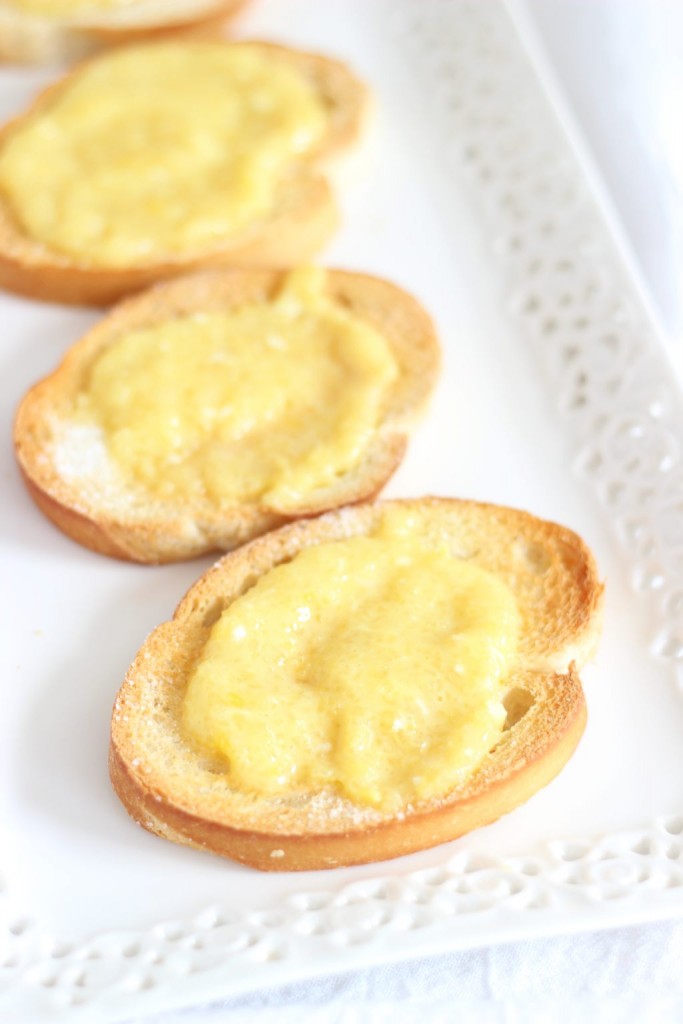 This Bruschetta starts with sliced French bread, and before I toasted it, I coated it with butter and sugar. When you broil it, you almost end up with creme-bruleed French bread. Sugar-crusted, buttered, toasted French bread. Eep!! Cool the bread slightly, then spread it with a heaping tablespoonful (or two or three) of mango curd.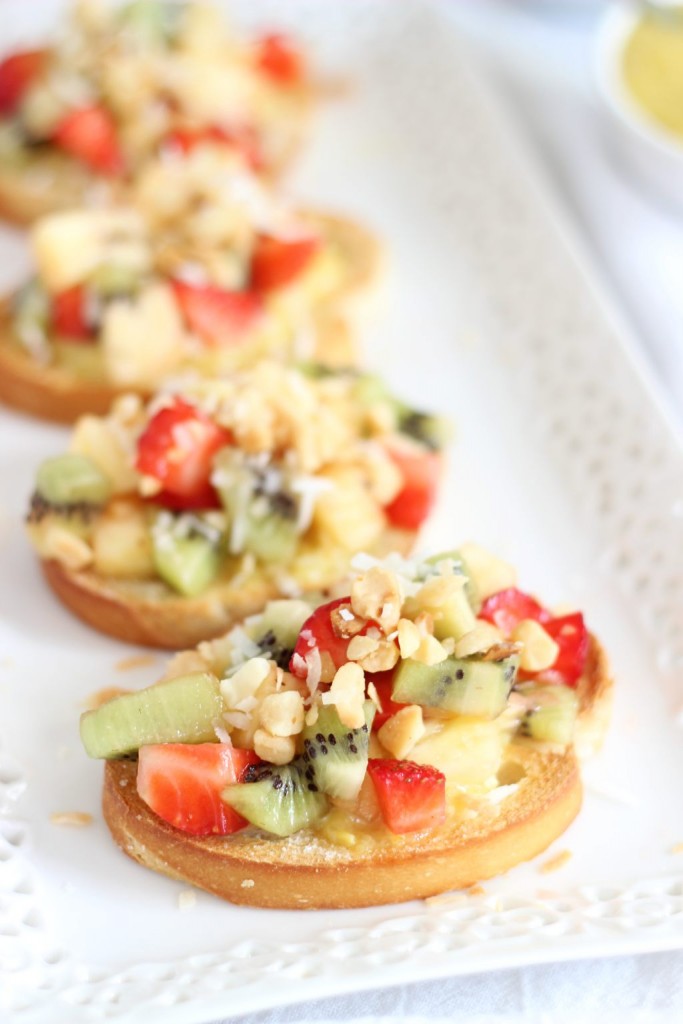 Next up, I layered the bread with a mixture of chopped strawberries, pineapple, and kiwi that were doused with sugar and lemon juice, and then sprinkled the Bruschetta with toasted coconut and macadamia nuts for garnish.
There's a few steps to making these Bruschetta, but the steps are simple, and the result does not disappoint. The burst of tropical flavors is incredible!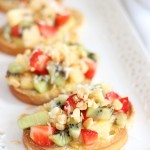 Tropical Bruschetta and Mango Curd
Ingredients
For Mango Curd:
1

ripe mango

peeled and diced

5

egg yolks

at room temperature

Zest of 1 orange

1/4

c.

orange juice

½

c.

sugar

pinch

of salt

4

tbsp.

unsalted butter

softened

For Tropical Bruschetta:

1

medium loaf sliced French bread

2

tbsp.

butter

melted

2

tbsp.

sugar

2

c.

mixed tropical fruit

diced - I used strawberries, pineapple, and kiwi

1

tbsp.

lemon juice

2

tbsp.

sugar

1/2

c.

shredded coconut

toasted

1/3

c.

chopped macadamia nuts
Instructions
For Mango Curd:
Puree the mango in a food processor until as smooth as possible.

In a medium bowl, whisk together the mango, egg yolks, orange zest, orange juice, sugar, and salt. Transfer to a medium saucepan.

Cook the mixture over low-medium heat until it is thick enough to coat the back of a spoon, 5 to 7 minutes.

Remove from heat and add the butter. Mix until smooth.

Transfer the curd to a small bowl and cover with plastic wrap.

Refrigerate until chilled, about 30 minutes.
For Tropical Bruschetta:
Spread the sliced bread in a single layer on a large baking sheet.

Brush each slice lightly with melted butter.

Sprinkle lightly with sugar.

Broil on high for 1-2 minutes, or until golden brown, watching very closely so it doesn't burn!

In a medium bowl, combine mixed tropical fruit, lemon juice, and 2 tbsp. sugar, tossing to coat.
To assemble bruschetta:
Spread each slice of bread with 1-2 tbsp. mango curd.

Top each with a spoonful of fruit, and a sprinkling of toasted coconut and macadamia nuts. Serve immediately! DEVOUR!