Cake-like orange creamsicle bars, flavored with orange zest, vanilla, and melted white chocolate, and swirled with vanilla cheesecake!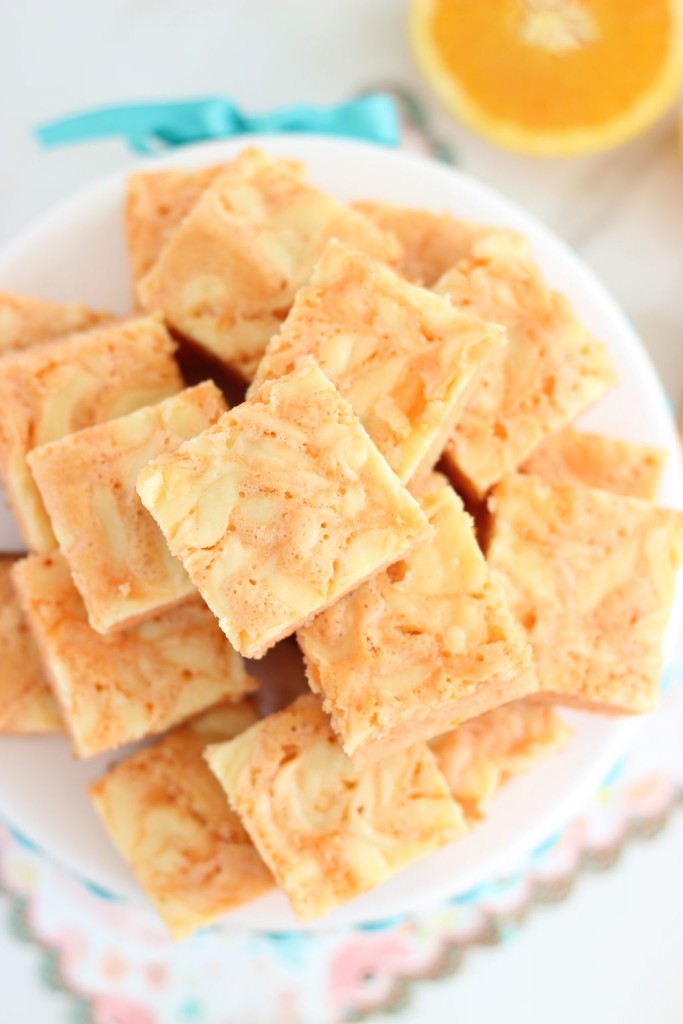 I have your Memorial Day picnic dessert! Actually, I have loads of options for what you can take to Memorial Day BBQs and picnics, but this is the one I'm currently most excited about since we just finished the pan.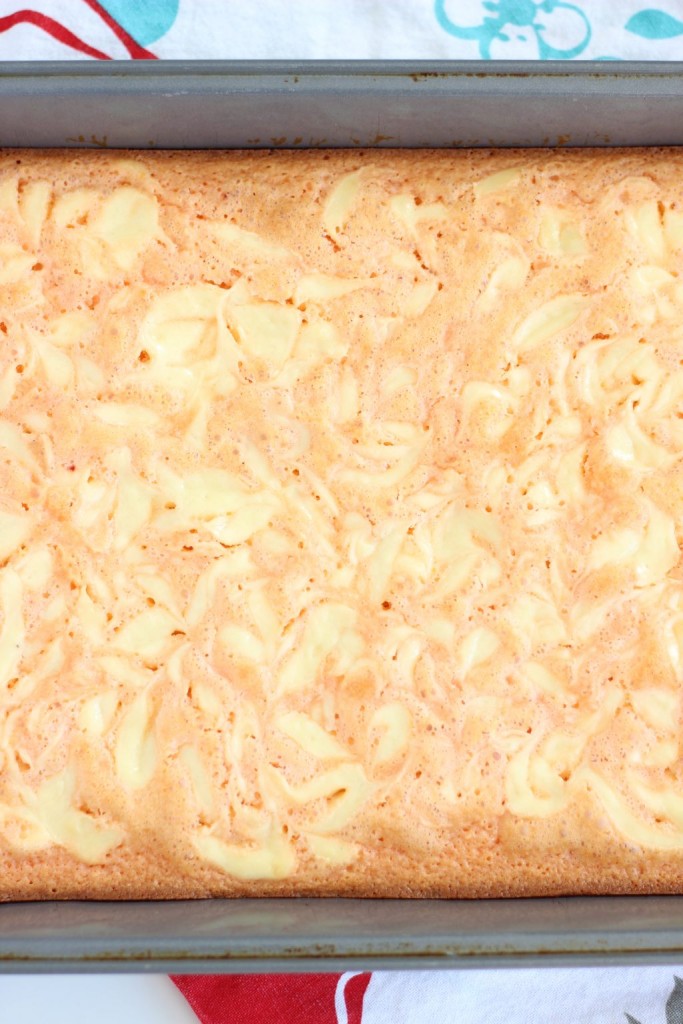 Whatever you take, it has to be bright and fruity, doesn't it? Memorial Day signifies that summer is around the corner, and when I think of summer, I'm all about fruity desserts. Even better if they're no-bake. These Orange Creamsicle Cheesecake Bars aren't no-bake, sadly, but they're still simple to prep and quick to cleanup. Consider these bars the last dessert you actually turn on your oven for until summer is over. It'll be worth it because anything that is orange creamsicle-flavored is going to make you very popular.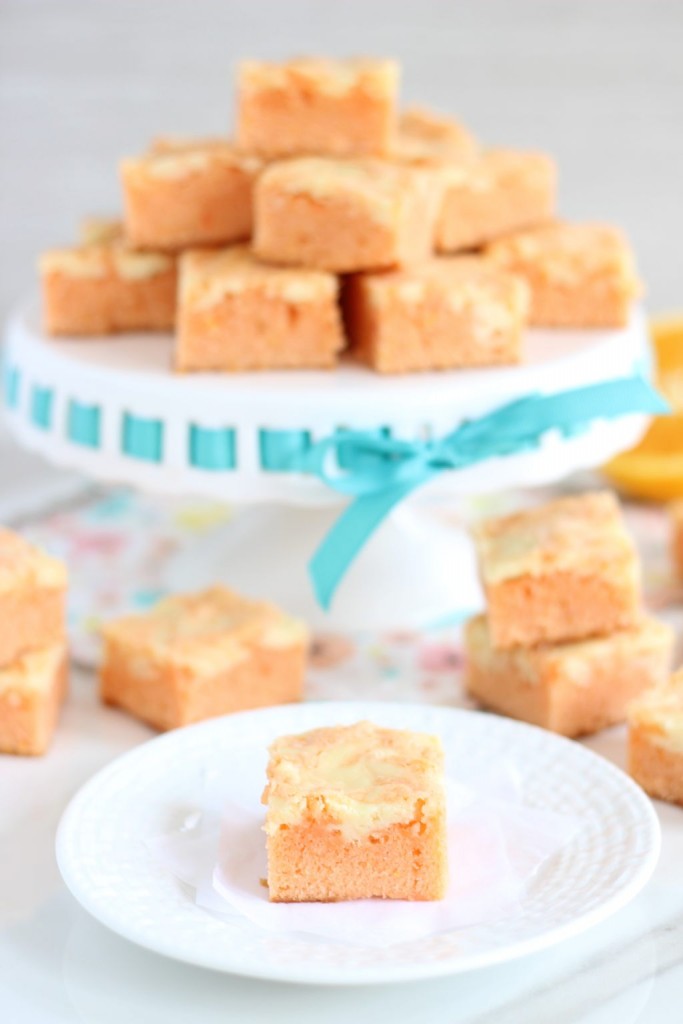 Orange zest, a little orange extract for extra citrus oomph, melted white chocolate, and vanilla flavors together in cake-like bars with a swirled cheesecake topping. These are like creamsicle pops in a bar. More summery fun stuff.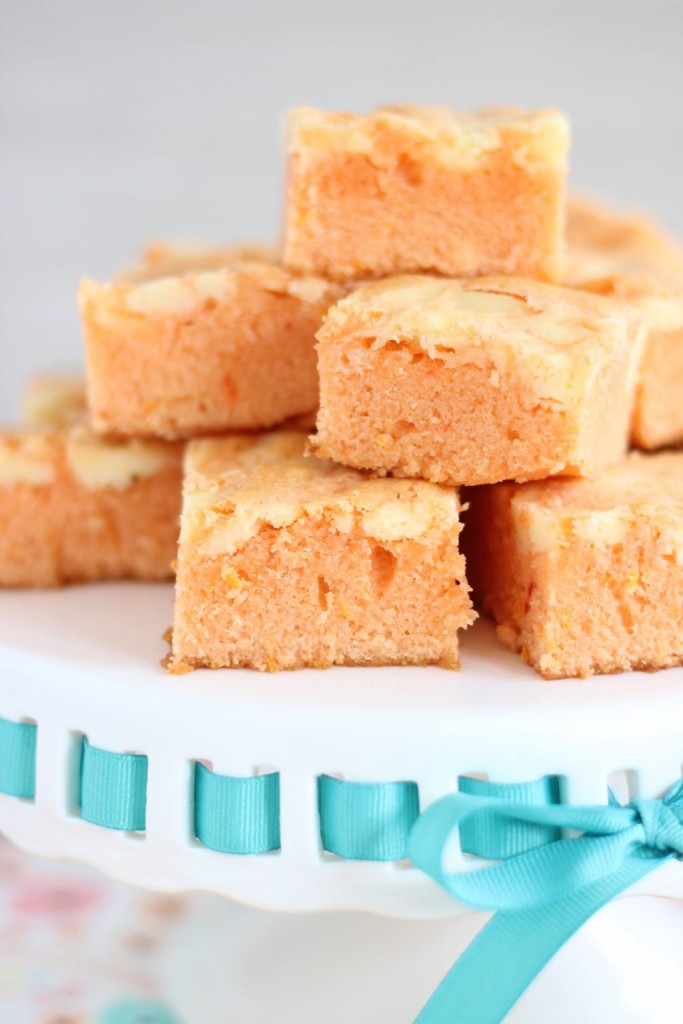 I used to love those popsicles. It takes me back to summers as a kid when I rode my bike all over creation with my childhood best friend from down the street. Often the highlight of our day was scrounging up change to buy popsicles at 7-11. We'd ride our bikes to buy popsicles or ice cream at the convenient store, then we'd sit by the little lake in the neighborhood, happily eating them as they quickly melted.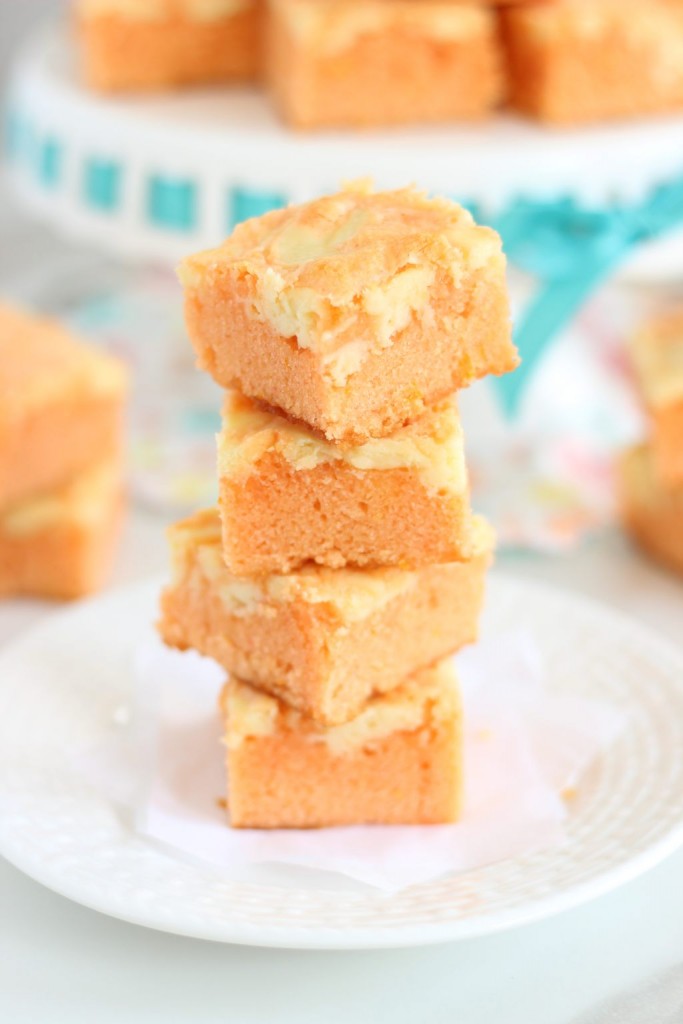 Well, you really can't easily take popsicles or ice cream to a picnic, so that's why you put those flavors in a bar. Life = simplified.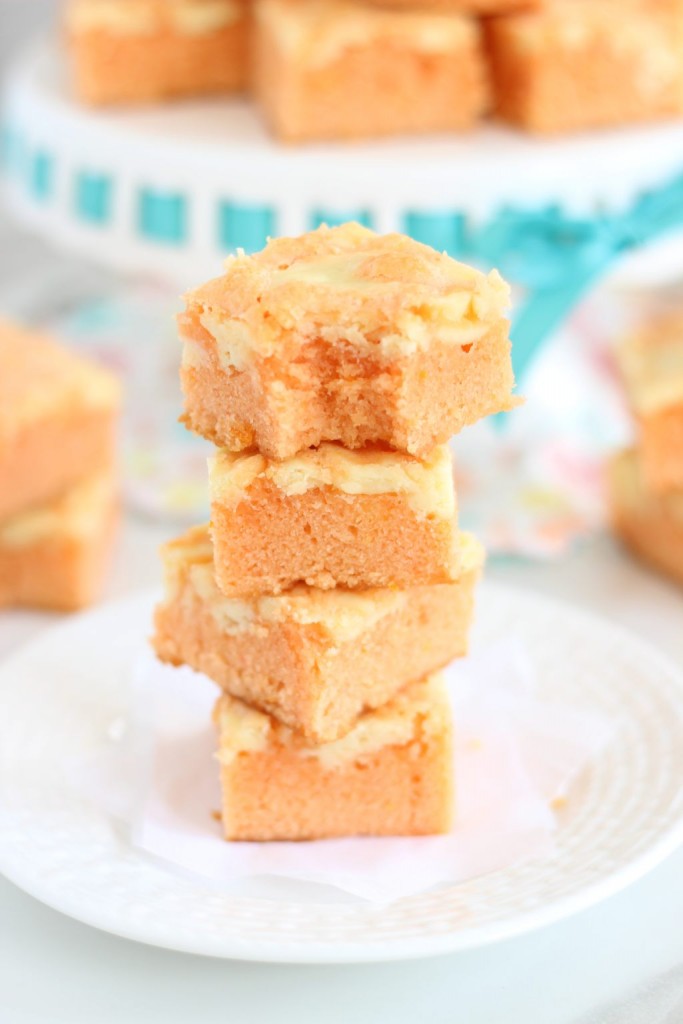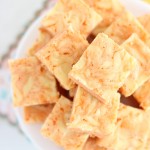 Orange Creamsicle Cheesecake Bars
Ingredients
6

oz.

white baking chocolate

coarsely chopped

3/4

c.

butter

1 3/4

c.

sugar

divided

4

large eggs

zest of 1 orange

2

tsp.

vanilla extract

divided

3-4

drops orange food gel paste

1 1/2

c.

flour + 1 tbsp. flour

1 - 8

oz.

package reduced-fat cream cheese

softened

1

large egg yolk
Instructions
In a large microwave-safe bowl, combine white chocolate and butter.

Microwave on high for 1-2 minutes, stirring at 30-second intervals, until chocolate and butter are melted and smooth.

Whisk in 1 1/2 c. sugar, eggs, orange zest, 1 tsp. vanilla, and food coloring, mixing until blended.

Stir in the 1 1/2 c. flour.

Spread batter into a greased 9x13-inch pan.

In a small mixing bowl, beat cream cheese and remaining 1/4 c. sugar until smooth.

Add egg yolk and remaining 1 tsp. vanilla extract, beating until smooth.

Beat in remaining 1 tbsp. flour.

Drop the cream cheese mixture by spoonful over the orange batter. Gently swirl with a knife or toothpick.

Bake at 350 degrees for 25-30 minutes, or until a toothpick inserted near the center comes out clean, and edges are golden brown.

Cool completely in pan on a wire rack. Cut into squares.
Adapted from Taste of Home – recipe not located online.