Creamy panna cotta made with fresh blackberries and topped with homemade orange curd. A rich and indulgent fruity dessert!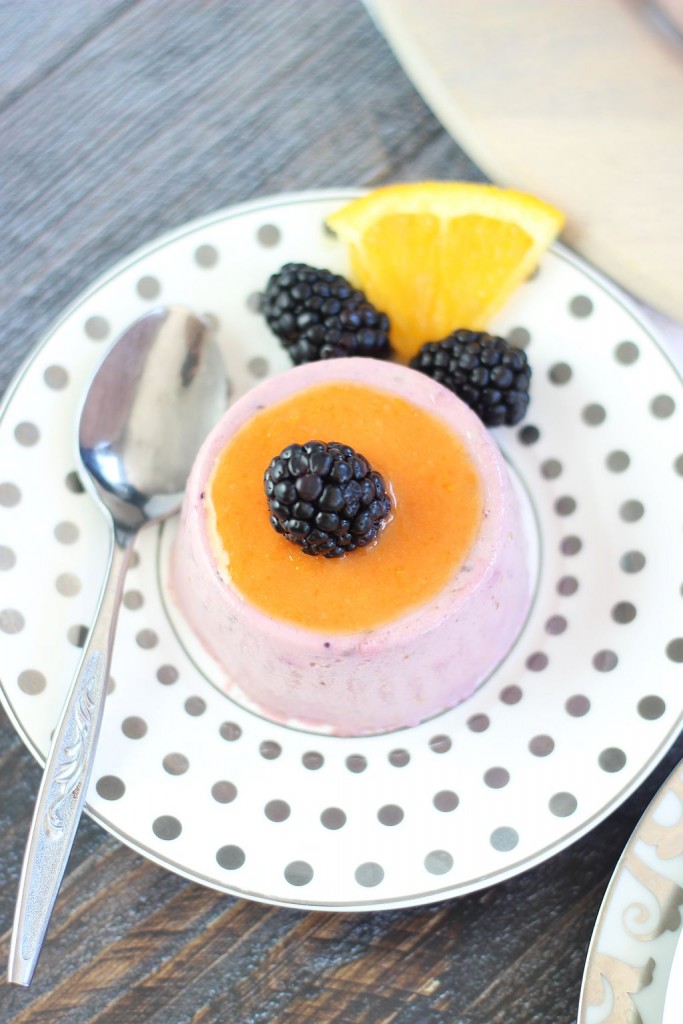 What if I promise you that this is my last recipe, at least for 2016, that contains some form of citrus curd? I'm pretty sure this is the last one. Until next year's citrus season, I will lay off the curd.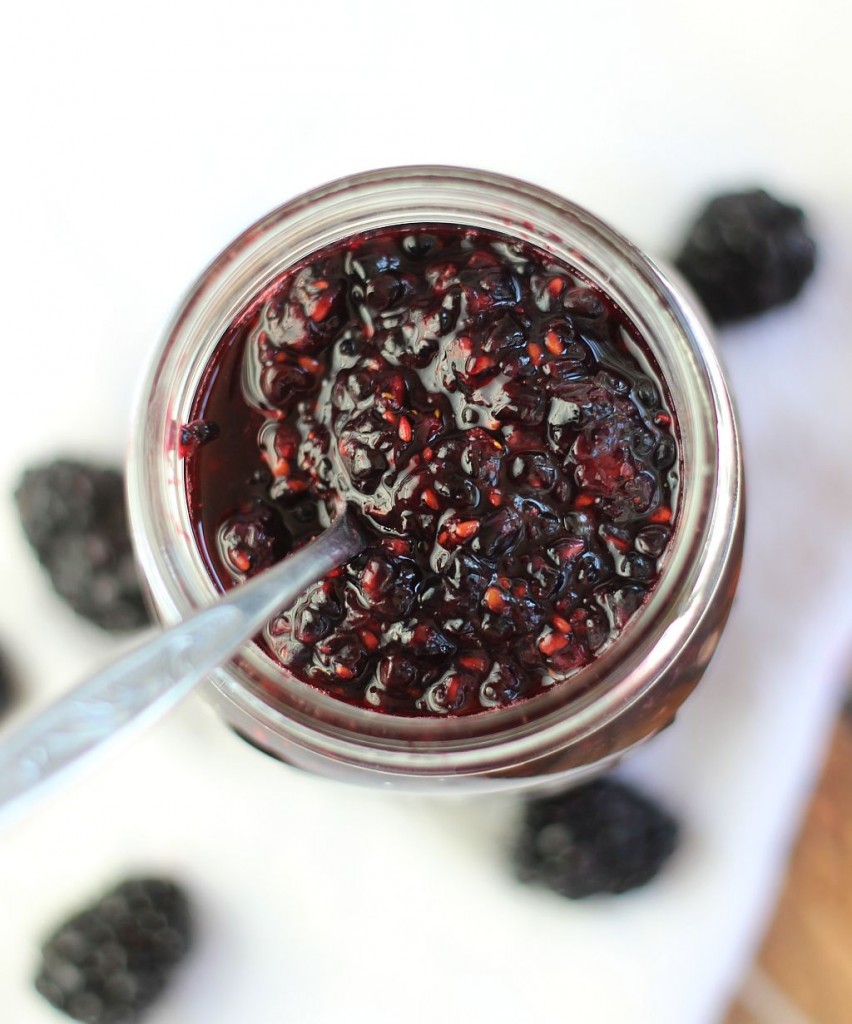 It's just so tangy and flavorful and versatile. It's the easiest thing to make in the world, and is a perfect spread for almost anything! Muffins, shortcakes, Bruschetta, French toast, and a filling for cupcakes, cakes, thumbprints, meringue nests, or crepes. So many uses, and I always have egg yolks that I don't want to waste. But I'll stop now.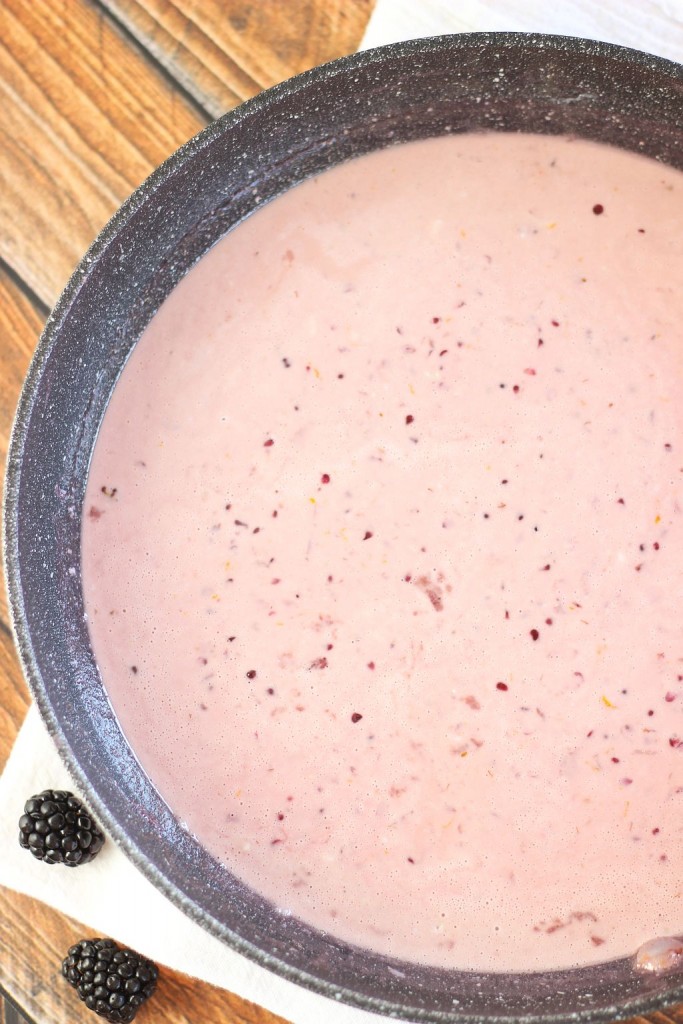 The last time I made Panna Cotta was the first time I'd ever made it. I made this Strawberry Panna Cotta, and it was the easiest dessert to make, and it was so.much.fun. Panna Cotta is kinda like Jello for adults. It's only a million times better than Jello, but it's still a gelatin-based fruity dessert, so there's a bit of similarity. And for some reason, I always find gelatin fun to work with. Homemade marshmallows anyone? Perfect example.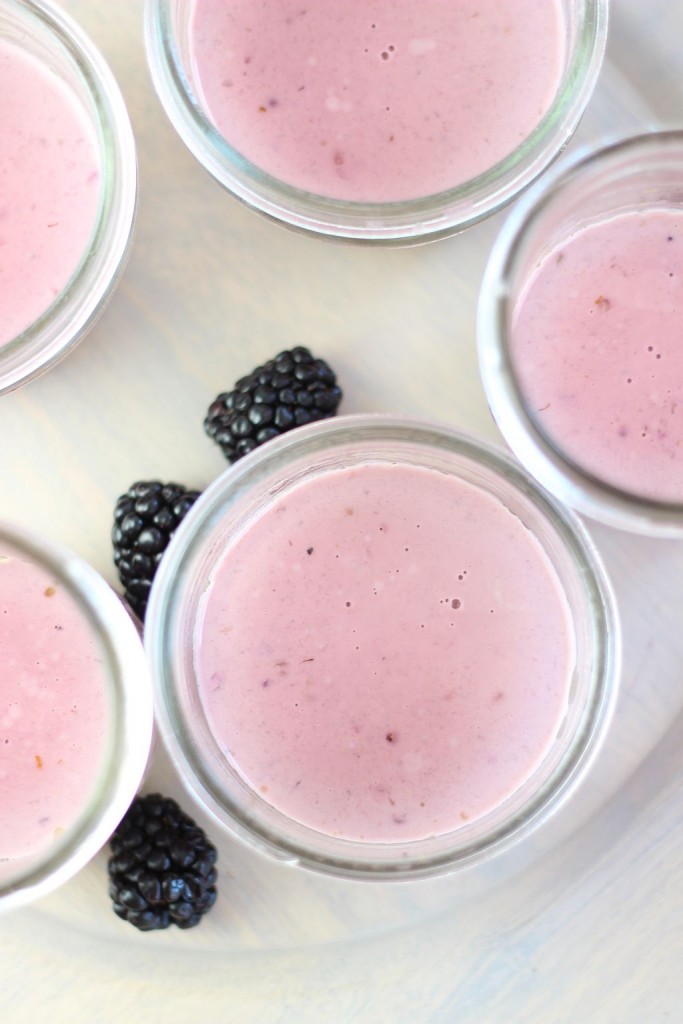 Panna Cotta seems fancy and pretentious, sorta looks that way too, but it seriously couldn't be simpler to make. It's really quite foolproof. It's also the second most creamy and rich dessert you'll ever try.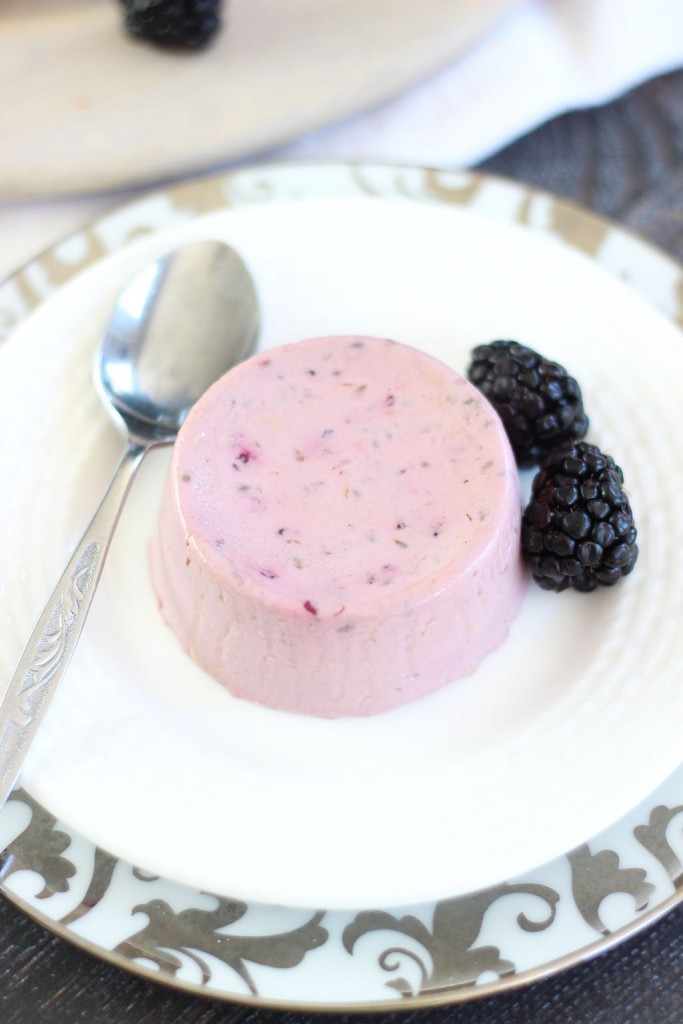 I still give the #1 spot to Pots de Creme – they are the CREAMIEST food of life – but Panna Cotta is a close second. Ultra creamy, rich, and silky… starting with a base of heavy cream will do that to a dessert.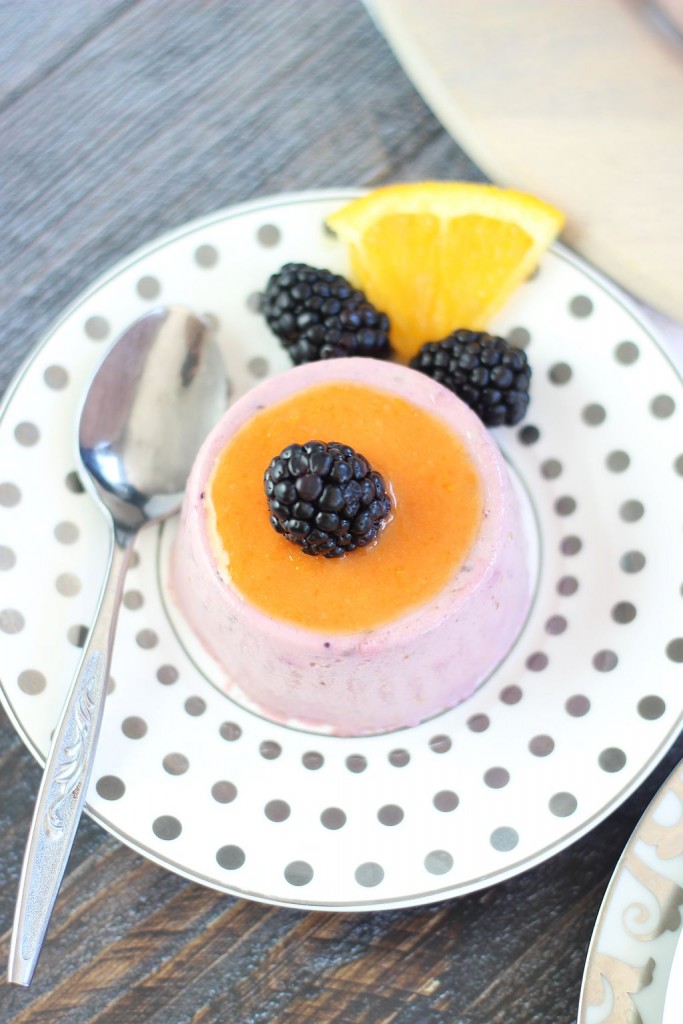 Infused with fresh pureed blackberries, brown sugar, and vanilla, the sweet berry essence in this Panna Cotta recipe is subtle, but fresh and fruity. A spoonful of homemade orange curd, or any citrus curd (I definitely love blackberry and lemon together), gives it a vibrant and tangy kick. Smooth and silky blackberry panna cotta, with a little citrus curd for pep and zing.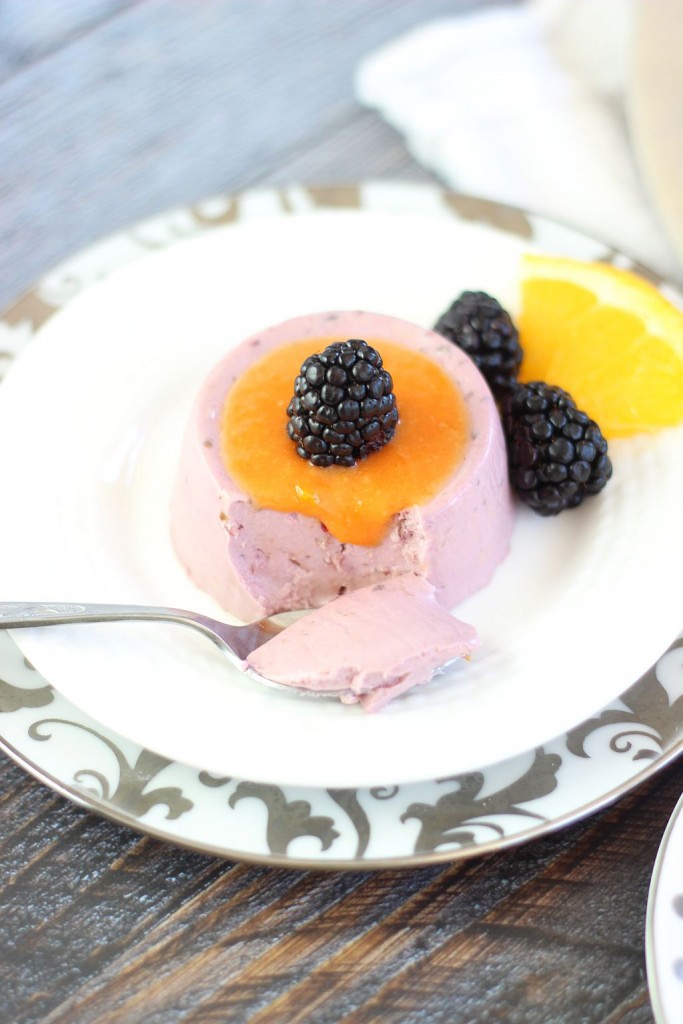 These Panna Cottas are a great dessert for entertaining. You won't slave to make them, but they'll impress guests, who will think you did! Lovely for summer since they're a rich dessert, without being heavy, and they take advantage of seasonal flavors!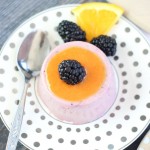 Blackberry Panna Cotta with Orange Curd
Creamy panna cotta made with fresh blackberries, and topped with homemade orange curd.
Ingredients
For panna cotta:
1 - 18

oz.

container fresh blackberries

rinsed

1

envelope unflavored gelatin

2

c.

heavy cream

1/4

c.

packed brown sugar

1

tsp.

vanilla
For orange curd:
4

egg yolks

at room temperature

zest of 2 oranges

juice of 1 orange

1/2

c.

sugar

pinch

of salt

4

tbsp.

unsalted butter

softened
Instructions
For panna cotta:
Puree the blackberries until very smooth. Press the puree through a sieve to remove seeds. Set aside.

Pour the whole milk into a large saucepan.

Sprinkle with the gelatin and let sit until gelatin softens, about 5 minutes.

Turn the heat to medium, and cook, stirring until gelatin dissolves and until the mixture simmers.

Add the blackberry puree, heavy cream, sugar, and vanilla.

Cook, stirring, until sugar dissolves.

Divide among 8 ramekins coated with cooking spray.

Cover and refrigerate until set, about 3-4 hours.

Meanwhile, prepare orange curd.

When ready to serve, run knife around edges of ramekins, and invert onto serving plates.

Top with 1-2 tbsp. orange curd.
For orange curd:
In a small bowl, whisk together the egg yolks, orange zest, orange juice, sugar and salt. Transfer to a small saucepan.

Cook the mixture over low-medium heat, stirring constantly, until it is thick enough to coat the back of a spoon, 3 to 5 minutes.

Remove from heat and add the butter. Mix until smooth.

Transfer the curd to a small bowl and cover with plastic wrap.

Refrigerate until chilled, about 30 minutes.

Top blackberry panna cotta with orange curd, and serve.
If you're like me, and you didn't have enough ramekins handy, you can fill mugs or jars. They will give the dessert a rustic charm! 😉