Yeast-based cinnamon rolls made with butter pecan cake mix, filled with brown sugar, cinnamon, and caramel sauce, topped with a warm butter pecan icing.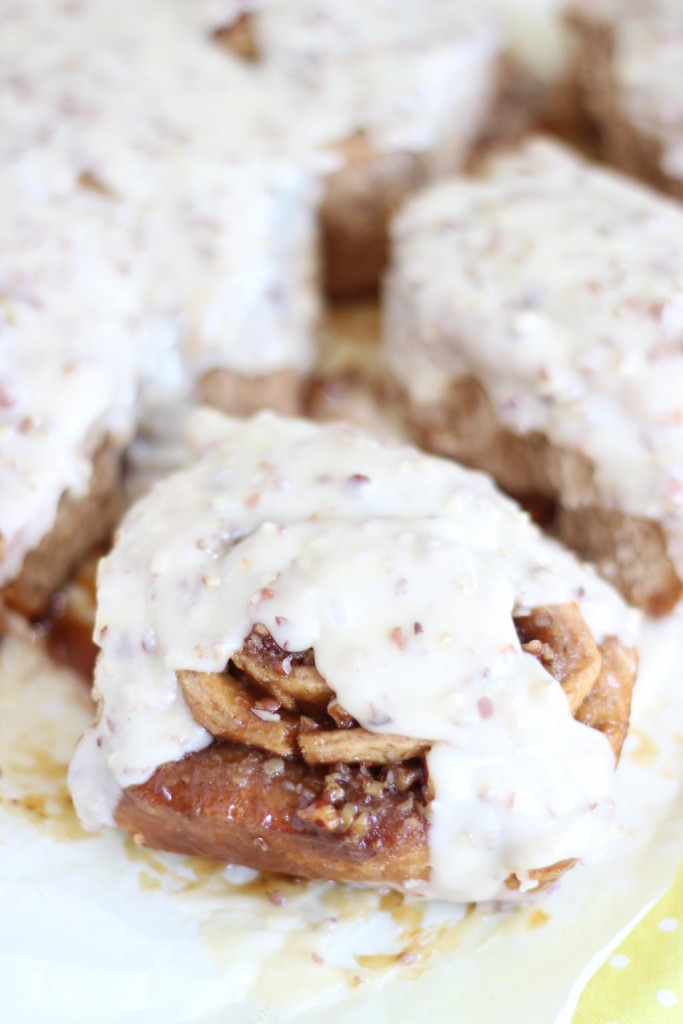 These cinnamon rolls are kinda ugly, you guys. This is ugly food, no? There's no way to make them prettier and more photogenic. No way that I could figure out, so I'll have to convince you with my words instead of the photos.
My photos are often not convincing either, but I try.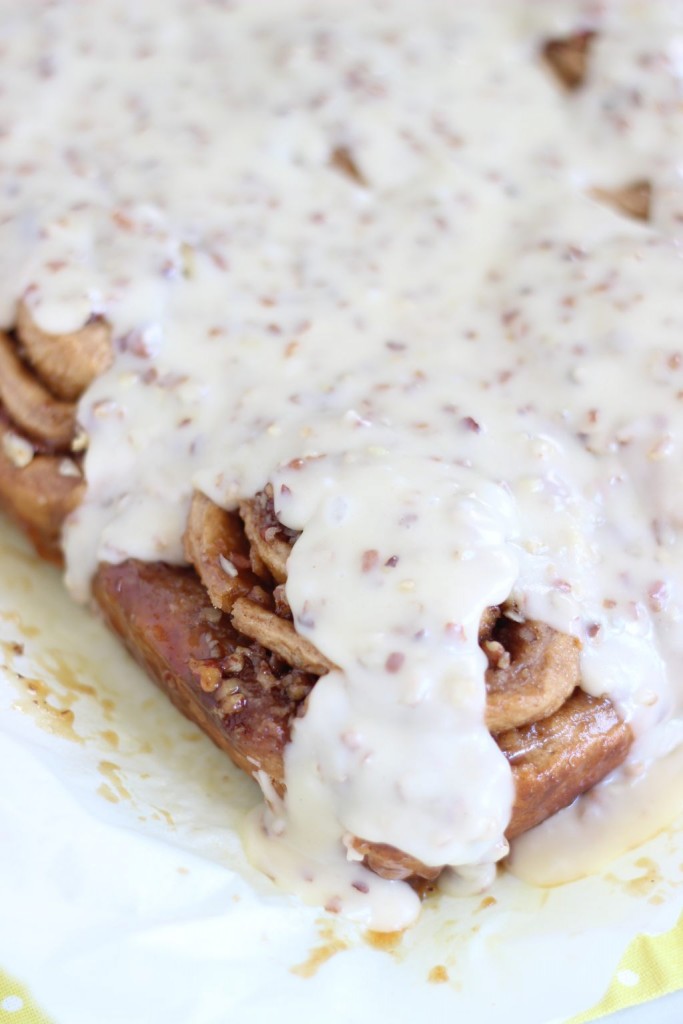 I discovered cake mix sweet rolls a few months ago, and I obsessed over them. Yeast-based sweet rolls that start with a cake mix. Genius. The flavor is built right into the dough.
I made these Orange Sweet Rolls and Lemon Raspberry Sweet Rolls from the basic recipe, and then, because I can't do anything without going overboard and making it at least 3x, I made these Butter Pecan Cinnamon Rolls.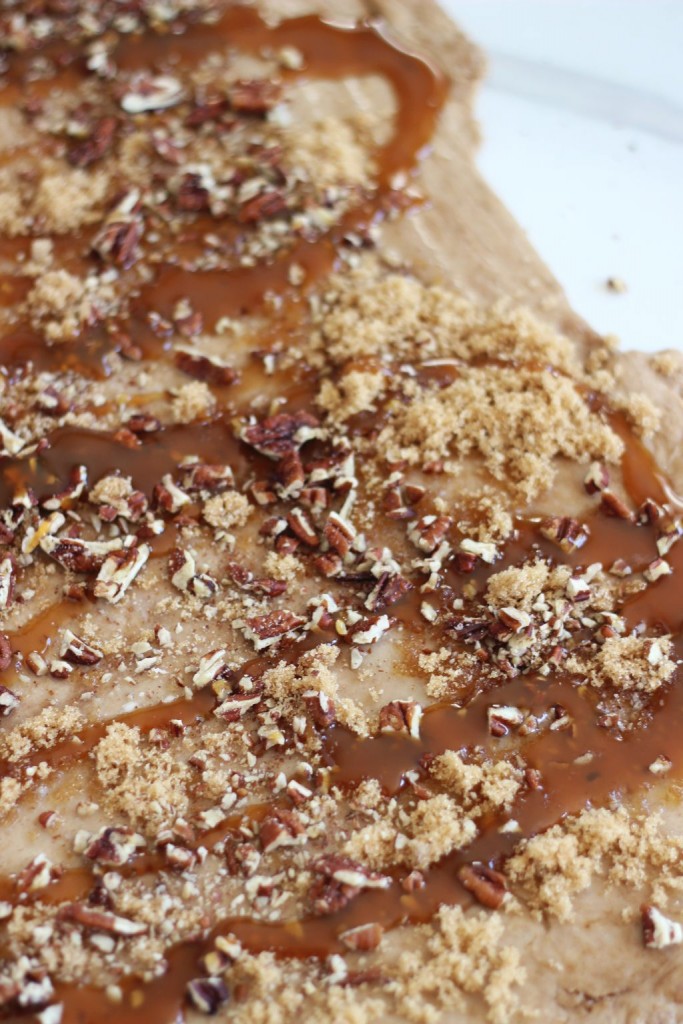 This Butter Pecan version is a nice segue to fall though. Starting with butter pecan cake mix, and sprucing it up with yeast, these cinnamon rolls are a little more dense and cakey than a standard cinnamon roll recipe, but the yeast keeps them pillowy soft and chewy. And they are SO much fun to make. That's coming from someone who HATES working with yeast. These are foolproof though, maybe that's why they are fun. They WORK.
Filled with a combo of butter, brown sugar, pecans, AND caramel sauce, these get seriously messy, in a good way. Standard cinnamon roll filling, but add a generous drizzle of caramel sauce too, just for good measure.
The icing… I want to say that this is my favorite part, but it's so hard to pick. The butter pecan-flavored rolls are great, the filling is divine, and the icing is no slouch, to be sure. Then again, it's impossible to go wrong when you whisk together melted butter, powdered sugar, and pecans, and call it icing. It's not pretty icing, as you can see, but it's amazing, and that's what matters. Butter: check. Sugar: check. Pecans: check. Best icing ever.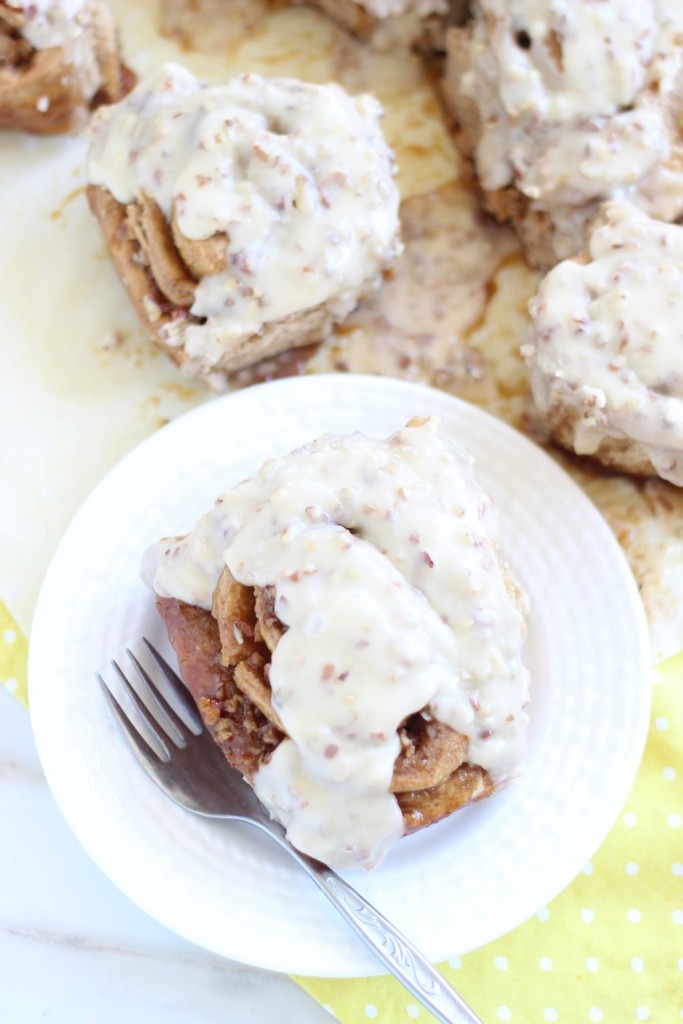 The recipe makes quite a few rolls. You can either feed a crowd, or keep them for yourself and eat them for days. I vote for the latter.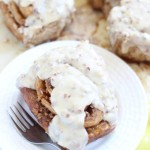 Butter Pecan Cinnamon Rolls with Butter Pecan Icing
Total Time
2
hours
25
minutes
Ingredients
For Butter Pecan Cinnamon Rolls:
2

packets active dry yeast

2 1/2

c.

warm water

1

box butter pecan cake mix

5

c.

all-purpose flour

1

tsp.

cinnamon
For filling:
1/4

c.

butter

melted

1/2

c.

packed brown sugar

2/3

c.

chopped pecans

about 1/2 c. prepared caramel sauce

eyeball it
For Butter Pecan Icing:
1/2

c.

unsalted butter

melted

2 - 3

c.

powdered sugar

1/2

tsp.

butter extract

optional

1

c.

pecan cookie pieces

they're finely chopped pecans
Instructions
For Butter Pecan Cinnamon Rolls:
In a medium bowl, combine yeast and warm water, stirring until yeast is dissolved.

In a large bowl, whisk together butter pecan cake mix, flour, and cinnamon.

Add the yeast mixture to the cake mix mixture, and stir with a sturdy wooden spoon, or use your hands, until ingredients are combined.

Lightly grease the top, and cover with plastic wrap.

Let the dough rise for 1 hour, then punch it down, and let it rise again for another 30 minutes.

Lightly grease a 9x13-inch pan and an 8-inch square pan.

Turn the dough out onto a lightly floured surface, and roll it into a large rectangle. Mine was enormous - approximately 18x24 inches, and just over 1/4-inch thick.

Brush the dough with the melted butter, sprinkle with brown sugar, sprinkle with pecans, and drizzle with caramel sauce.

Roll the dough from the shorter side, so that it forms a log approximately 18 inches long.

Cut into 16 equal-sized pieces. It will get messy, but you can use two hands to lift each piece into the pans. Or, I use a knife with a large blade, and once I cut a slice, I rest it straight onto the blade so I can transfer it to the pan.

Place 4 in the smaller pan, and 12 in the larger pan.

Bake at 350 degrees for 15-20 minutes, or until the rolls are golden brown at the edges. My rolls were quite large, and it took about 18 minutes, but I think this can vary depending on how you cut the rolls.

Allow to cool for about 10 minutes before spreading with the icing!
For Butter Pecan Icing:
Place butter in a medium microwave-safe bowl. Heat on high for 30 seconds, or until melted.

Add 2 c. powdered sugar, butter extract, and pecan cookie pieces, and whisk until smooth.

Add additional powdered sugar as needed to thicken icing to desired consistency. I used almost 3 cups.

Drizzle evenly over warm rolls, and serve immediately!