This Sausage and Bean Soup is hearty with vegetables – onion, sweet potatoes, and even Brussels sprouts, but it's also loaded with white beans, sausage, and bacon! It has a little of everything, and it will get you through this late winter cold-spell!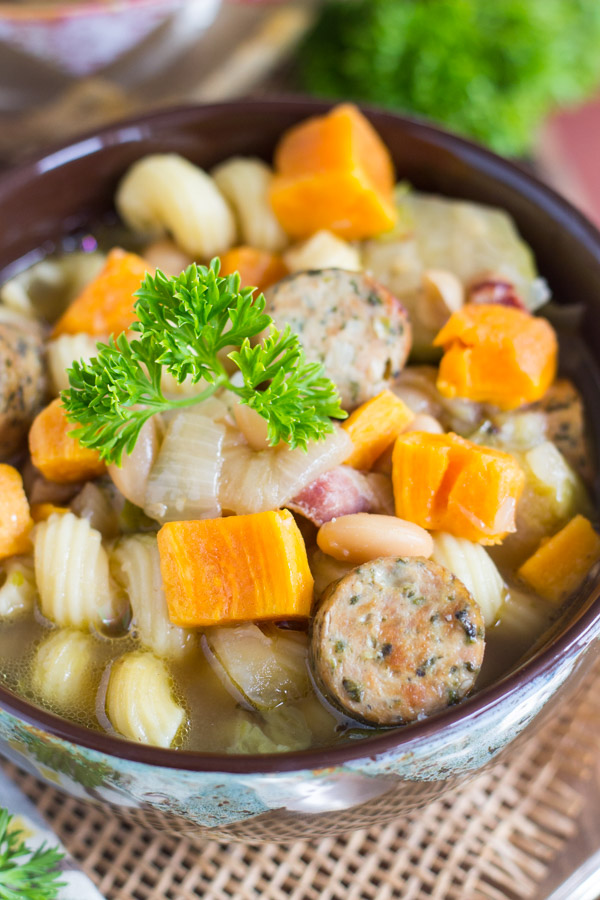 Why am I posting this Sausage and Bean Soup recipe after posting this bright and sunny Lemon Poppy Seed Loaf Cakes recipe? Because it's like fall outside! It feels just like fall here.
I feel like I should be going to a football game.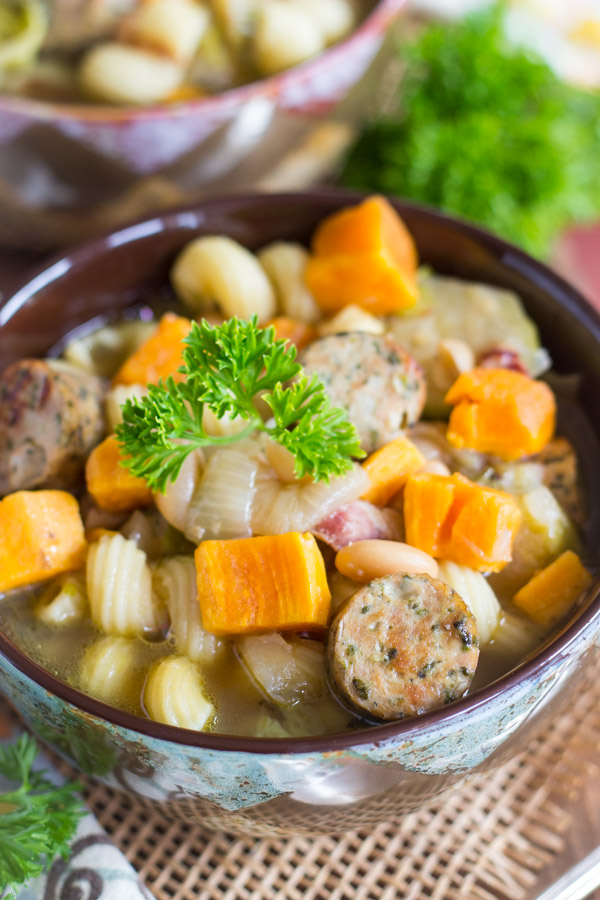 I know you probably don't want to hear this if you're in the midwest or northeast – a colleague of mine was supposed to come down this week from Philadelphia, and she's snowed in, in fact. You don't want to hear that it's 'fall-like' somewhere when you're a shut-in from the snowfall, and temps are in the teens. Still, in either of these climates, there's no better food than soup. I'm allllll over this Sausage and Bean Soup today.
And tomorrow is going to be colder, so I'm planning to eat soup for all my meals for the next 3 days til it warms up again.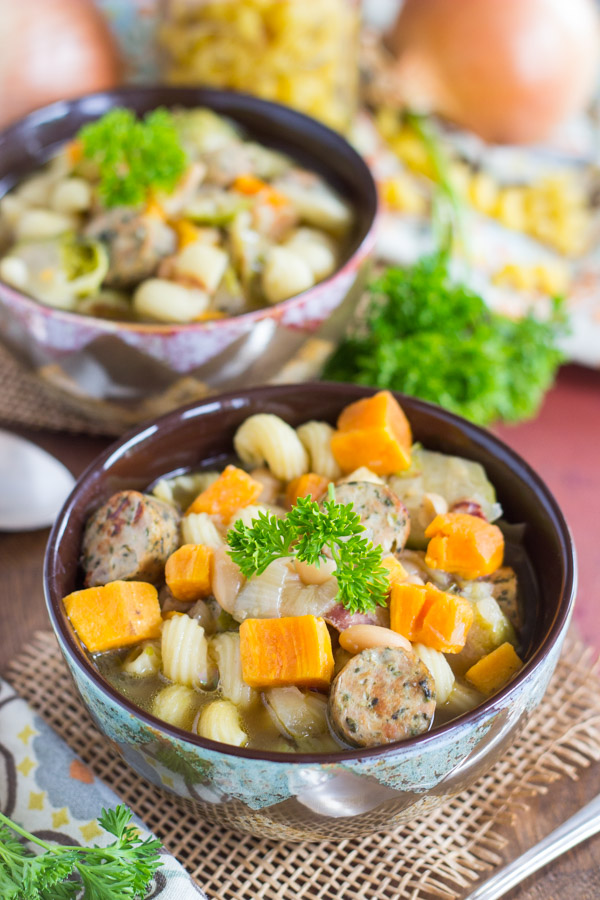 It rained cats and dogs last night, and I woke up this morning to gloomy, cloudy skies, strong winds, and temps in the low 60s. Doesn't sound bad, I know, but something about cooler temperatures in Florida feels worse than those same temperatures up north. I'd swear to it, and I'm a credible source to say that since I lived in Erie, PA most of my life. We froze our asses off in the fall when we played a round of golf and it was 63 degrees.
In addition to the gloomy sky, it was actually dark outside. You know, dark dark. Daylight savings is really only one hour difference? Why does it feel like so much more?? I woke up at 7:45 this morning, which is actually quite late, right? It felt like 5am to me. I felt like I was getting up in the middle of the night. And even at almost 8am, it still wasn't light out. It takes weeks to adjust.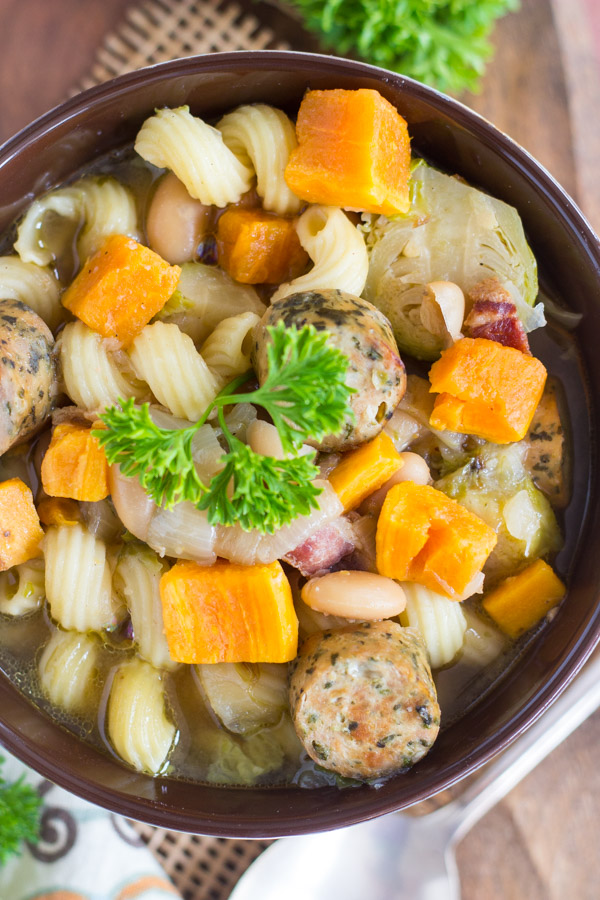 I really wanted to title this Sausage and Bean Soup recipe something way more complicated than that simple name, but I also didn't want it to be crazy convoluted. But calling it Sausage and Bean Soup doesn't nearly cover what all this soup has to offer. There's SO MUCH MORE to it!
It's hearty with vegetables – onion, sweet potatoes, and even Brussels sprouts. Yes, Brussels sprouts. They're not just the world's most awesome side dish, but they also make for a great veggie in soup, believe it or not. The healthfulness and heartiness does not stop there. This soup also features white beans, bacon, and a little pasta.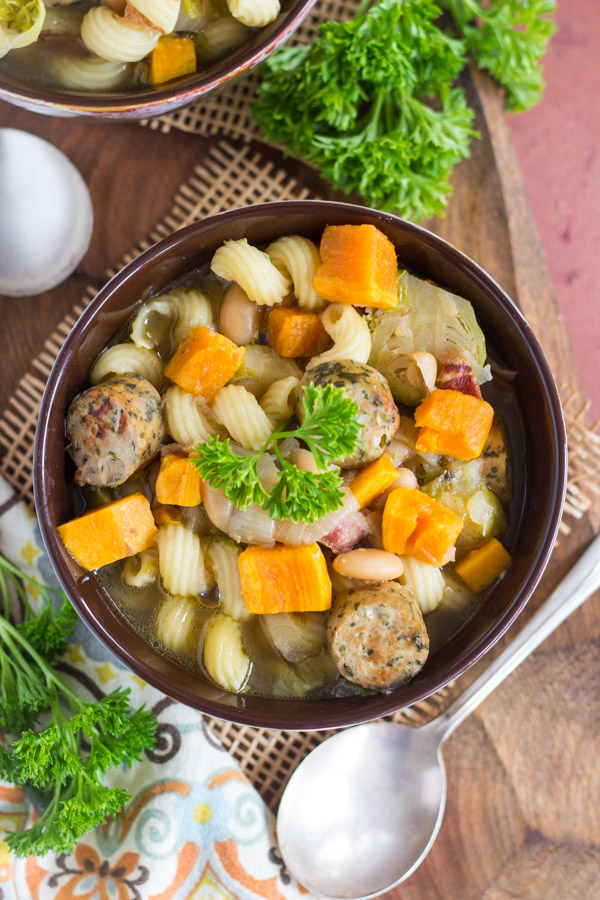 Last but not least, sausage. I used Asiago spinach chicken sausage that we found at Publix. You don't have to use this flavor specifically, of course, but I find that almost every grocery store has some kind of flavorful chicken sausage that is at least similar to the one I used in this recipe. But whatever your favorite sausage is, use that. This soup has EVERYTHING!
I just came in from a seriously brisk sunset bike ride, and I'm thinking that I need a big vat of this soup right now. Serve it with these ridiculously simple Quick & Easy Toasted Pecan Goat Cheese Biscuits for a satisfying and comforting meal.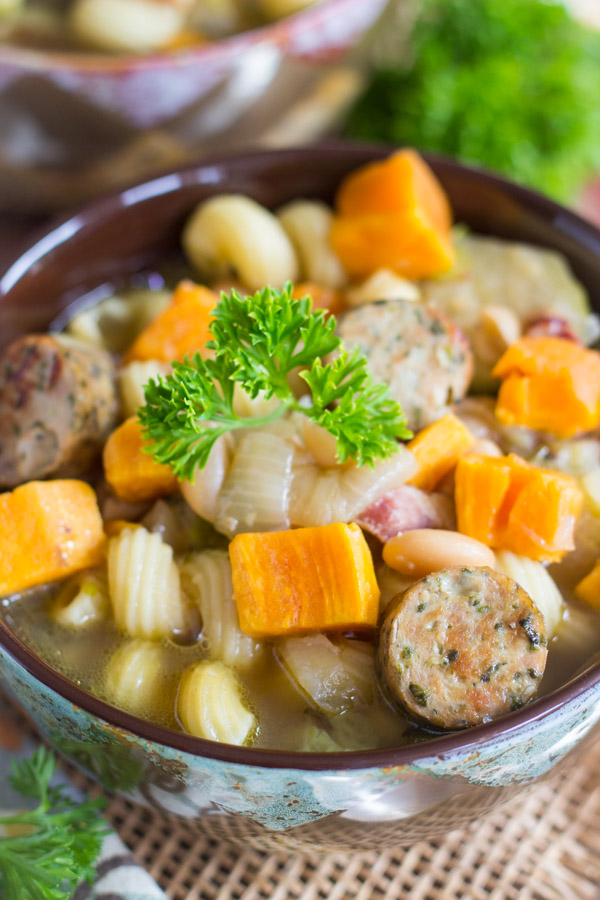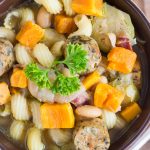 Sausage and Bean Soup
This soup is hearty with vegetables - onion, sweet potatoes, and even Brussels sprouts, but it's also loaded with white beans, sausage, and bacon!
Ingredients
2

tbsp.

butter

1

large onion

sliced

1

lb.

or 4 large links asiago spinach chicken sausage, or your favorite sausage, sliced into 1-inch pieces

1

c.

sliced Brussels sprouts

2

medium sweet potatoes

peeled, diced

1 - 15

oz.

can cannellini beans

well-drained

6

slices

fried bacon

crumbled

1

c.

dried corkscrew pasta

4

c.

chicken broth
Instructions
Melt butter in a large stockpot over medium-high heat.

Add sliced onion, sausage pieces, and Brussels sprouts.

Saute until onions and sprouts are soft and golden, and the sausage is browned.

Add sweet potatoes and cook for 3-4 minutes, or until they just begin to soften. They'll continue cooking in the broth.

Add cannellini beans, crumbled bacon, corkscrew pasta, and chicken broth.

Bring to a simmer, and cook until pasta and sweet potatoes are tender, about 10 minutes. Serve!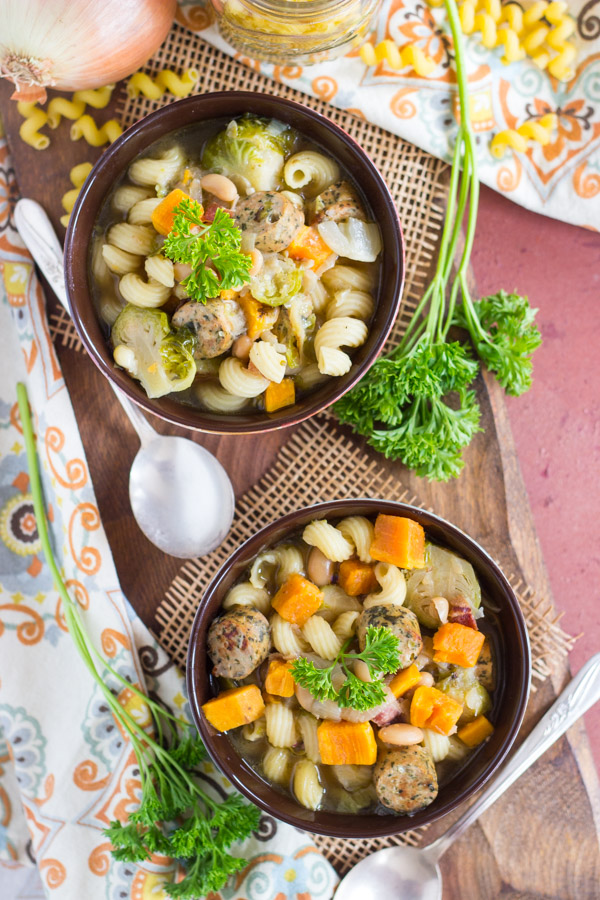 You may also like these recipes!
Sweet Potato White Bean Soup with Bacon and Crispy Sage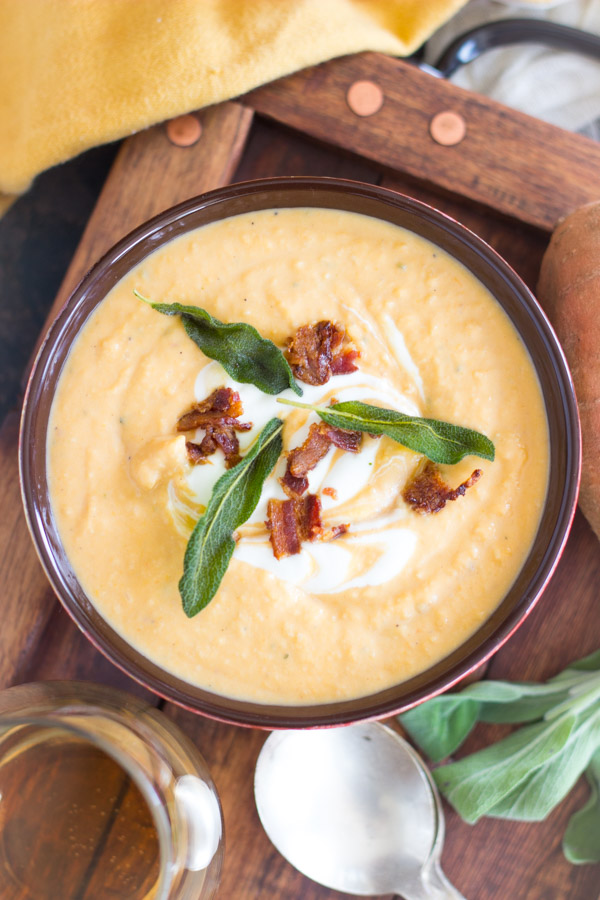 Lemon Dill Chicken Noodle Soup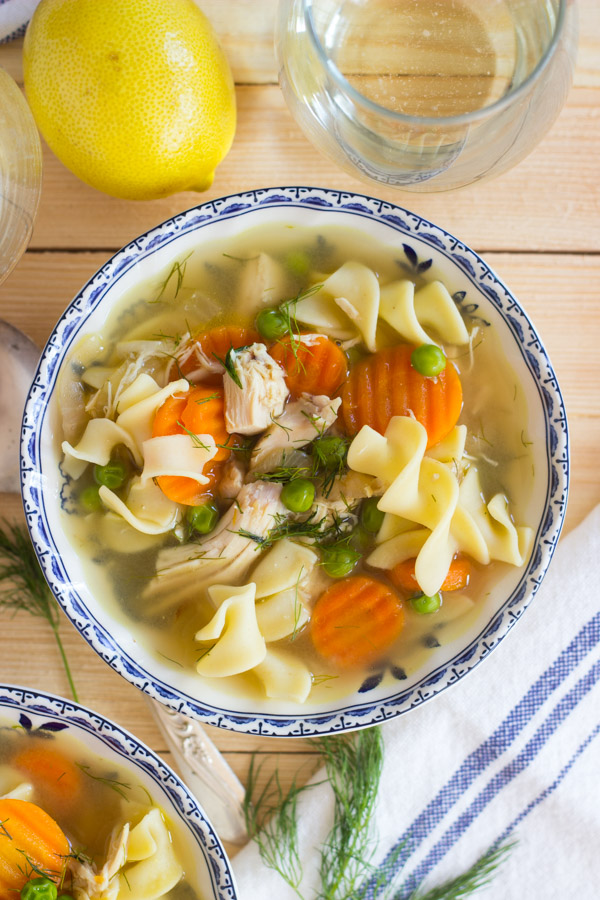 Quick & Easy Mushroom Barley Soup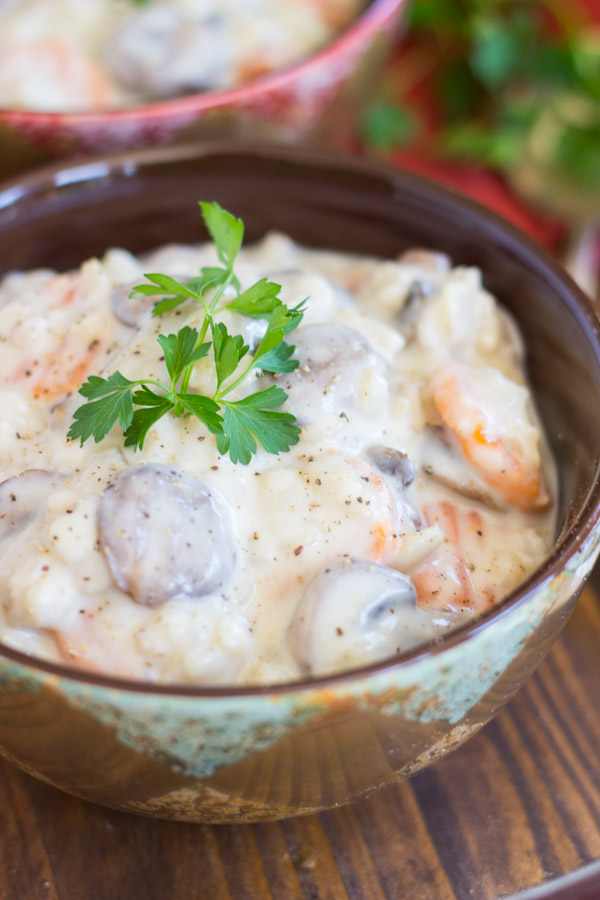 Chicken Mushroom Alfredo Soup with Gnocchi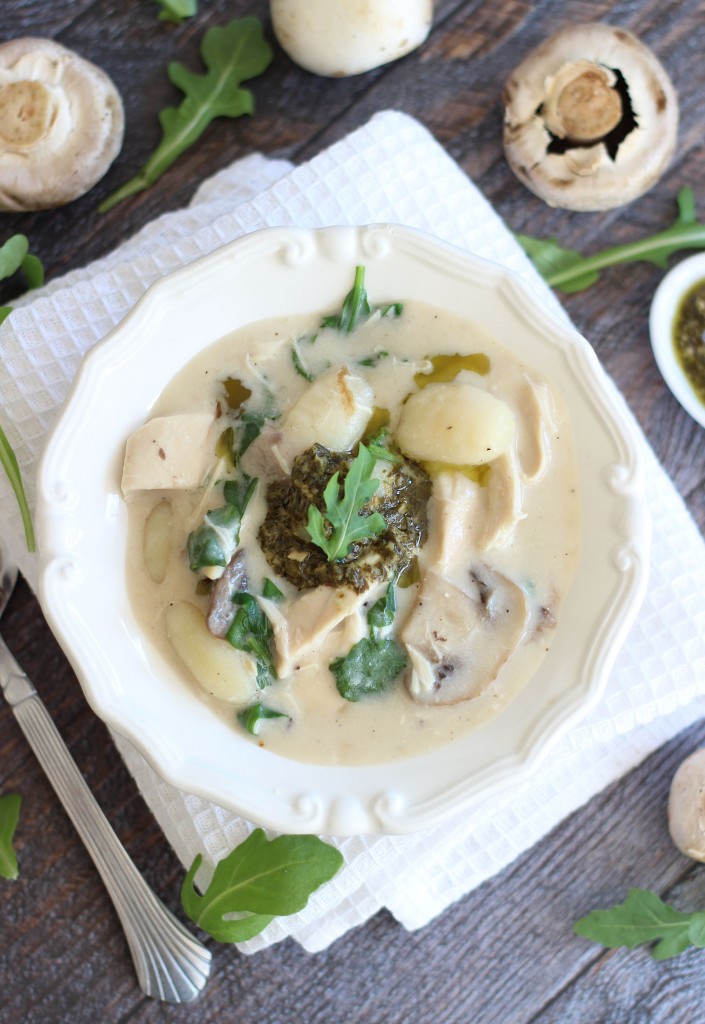 Quick & Easy Toasted Pecan Goat Cheese Biscuits