Pan-seared Brussels sprouts, cooked and glazed in a balsamic & dijon mustard sauce. These Dijon Balsamic Brussels Sprouts are a simple and healthy veggie side dish!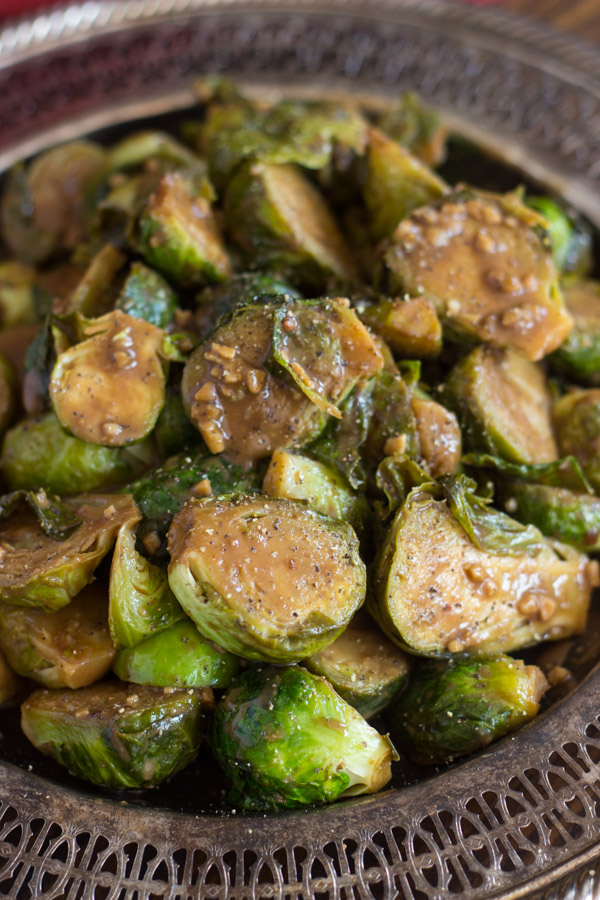 TGIF! So happy the weekend is here. How was your week? It was another busy one here, and work was insane. So seriously…. TGIF.
We had a huge storm come through the night before last, and it brought a cold front in. We're excited to have it because our weather will be in the 70s for a few days, and this is probably the last 'cool' snap we'll get before we're back to temps in the 90s and beyond til, like, November.
I'm heading out on a bike ride any moment to savor the day.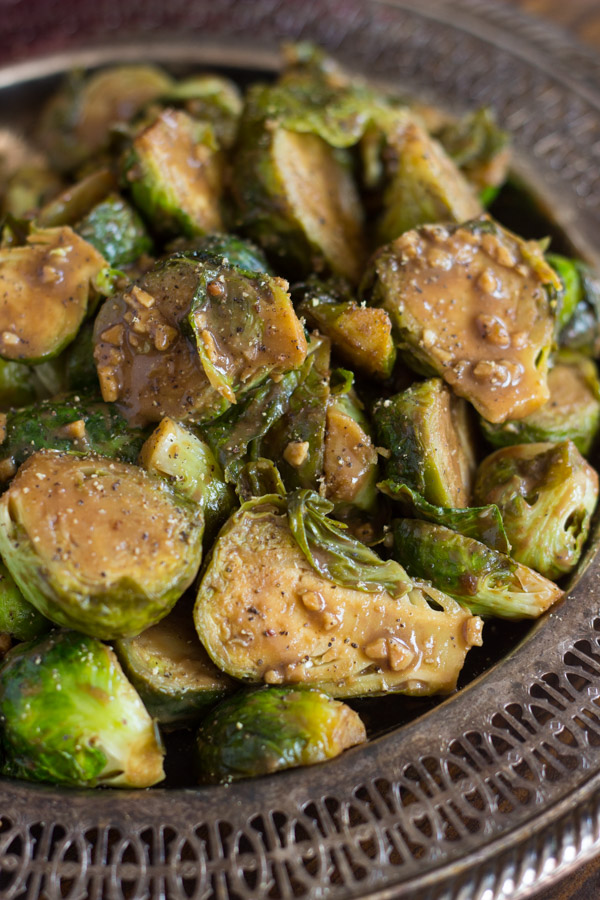 Speaking of savoring things, you guys really do not seem to dig many savory things on this site. Lol. My posts for non-sweet foods don't seem to perform all that well, so maybe I'll scrap what I have coming? You tell me. I totally get it because most people come here for desserts and sweets, but we don't eat those foods 24/7 (duh), so I figure, if I'm cooking anyway, I'll show it to you here too.
But maybe I won't anymore if you aren't interested? Let me know your thoughts on this.
For now, I'll stick with what I have mapped out. Thus, here is another Brussels sprouts recipe. I love these Dijon Balsamic Brussels Sprouts second only to these Bacon, Apple, & Caramelized Onion Brussels Sprouts. Those Brussels are so good that you completely forget you're eating a vegetable. You almost feel like you're eating candy. Yes, candy. You definitely want your Brussels sprouts to feel like that more than you do a veggie.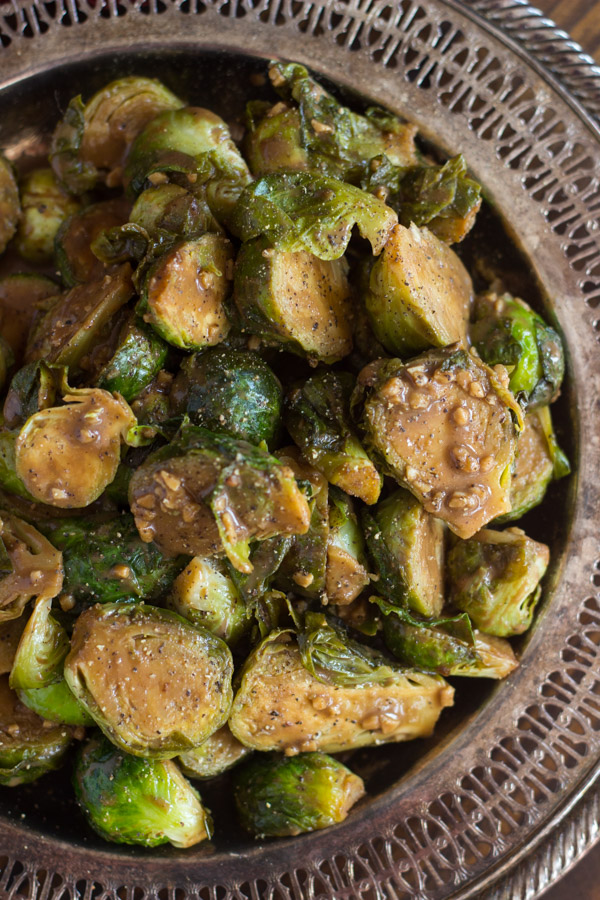 Brussels sprouts are my favorite vegetable, by far. I can eat them a few times/week, and I never tire of them, and they can be prepared in such a variety of ways. My love affair with Brussels sprouts is undying. I have loved other vegetables, but it's usually a short-lived phase. I ate spinach 2 or 3x/day for 4 or 5 months back in 2009, and now I rarely eat it. I loved it, obsessed over it, then flamed out fast.
That doesn't happen with this veggie. I'm always perfectly content to eat them roasted with just salt, pepper, and a little butter. We buy 2lb. bags at Sam's Club, and I've eaten half a bag by myself, without thinking twice. A pound of Brussels sprouts. It's crazy.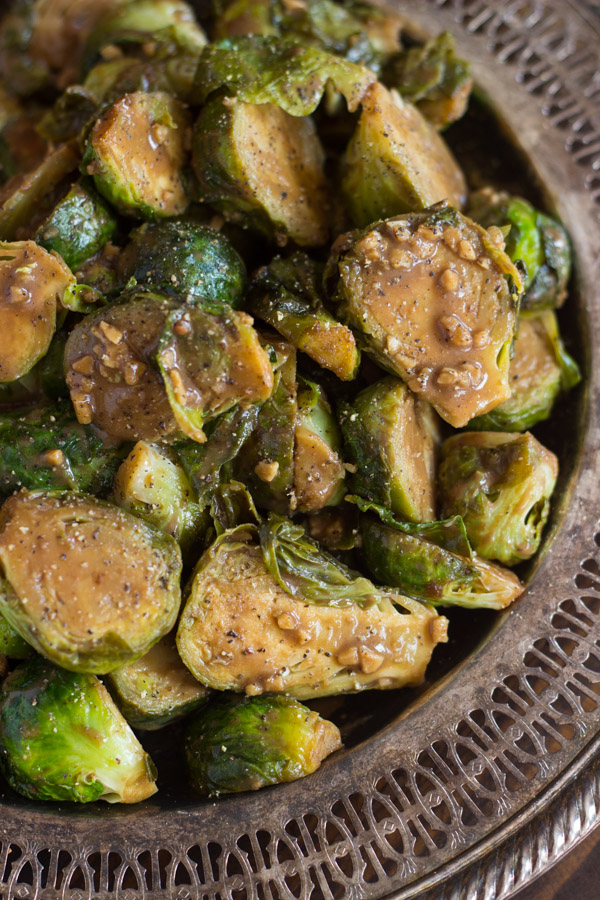 You can never go wrong to douse Brussels sprouts in balsamic vinegar, and I love the slightly sweet, tangy vinegar combined with mustard…. also tangy, but I use dijon mustard so that it adds a kick. Oh, and garlic. Garlic never hurts anything. It's a really nice mix of flavors and it balances out really well. It enhances the Brussels sprouts, but doesn't completely mask their own vibe.
I could write a book on Brussels sprouts variations alone, though I don't know who would buy it, but this Dijon Balsamic Brussels Sprouts recipe is another favorite in my repertoire.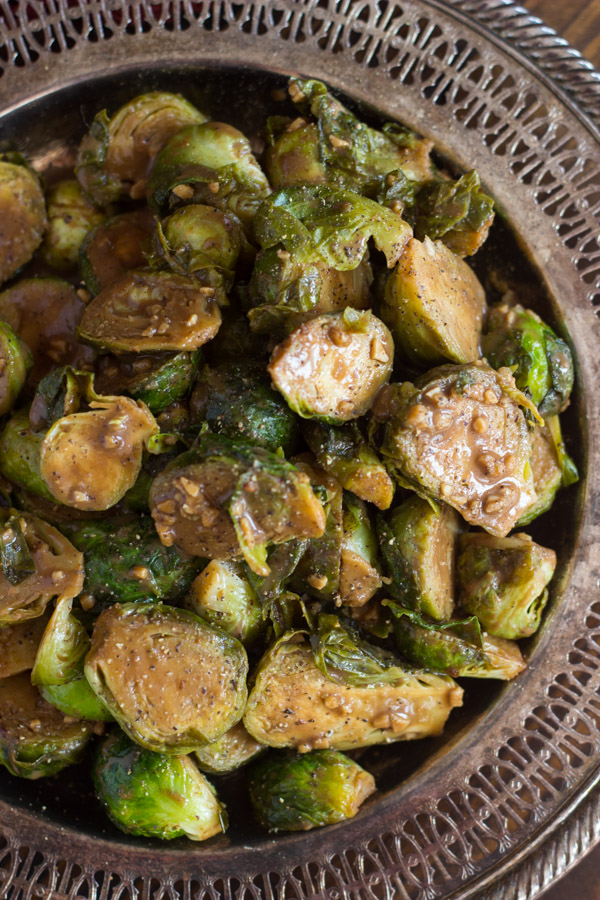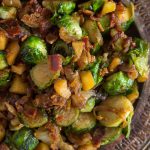 Dijon Balsamic Brussels Sprouts
Pan-seared Brussels sprouts, cooked and glazed in a balsamic & dijon mustard sauce.
Ingredients
3

tbsp.

butter

1

lb.

Brussels sprouts

rinsed, cut in half lengthwise

2

tsp.

minced garlic

1 1/2

c.

water

2

tbsp.

dijon mustard

1/4

c.

balsamic vinegar

2

tbsp.

honey

salt & pepper

to taste
Instructions
In a large saucepan over medium-high heat, melt the butter.

Add Brussels sprouts and garlic.

Cook until Brussels are golden and crisp on the edges, about 5 minutes.

Add water, cover saucepan with lid, and bring to a simmer. Cook until Brussels are soft, 7-8 minutes.

If any water remains, carefully drain it from the pan.

In a small bowl, whisk together mustard, balsamic vinegar, and honey.

Drizzle over the Brussels, and stir to coat.

Cook uncovered for 1-2 minutes, or until heated through.

Sprinkle with salt & pepper.

Serve!
You may also like these veggie recipes:
Bacon, Apple, & Caramelized Onion Brussels Sprouts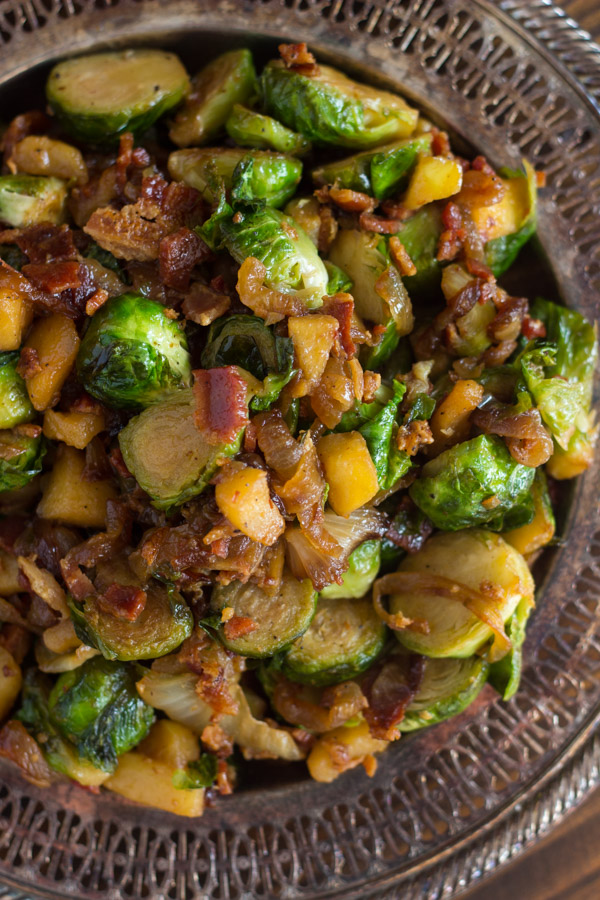 Caramelized Onion Garlic & Goat Cheese Mashed Potatoes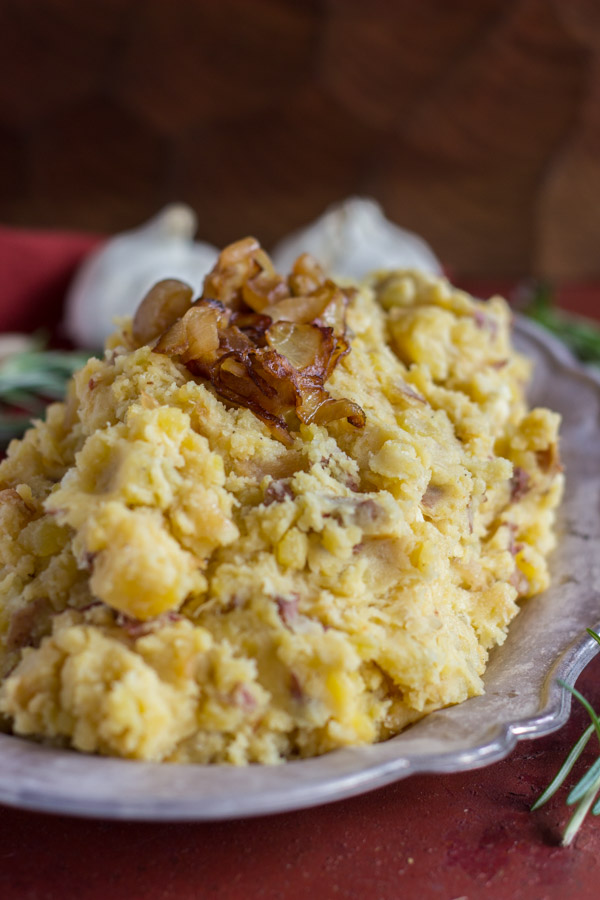 Cheesy Green Bean Casserole Amandine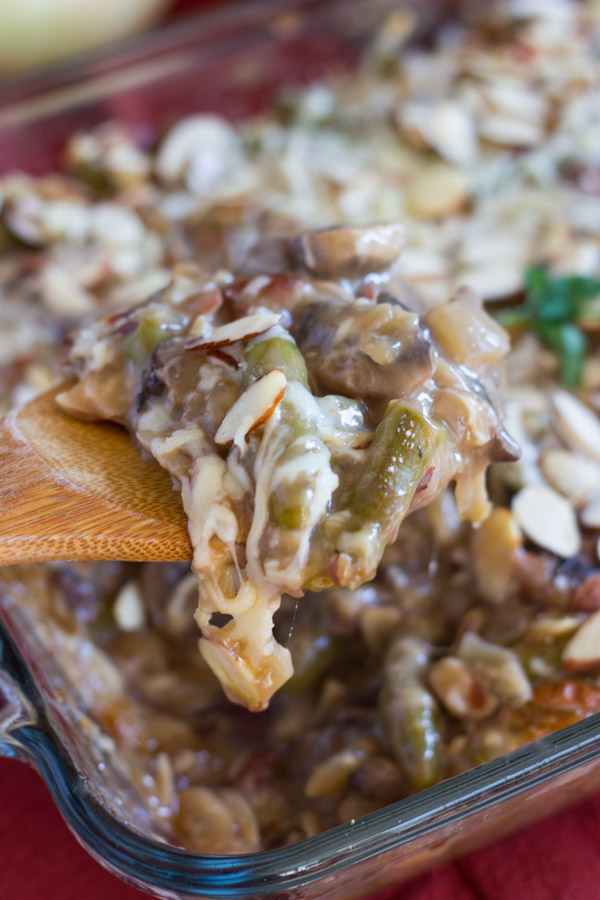 Honey-Dijon Glazed Parsnips Recipe