This post has been sponsored by Dr Pepper® and Johnsonville®. All thoughts and opinions are my own.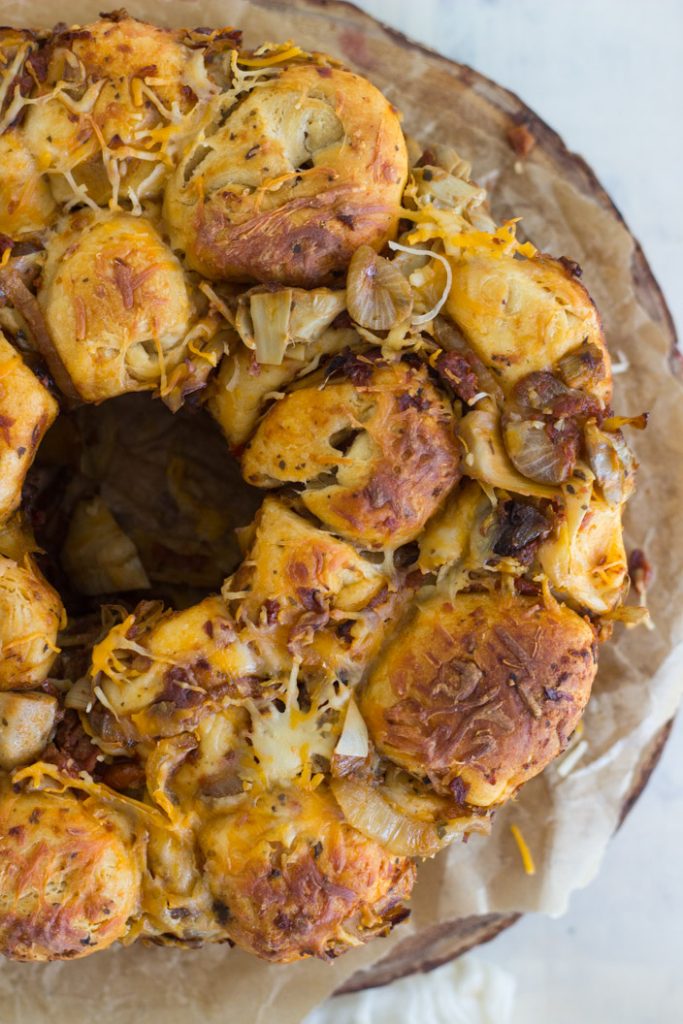 Hey!! It's the BEST time of the year! I say it every year, and you know where I'm going with this, so say it with me: football season is FINALLY here! I wait all year for it to be football season, but you guys know this. I only say it every year. I used to be strictly a college football fan, and I couldn't get interested in professional football. When I met my S.O., he was strictly a professional football fan. Well, we've crossed each other over. It took a few years, but he's got the college football bug. It didn't take me long at all to find myself engrossed in professional football, so now that's a big part of how we spend our fall weekends, and I quite love it. I'm die-hard for my college football team! I love both the camaraderie and the rivalries involved in college football. What about you? Do you have a favorite team?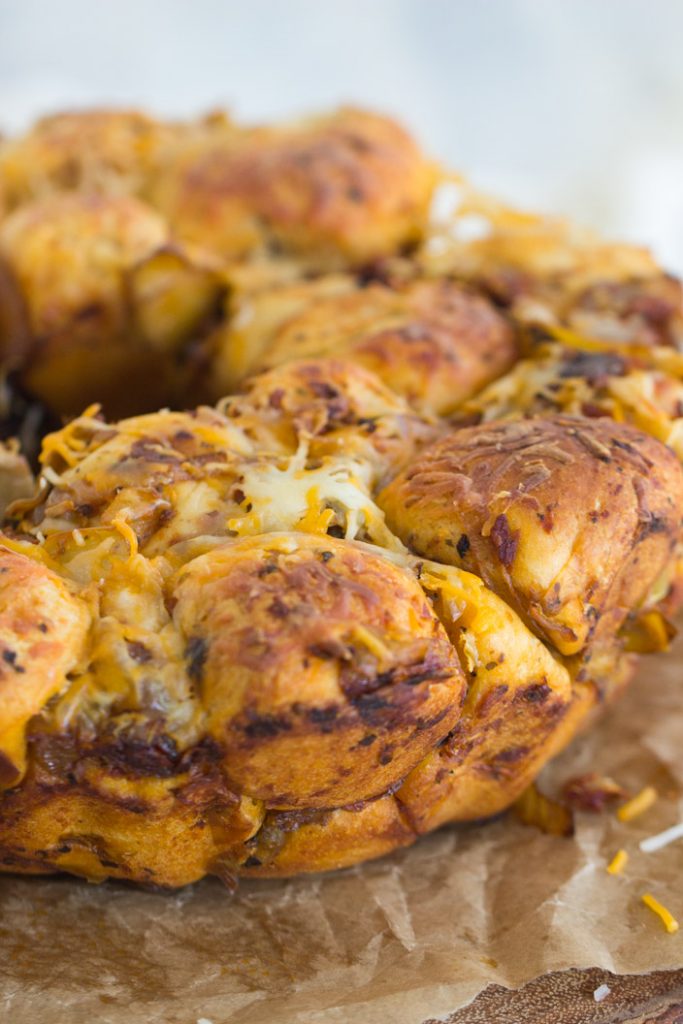 We spend football weekends one of two ways. We either have friends and family over to watch games, and I bake football snacks. Or if it's just the two of us, we've got football games running in the background while I'm baking up a storm in the kitchen making all things fall-ish. You know, pumpkin things and apple recipes – stuff like that. In either case, food is involved, and it's getting made and devoured!
I've made quite a few monkey bread recipes over the last few years, and I love all my previous recipes, but none of them are savory. They're all sweet and dessert-y. It's been on my baking bucket list for a while to put together a savory version of monkey bread, and I whipped up this Sausage-Stuff Savory Monkey Bread for us to have as football food.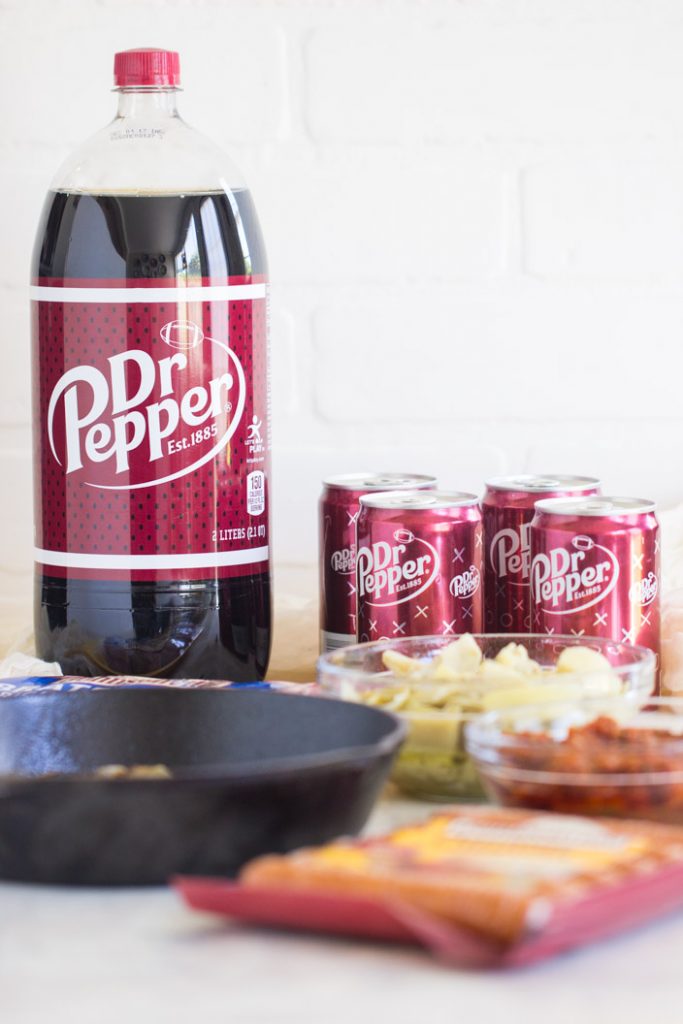 I picked up every ingredient I needed at Publix, including a few cans of Dr Pepper, as well as a 2-liter bottle, and also Johnsonville Original Brats and Johnsonville Beddar with Cheddar Smoked Sausages. I like to keep Dr Pepper on hand because that's what my in-laws like to drink, and they come over for games quite a bit. In particular, my nephew loves it, so we like to make sure we have it on hand. After all, "Dr Pepper is the one fans crave!" It pairs really well with this monkey bread. A sweet and fizzy cold beverage complemented this savory dish nicely. Dr Pepper has such unique flavor, and is so refreshing. I figured we could fire up the grill and throw these Johnsonville Original Brats on the fire for a quick and simple meal to serve on hot dog buns.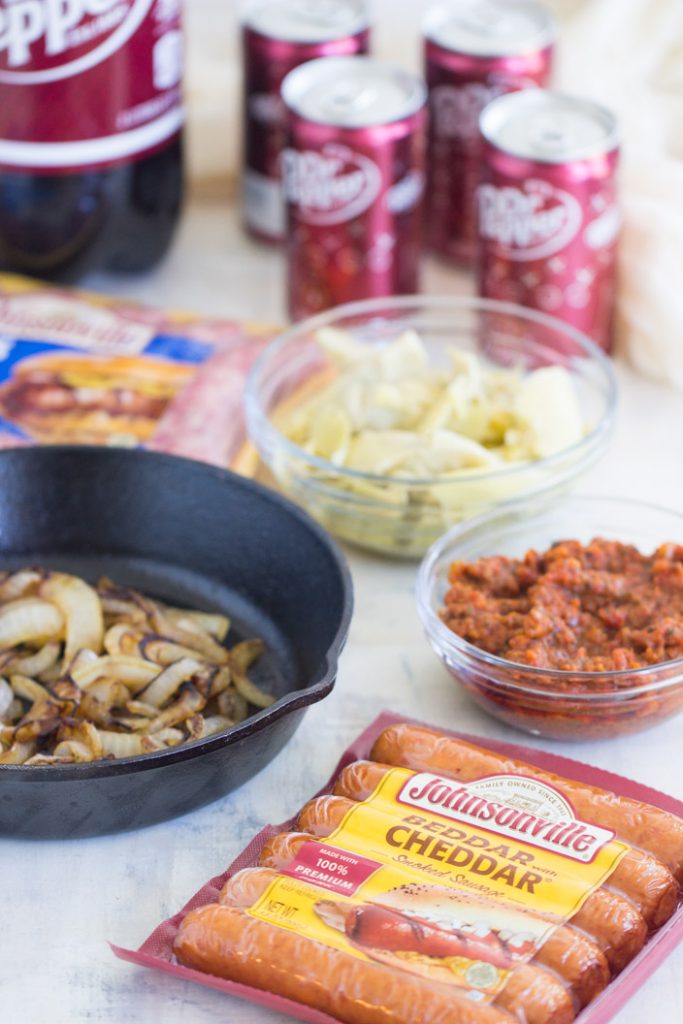 I had a grand idea for what I was going to do with the Johnsonville Beddar with Cheddar Smoked Sausages. Instead of throwing those on the grill with the brats, I decided to make a savory monkey bread, and I would incorporate a bite of sausage into each piece of monkey bread. How fun is that?? It's a wonder the many ways you can make monkey bread, and the various types of objects that you can fill the bites of dough with!! It certainly inspires a lot of creativity and imagination. I felt like this Sausage-Stuffed Savory Monkey Bread was unique and original, and it wasn't cumbersome to make!

This recipe was simple and easy to prep, and rather fast too. I spent about 10 minutes sautéing the onions, and then it took about 10-15 minutes to wrap the sausages in the biscuits. Easy-peasy. Stack them all in the bundt pan, and bake for a half hour or so.
The result is pillowy, flaky, squishy bites of dough, filled with a bite of juicy, cheesy smoked sausage, and smothered in sun-dried tomatoes, sautéed onions, and artichokes. I can't tell you how GOOD this smelled baking in the oven!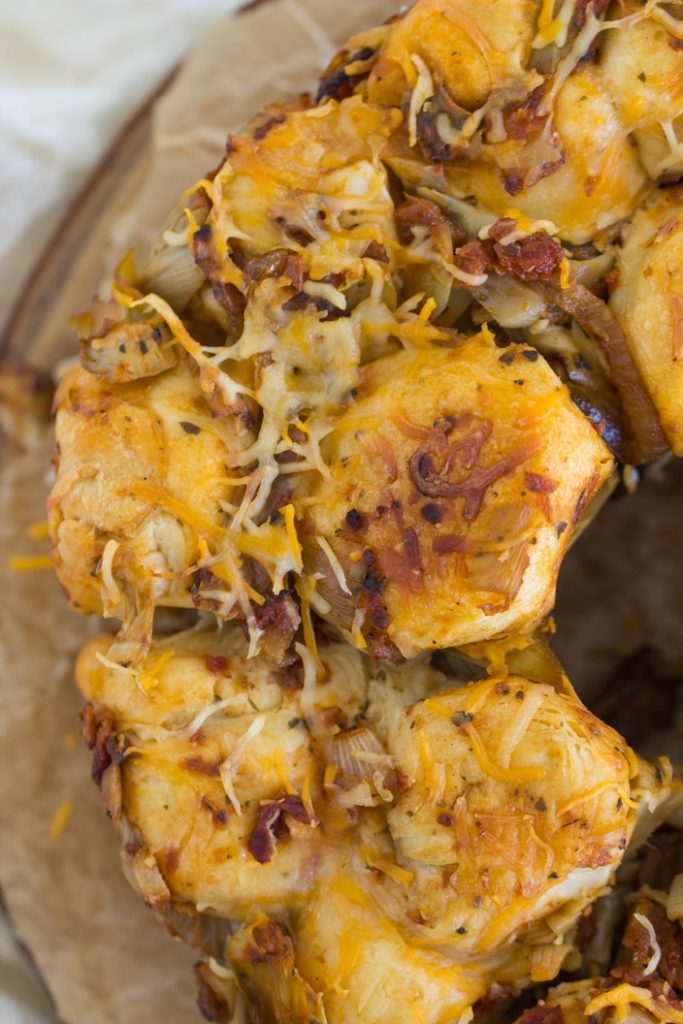 It makes for an awesome appetizer if you've got company coming over! It's easy finger food, and not super messy. It also makes a big batch, so it feeds a crowd. My brother-in-law and nephew can EAT, so I always need to make hearty and filling snacks. Even though there's only a handful of ingredients to make this Sausage-Stuffed Savory Monkey Bread, everything is hearty and substantial, so everyone will feel satisfied and satiated.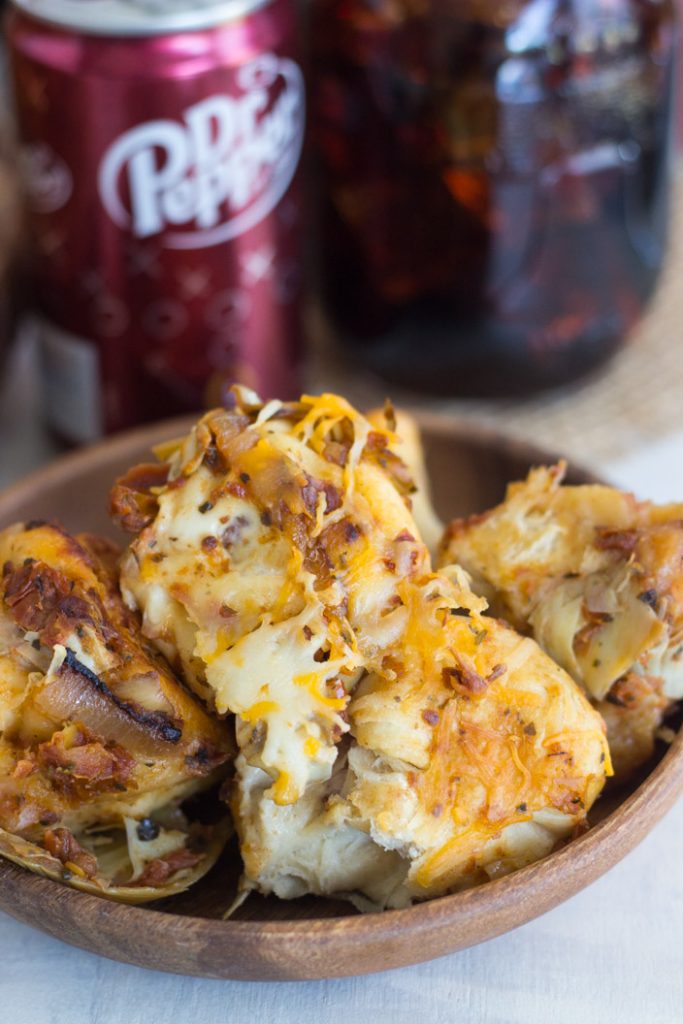 Do you love to be the party host for football get-togethers, or the 'Party QB' if you will? I didn't always enjoy having the house that everyone gathered at, but recipes like this make it fun and easy to be the host, and having access to great ingredients from Publix, like Johnsonville Original Brats, Johnsonville Beddar with Cheddar Smoked Sausages, and Dr Pepper, I feel like I've mastered the art of throwing a football party.
Whether you're tailgating or 'homegating,' check out Publix for your football party needs! To find a Publix near you, use the store locator here!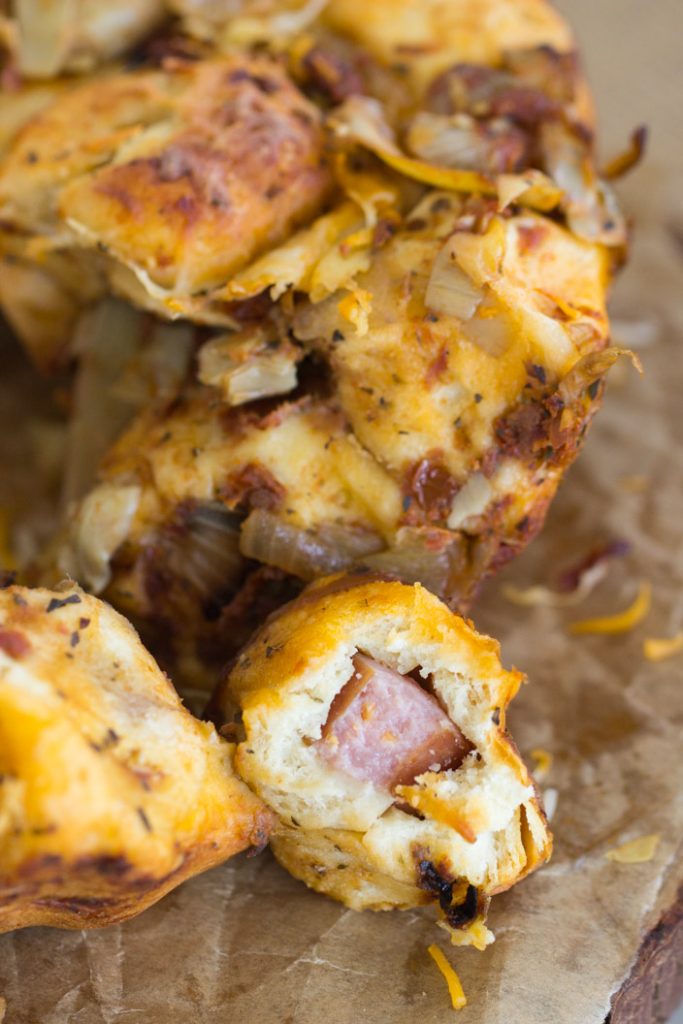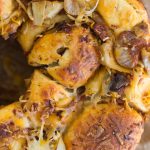 Sausage-Stuffed Savory Monkey Bread
Total Time
1
hour
10
minutes
Ingredients
2

tbsp.

butter

1

medium yellow onion

sliced

2

tbsp.

Dr Pepper

2

– 16 oz. cans refrigerated flaky biscuits

16 biscuits total, cut each biscuit in half

1

– 14 oz. package Johnsonville Beddar with Cheddar Smoked Sausage

cut each link into 5 or 6 pieces so that you have 32 pieces total

1

– 12 oz. jar marinated artichoke hearts

drained, chopped

1

– 6 oz. jar sun-dried tomato pesto

1

c.

shredded cheddar or Mexican blend cheese

divided
Instructions
In a small skillet over medium heat, melt the butter.

Add onions and Dr Pepper, sautéing until onions are soft and golden brown.

Remove from heat, and set aside to cool.

Meanwhile, wrap each piece of sausage in a biscuit half, pinching the edges to seal, and rolling into a ball.

Grease a large bundt pan.

In a medium bowl, stir together artichoke hearts, sun-dried tomato pesto, and sautéed onions.

Working with 4 or 5 biscuit balls at a time, gently toss them in the sun-dried tomato mixture to coat.

Arrange half the biscuit balls in the bundt pan.

Sprinkle with ½ c. shredded cheese.

Arrange the remaining biscuit balls in the bundt pan, and if any sun-dried tomato mixture remains, spoon it over the top.

Sprinkle with remaining shredded cheese.

Bake at 325 degrees for 35-40 minutes, or until the edges are golden, and the center feels 'set' when lightly pressed. The center should not feel squishy or doughy.

Remove from heat, and cool for 15 minutes before inverting onto a serving platter. Do not cool monkey bread completely in pan or it will stick!

Serve immediately.

Reheats nicely in the toaster oven!
Become the Party QB and win tickets to the SEC Football Championship on December 2, 2017 in Atlanta, GA! Three Grand Prize winners will win 2 tickets to the game, airfare, and hotel accommodations thanks to Dr Pepper® and Johnsonville Sausage®. 50 other lucky winners will win a $50 Publix Gift Card! Don't let your team down! Visit TailgateToVictory.com for your chance to win. Enter between 9/11-10/13/2017. Dr Pepper and Johnsonville are proud sponsors of the SEC.