Print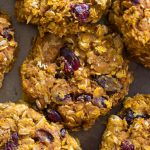 Cranberry Pumpkin Breakfast Cookies
Soft, chewy, pumpkin-oatmeal breakfast cookies, loaded with pecans and dried cranberries! These Cranberry Pumpkin Breakfast Cookies are nutritious, high in protein, hearty, and filling. So many wonderful ingredients packed into these Cranberry Pumpkin Breakfast Cookies!
In a large bowl, whisk together oats, oat flour, brown sugar, baking powder, baking soda, cinnamon, and salt.

In a medium bowl, whisk together pumpkin puree, egg, peanut butter, and vanilla.

Add the wet ingredients to the dry ingredients, and stir until just combined.

Fold in the pecans, cranberries, and coconut.

Drop by tangerine-sized scoops onto parchment paper-lined baking sheets, and flatten with the bottom of a glass that's been lightly greased.

Bake at 350 degrees for 12-14 minutes, or until cookies are lightly browned.

Remove to wire racks to cool.

These are great warm from the oven, but also at room temperature, and even refrigerated!

Store in a cool, airtight container.