Print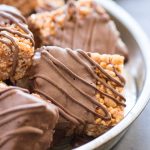 Chocolate-Dipped Nutella Rice Krispie Treats
Nutella Rice Krispie Treats with a chocolate bath! These are so rich and gooey with extra marshmallows and LOADS of Nutella! SO decadent.
In a large stock pot over medium heat, melt the butter.

Add the marshmallows, and heat until they are melted and puffy, stirring frequently.

Add the Nutella, and mix until mostly smooth and incorporated.

Add the Rice Krispies cereal, stirring until combined.

Press into the bottom of a lightly greased 13x9-inch pan.

Allow to set. Cut into bars.

Line a cookie sheet with parchment paper.

In a small saucepan over low heat, melt the chocolate wafers.

Dunk the RKTs halfway into the chocolate, and place on parchment paper to set.

If desired, use a spoon to drizzle chocolate onto the RKTs. Allow to set.