Print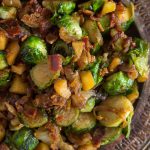 Dijon Balsamic Brussels Sprouts
Pan-seared Brussels sprouts, cooked and glazed in a balsamic & dijon mustard sauce.
In a large saucepan over medium-high heat, melt the butter.

Add Brussels sprouts and garlic.

Cook until Brussels are golden and crisp on the edges, about 5 minutes.

Add water, cover saucepan with lid, and bring to a simmer. Cook until Brussels are soft, 7-8 minutes.

If any water remains, carefully drain it from the pan.

In a small bowl, whisk together mustard, balsamic vinegar, and honey.

Drizzle over the Brussels, and stir to coat.

Cook uncovered for 1-2 minutes, or until heated through.

Sprinkle with salt & pepper.

Serve!