Print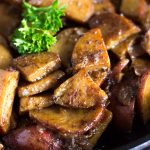 Salt & Vinegar Hash Brown Potatoes
Tangy and crispy Salt & Vinegar Potatoes are a smashing addition to your brunch menu. They're simmered in malt and white vinegars, and coarse salt, so they are extraordinarily flavorful.
In a large saucepan over medium heat, combine potatoes, 1 1/2 c. white vinegar, 1/2 c. malt vinegar, coarse salt, and 1 c. water.

Cover, bring to a boil, reduce heat, and simmer for 12-15 minutes, or until potatoes are nearly tender.

Drain liquid.

Add the butter to the potatoes, and turn the heat to medium-high.

Cook, stirring occasionally, until potatoes are golden brown, 5-7 minutes.

Drizzle with remaining white vinegar and malt vinegar, and season with salt and pepper.

Serve immediately.