Print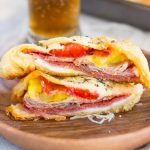 Super Bowl Italian Stromboli Recipe
With two kinds of cheese, three kinds of meat, roasted red peppers, and banana peppers, this Super Bowl Italian Stromboli recipe packs a ton of flavor in those little pockets of pastry.
Open both cans of crescent rolls, and unroll the dough into 8 total rectangles, 4 from each can. Don't separate into triangles, just unroll into 4 rectangles from each can.

On a non-stick 12-inch pizza pan (or a large cookie sheet), arrange the rectangles in a circle, such that the short ends are at the edges, and the long edges are adjacent to each other. The center circle should be about 4 inches in diameter. The dough will overlap a bit at the center of the ring, and the other edges will hang off the pan. It will basically look like a sun with rays!

Place a slice of provolone cheese over each rectangle toward the center part of the ring, leaving about 1-inch from the center.

Then layer slices of pepperoni, salami, and prosciutto over the cheese, followed by the red peppers and banana peppers. Top with slices of mozzarella cheese.

Bring the outer edge of each rectangle of dough over the stack of meats and cheeses toward the center of the ring, and tuck it underneath the bottom layer of dough, pinching to secure the seams. Some of the filling will be exposed, and that's fine.

Sprinkle the ring evenly with Italian seasoning.

Bake at 325 degrees for about 25 minutes, or until edges are golden, and the cheeses are melted and bubbly at the exposed edges. The dough should feel baked through when lightly pressed.

Remove from heat, and cool for 5 minutes before cutting and serving.