Print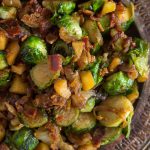 Bacon Apple & Caramelized Onion Brussels Sprouts
With crispy fried bacon, caramelized honey crisp apple chunks, caramelized onions, and brown sugar, these are a little sweet, and a little salty. Perfect veggie!
In a large saucepan over medium heat, cook the bacon until browned and crisp.

Reserve 3 tbsp. bacon grease in the pan, and discard the remainder.

Set aside bacon to drain on paper towels.

Crumble into pieces.

Add the onion and Brussels sprouts to the pan.

Cover with a lid and cook, stirring occasionally, until golden brown and soft, 12-15 minutes.

Add the apple, brown sugar, and butter.

Cook, stirring occasionally, for 2-3 minutes, or until apple is golden and soft.

Salt & pepper. Serve!