Print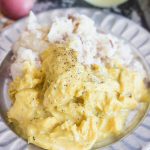 Slow-Cooker Honey Mustard Chicken
Only a handful of ingredients to tender, juicy, and unbelievably flavorful chicken! This honey mustard chicken is succulent, sweet, and tangy!
Total Time
8
hours
10
minutes
Pour 1 c. honey, 1/2 c. yellow mustard, and 1/2 c. dijon mustard into the slow cooker, and whisk to combine.

Add the chicken, and stir with a spoon.

Season with salt and pepper.

Cover and cook on low for 6 hours, stirring occasionally, or until the chicken is tender, and falls apart.

Remove about half the liquid in the slow cooker (eyeball it!), and discard.

Add the remaining 1/2 c. honey, 1/4 c. yellow mustard, and 1/4 c. dijon mustard, and stir with a spoon.

Turn the slow cooker to warm, and cook for an additional 30 minutes.

Shred the chicken with a fork, and stir with the sauce.

Turn off the slow cooker.

Serve immediately.