Print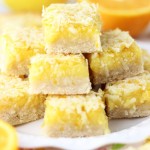 Triple Citrus Coconut Bars
Featuring lemon, lime, and orange flavors, these citrus and coconut bars are an upgrade from traditional lemon bars!
For filling:
3

eggs

1

c.

sugar

2

tbsp.

flour

1/2

tsp.

baking powder

1/2

c.

shredded sweetened coconut

zest of 1 lemon

1 lime, and 1 orange

juice of 1 lemon and 1 lime

powdered sugar

for garnish
For crust:
Preheat oven to 350 degrees.

In a small mixing bowl, combine all crust ingredients.

Beat until it resembles coarse crumbs.

Press into the bottom of an ungreased 8-inch square pan.

Bake 15-20 minutes or until edges are lightly browned.

While crust is in the oven, prepare the filling.
For filling:
In a medium bowl, whisk together all filling ingredients.

Pour filling over hot crust. Return to oven for 20-25 minutes or until filling is set.

Cool completely. Sprinkle with powdered sugar. Cut into bars, and enjoy!