Print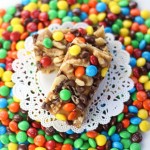 M&M Oatmeal Carmelitas
Oatmeal cookie crust with a generous layer of caramels, and topped with chopped walnuts, chocolate chips, and mini M&Ms.
In a large mixing bowl, cream butter and brown sugar until light and fluffy.

Beat in egg and vanilla.

In a large bowl, combine flour, baking soda, salt, and quick oats.

Add dry ingredients to the mixing bowl, and beat until combined.

Press into a greased 9x13 baking pan.

Bake at 350 degrees for 12-14 minutes, or until golden brown on the edges.

Cool on a wire rack.

Combine caramels and cream in a microwave-safe bowl.

Heat at 30 second intervals until caramels are melted and smooth.

Spread over the crust.

Sprinkle with the chocolate chips, walnuts, and M&Ms, and gently press them into the caramel mixture.

Cool completely, and cut into bars.