Print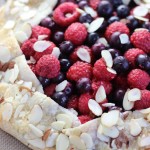 Blueberry Raspberry Almond Galette
This double berry galette with almonds is super simple to make. One of the easiest summer desserts ever!
On a large baking sheet lined with parchment paper or a silicone baking mat, unroll the pie crust.

In a large bowl, combine berries and amaretto.

Toss to coat, and allow to sit for 10 minutes.

Add the sugar to the berry mixture and toss to coat.

Spoon the berries onto the center of the crust, leaving 1.5-2 inch border at the edges.

Fold the edges of the dough over the berry filling, overlapping where needed, and pinching to seal any cracks.

Brush the crust lightly with egg white, and sprinkle with turbinado sugar.

Bake at 375 degrees for 25-30 minutes, or until edges are golden brown.

Allow to cool for about 10 minutes before cutting into wedges. Serve warm!