Print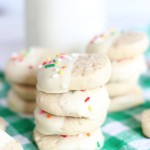 White Chocolate Dipped Citrus Shortbread
A simple shortbread cookie flavored with lemon and lime zest, and dipped in white chocolate!
In a large mixing bowl, combine butter and sugar. Beat until light and fluffy.

Beat in egg, lemon juice, zests, and extracts.

Gradually add flour until dough is no longer sticky to the touch, and starts to come together. For me, this was 3 cups.

Shape into two 8-inch rolls and wrap in parchment paper or plastic wrap. Refrigerate for 2-3 hours, or until firm.

Once firm, unwrap and cut into 1/4-inch slices.

Place them 1 inch apart on ungreased baking sheets.

Bake at 350 degrees for 10-12 minutes or until edges are lightly golden. Cool for 2-3 minutes before removing to wire racks to cool completely.

In a small microwave-safe bowl, microwave the chocolate 20 seconds at a time, until thoroughly melted and smooth.

Dunk each cookie halfway into the chocolate, then set on a parchment paper-lined baking sheet. Allow to set, about 1 hour.