Print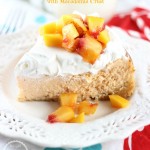 Mango Peach Cheesecake with Macadamia Crust
A bright and summery mango peach cheesecake made with fresh fruit puree, and with a macadamia nut and shortbread crust!
Total Time
1
hour
20
minutes
Macadamia Shortbread crust:
For crust:
Using a food processor, pulse the shortbread cookies until crumbly. Pour them into a large bowl.

Using the food processor, pulse the macadamia nuts until they are finely chopped. Add them to the cookie crumbs.

Add the sugar and melted butter to the cookie crumbs and mix until butter is incorporated.

Press into the bottom of a 9-inch springform pan.
For cheesecake:
In a large mixing bowl, beat cream cheese until smooth.

Beat in sugar.

Beat in eggs, one at a time, mixing well after each addition.

Beat in vanilla and orange zest.

In a food processor, puree the fruit until smooth.

Fold the fruit puree into the cream cheese mixture.

Pour into the prepared crust.

Bake at 325 degrees for 50-60 minutes, or until the edges are set, and the center is still slightly jiggly.

Cool completely.
For topping:
Combine the chopped fruit and sugar in a small bowl. Toss to coat. Spoon over cheesecake. EAT!