Print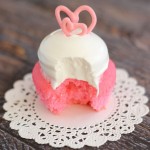 Pink Champagne Cupcakes with Marshmallow Frosting and Chocolate Hearts
A simple pink champagne cupcake made from a cake mix, with a fluffy and sweet marshmallow frosting!
Marshmallow Frosting:
4

large egg whites

1

c.

granulated sugar

1/4

tsp.

cream of tartar

1

tsp.

vanilla extract
For cupcakes:
In a large mixing bowl, combine cake mix, pink Champagne, oil, egg whites, and food color.

Beat on medium speed for 2 minutes.

Place paper cupcake liners in each of 24 regular-sized muffin cups.

Divide batter evenly among muffin cups, filling them about 2/3 full.

Bake at 350 degrees for 18-20 minutes or until toothpick inserted in center comes out clean.

Cool for 10 minutes, then remove the cupcakes from pan to a wire rack. Cool completely.
For frosting:
Combine egg whites, sugar, and cream of tartar in a heat-proof bowl, ideally your mixing bowl.

Place over top of a large saucepan of simmering water, and whisk constantly for about 2 minutes, or until the sugar has dissolved and the egg whites are warm to the touch.

Immediately remove the bowl from heat, and place in your stand mixer. Start beating the egg white mixture slowly at first, but gradually increase speed to high.

Beat for 6-7 minutes, or until glossy and thick.

Add vanilla, and beat until combined.

Frost cupcakes.
For chocolate hearts:
Cover a large cookie sheet with parchment paper.

In a small saucepan over low heat, melt chocolate chips. Whisk until smooth. Alternatively, you could microwave them for 45-60 seconds in a microwave-safe bowl.

Add food color to achieve desired color.

Spoon the melted chocolate into a parchment paper bag fitted with a #4 tip.

Pipe hearts and 'love' in cursive (or whatever other designs) onto the parchment paper.

Allow to set for about an hour, or refrigerate to speed up the process. Once the chocolate sets, carefully peel them from the parchment paper, and decorate the cupcakes!

Enjoy!