Print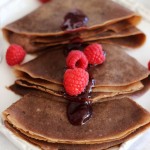 Chocolate Hazelnut Crepes with Nutella Ricotta and Raspberry Jam
Elegant chocolate hazelnut crepes are stuffed with a Nutella cheesecake filling, and drizzled with raspberry jam!
Chocolate Hazelnut Crepes:
Nutella Cheesecake Filling:
1

c.

ricotta cheese

1/2

c.

Nutella
Raspberry Topping:
1/2

c.

seedless raspberry jam
For Chocolate Hazelnut Crepes:
In a large bowl, combine all ingredients and whisk vigorously until smooth.

In a large saucepan over medium heat, pour about 1/3 - 1/2 c. batter, covering the entire bottom of the pan in a thin layer.

Cook for about 2-3 minutes, or until the top looks mostly cooked too, even before flipping. Carefully (it will be thin and delicate) flip the crepe over, and cook for about 30 seconds.

Remove crepe from the pan to a plate or platter, and continue making crepes with remaining batter. (If not serving immediately, they can be stored in the refrigerator for several days. They stack well between plastic wrap lightly greased with non-stick spray.)
For Nutella Ricotta Filling:
Combine ricotta cheese and Nutella in a food processor or blender. Pulse until smooth.

To assemble crepes, fold each crepe in half. Spoon about 2 tbsp. of Nutella mixture onto each crepe, and fold it in half again. It should resemble a triangle! If you prefer, you can roll them into tubes.

Arrange 2 or 3 crepes on a plate, per person, and drizzle 2 tbsp. of raspberry jam over each plate of crepes. Enjoy!

If desired, dust with powdered sugar.