Print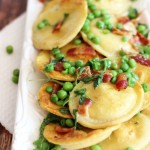 Pan-Seared Ravioli with Bacon, Peas, and Arugula
Ravioli are par-boiled and pan-seared, served with a light cream sauce, bacon, peas, and arugula! Lots of greens in this springy dish!
In a large pot of boiling, salted water, cook the ravioli according to package directions, or until just tender. Drain ravioli.

In a large saucepan over medium-high heat, melt the butter.

Add the ravioli and cook until golden-brown, about 3-5 minutes.

Reduce heat to medium, and add the frozen peas, heavy cream, and garlic powder into the saucepan. Mix well.

Bring to a simmer, stirring occasionally. If a little water is needed to thin the sauce, add it 1 tbsp. at a time.

Toss and stir in the arugula until it begins to wilt, about 1 minute.

Serve with Parmesan cheese. Enjoy!