Print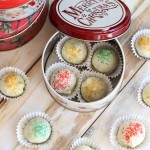 Red Velvet and Green Velvet Cake Truffles
Super moist red velvet and green velvet cake crumbs are mixed with a cream cheese frosting to make cake truffles!
Total Time
1
hour
30
minutes
Servings
50
-60 cake truffles
For cake:
In a small bowl, combine milk and vinegar. Set aside.

In a large mixing bowl, cream butter and sugar until light and fluffy.

Add eggs, and beat until well-combined. Mix in vanilla.

In a medium bowl, combine flour, cocoa, and baking soda.

Add dry ingredients to mixing bowl alternately with the sour milk (milk + vinegar mixture). Beat until just combined.

Divide cake batter evenly between 2 bowls. Color one portion with red food coloring, and one portion with green food coloring. For me, this required about 1 tsp. of gel paste for each color.

Pour each batter individually into a greased 8-inch round cake pan (red goes into one pan, green into a second pan).

Bake at 350 degrees for 20-25 minutes or until a toothpick comes out clean.

Cool completely. Meanwhile, prepare frosting.
For frosting:
In a large mixing bowl, combine cream cheese and butter. Beat until smooth.

Add powdered sugar until frosting is desired consistency. For me, this was about 4 cups.
To assemble cake truffles:
Crumble the cooled red velvet cake into a large bowl. Add about 1 c. frosting to the cake crumbs and mix until thoroughly combined. Gradually add more frosting, as needed, until dough easily forms into balls, but not so much that it's sticky. About 1 c. worked perfectly!

Repeat process with the green velvet cake.

Using a spoon or small scoop, roll the cake into 1-inch balls (approximately).

Set cake balls onto a foil-lined baking sheet. You can choose to roll red velvet separately, green velvet separately, or you can mix a little of both colors together, as you form each ball.

Refrigerate cake balls for at least 1 hour.
For coating:
In a large saucepan on low heat, melt white chocolate and shortening together. Whisk gently until smooth.

To dip the cake balls, insert a toothpick in the top of a ball. Dunk the cake ball into the white chocolate, or use a spoon to ladle white chocolate over the cake ball as you hold it by the toothpick. Tap it on the edge of the pan to remove excess chocolate.

Carefully set it back on the foil-lined baking sheet, and twist the toothpick out of the top.

Repeat until all cake truffles are dipped, and decorate with sprinkles or edible glitter. Allow to chill in the refrigerator. Enjoy!