Print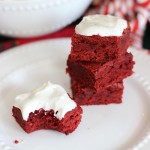 Brown Butter Red Velvet Brownies with Brown Butter Marshmallow Frosting
A simple and easy brown butter red velvet brownie with a brown butter, marshmallow, and cream cheese frosting!
For brownies:
1/2

c.

butter

1

c.

sugar

1

tsp.

vanilla

1/4

c.

cocoa powder

2

tbsp.

red food coloring

1

tsp.

vinegar

2

eggs

3/4

c.

flour
In a large saucepan on medium heat, melt entire 1 cup butter (half will go to the brownies, half to the frosting).

Continue cooking the butter on medium heat until it turns golden brown and forms brown flecks, about 6-8 minutes. Stir frequently to prevent burning on the bottom.

Allow butter to cool for about 5 minutes.
To prepare brownies:
Divide the browned butter in half, and pour one of the halves into a large mixing bowl.

Add the sugar, vanilla, cocoa powder, red food coloring, and vinegar to the mixing bowl, and mix until blended.

Add in the eggs, and mix until well-incorporated.

Add in the flour, and mix until just combined.

Pour into a greased 8-inch square pan.

Bake at 350 degrees for 18-24 minutes, or until a toothpick inserted near center comes out clean.

Allow to cool completely on a wire rack.
For frosting:
In a small mixing bowl, pour remaining browned butter.

Beat in cream cheese and powdered sugar until smooth.

Fold in marshmallow fluff.

Spread onto cooled brownies. Enjoy!