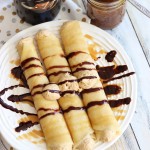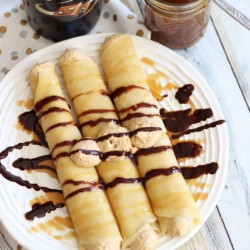 Print
Salted Caramel Crepes with Biscoff Cheesecake Filling and Caramel Sauce
Crepes infused with Bailey's Salted Caramel liqueur, filled with an easy no-bake Biscoff cheesecake, and topped with a drizzle of caramel sauce!
Biscoff Cheesecake Filling:
Topping:
1/4

c.

prepared caramel sauce

from a jar

1/4

c.

chocolate syrup

optional
For crepes:
In a large bowl, combine all crepe batter ingredients and whisk until smooth.

In a large saucepan over medium heat, pour about 1/3-1/2 c. batter, covering the entire bottom of the pan in a thin layer.

Cook for about 2-3 minutes, or until the top looks mostly cooked too, even before flipping. Carefully (it will be thin and delicate) flip the crepe over, and cook for about 30 seconds.

Remove crepe from pan, and continue making crepes with remaining batter.
To assemble crepes:
Spoon or pipe about 1/3 c. Biscoff cheesecake filling across the diameter of each crepe, and then roll them into 1-inch tubes.

Drizzle with caramel sauce and chocolate sauce. Enjoy!