Print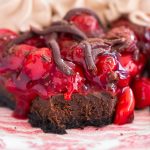 Black Forest Tart
With a chocolate cookie crust, a rich chocolatey, fudge-like middle, and topped with cherry pie filling, chocolate curls, and whipped cream!
For crust:
In a medium bowl, stir together cookie crumbs, sugar, and butter.

Press into the bottom and up the sides of an 11-inch fluted tart pan.

Bake at 350 degrees for 8-10 minutes, or until the edges appear crispy.

Remove to a wire rack.
For filling:
In a large microwave-safe bowl, combine the butter and chocolate.

Microwave for 1 minute, stir, and continue microwaving at 10-20 second intervals until mixture is melted and smooth.

In a large bowl, whisk together eggs, sugar, vanilla, and flour.

Gradually add the egg mixture to the chocolate mixture, whisking continuously, and mix until smooth.

Pour into crust.

Bake at 350 degrees for 25-30 minutes, or until a toothpick inserted near the center comes out clean.

Remove to a wire rack to cool completely.
For topping:
Spread pie filling evenly over the tart.

In a small microwave-safe bowl, heat the chocolate and heavy cream at 15-second intervals, stirring until smooth.

Drizzle the chocolate over the pie filling.

Refrigerate until thoroughly chilled.

Sprinkle with chocolate curls and serve with whipped cream.
For chocolate whipped cream, whisk about 2 tbsp. cocoa powder into a thawed 8 oz. container of whipped cream.