With a chocolate cookie crust, a rich chocolatey, fudge-like middle, and topped with cherry pie filling, chocolate curls, and whipped cream!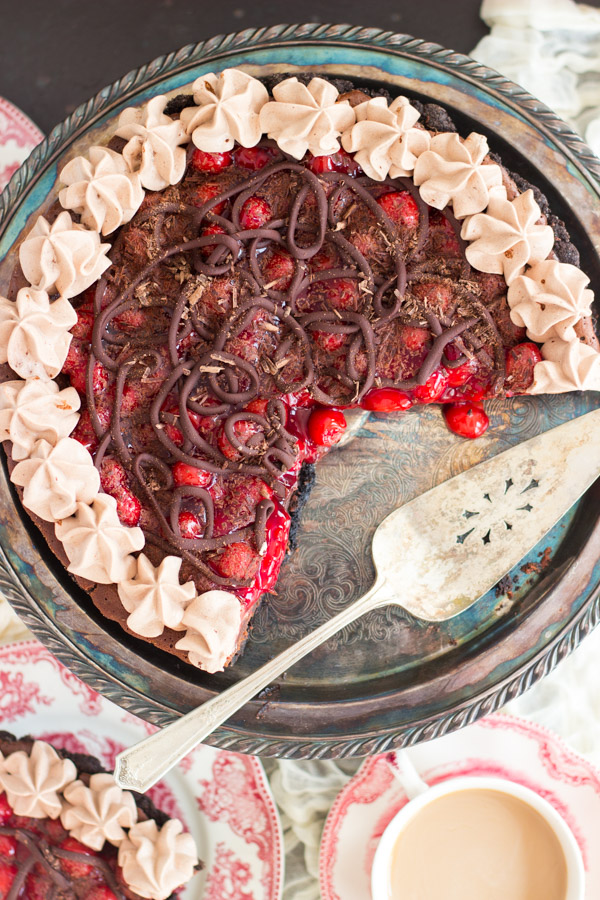 Hi!! I have a PSA to provide to you on this hump-day. You know those super-addictive and ridiculously silly, corny Christmas Hallmark movies that they air 24/7 from Halloween to New Year's Day? Yes, that's how long that channel airs Christmas movies, and yes, it's 24/7. It's crazy.
Well, surprise, they also have a whole slew of Valentine's Day movies, if you're into that sort of thing. I know, what a shock. Who would've thought? Here's the real kicker: they also have – wait for it – a Super Bowl romance movie. Really, truly. That's maybe one too far.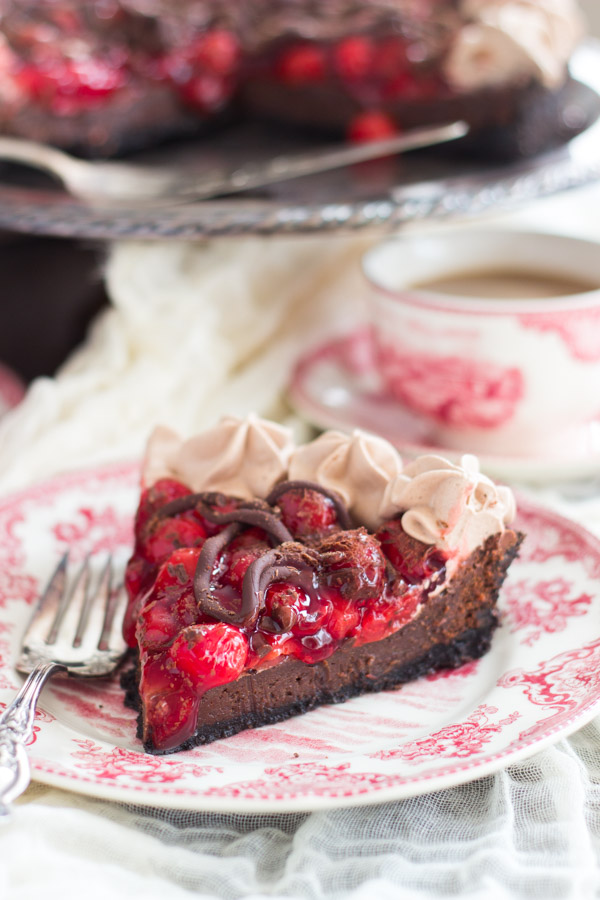 They are certainly capitalizing on their tv movie success. I read somewhere that when Hallmark airs a new tv movie, it gets the highest movie ratings of the week and 4+ million viewers, or something like that.
Those kinds of movies aren't normally my thing, but they're strangely addictive. They make for really nice background entertainment as I'm doing other things, and they're always happy and heartwarming. Who doesn't want that?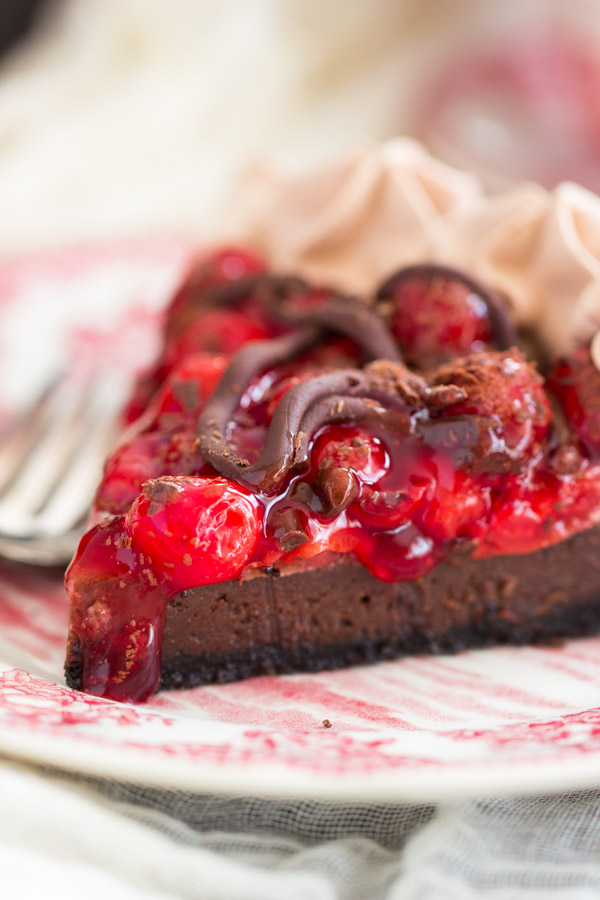 Speaking of happy and heartwarming, let me introduce you to this Black Forest Tart. It's sure to make your Valentine's tastebuds sing, and will make him or her love you forever. It's just that good.
It starts with an Oreo cookie crust. Crushed Oreos, mixed with sugar and butter, and pressed into a tart pan. Simple enough.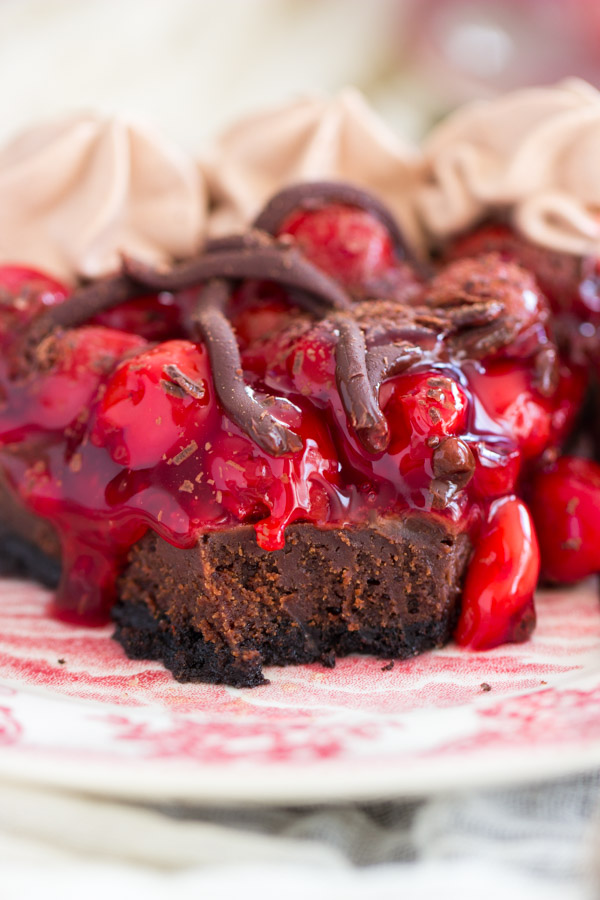 The middle part is my faaaavorite. It's as rich and decadent as it gets. It's almost like fudge. Or like ganache, but thicker, and baked. It's basically semi-sweet chocolate and butter, with a few other odds and ends. Soooo, you do the math. Those are rich ingredients = rich, rich, rich, and chocolatey, decadent, amazingness.
Next up is the easiest part. Top it with a can of cherry pie filling. A drizzle of quick chocolate ganache, or even just melted chocolate. It never hurts. Whipped cream is also a bonus.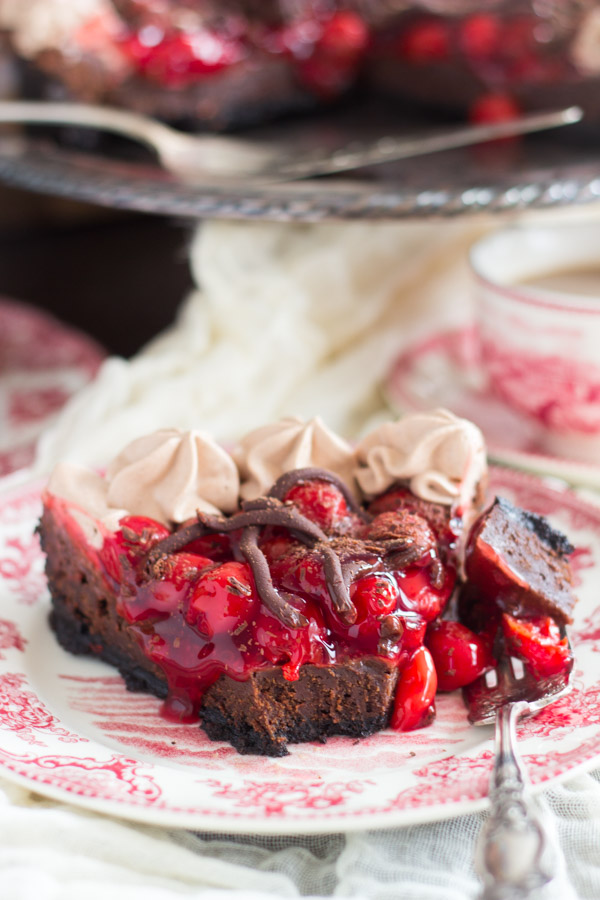 I associate black forest desserts with Valentine's Day. I don't know if that's right or not, but that's just how my brain works. I've shared these other black forest recipes, all for Valentine's Day dessert/brunch ideas: Black Forest Crepes, Black Forest Brownie Cheesecake, and Chocolate Espresso Black Forest Pavlova. Chocolate and cherry are a classic pair, and you can't go wrong if you're trying to impress your special someone!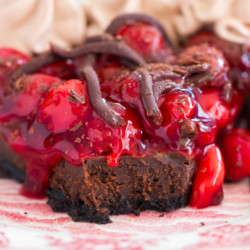 Black Forest Tart
With a chocolate cookie crust, a rich chocolatey, fudge-like middle, and topped with cherry pie filling, chocolate curls, and whipped cream!
Ingredients
For crust:
24

Oreo sandwich cookies

not Double Stuf, crushed into fine crumbs

1/4

c.

granulated sugar

4

tbsp.

butter

melted
For filling:
8

oz.

semi-sweet baking chocolate

broken into pieces

1/2

c.

butter

3

eggs

2/3

c.

sugar

1

tsp.

vanilla

2/3

c.

all-purpose flour
For topping:
1

can cherry pie filling

2

oz.

semi-sweet baking chocolate

1

tbsp.

heavy cream

chocolate curls

whipped cream
Instructions
For crust:
In a medium bowl, stir together cookie crumbs, sugar, and butter.

Press into the bottom and up the sides of an 11-inch fluted tart pan.

Bake at 350 degrees for 8-10 minutes, or until the edges appear crispy.

Remove to a wire rack.
For filling:
In a large microwave-safe bowl, combine the butter and chocolate.

Microwave for 1 minute, stir, and continue microwaving at 10-20 second intervals until mixture is melted and smooth.

In a large bowl, whisk together eggs, sugar, vanilla, and flour.

Gradually add the egg mixture to the chocolate mixture, whisking continuously, and mix until smooth.

Pour into crust.

Bake at 350 degrees for 25-30 minutes, or until a toothpick inserted near the center comes out clean.

Remove to a wire rack to cool completely.
For topping:
Spread pie filling evenly over the tart.

In a small microwave-safe bowl, heat the chocolate and heavy cream at 15-second intervals, stirring until smooth.

Drizzle the chocolate over the pie filling.

Refrigerate until thoroughly chilled.

Sprinkle with chocolate curls and serve with whipped cream.
Notes
For chocolate whipped cream, whisk about 2 tbsp. cocoa powder into a thawed 8 oz. container of whipped cream.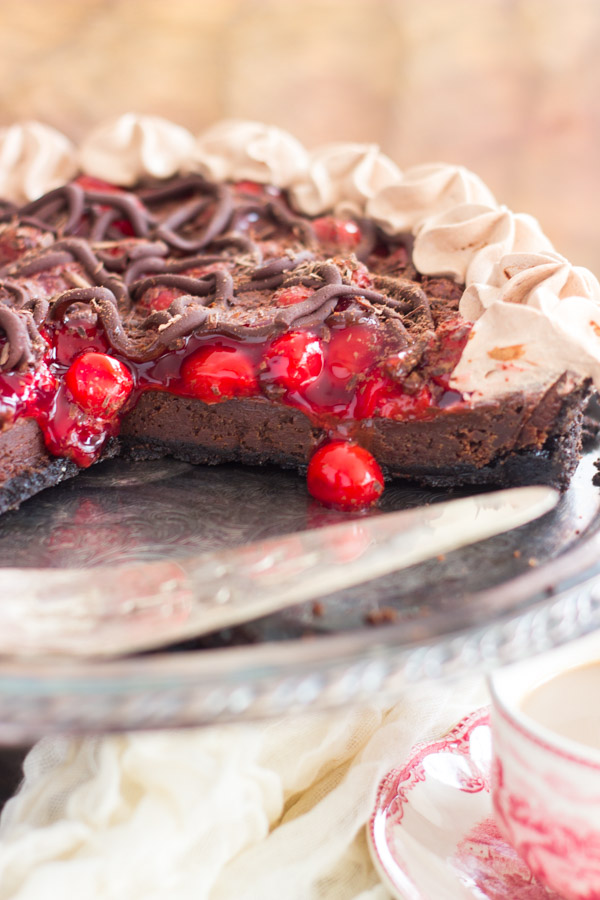 You may also like:
Black Forest Brownie Cheesecake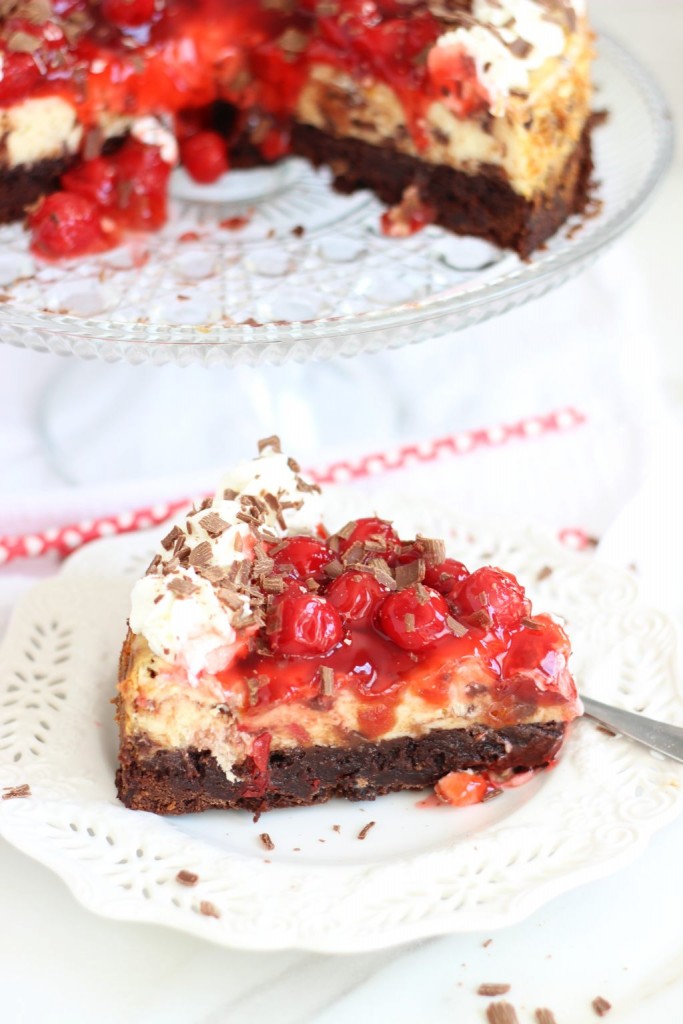 Chocolate Espresso Black Forest Pavlova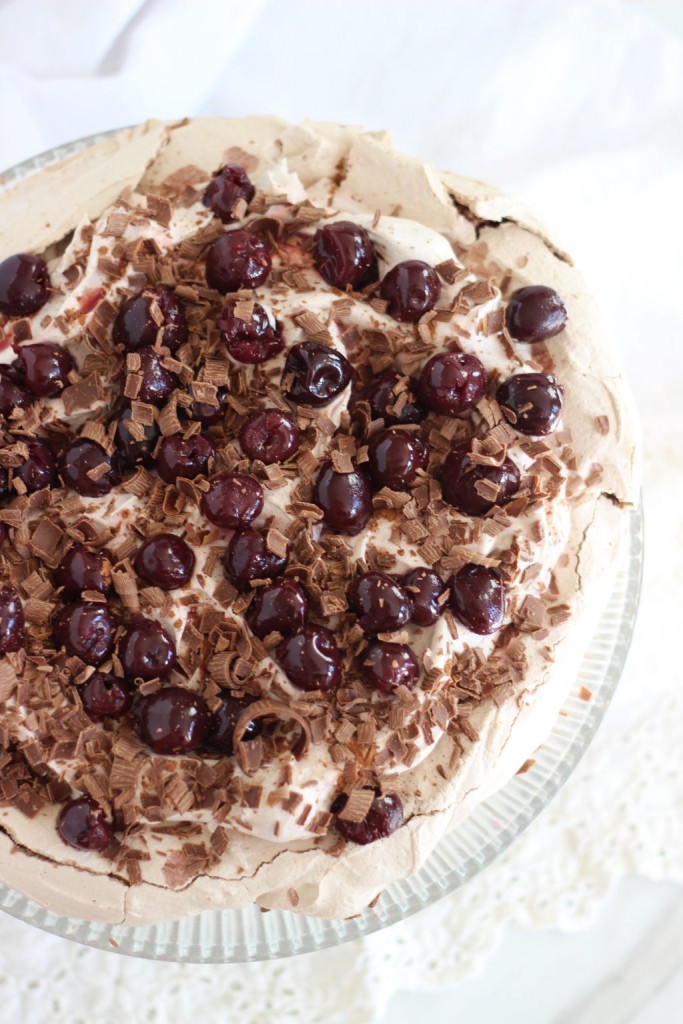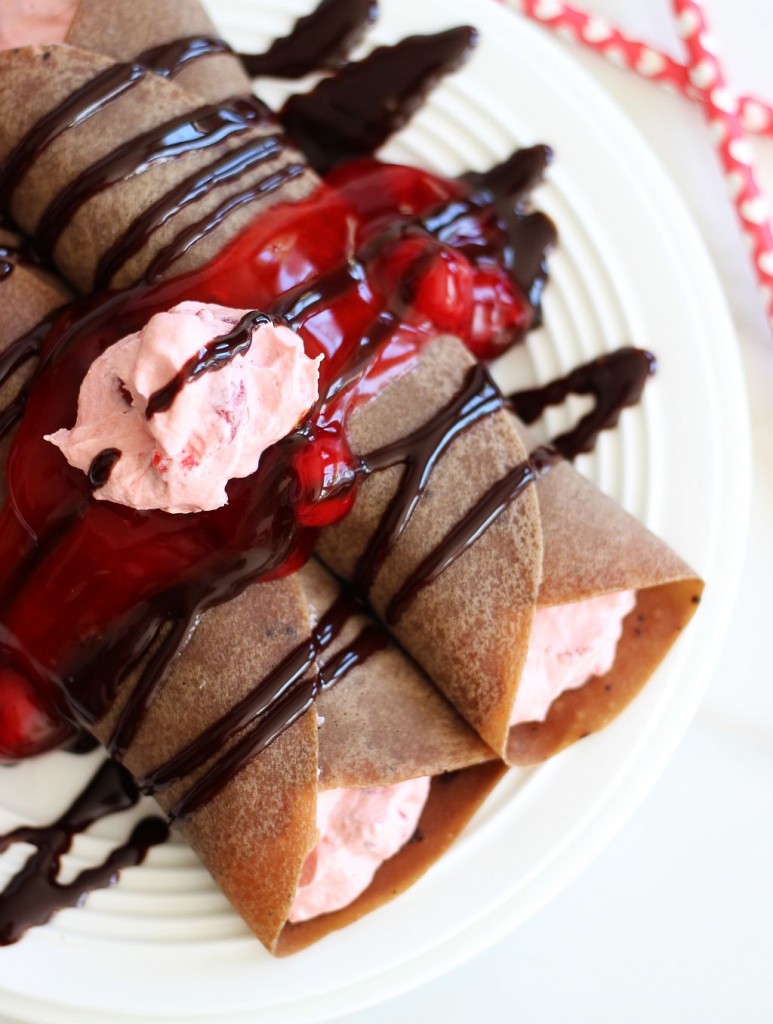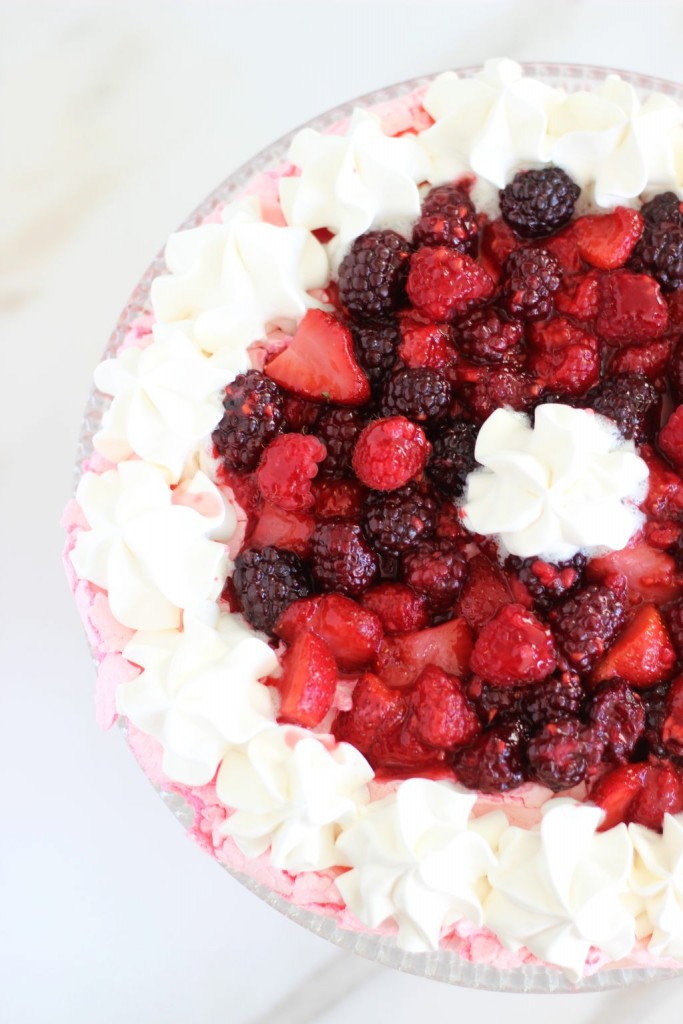 Red Velvet Chocolate Chunk Skillet Cookie