A light and airy pink-tinted and almond-flavored pavlova, topped with a triple berry amaretto sauce – strawberries, blackberries, and raspberries! Your Valentine will love you forever if you make them this sweet treat!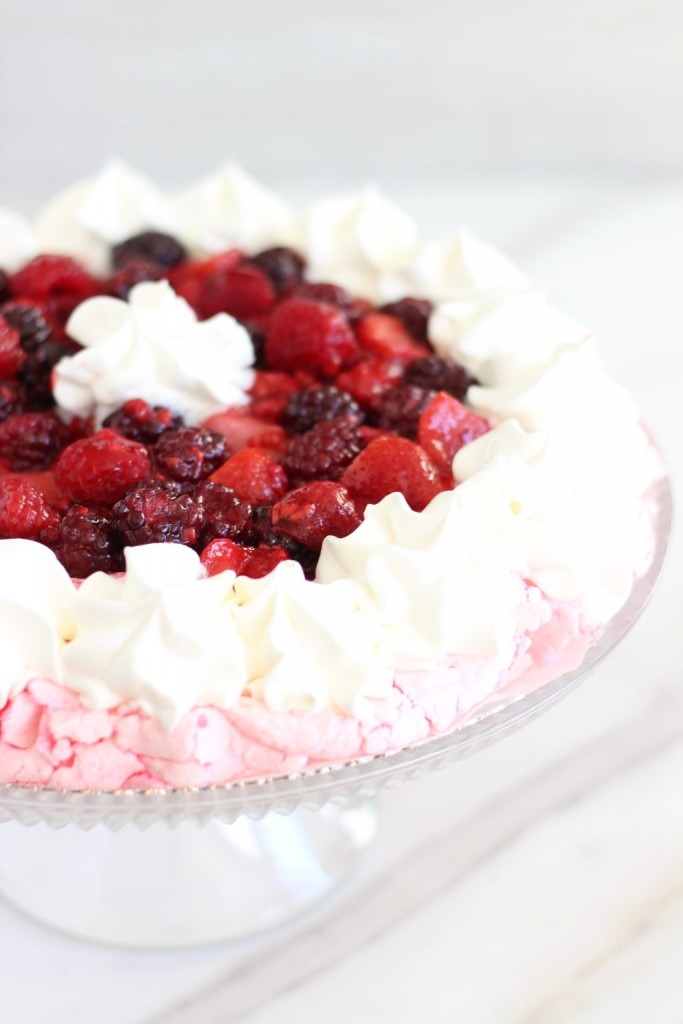 You must make this. I insist. You MUST.
Pavlova are so much fun to make. And eat. That's important too.. the eating part. They are fun all-around.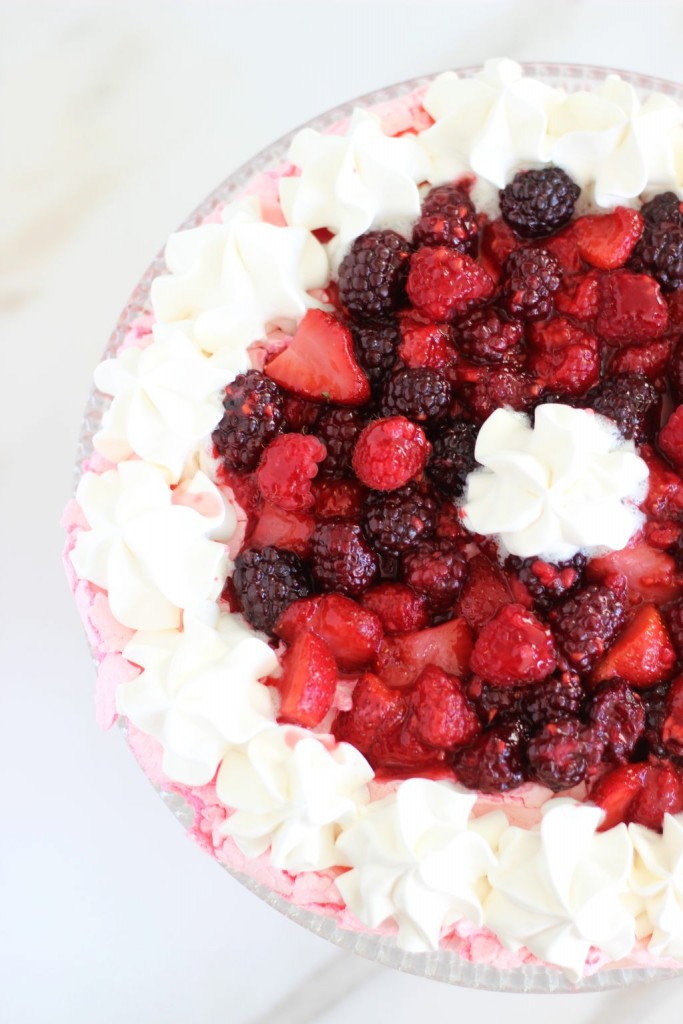 If you've never had a pavlova, it's like a cross between a meringue and homemade marshmallows. I know it sounds so weird, but that's the best way to describe it. It's like an enormous meringue cookie on the edges – super light and crispy, but the inside is soft and marshmallowy.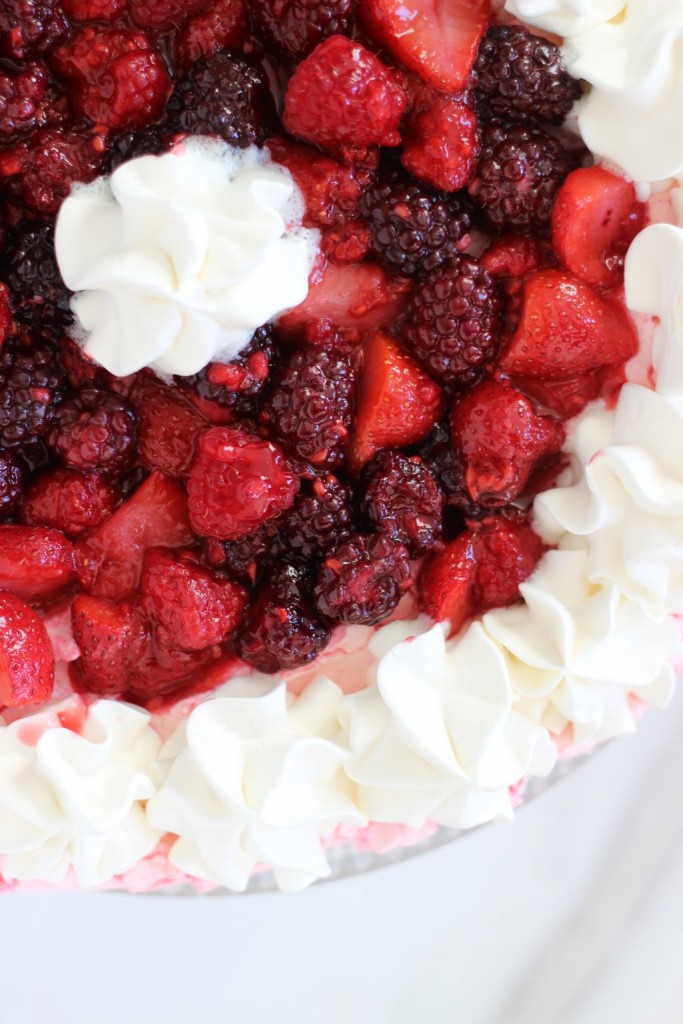 It's one big puffy cloud of sweet goodness (aka, meringue), and you pile it up on a cookie sheet in a big mound, and bake it. So kinda like I said, an enormous meringue cookie. But because it's so big, it stays soft and pillowy in the center. The edges are crispy and crumbly of typical meringue, but the center is marshmallow-like!
A crispy, but airy shell surrounds a pillowy sweet middle.
Okay, I'm just repeating the same concept in different ways. You get the idea?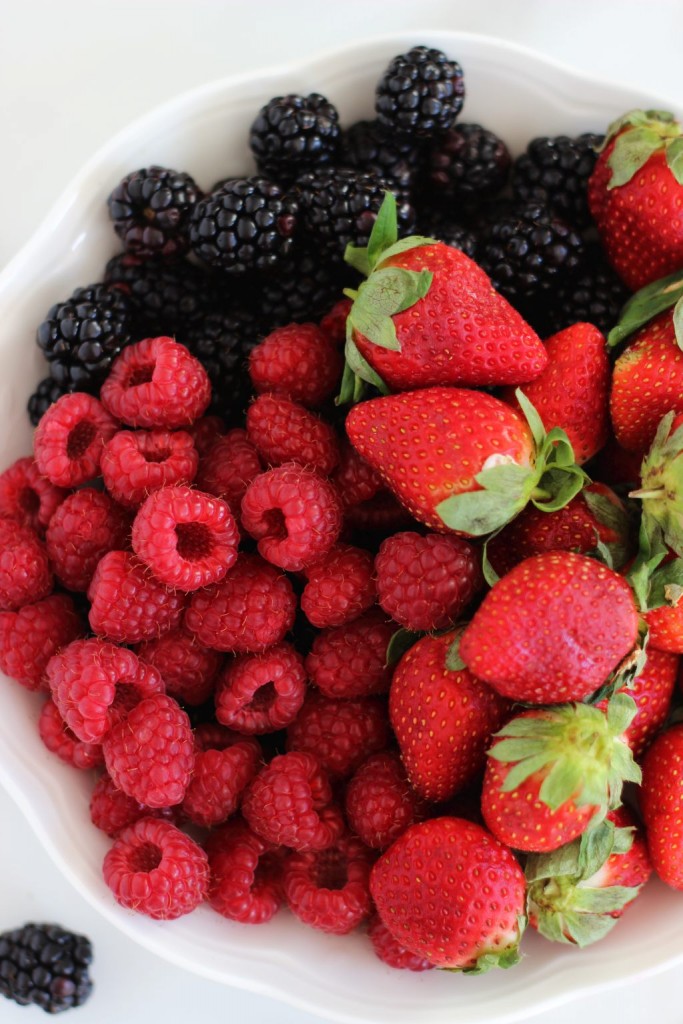 Traditional pavlova are served with cream and berries, so this Triple Berry Amaretto Pavlova isn't a totally wild and crazy version of a classic pavlova. However, the amaretto in the berry sauce makes all the difference in the WORLD. It's pretty similar to the sauce I made in this super popular recipe for Amaretto Crepes. And a little almond extract added to the pavlova meringue really ties in well with the berry sauce.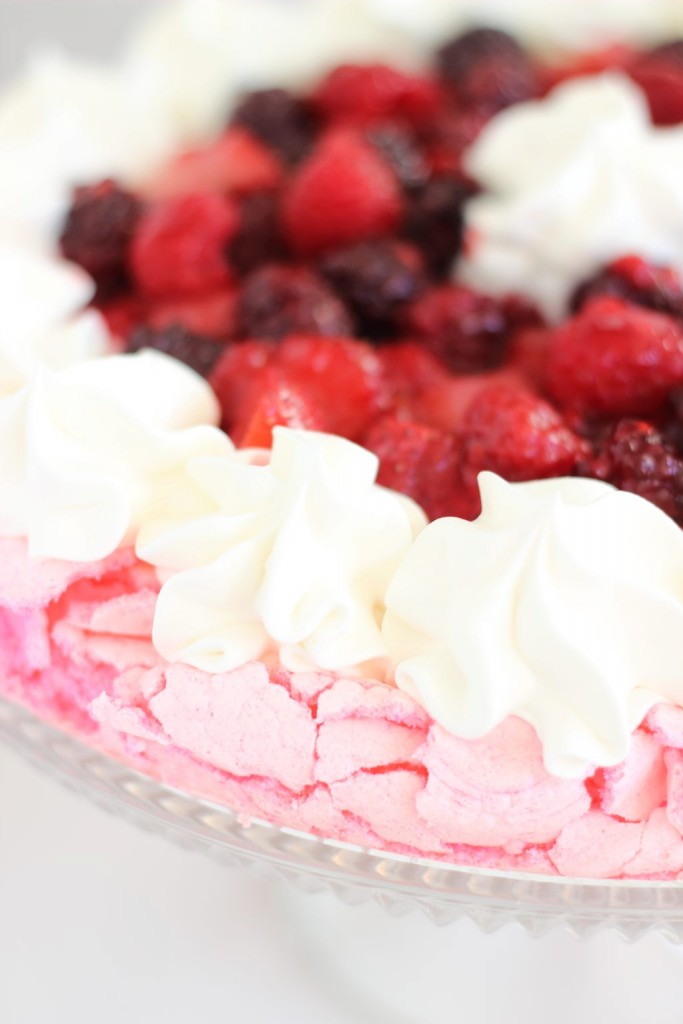 The sauce should be a meal. It should be soup. Amaretto Berry Soup that you eat all by itself out of a huge bowl. It's divine. Amaretto and berries together are nectar of the gods!
Spooned over your marshmallow cloud of pavlova, this dessert is out-of-this-world!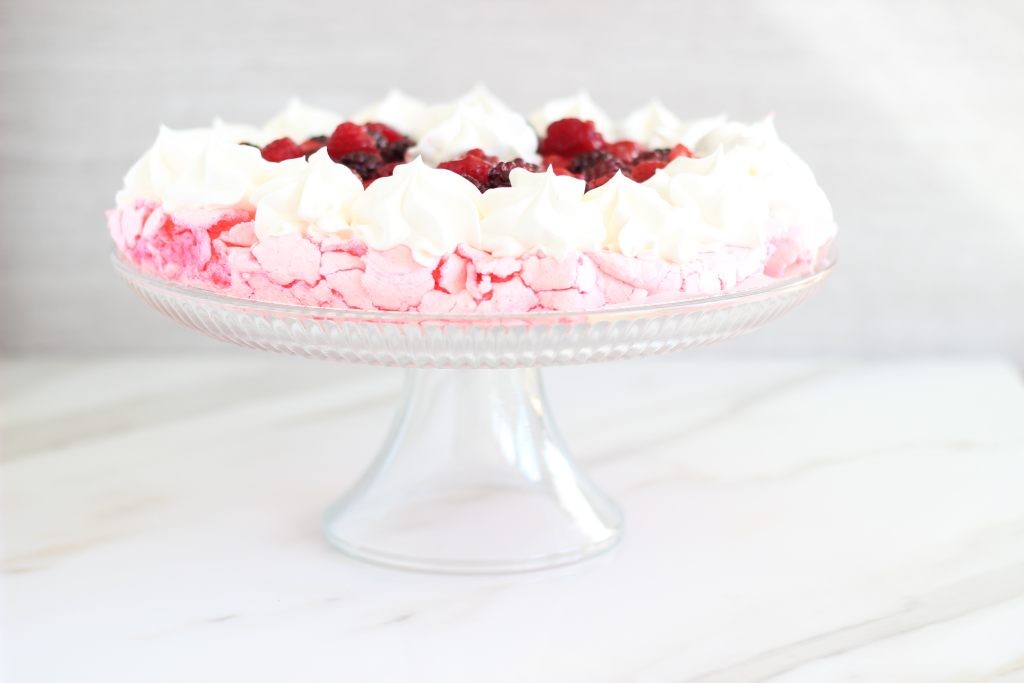 And it's pink! Actually, it might be TOO pink. I guess I got a little heavy-handed with the pink food color, though you only really see how very vibrant it is once you cut into the pavlova! You can skip the pink if you want, but it made it more Valentine's Day-ish to me.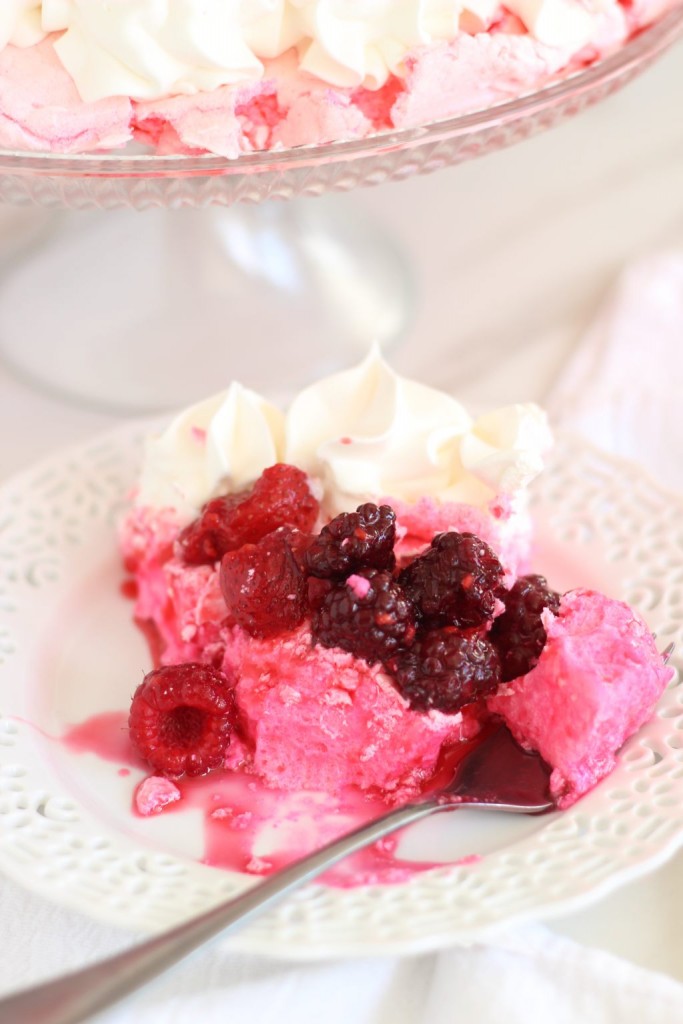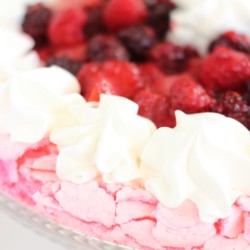 Triple Berry Amaretto Pavlova
Ingredients
For Pavlova:
5

large egg whites

at room temperature, and make sure they are not contaminated with ANY yolk

1/2

tsp.

cream of tartar

1

c.

sugar

1

tsp.

vanilla extract

1

tsp.

almond extract

1-2

drops pink gel food color
For Triple Berry Amaretto Sauce:
2

c.

mixed berries - blackberries

raspberries, and sliced strawberries

1/4

c.

sugar

1/4

c.

amaretto liqueur

1/2

tsp.

almond extract

2

tsp.

cornstarch

whipped topping

for garnish
Instructions
For Pavlova:
Preheat oven to 400 degrees.

Line a large baking sheet with parchment paper.

Trace a 9-inch circle on the parchment paper, using a plate as a guide. Flip the parchment paper over.

Spray it lightly with non-stick cooking spray.

In a large mixing bowl fitted with a whisk attachment, beat the egg whites and cream of tartar on medium speed until the egg whites are foamy, about 2 minutes.

Gradually add the sugar, a few tablespoons at a time.

Beat on high until stiff peaks form, and the egg whites are glossy and white, about 5 minutes.

Beat in extracts and pink gel food color.

Pile the meringue mixture onto the baking sheet in a round mound, using the traced circle as a guide.

Place in the oven and *immediately* turn the temperature down to 250 degrees.

Bake for 90 minutes, then turn off the oven, keeping the oven door closed. Do not open the oven door, or remove the pavlova. Allow it to cool in the oven for about 1 hour.

Remove pavlova from oven, cool completely on the pan.

Carefully shift the pavlova from the parchment paper to a cake plate or serving platter.
For Triple Berry Amaretto Sauce:
In a large saucepan over low heat, combine berries, sugar, amaretto, and almond extract.

Whisk in cornstarch.

Bring to a simmer, cook for 3 minutes, and remove from heat.

Pour the sauce into a heat-proof bowl to remove it from all heat. It will cool quicker. Cool completely, and chill.

Pipe or spoon a border of whipped topping around the edge of the pavlova. Spoon the sauce into the center. Serve immediately!