Homemade pastel-colored coconut marshmallows cut into fun spring shapes like bunnies, flowers, and dragonflies!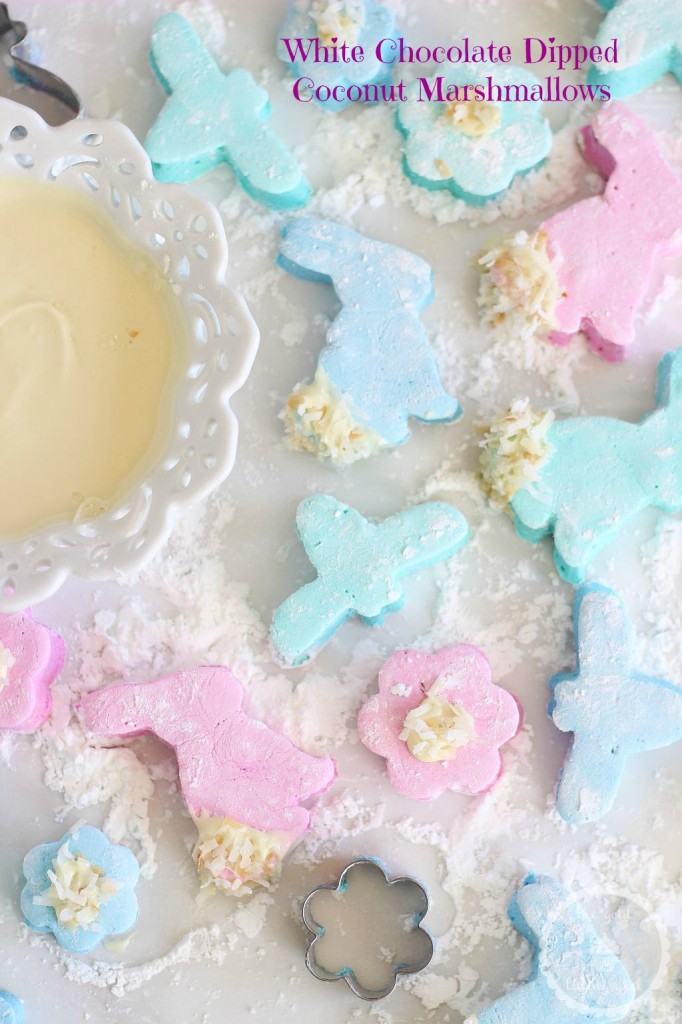 I've shared Chocolate Dipped Strawberry Marshmallows, and now I'm presenting you with White Chocolate Dipped Coconut Marshmallows. They're pretty pastel colors! And cut into bunnies! And flowers! And dragonflies! And whatever other cute cookie cutter shapes you have on hand.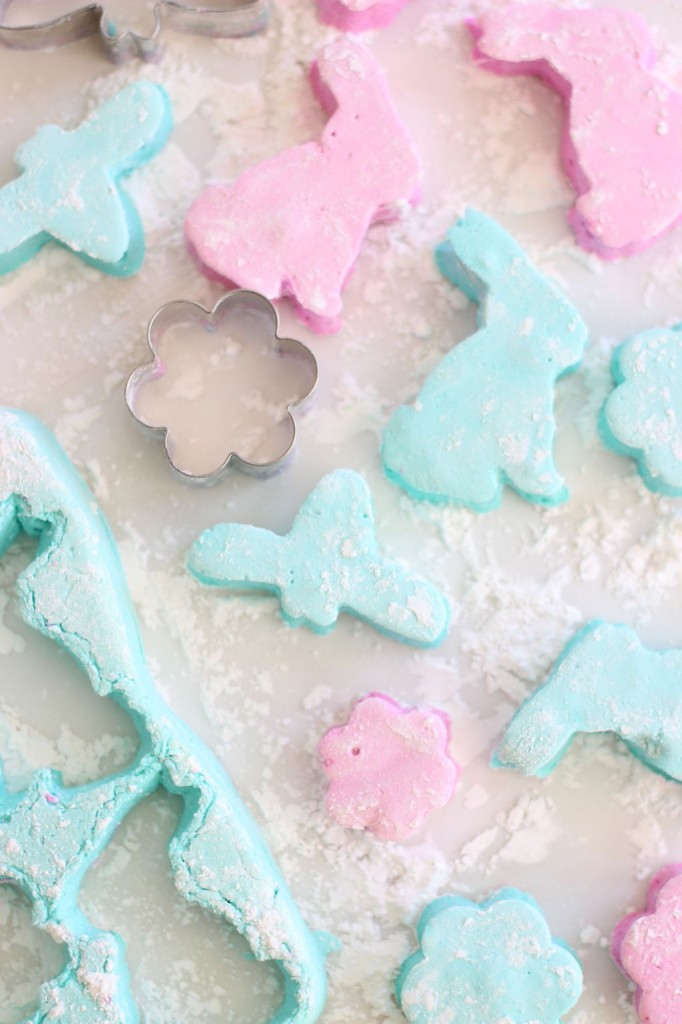 Homemade marshmallows are amazing. They're so fluffy and bouncy and light. They're just puffed up sugar ultimately, but they taste like so much more than that. Coconut is an awesome flavor enhancement for marshmallows, and a perfect choice for spring and all things Easter!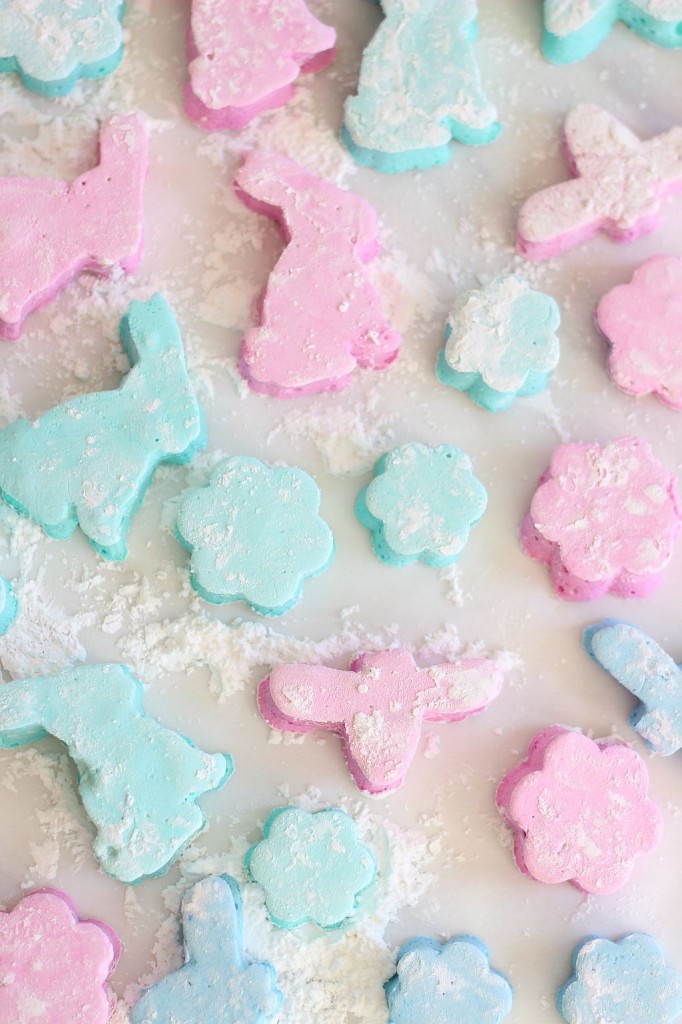 Sure, we haven't even gotten to St. Patrick's Day yet… wait, yet??? What I actually mean is: how is it almost St. Patrick's Day ALREADY? It's almost mid-March? Not sure how that's possible, but even Easter is only a few short weeks away (!!!). It's good to be thinking ahead. That's what I was doing when I made these adorable spring marshmallows. It's been in the mid-80s this week here in FL (I see your death stares), so my mind is in full-blown spring!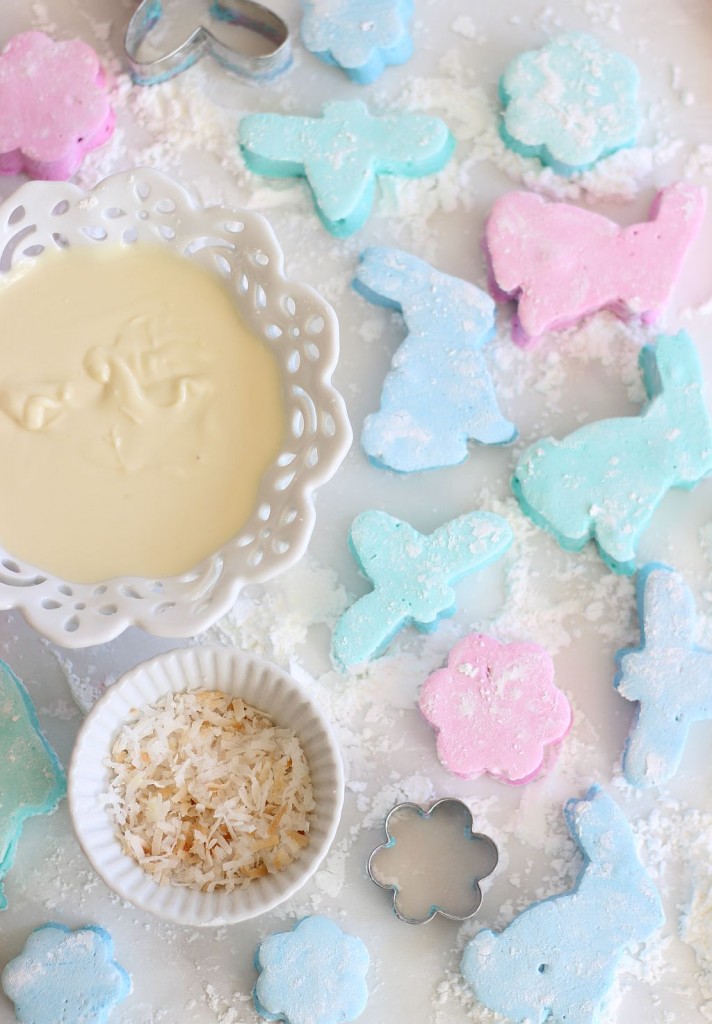 As an adult, these cute little marshmallows were a lot of fun to make, and I think kids would really enjoy cutting out the shapes and dipping them into chocolate! Or, maybe they'd like to find a few of these tucked away in their Easter basket? They're perfect spring treats!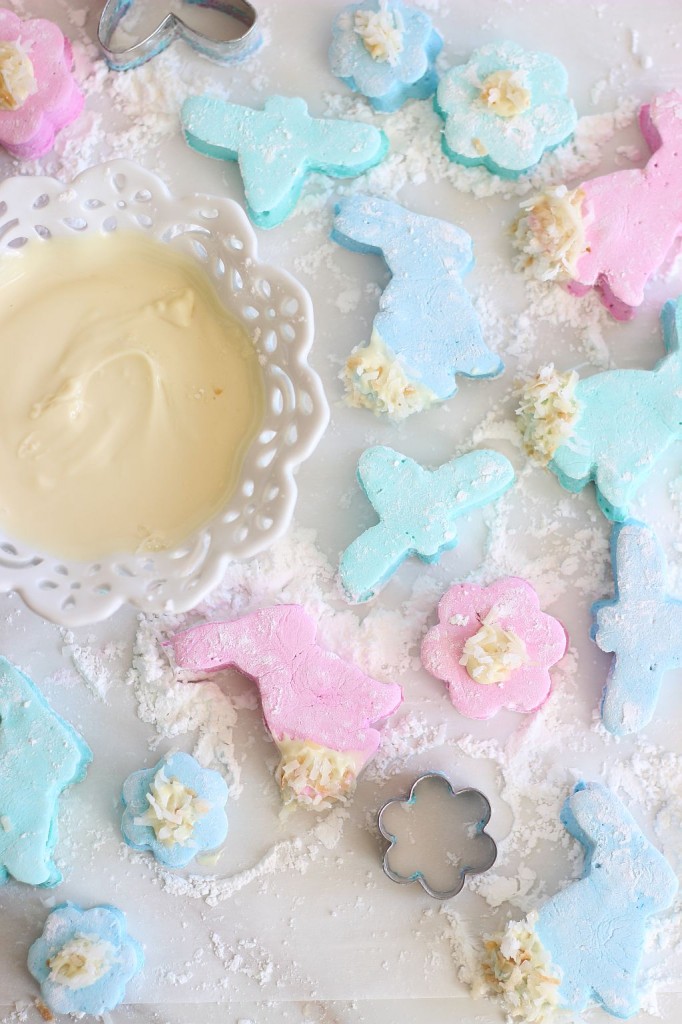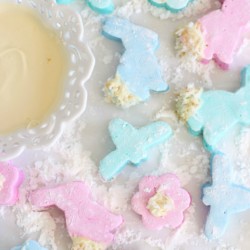 Coconut Marshmallows with White Chocolate
Homemade pastel-colored coconut marshmallows cut into fun spring shapes like bunnies, flowers, and dragonflies!
Ingredients
1/2

c.

powdered sugar

1/2

c.

cornstarch

1 1/2

c.

water

divided

4

unflavored gelatin envelopes

3

c.

granulated sugar

1 1/4

c.

light corn syrup

2

tsp.

coconut extract

gel food paste coloring in assorted pastel colors

4

oz.

white chocolate

1/2

c.

shredded coconut

toasted
Instructions
In a small bowl, whisk together powdered sugar and cornstarch.

Prepare three 8x8-inch pans by coating them liberally with nonstick cooking spray, and dusting them lightly with the powdered sugar mixture.

Return excess powdered sugar mixture to the small bowl.

In a large mixing bowl, place 3/4 cup water.

Sprinkle the gelatin on top and stir briefly to distribute evenly. Let sit for at least 5 minutes.

Meanwhile, in a large saucepan over medium heat, combine remaining 3/4 cup water, sugar, and corn syrup.

Attach a candy thermometer, and allow the mixture to cook, stirring occasionally, until it reaches 240 degrees (or about 6-7 minutes).

Once it reaches proper temperature, remove it from heat immediately.

Turn the mixer to low, and very slowly and carefully drizzle the hot syrup into the mixer bowl.

After 1-2 minutes on low, gradually increase the speed of the mixer until it is running on high. Whip the mixture for about 8-10 minutes, or until it is thick and shiny.

Beat in the coconut extract.

Working quickly, evenly divide the marshmallow into 3 bowls. With the gel food paste coloring, color the portions of marshmallow, as desired. I used Americolor Soft Pink, Turquoise, and Sky Blue.

Spread the separate colors into the prepared pans, smoothing the top. Allow to sit at room temperature overnight.

On a large sheet of waxed paper or parchment paper, turn out the pans of marshmallow. Liberally sprinkle them with the powdered sugar mixture.

Using assorted spring cookie cutter shapes (especially bunnies!), cut marshmallow pieces as close together as possible.

Still using the parchment paper as a work surface, toss all the cut marshmallows in the powdered sugar mixture to thoroughly coat the edges.

In a small microwave-safe bowl, using 20-second intervals, heat the white chocolate until melted and smooth.

If using a bunny shape, dip the tail portion of the marshmallow into the chocolate, then into the bowl of toasted coconut. For other shapes, use a small spoon to dollop white chocolate where desired, and sprinkle with toasted coconut.

Return the dipped marshmallows to the parchment paper to allow the chocolate to set; at least 1 hour. Store in airtight containers for up to 1 week.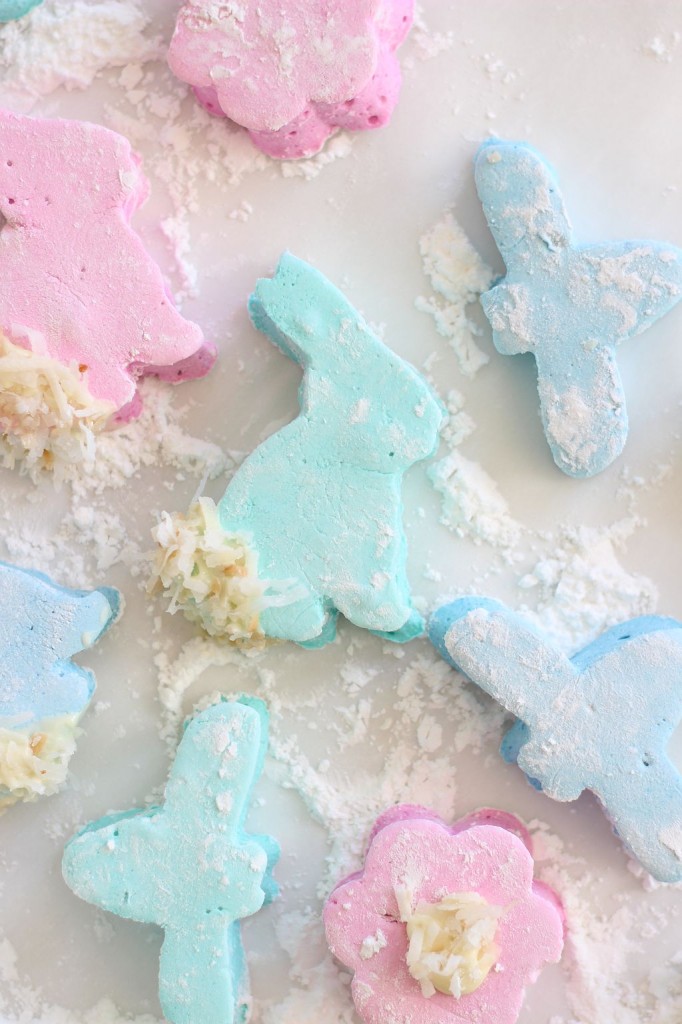 Don't feel bad biting off the tail. It's the best part!