Simple lemon cake mix cookies decorated to look like Easter chicks. These Easter Chicks Lemon Cookies are ridiculously easy and quick to make! Check out the video for a quick guide!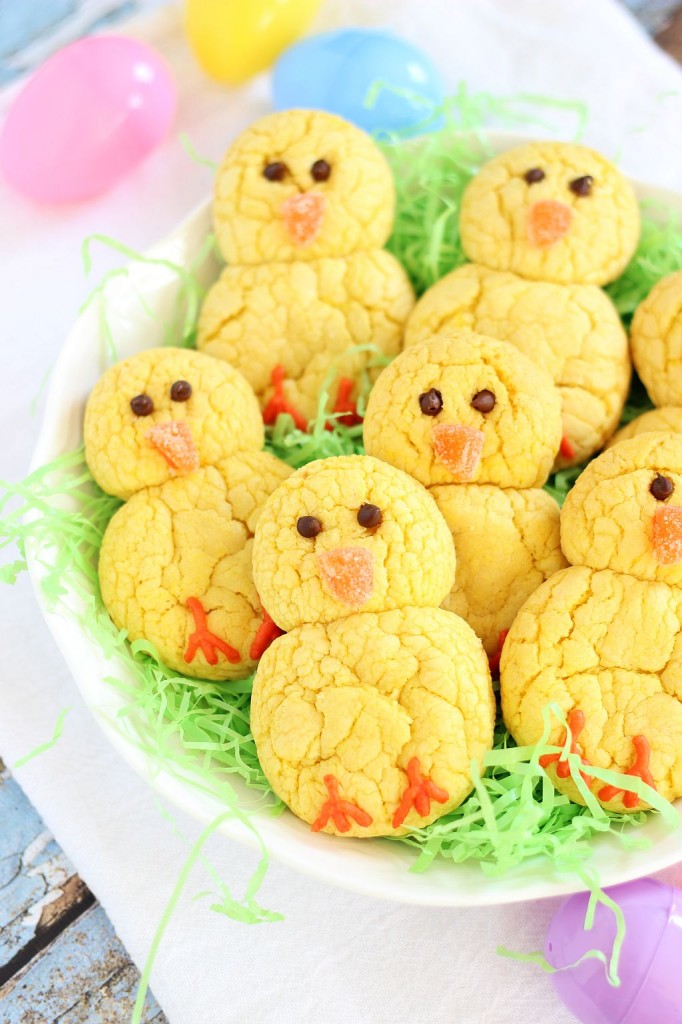 These cookies don't technically contain any real citrus, so it's sort of cheating to include them in Citrus Week, buuuuut, they are lemon-flavored cookies, so they kinda count, right? Tell me you love cake mix cookies. We love them in my family, and I love their versatility, and I love how soft and chewy they are. You can do so many things with cake mix cookies!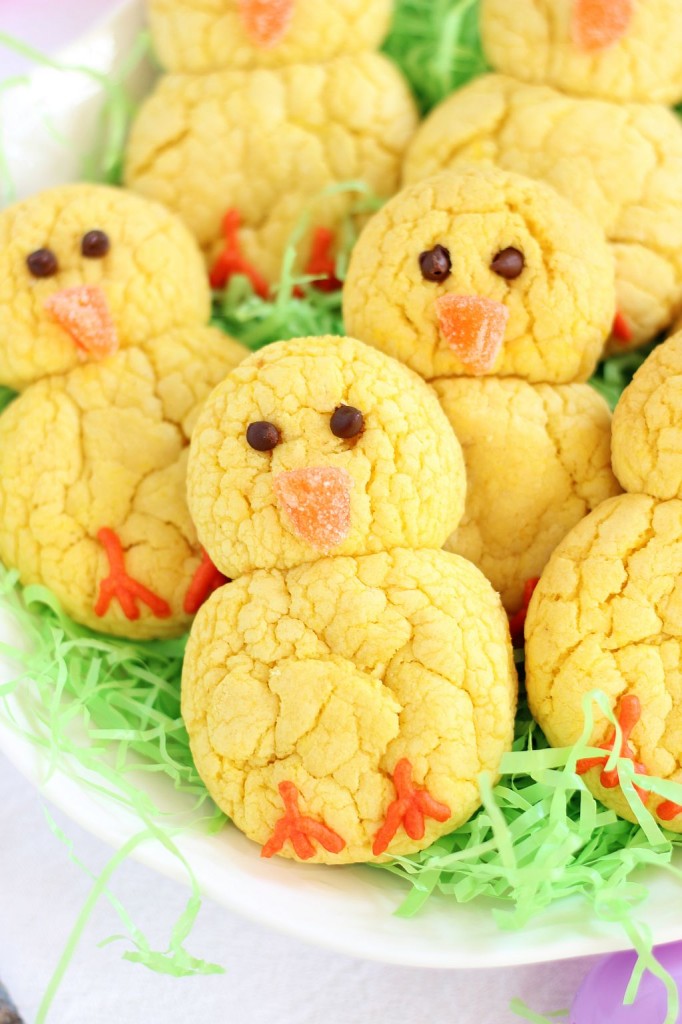 I realized today that Easter is only about a week away. How do the holidays sneak up on us so fast?? And when you're always thinking at least 1-2 holidays ahead of things (you know, to bake stuff and make stuff), then it feels like time is flying even faster. I've been brainstorming a little bit for the 4th of July, so my brain is on summer ideas. Yet, I'm still astounded that Easter is nearly here. How is it almost Easter already? April is also upon us? Wasn't Christmas like two weeks ago?
I'm sure you hear this everywhere in the blogosphere though, so I'll stop rambling about how fast time flies… until the next time anyway. 🙂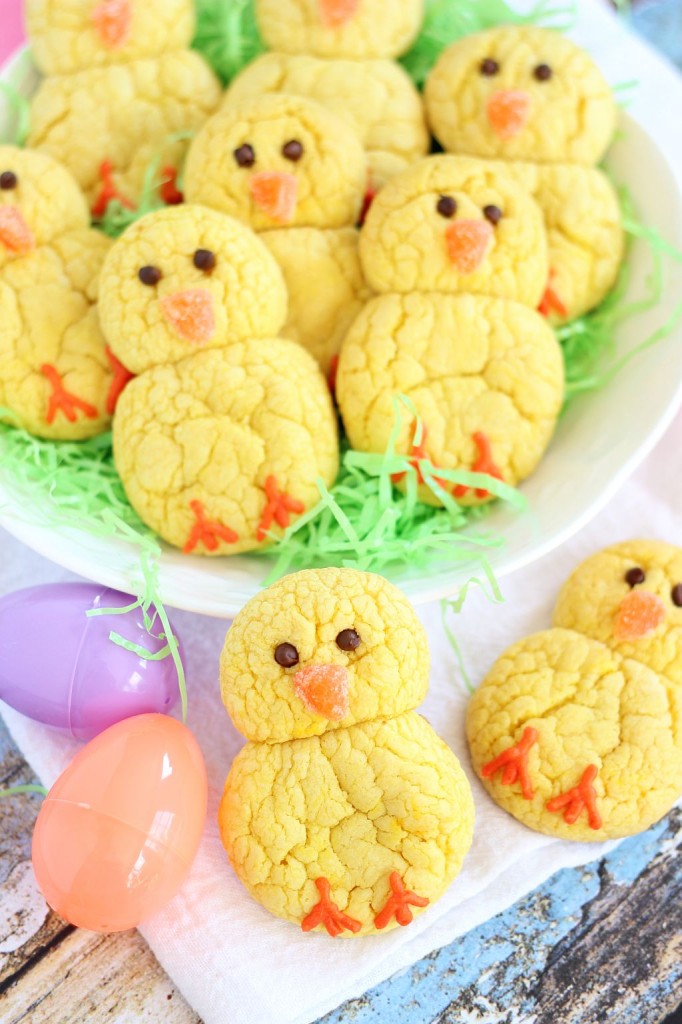 All that said, it occurred to me that if I have any recipes that are pretty specific to Easter, like these Bird's Nest Cupcakes (they're soooo cute!), I needed to share them quite soon. I think we can all agree that cookies shaped like little chicks are very much an Easter cookie. While they'd be cute other times of the year, they're not nearly as fitting as they would be right now. I want to give you plenty of time to plan to make these cookies, even though they barely take any time at all to throw together.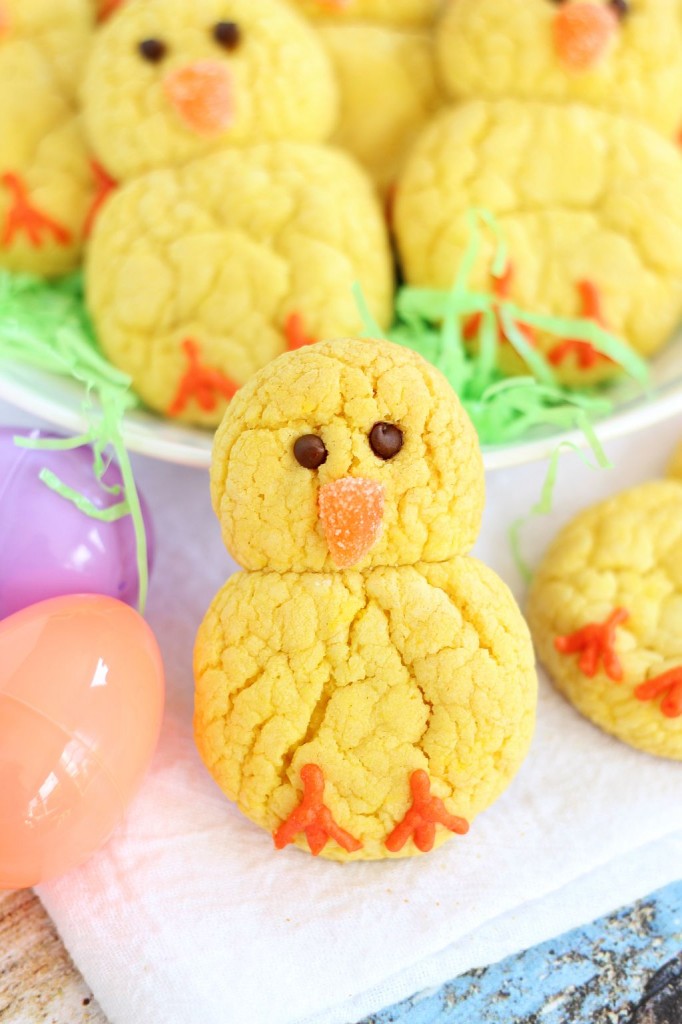 I am a BIG fan of cake mix cookies. In my family, we make them all the time. They're so versatile because you can use any variety of flavor, you can mix in any variety of chips or nuts, and you can sandwich stuff between them. So many options. So easy. They always stay really soft and chewy too. My Gma created her own version of Oreos using chocolate cake mix cookies and a marshmallow frosting sandwiched in between. They're amazing.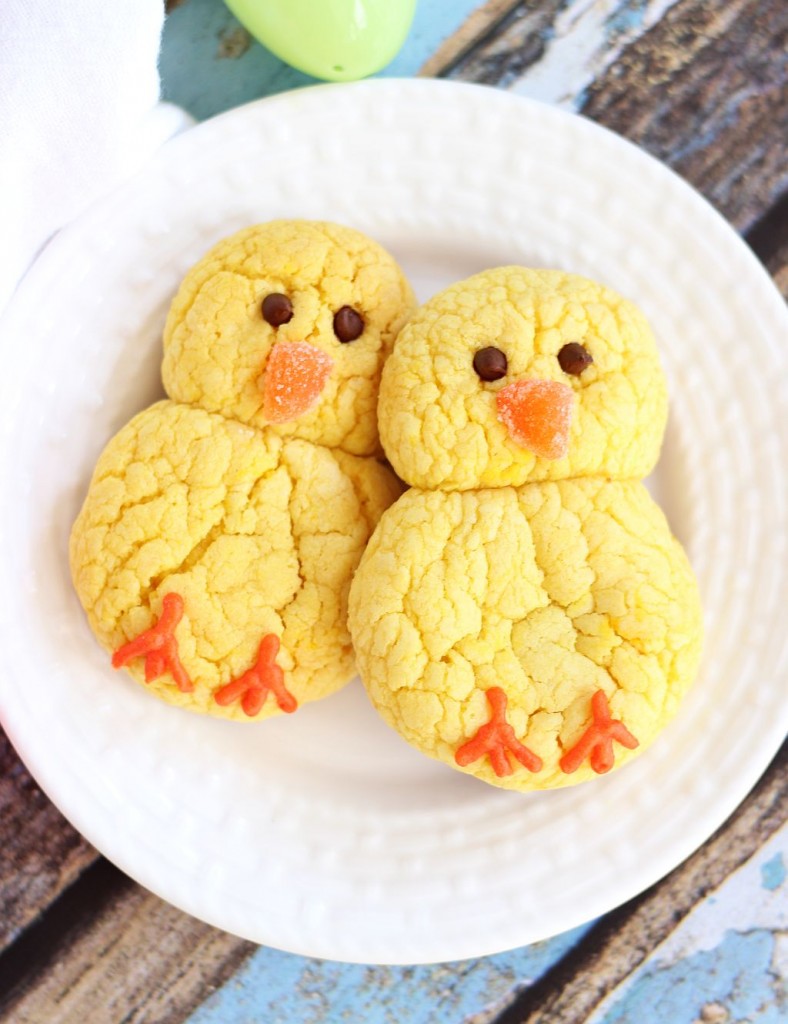 I can always go for a good lemon cookie (or lemon anything), and I saw these lemon chick cookies from Pillsbury, and thought they'd be so fun to make for Easter. They're adorable and they were so simple to make. Because they're a cake mix cookie and lemon-flavored, I knew we'd also love how they taste. Cute + delicious. Look at 'em.. they are seriously perfect for the holiday!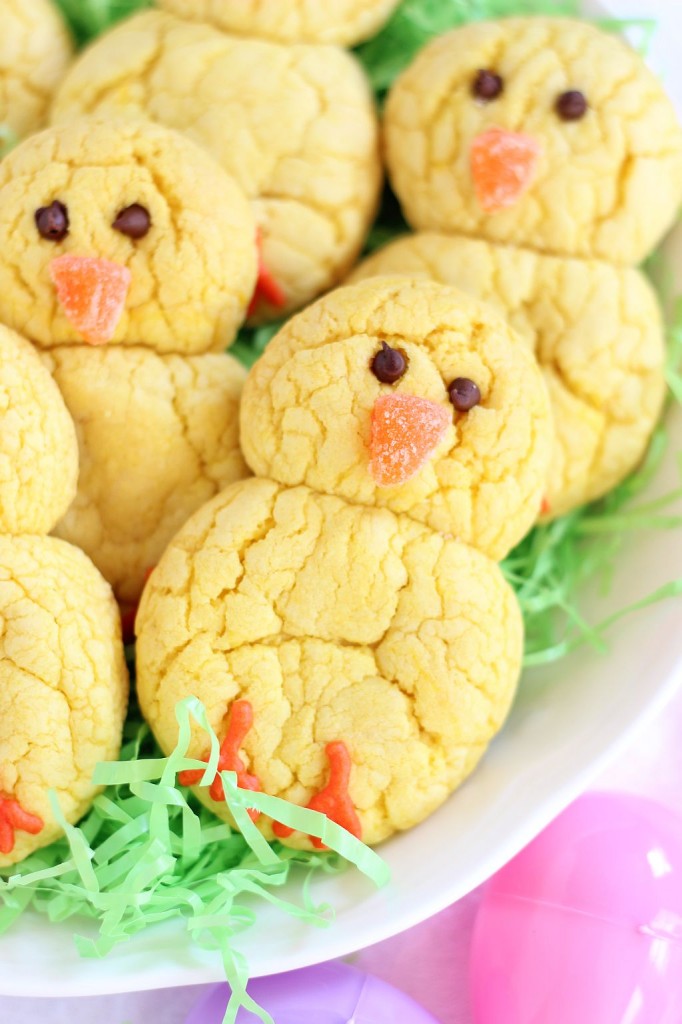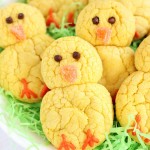 Easter Chicks Lemon Cookies
Simple lemon cake mix cookies decorated to look like Easter chicks.
Ingredients
9

orange candy slices

1

box lemon cake mix

2

eggs

1/2

c.

shortening

yellow food coloring

optional

1-2

tbsp.

mini semi-sweet chocolate chips

small amount of orange frosting
Instructions
The edges of the orange slices sort of form a triangle, which makes for a perfect beak. Cut off about 1/4 inch of the edge of each orange slice, and set aside to use as beaks.

To prepare cookies, in a large mixing bowl, beat together cake mix, eggs, and shortening until well-blended.

Add several drops of yellow food coloring if you want the yellow color of the chicks to be brighter.

For each chick, roll two balls of dough. One ball should be about 1 1/2 inches, and the other should be about 3/4 inches. Just make sure that one ball is a good bit larger than the other.

Place on a lightly greased cookie sheet with the smaller ball just touching the larger ball.

Bake at 350 degrees for 10-12 minutes, or until edges of cookies are golden brown.

Remove from heat, and while the cookies are still warm, press in two mini chocolate chips for the eyes.

Remove cookies from cookie sheet to a wire rack to cool completely, being careful not to break the chicks apart.

Once cookies are completely cool, using a parchment bag fitted with a #4 tip, pipe orange frosting onto the bottom of each chick for the feet.

Using a dot of orange frosting, 'glue' an orange slice beak onto each cookie. Devour!!
Since these are really quite simple to make and to decorate, I think these would be a super fun cookie to make with kids too. If you've got little ones at home, this would be a really fun kitchen project!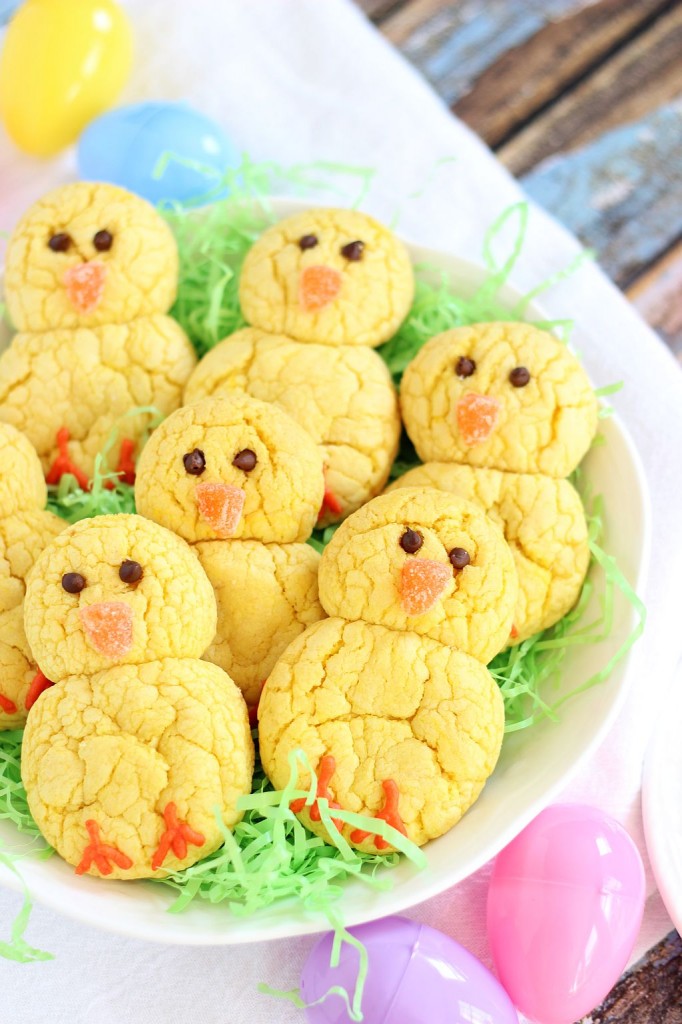 You may also like: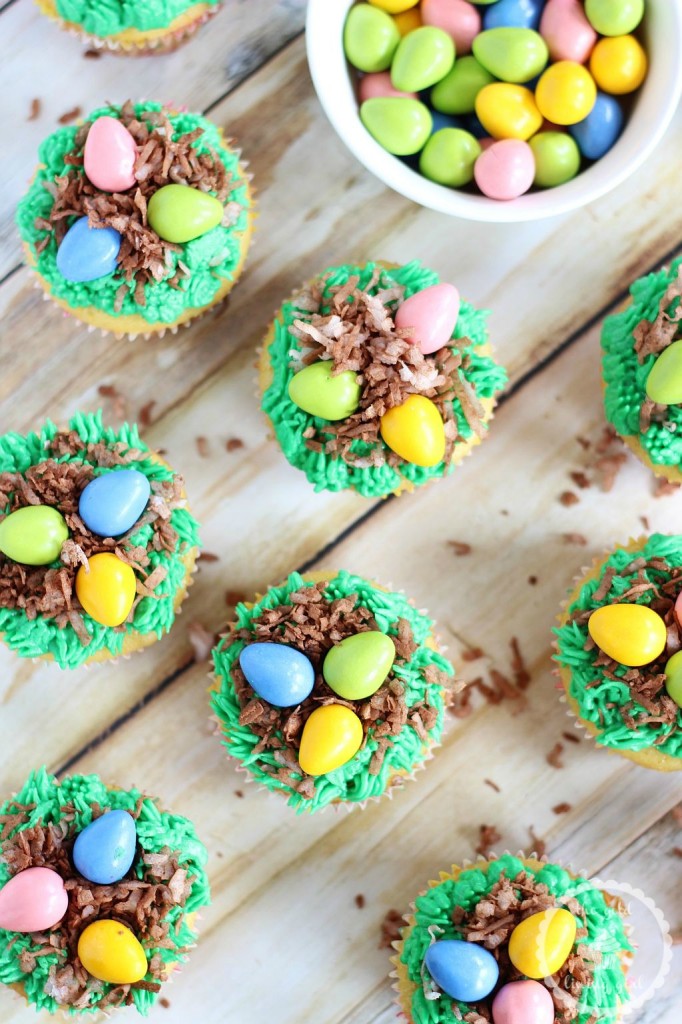 Lemon Blueberry Bundt Cake with Lemon Glaze