Easy cake mix Key Lime Whoopie Pies are filled with a delicious macadamia nut buttercream for a whoopie pie you won't forget! These Key Lime Whoopie Pies with Macadamia Nut Buttercream are what summer dreams are made of, and you'll ADORE them!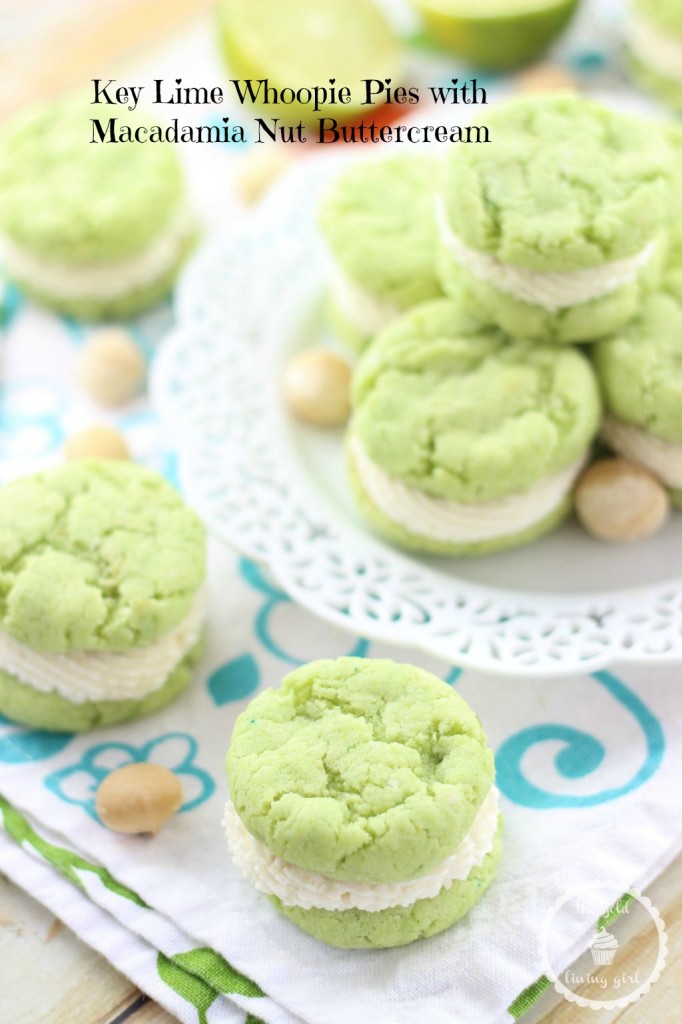 I. LOVE. THESE. These Key Lime Whoopie Pies with Macadamia Nut Buttercream ruined my "I'm going to eat ultra-healthy this week" plan, and I don't regret it. Not yet, anyway. Ask me next week. Though my answer will still probably no. They are SO WORTH IT.
These whoopie pies warrant all the cap letters. I'm not shouting, it's just exuberance. These Key Lime Whoopie Pies with Macadamia Nut Buttercream totally deserve all the caps.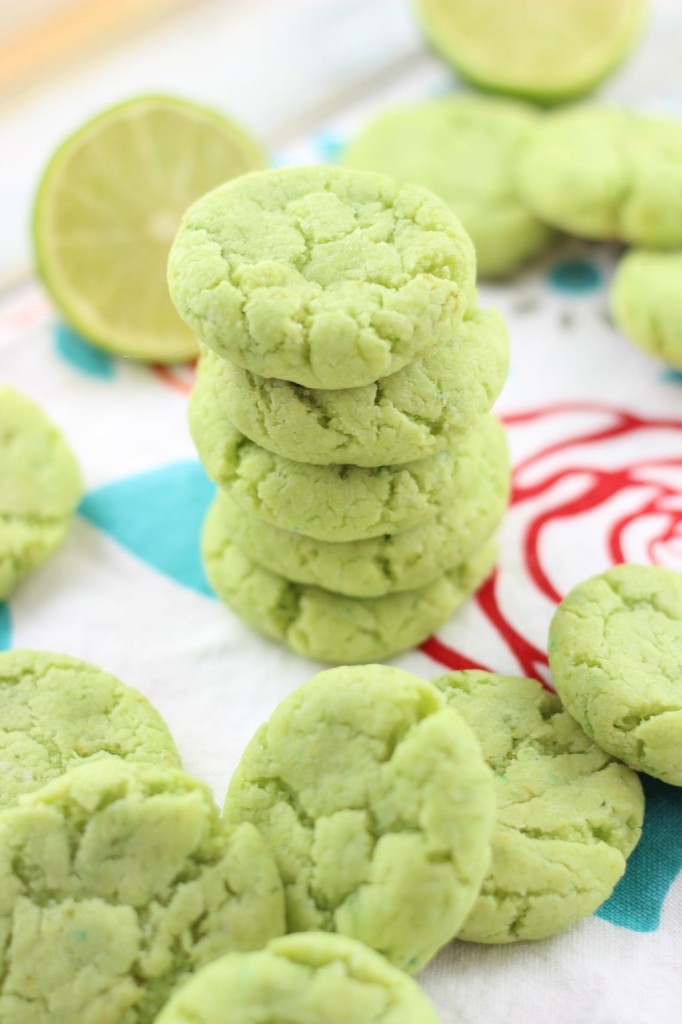 My secondary excitement is because I did a Google search and didn't really see any other Macadamia Nut Buttercream frostings out there in the internet world. That's significant because anytime I get an idea that I hope is novel and new, it's been done before. Like, a lot. I'm happy that not only was the idea for Macadamia Nut Buttercream new and original, but it also actually worked.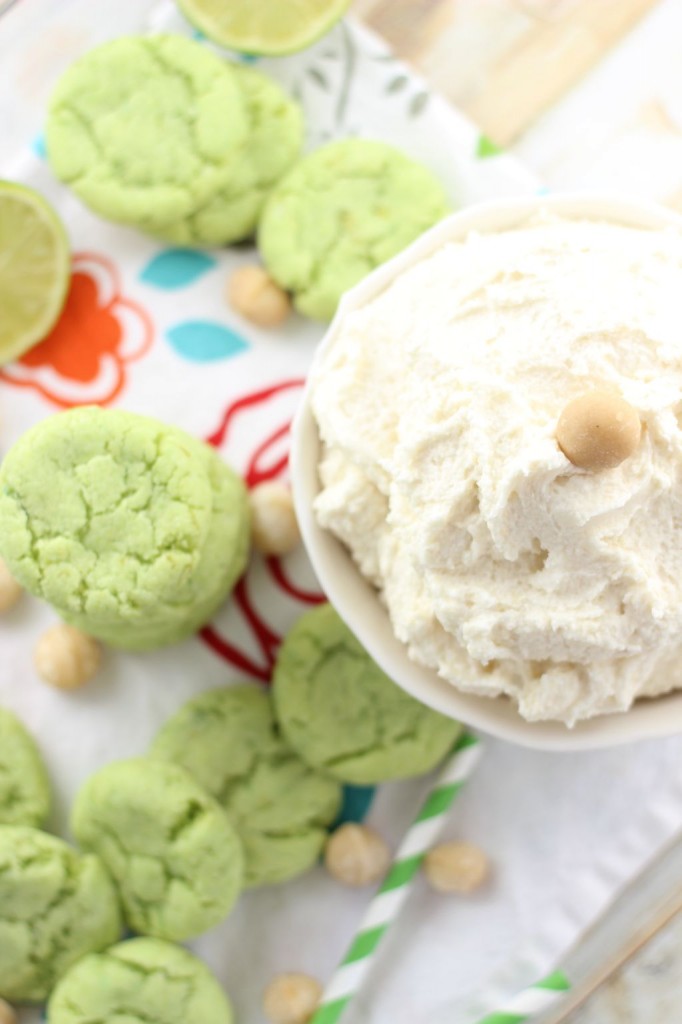 It's one thing to come up with the idea, and another thing altogether to actually get it to turn out. This recipe was a win-win!
The cookies… well, they're just cake mix cookies actually, so nothing new here. I did doctor them up with key lime zest, and that makes a world of difference. Cake mix cookies are fantastic – some of my personal favorites. These Easter Chicks Lemon Cookies are another prime example! The key lime-flavored cake mix gets the key lime party started, and the zest amps up the lime flavor and adds freshness. They're terrific. Soft and chewy and wonderful.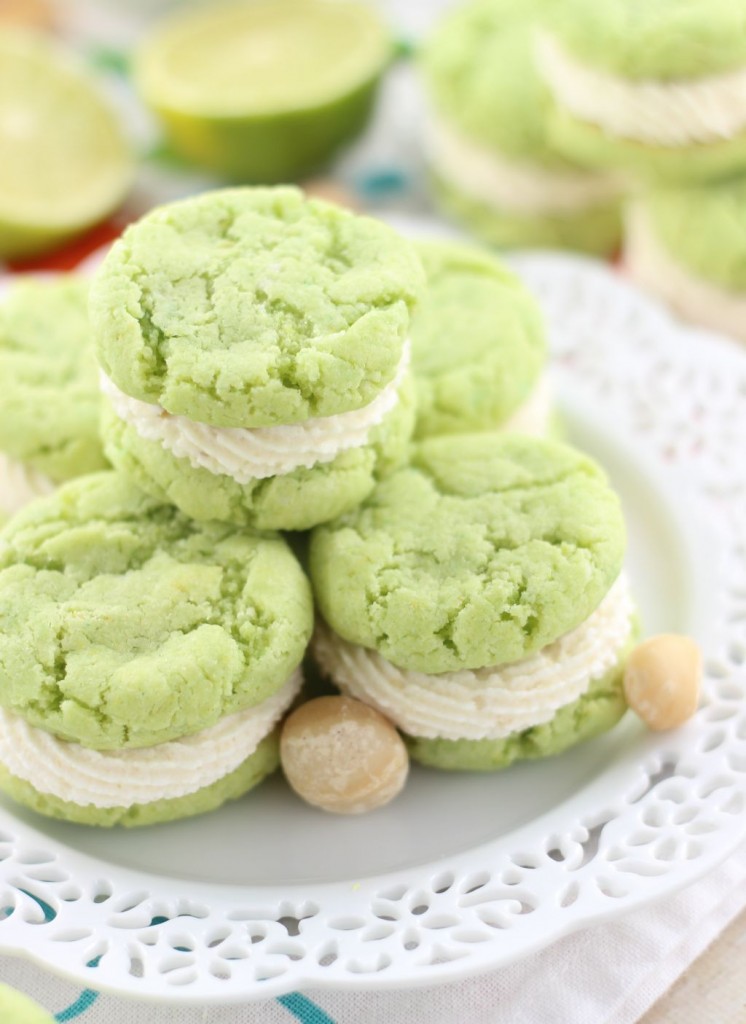 The macadamia nut buttercream is the true star of the show though. I basically made homemade macadamia nut butter by food processing the heck out of some roasted salted macadamia nuts. Then I used my Peanut Butter Frosting recipe, substituting macadamia nut butter instead. It worked perfectly. I was concerned that macadamia nuts wouldn't have a strong enough flavor to carry the frosting, but they absolutely do. I was also worried that the frosting would be heavy and thick, and might not whip up into fluffiness. It does. Light and fluffy, perfectly flavored macadamia nut buttercream. I can't get over my love for it.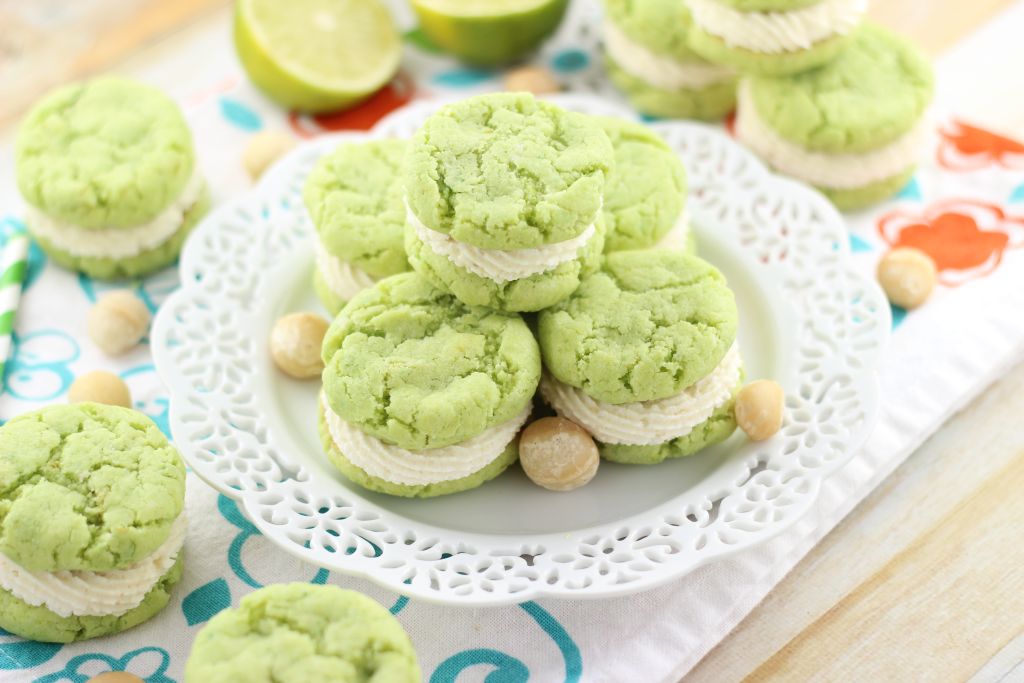 Slathered between two soft and thick key lime cookies? I hardly know how it could get better than that. These Key Lime Whoopie Pies with Macadamia Nut Buttercream were amazing, and dare I say, one of my top favorite recipes on the blog!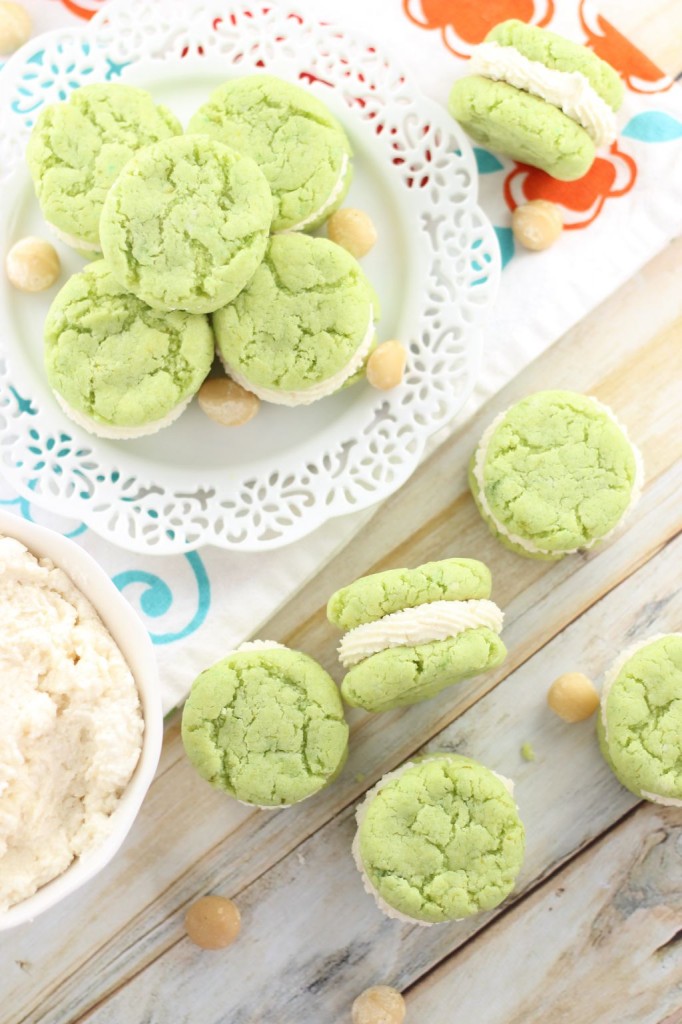 If you love other cake mix cookies and super simple cookie recipes, check out these Easter Chicks Lemon Cookies or Easter Chick Cookies. Or these Grinch Cookies (Pistachio Pudding Cookies)!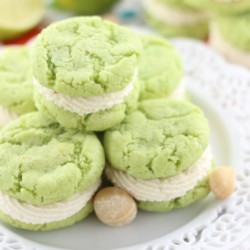 Key Lime Whoopie Pies with Macadamia Nut Buttercream
An easy key lime cake mix cookie gets spruced up into a whoopie pie with macadamia nut buttercream!
Ingredients
1

key lime flavored cake mix

2

eggs

1/2

c.

shortening

zest of 2 limes

2

c.

macadamia nuts

2

tbsp.

coconut oil

10

tbsp.

unsalted butter

softened

2 1/2 - 3

c.

powdered sugar

3-4

drops coconut extract
Instructions
In a large mixing bowl, combine key lime cake mix, eggs, shortening, and lime zest.

Roll into 1-inch balls, and place on ungreased baking sheets.

Slightly flatten each dough ball.

Bake at 350 degrees for 8-10 minutes, or until edges are lightly golden.

Remove to a wire rack to cool completely.

Meanwhile, to prepare buttercream, pulse macadamia nuts and coconut oil in a food processor until smooth. You are basically creating homemade nut butter. Process it until it's as smooth as you can get it!

Transfer the macadamia nut butter to a large mixing bowl.

Add the unsalted butter, and beat to combine.

Add enough powdered sugar to create a frosting that is thick, but spreadable, between 2.5-3 cups.

Add in coconut extract.

Beat until light and fluffy, about 3-4 minutes.

Pipe or spread frosting between two cookies. Enjoy!!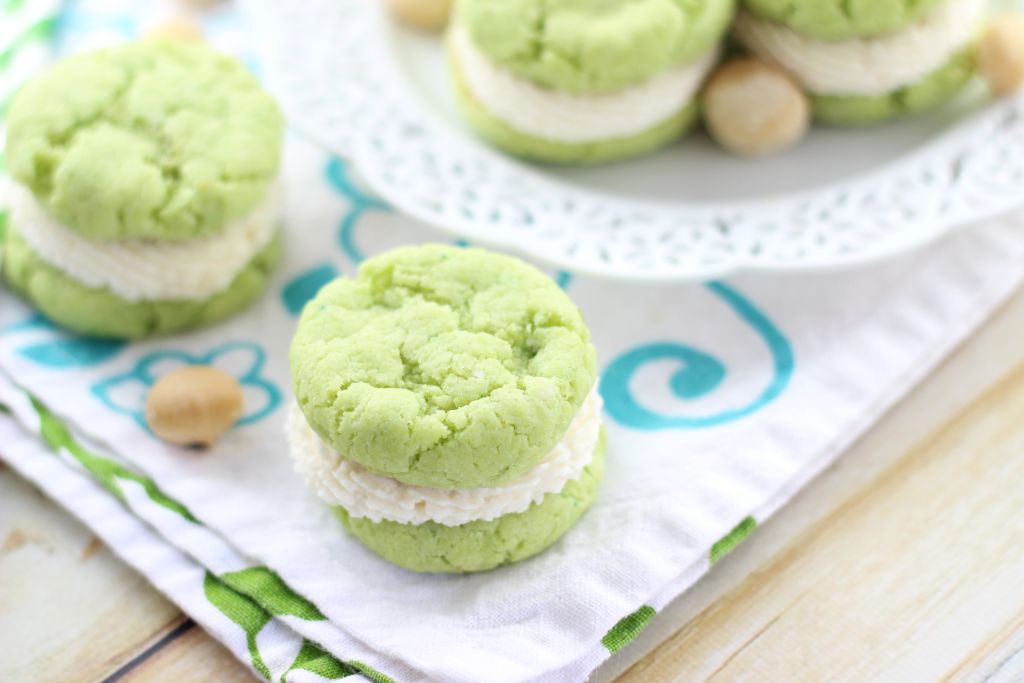 It's not just me. I took these to dinner at my in-laws, and they were very well-received! 🙂 These Key Lime Whoopie Pies with Macadamia Nut Buttercream are a home run.