Easy cake mix cupcakes with homemade buttercream frosting, decorated to look like bird's nests with eggs! Perfect for spring and Easter!
Follow along on Pinterest to easily view all the blog recipes!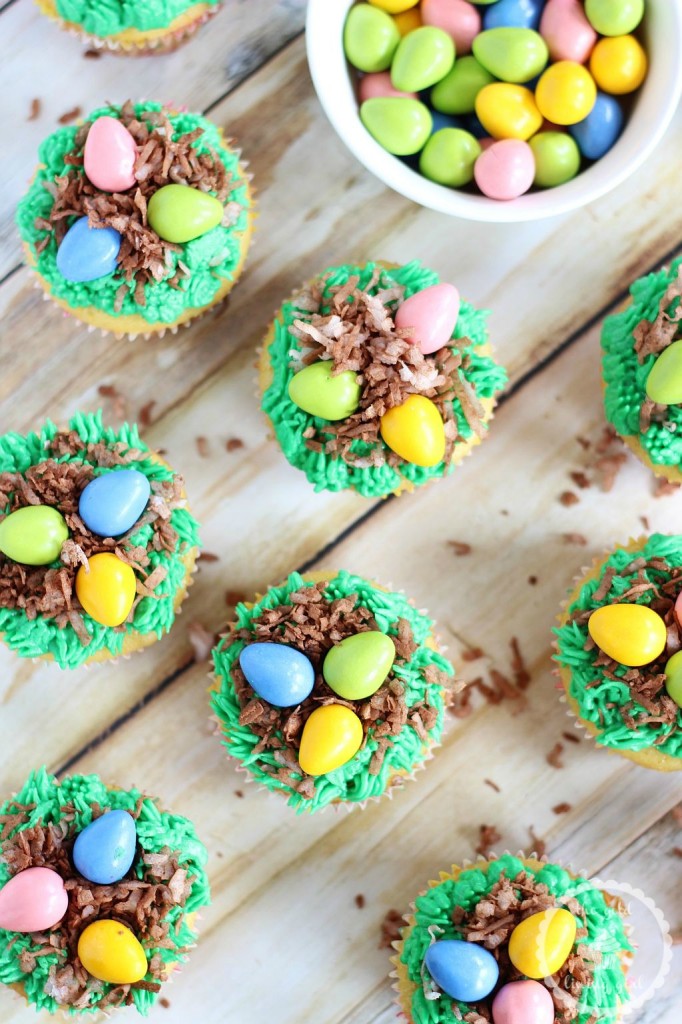 Shifting gears into more Easter stuff (although I may revert back to St. Patrick's Day for one last recipe!), I'm sharing these super cute Bird's Nest Cupcakes. They are quite adorable and very easy. They're so simple and fun that I really think that making and decorating these cupcakes would be a great activity to do with kids too.
You can make a whole Easter-themed night of it – dye eggs and make Bird's Nest Cupcakes. I don't actually have kids so I can't confirm that they would find this fun, but these cupcakes seem super kid-friendly!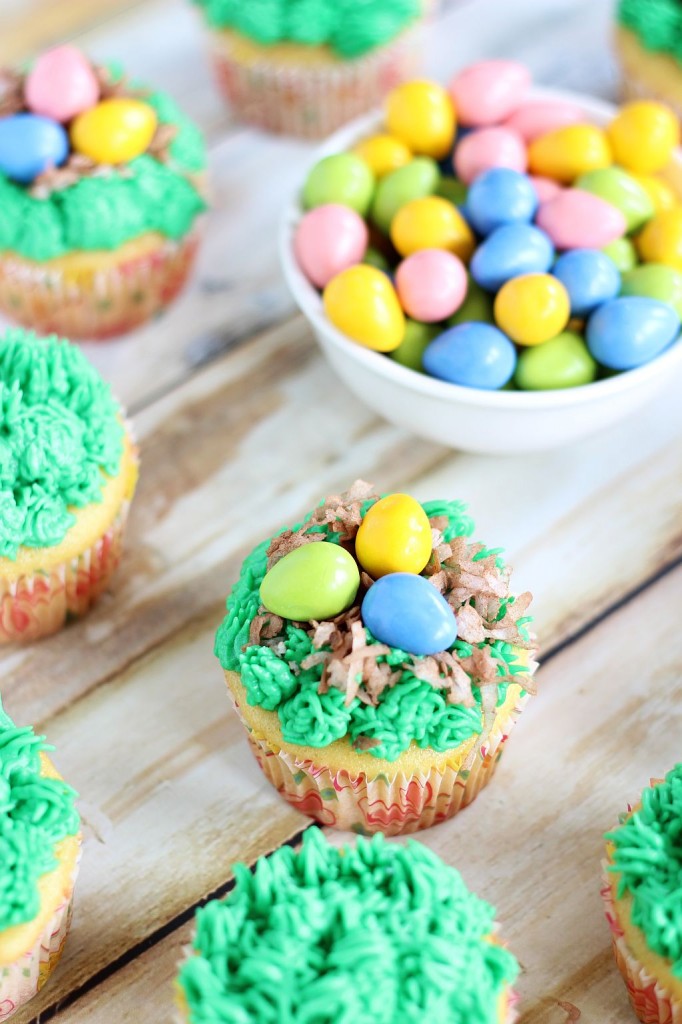 My friend Natalie was the source of inspiration for these Bird's Nest Cupcakes. Natalie and I work together, and I consider her to be my career buddha. If I need career advice, I usually go to her first.
Anyway, I actually think she would be mortified if I share the following story on the Internet. Therefore, I must.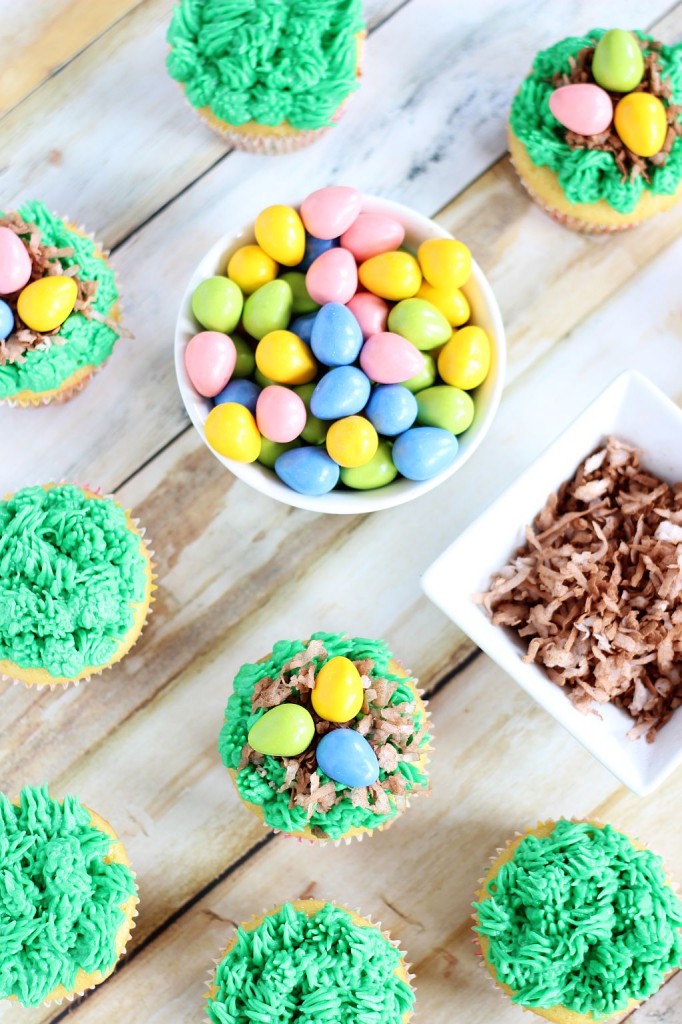 So, a few weeks ago, we met downtown to get some work done together. We were calling it a day and heading home when I got a call from Natalie that she'd left her wallet at home that morning and had no money to pay for parking to exit the parking garage. I was parked in a different building, and I had to drive over to the building where she parked to give her money to pay for parking.
Not enormously embarrassing, I suppose, but I did enjoy loaning my mentor $20. 😉 When she paid me back, she gave me a bag of Reese's pieces eggs and a Snickers egg as 'interest' for the loan. Initially, I rejected her candy gifts because I said that we already had so many sweets in the house, but then I realized that I'm a dessert blogger, and that declining her gift was totally stupid!
Maybe this story is actually more embarrassing for me. I accepted the Reese's pieces eggs and put them to good use in these Bird's Nest Cupcakes!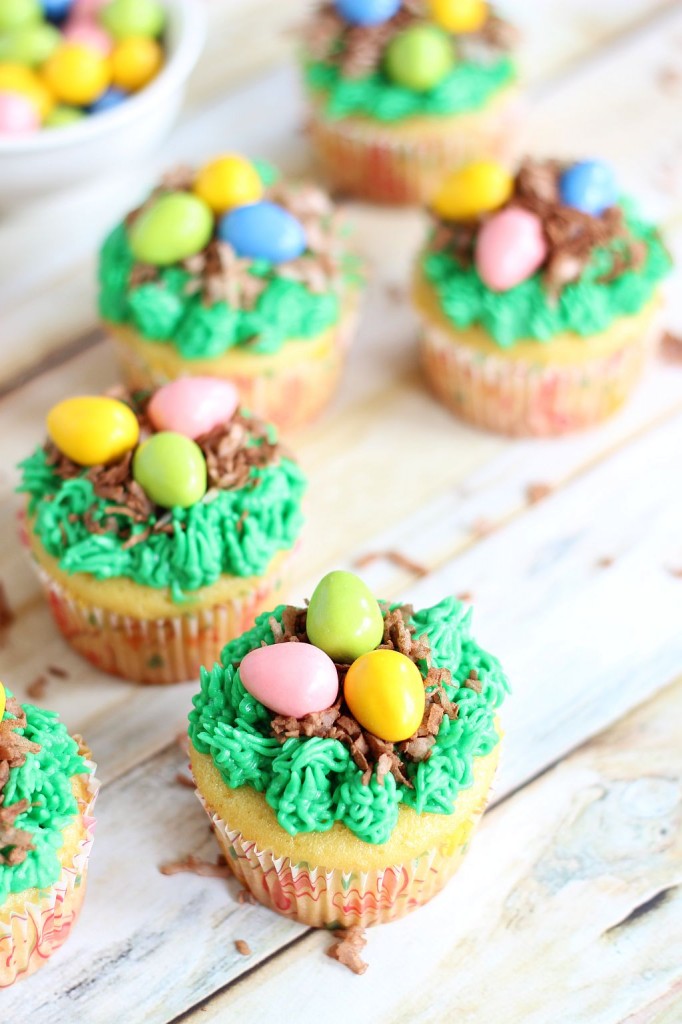 I found the Snickers egg stashed in a side pocket of my laptop bag a few days later when I was rummaging for a snack. It was all I had, and I was hungry, so I ate it for breakfast, along with a nice big cup of coffee. Breakfast of champions right there. But I'm not myself when I'm hungry. #hadtodoit
I hope you enjoy these simple, delicious, and adorable Bird's Nest Cupcakes!!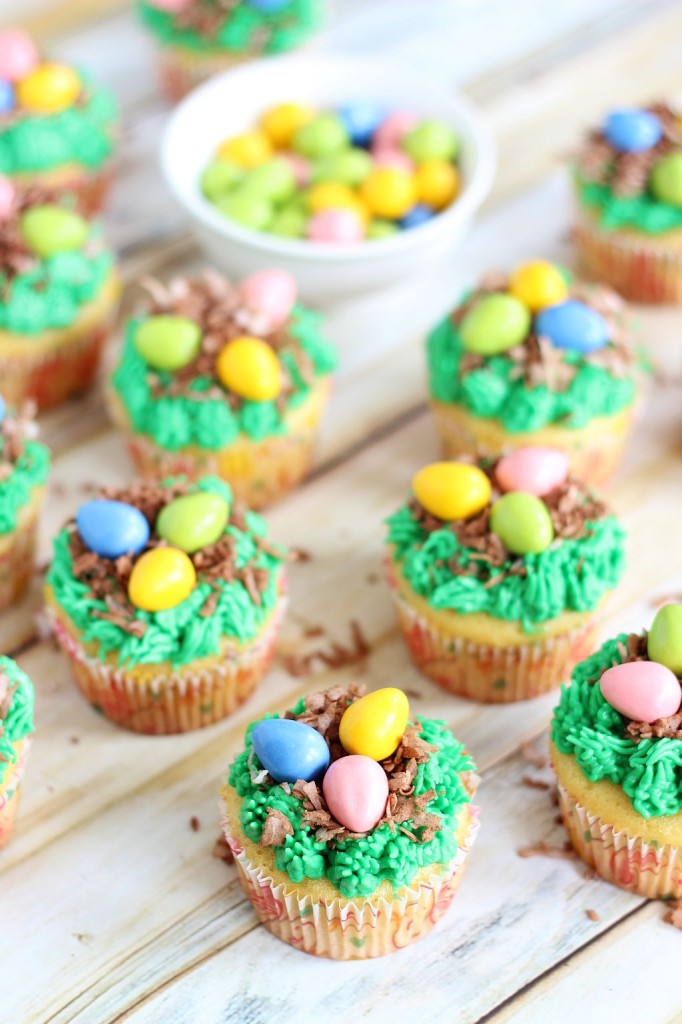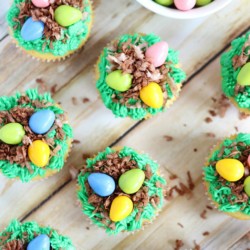 Bird's Nest Cupcakes
Easy cake mix cupcakes with homemade buttercream frosting, decorated to look like bird's nests with eggs! Perfect for spring and Easter!
Ingredients
Cupcakes:
1

box yellow cake mix

1

c.

water

1/3

c.

vegetable oil

3

eggs

3/4

tsp.

almond extract
Buttercream:
1

c.

unsalted butter

softened

3 1/2

c.

powdered sugar

2

tsp.

vanilla

1-2

tbsp.

milk

Gel paste food coloring

I used Americolor in Leaf Green
Topping:
1/2

c.

shredded coconut

1

tsp.

unsweetened cocoa powder

1

package Reese's pieces eggs
Instructions
For cupcakes:
Place paper cupcake liners in each of 24 regular-sized muffin cups.

Prepare yellow cake mix according to package instructions. (For me, this included 1 c. water, 1/3 c. vegetable oil, and 3 eggs)

Add almond extract to batter.

Divide batter evenly among muffin cups, filling about 2/3 full.

Bake at 350 degrees for 18-20 minutes, or until cupcakes are golden brown on top.

Cool in pan on wire racks for about 10 minutes, then remove cupcakes from pan, and cool completely.
For buttercream:
In a large mixing bowl, combine butter, sugar, vanilla, and milk.

Beat on medium speed for 3-4 minutes, adding more milk if needed to achieve a thick and fluffy consistency.

Add green food coloring to desired color.

Pipe onto cooled cupcakes using a grass piping tip, if available. (I used Ateco #133). If you don't have that piping tip, just spread the frosting on the cupcakes! It won't impact the decorations much!
To assemble bird's nests:
In a small bowl, combine shredded coconut and cocoa. Toss until coconut is thoroughly dusted with cocoa.

Place approximately 1 tsp. of the coconut onto the tops of the cupcakes.

Arrange 3 Reese's pieces eggs on top of the coconut, pushing the bottoms into the frosting so that they stay in place. Enjoy!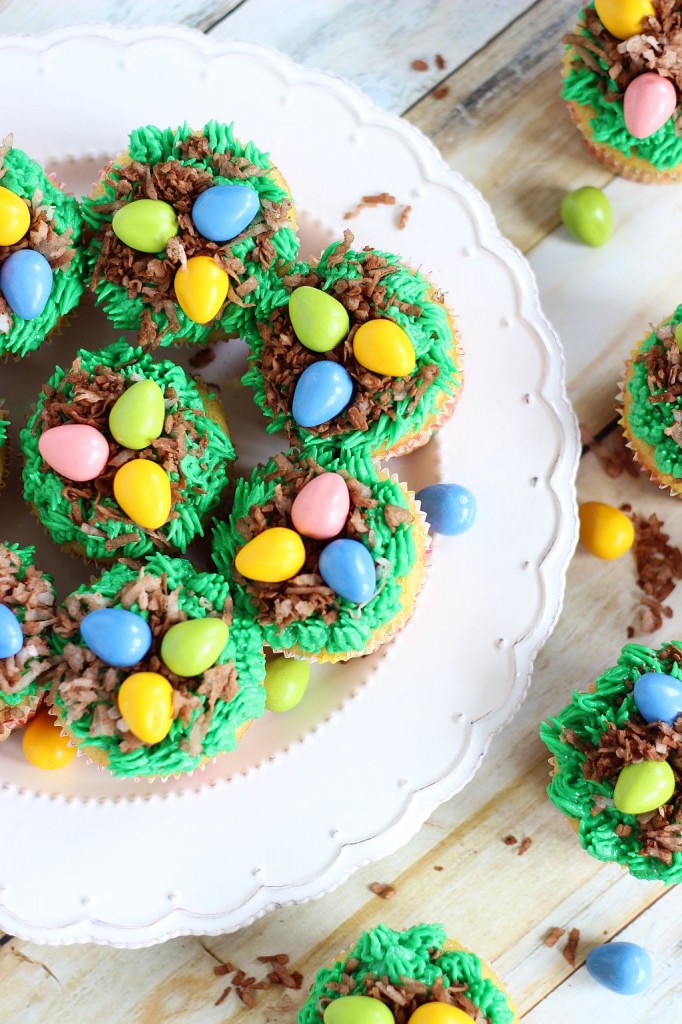 For other awesome Easter recipes, you must take a peek at these ultra-cute Easter Chicks Lemon Cookies and Easter Chick Cookies!
And some of my personal favorite spring recipes include this Coconut Pistachio Bundt Cake, this Lemon Blueberry Bundt Cake with Lemon Glaze, and these Pistachio Sugar Cookie Bars!
Also, these Amish Sugar Cookies are THE BEST sugar cookies of all time. Soft, puffy, melt-in-your-mouth delicious, and they're unbelievably easy.
I've got a few variations that are fabulous for spring: Iced Orange Amish Sugar Cookies, and of course… lemon cookies, Lemon Amish Sugar Cookies. 🙂