No yeast, no rise, orange cinnamon rolls filled with fig jam and walnuts, and topped with an orange glaze!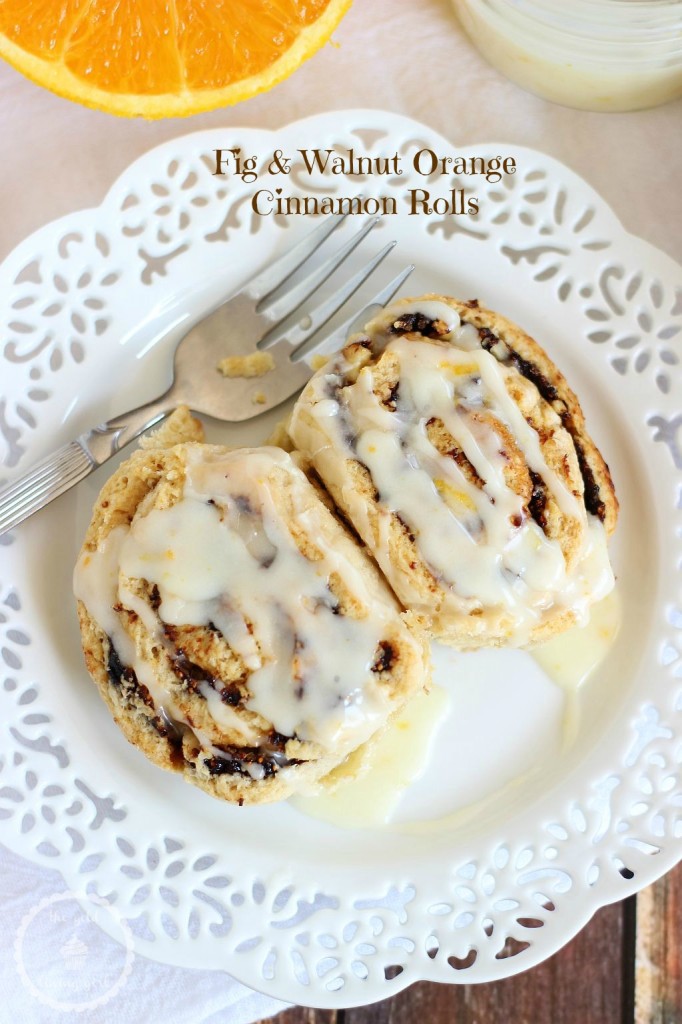 More citrus stuff. So much citrus fruit. I think we are starting to wind down on Citrus Week and then I have about 85 recipes coming up with either blackberries or carrots. We went through 5 or 6 18-oz. containers of blackberries in about 2 weeks. We are bulk purchasers, clearly, and creatures of habit. And carrots, well, we didn't bulk purchase those… I just needed to make carrot recipes because Easter is coming!! It's only fitting. They probably won't actually post in time for Easter because that is just the way things are going lately, but we can still consider carrot cake-type recipes to be "springy" in general, right?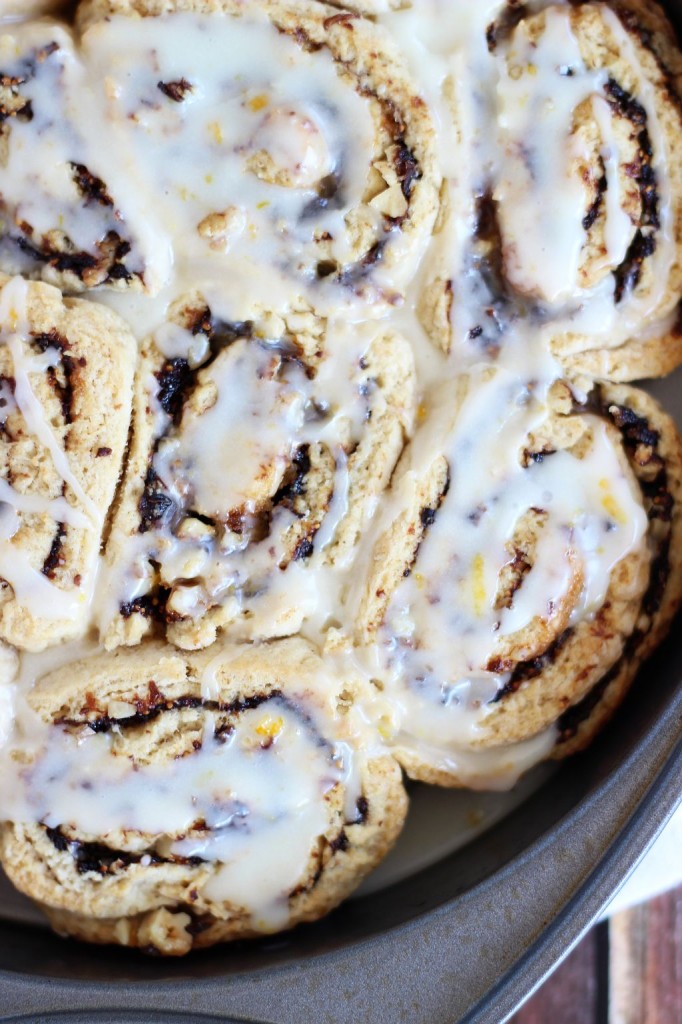 In the meantime, these Fig & Walnut Orange Cinnamon Rolls though. I based them off of these Bacon Cinnamon Rolls with Apple Cider Glaze. I adore this cinnamon roll recipe as a base because they are no yeast, no rise, but still flaky, soft and flavorful. I have problems getting along with yeast. My issues with yeast-based breads are well-documented and I think I may have given up entirely. However, these no-yeast cinnamon rolls are so simple since I don't have to mess with yeast, and the dough is ready in minutes. They're just a total cinch. Like most of my scone recipes, you can basically have these cinnamon rolls ready in 30 minutes, start-to-finish. It depends a little on what you fill them with, but generally, they're fast.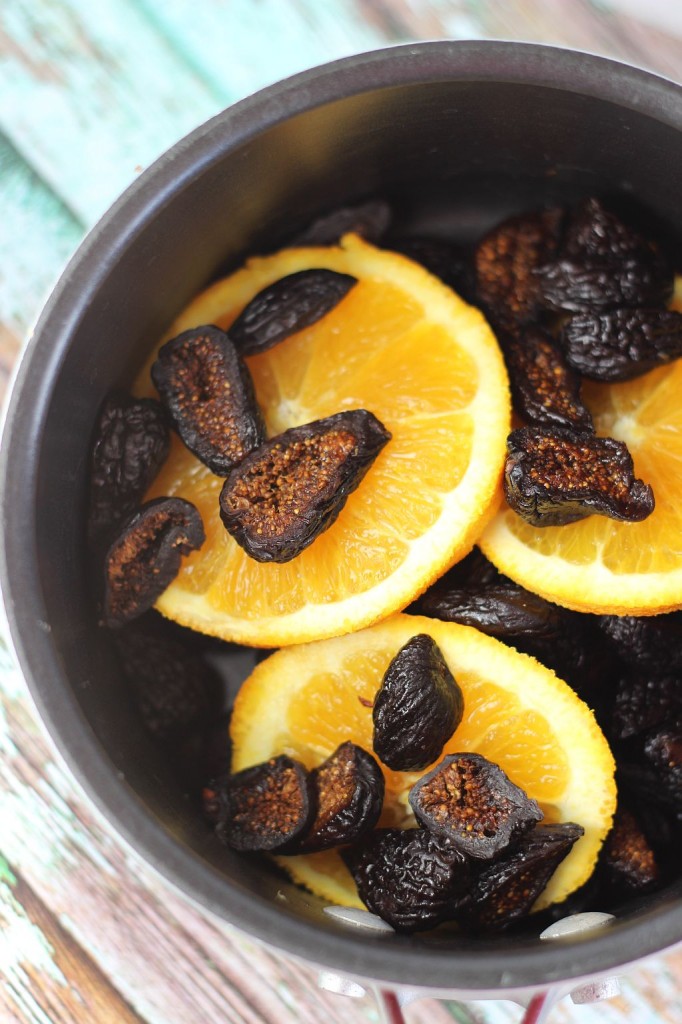 I'm sooo excited about this recipe. When I was recipe brainstorming, I felt like I was having a rare light-bulb moment of really good creativity when I wrote down "fig-filled cinnamon rolls." I don't know… maybe it's not a super original idea, but I don't believe I've ever seen fig-filled cinnamon rolls before?? When I was kicking around the idea, I mentioned it to my father-in-law. It went over like a lead balloon. He was very polite and delicate when he was rejecting it, but I gathered that he's more of a traditionalist about his cinnamon rolls. Lol! I like to play with different flavors, and to attempt to come up with recipe ideas that are hopefully a little off the beaten path. I *think* that these accomplish that. I will take them to Easter brunch to show him what he was missing! 🙂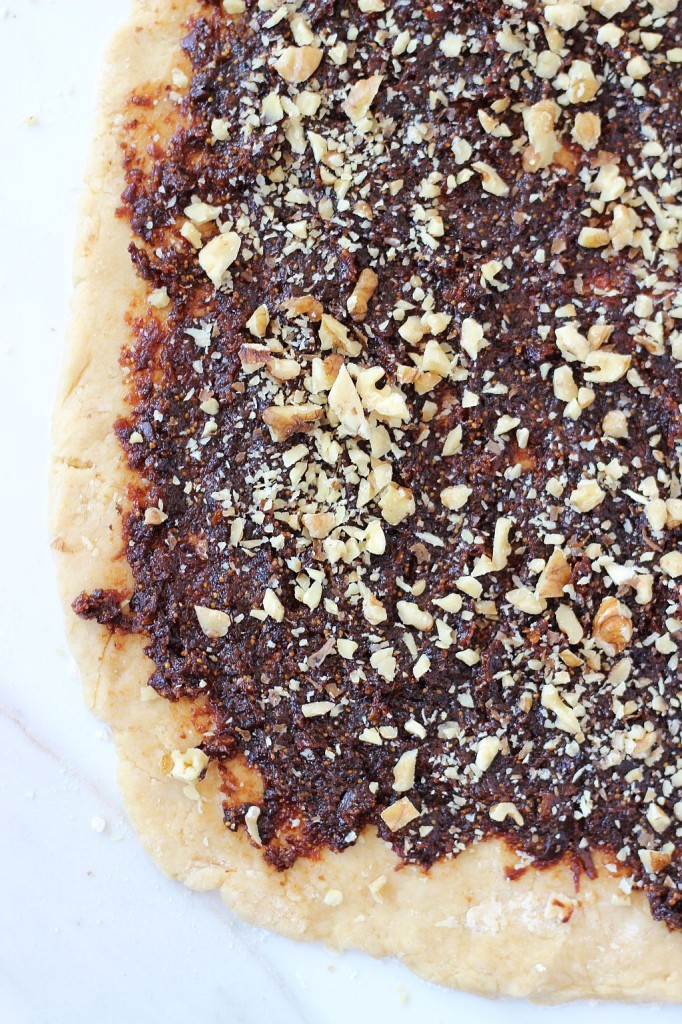 Most importantly, how they taste. Enough about the inception of the idea, and let's get into what really matters. Welllll, they're wonderful. But I guess you'd know that I like them or they wouldn't make it to the blog.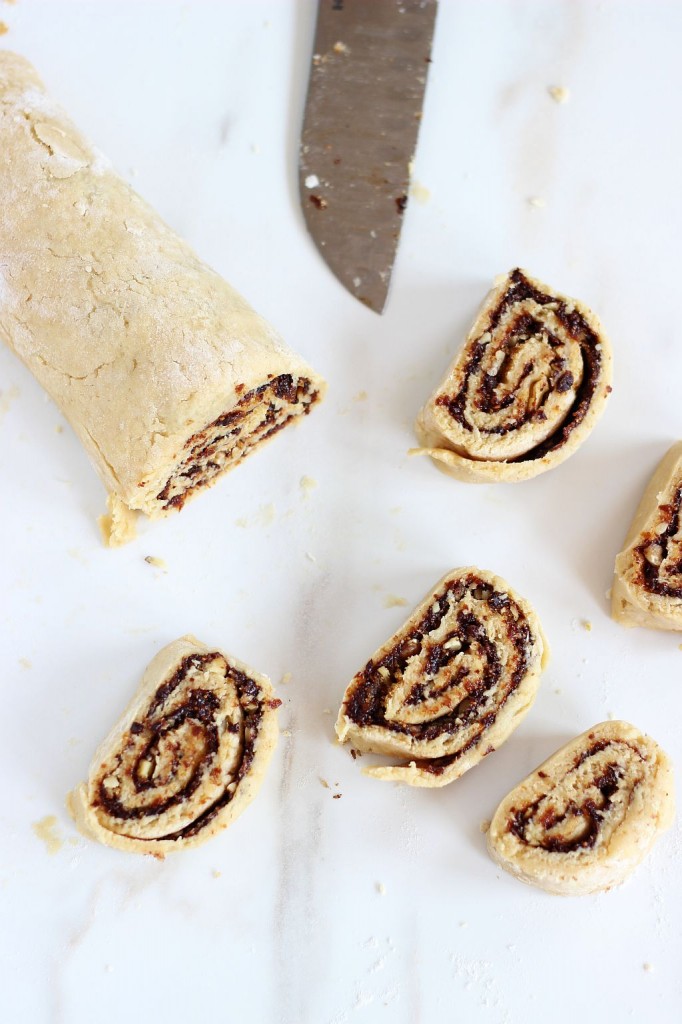 I simmered dried figs in orange juice and fresh orange slices to soften them up and really stew them in fresh citrus goodness. Once the figs were infused with subtle orange flavor, I pureed them into what became kind of a fig jam. Orange-infused fig jam. That stuff. It's great on its own. You could spread it onto biscuits or toast, or mix it into yogurt. I plan to continue making different variations of that 'fig jam' just by itself! Homemade Fig Newtons maybe? #newblogpostidea.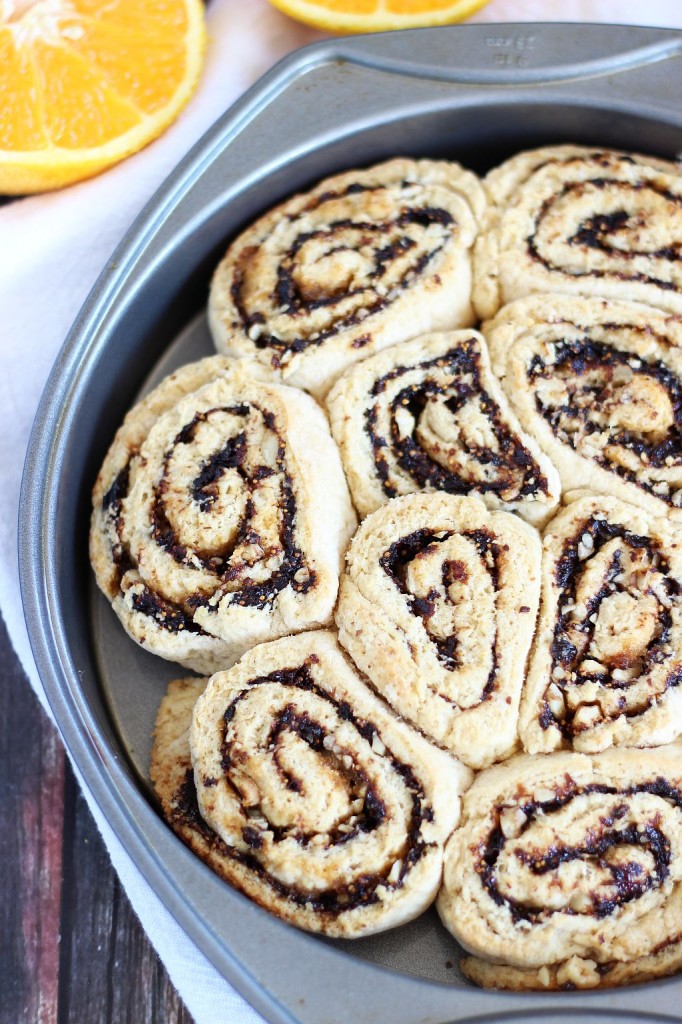 Anyway, my original purpose was to use the fig jam as a filling for cinnamon rolls, so I stayed the course. I mixed up the dough with a little orange zest in it to bolster the citrus flavor, then I spread a thick layer of fig jam onto the dough, and then I sprinkled it with lots of brown sugar, cinnamon, and chopped walnuts. Roll it up, slice, bake, and drizzle with a simple orange glaze made with freshly squeezed OJ and orange zest. Cannot wait to make these again.
Bottom line: these should be your Easter brunch!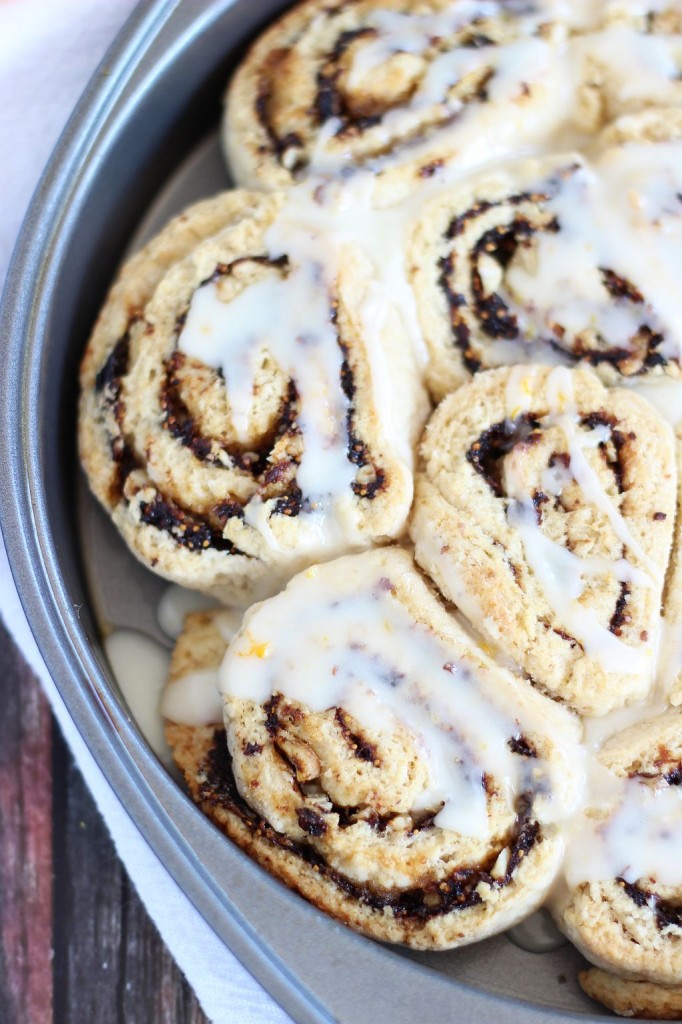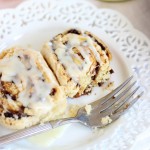 Fig & Walnut Orange Cinnamon Rolls
No yeast, no rise, orange cinnamon rolls filled with fig jam and walnuts, and topped with an orange glaze!
Ingredients
For Fig Filling:
6

oz.

dried figs

cut in half lengthwise

1/2

c.

orange juice

or enough to cover the figs in the pot

3-4

orange slices

optional

1/4

tsp.

cinnamon
For Cinnamon Rolls:
11/2

c.

flour

1/2

c.

brown sugar

divided

2

tsp.

baking powder

1/3

c.

shortening or Crisco

1

egg

lightly beaten

1/4

c.

milk

1

tsp.

orange zest

1/2

tsp.

cinnamon

1/2

c.

chopped walnuts
For Orange Glaze:
3

tbsp.

orange juice

1/2

tsp.

orange zest

2

c.

powdered sugar
Instructions
For filling:
Combine the figs, orange juice, orange slices, and cinnamon in a small lidded pot.

Simmer over medium heat for about 10 minutes, or until the figs are soft when pricked with a fork.

Discard the orange slices, and drain any remaining juice from the pot.

Puree the figs until smooth. They will form a thick, but spreadable paste.
For rolls:
In a large bowl, combine flour, 1/4 c. brown sugar, and baking powder.

Cut in shortening til crumbly.

Combine egg, milk, and orange zest.

Stir into crumb mixture until just blended.

Turn onto a lightly floured surface, and knead 3-4 times. Do not over-knead.

With your fingers, carefully spread it into about a 14x12 inch rectangle.

Spread the fig mixture evenly over the dough, leaving about 1-inch on the sides.

In a small bowl, combine the remaining 1/4 c. brown sugar with the cinnamon.

Sprinkle the fig layer evenly with the brown sugar mixture and the walnuts.

Roll up, jelly-roll style, starting with the shorter side, and cut into 10 pieces, each about 3/4-inch wide.

Place in a lightly greased round cake pan, clustering them toward the middle (they'll expand to the edges).

Bake at 400 degrees for 18-22 minutes, or until golden brown at the edges.

Remove from oven and allow to cool on a wire rack for about 5-7 minutes. Serve warm, with glaze.
For glaze:
In a small bowl, combine orange juice, orange zest, and powdered sugar.

Whisk til smooth and drizzle over the hot cinnamon rolls!