Soft, puffy, melt-in-your-mouth Amish Sugar Cookies! This sugar cookie recipe could not be easier and they're made with common pantry ingredients! These Amish Sugar Cookies are a lot like cut-out cookies, but much less work! Top them with your favorite icing or glaze for an extra special cookie!
To easily view all the blog recipes, follow along on Pinterest!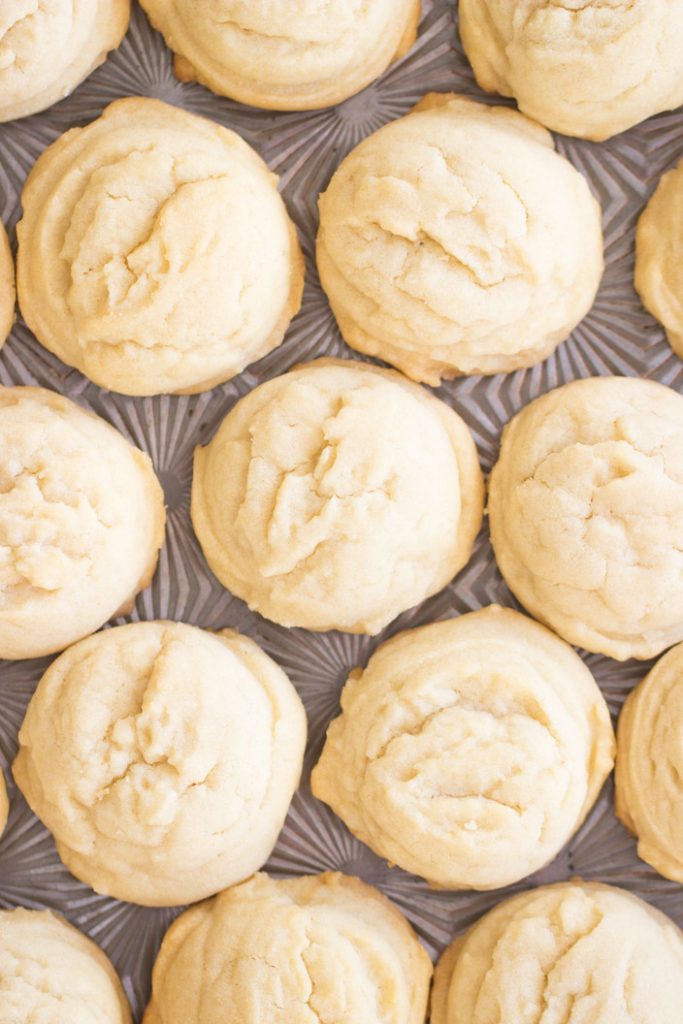 These Amish Sugar Cookies called out to me in an issue of Taste of Home recently. They looked so uncomplicated and simple, in an elegant way, not a basic way. They're just so… pretty. Aren't they? And these Amish Sugar Cookies aren't even iced, so I figured they must be a really good cookie if they can stand on their own without a glaze or icing.
That said, I have made these sugar cookies and frosted them. It's not necessary, but it's pretty damn amazing. We'll get to those in a few days.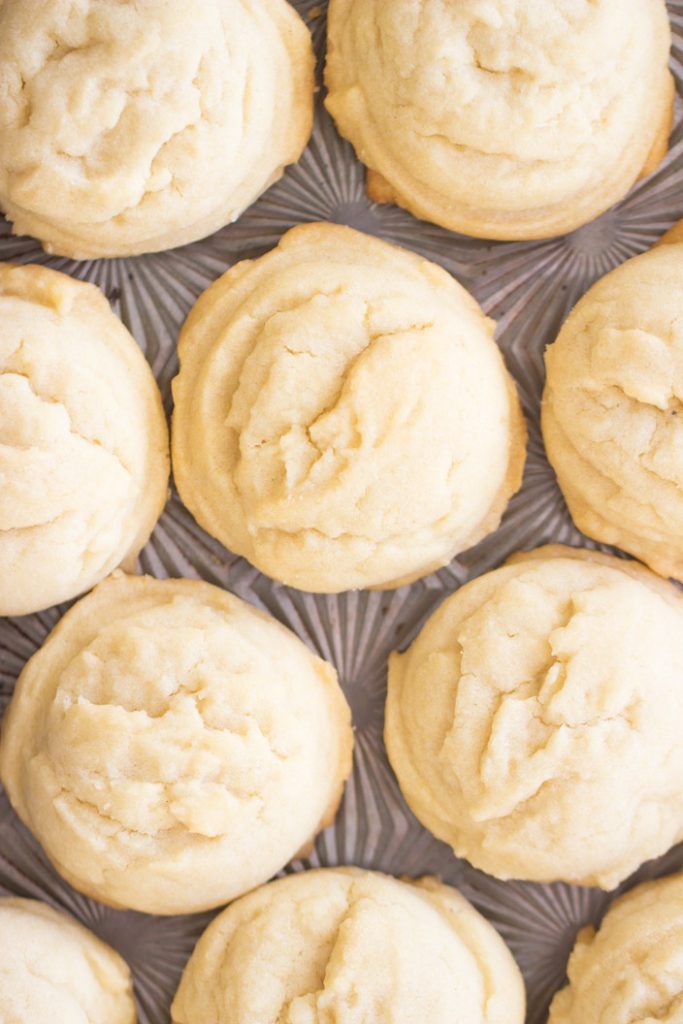 These sugar cookies are everything I was hoping for when I wanted to try a new sugar cookie recipe this year. I made these Classic Sugar Cookies last year, and I adore those cookies. They're sooooooo rich. They're ultra-chewy, with crispy edges, and really, really rich…. luxurious even.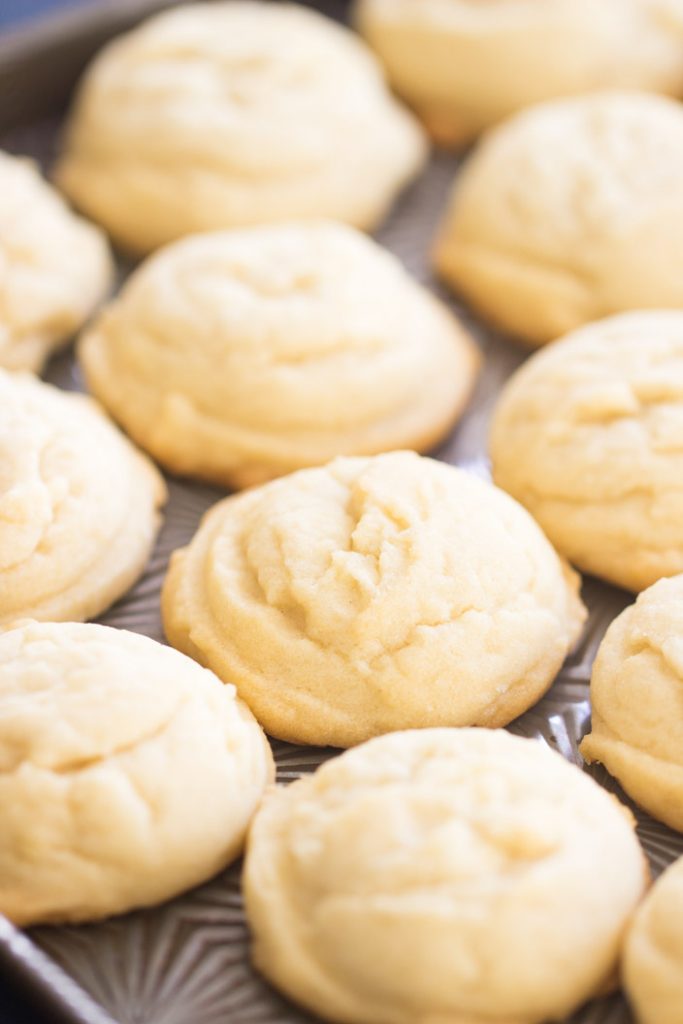 Like these Amish Cookies, those Classic Sugar Cookies melt in your mouth, but the texture is different altogether – chewier and crispier. (Though… for the ultimate crispy sugar cookie: these Thin Crispy Amish Sugar Cookies, fyi!)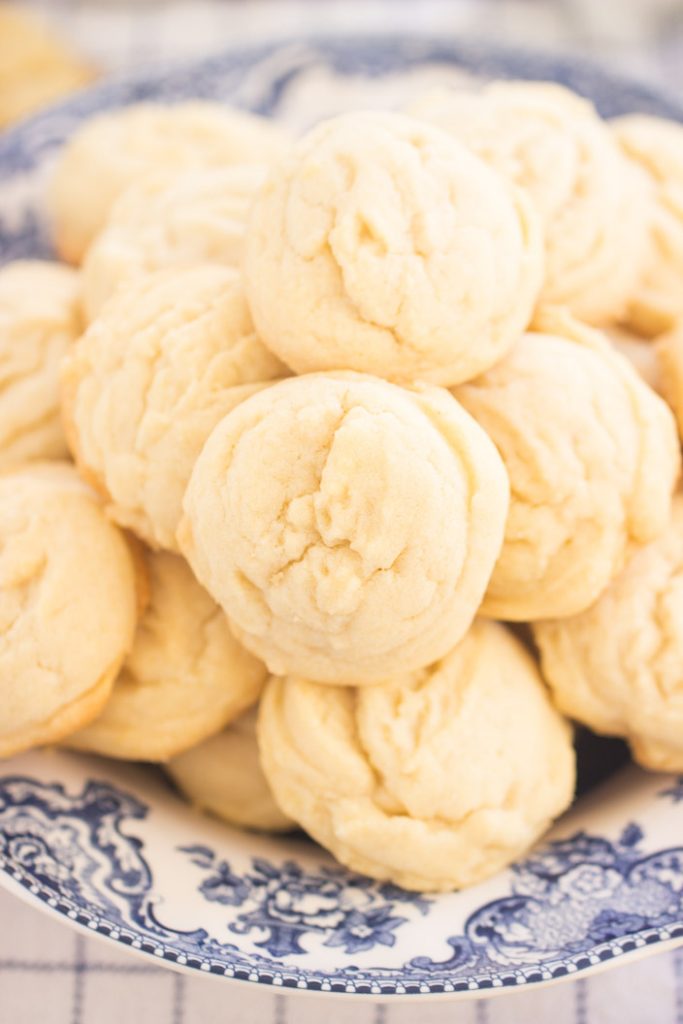 These Amish Sugar Cookies are soft and puffy, but still dense and substantial. They're really buttery, rich, and flaky. They remind me a lot of a cut-out cookie, but without any rolling! You get all the benefits of cut-outs, but at a fraction of the work. Cut-outs are one of my favorite cookies, but I hate to make them because they're so much work. They are the lazy persons' cut-outs. 🙂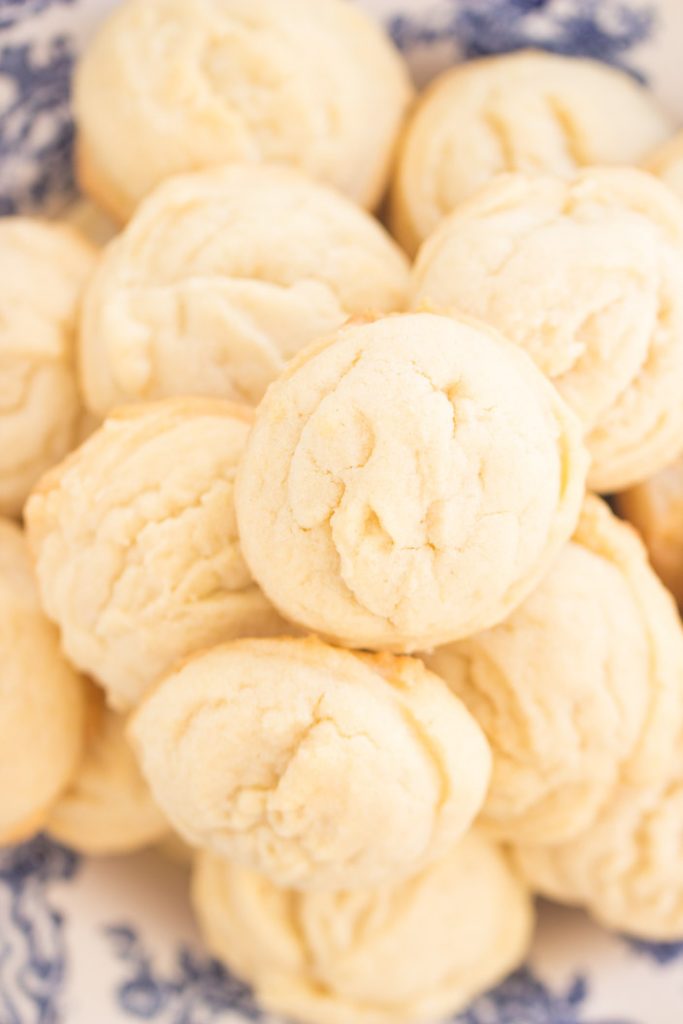 I tried this recipe a few weeks ago, and it was foolproof on attempt #1. I had no issues, and I loved everything about them. This is a perfect, simple sugar cookie recipe, and they need nothing else!
These are great as-is, and *incredibly* easy. I've made these cookies 3x in the last few weeks. Try them once, you'll fall in love too!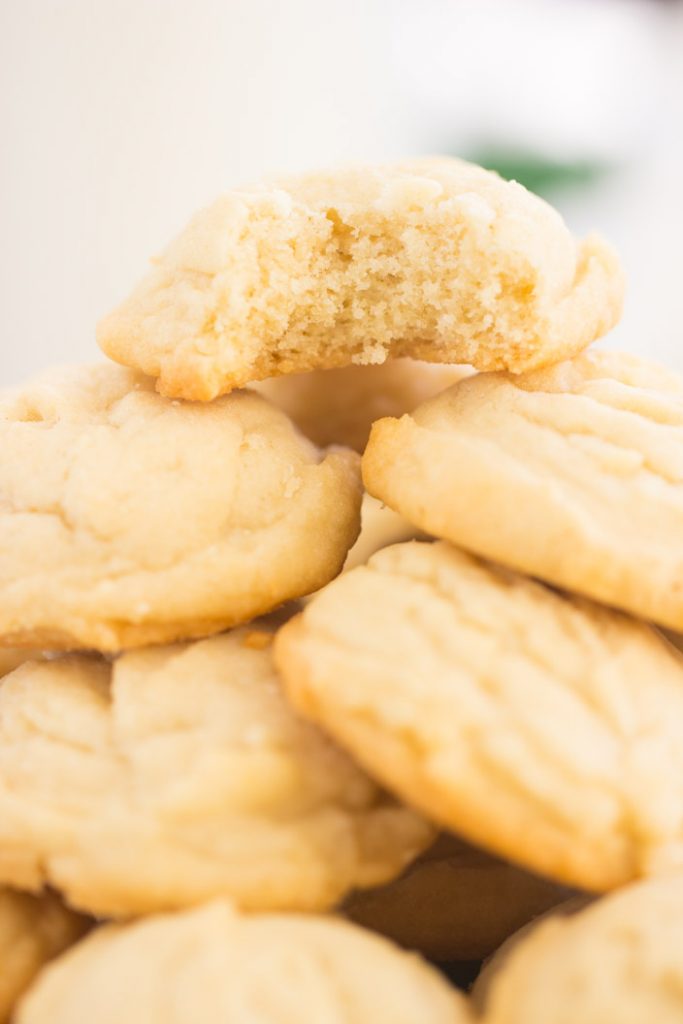 Updated March 2019: I've now made these cookies into a BUNCH of different variations! Check 'em out:
I made a few that are great for fall/holidays, like these Pumpkin Spice Latte Amish Sugar Cookies, these Iced Chai-Spiced Amish Sugar Cookies, and these Peppermint Amish Sugar Cookies.
Other great fall variations, though they could really be for anytime are these Pecan Praline Amish Sugar Cookies and these Iced Maple Amish Sugar Cookies. Omg, don't you love an iced maple cookie??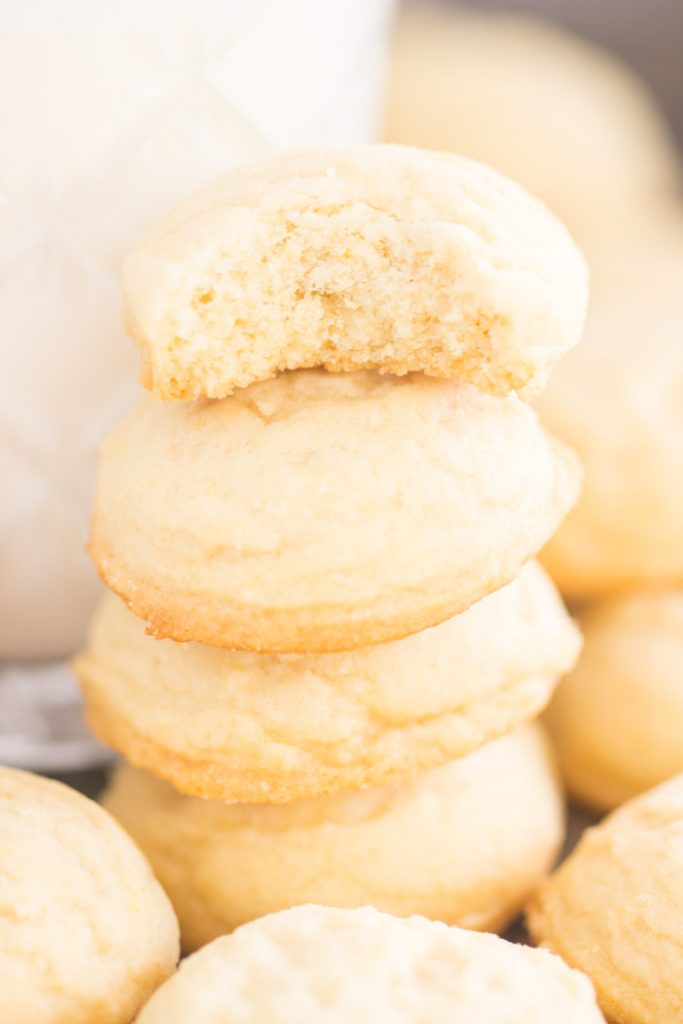 For springtime and summer, these Iced Almond Sugar Cookies are gorgeous, and the almond flavor is so incredible. Same with these Toasted Coconut Amish Sugar Cookies. So pretty, and soooo addictive. I adore citrus cookies, so if you're the same, check out these Iced Lemon Amish Sugar Cookies and Iced Orange Amish Sugar Cookies.
My personal favorite, and a reader favorite is these Cherry Almond Amish Sugar Cookies. Talk about nice to look at, AND more important, they feature the most delicious combo of flavors.
For any ol' time at all, these Thin Crispy Amish Sugar Cookies are delightful, and we love to dunk them in coffee or milk, and these Iced Vanilla Amish Sugar Cookies are a classic!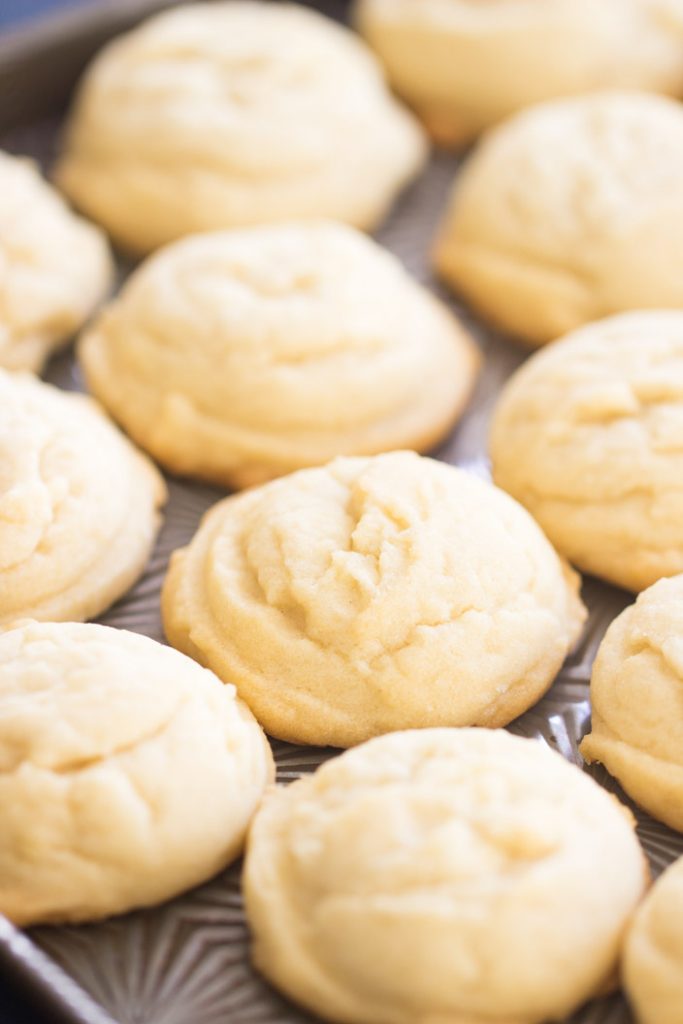 NOTE — updated December 2019: I have been asked many times about whether these can be made into cutouts. The short answer is that I don't recommend it. I have experimented with them as cutouts, and while they're unbelievably delicious, I think the dough is more high-maintenance than other cutout cookie recipes.
The long answer: It can be done. They can be made into cutouts, and I do love the end result, but the process is a bit cumbersome.
If you'd like to try, here are my tips:
The dough must be thoroughly chilled. No short-cuts. Completely chilled dough is a must.
Work in small batches, about the size of an orange or small grapefruit, and leave the remaining dough in the fridge so that it stays chilled.
The dough softens rather quickly (because it has lots of butter = yay!), so work somewhat swiftly.
Use ample powdered sugar — you really can't overdo it — for dusting them and rolling them out. I used over a cup in the course of a batch. You can use flour if you prefer, but I LOVE what rolling cutouts in powdered sugar does for them.
When rolling, thoroughly sprinkle with powdered sugar, roll a bit, lift dough and rotate, roll a bit more, and make sure it's not sticking along the way… though this process is pretty typical for making any cutout recipe, I think it bears mentioning.
I would not roll thinner than 1/4-inch, it's about the perfect thickness.
Cookies spread a bit, so I would leave 2 inches between them on cookie sheets. I would use nice, sharp cookie cutters.
I used silicone mat-lined baking sheets so that cookies would not spread as much, and so there would be no risk of them sticking to the pan. Parchment-lined baking sheets will give a similar effect.
Bake at 375 for only 7-9 minutes. I set the timer for 6 minutes, rotated the tray, and baked an additional 2-3 minutes. These being thinner, they're more delicate, and benefit from reduced baking time.
Allow cookies to cool on the cookie sheets for 2-3 minutes so that they firm up before you transfer them. Carefully transfer cookies to wire racks to cool completely.
Ice and decorate as desired!
Those are my tips if you choose to make Amish Sugar Cookie cutouts, but I do believe there are easier doughs to work with for cutouts. That said, these cookies are truly wonderful as cutouts.
Pictures of the process will be forthcoming very soon — stay tuned.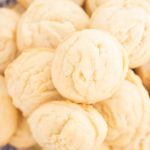 Amish Sugar Cookies
Soft, puffy, melt-in-your-mouth Amish Sugar Cookies! This sugar cookie recipe could not be easier and they're made with common pantry ingredients! These Amish Sugar Cookies are a lot like cut-out cookies, but much less work! Top them with your favorite icing or glaze for an extra special cookie!
Total Time
1
hour
5
minutes
Ingredients
1

cup

butter

softened

1

cup

vegetable or canola oil

1

cup

granulated sugar

1

cup

powdered sugar

2

large eggs

2

tsp.

vanilla

4 1/2

cups

all-purpose flour

1

tsp.

baking soda

1

tsp.

cream of tartar
Instructions
In a large mixing bowl, beat the butter, oil, and sugars until combined.

Beat in eggs and vanilla.

In a large bowl, whisk together flour, baking soda, and cream of tartar.

In two additions, add flour mixture to the butter mixture, beating until just combined. Do not overmix. Dough will be kinda fluffy and light!

Line baking sheets with parchment paper or silicone baking mats.

Drop dough by rounded teaspoonfuls onto baking sheets.

Bake at 375 for 8-11 minutes, or until edges and bottoms are lightly browned.

Remove to wire racks to cool.
Recipe Notes
These are good for at least a week, but best within the first 3-4 days. After a few days, they get crumbly and a bit on the drier side - still a delicious cookie though. 
These freeze really well! Iced or plain, they freeze beautifully.
Adapted from Taste of Home.