Easy coconut macaroon thumbprint cookies are filled with homemade key lime curd for a very simple and tasty tropical dessert!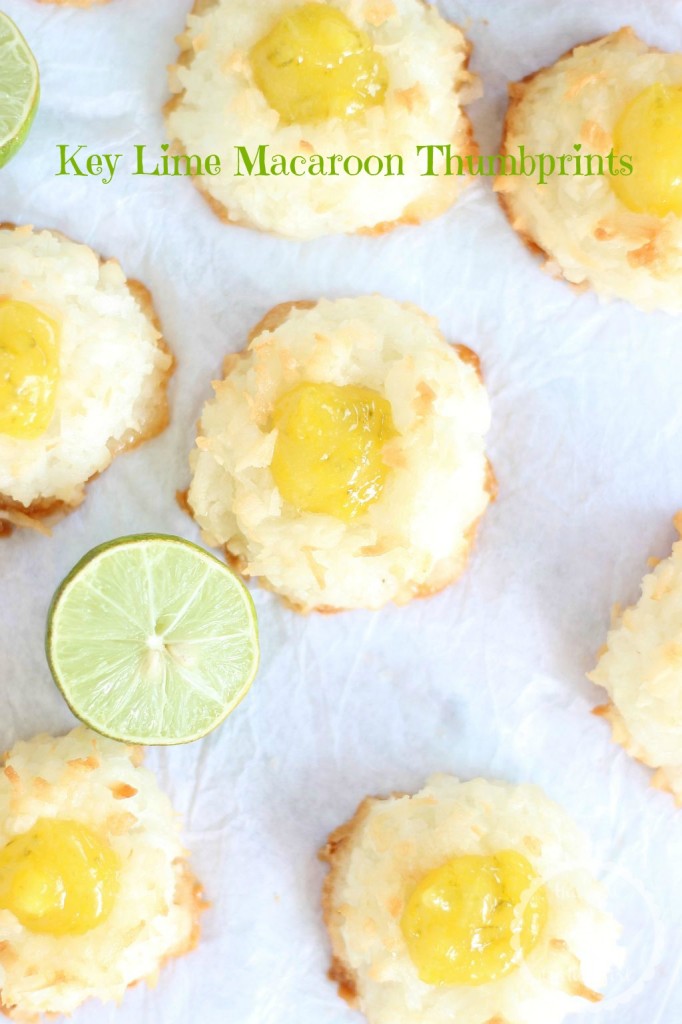 Don't say I didn't warn you! So much homemade curd lately! We're also continuing with Citrus Week…
Someone give me another idea for what I can do with lots of egg yolks. I've been making so much homemade curd lately with extra egg yolks that I don't even know what to do with it all. I'm not complaining. This is not a bad problem to have. Not really even a "problem" at all. Still, I am kind of running out of ideas.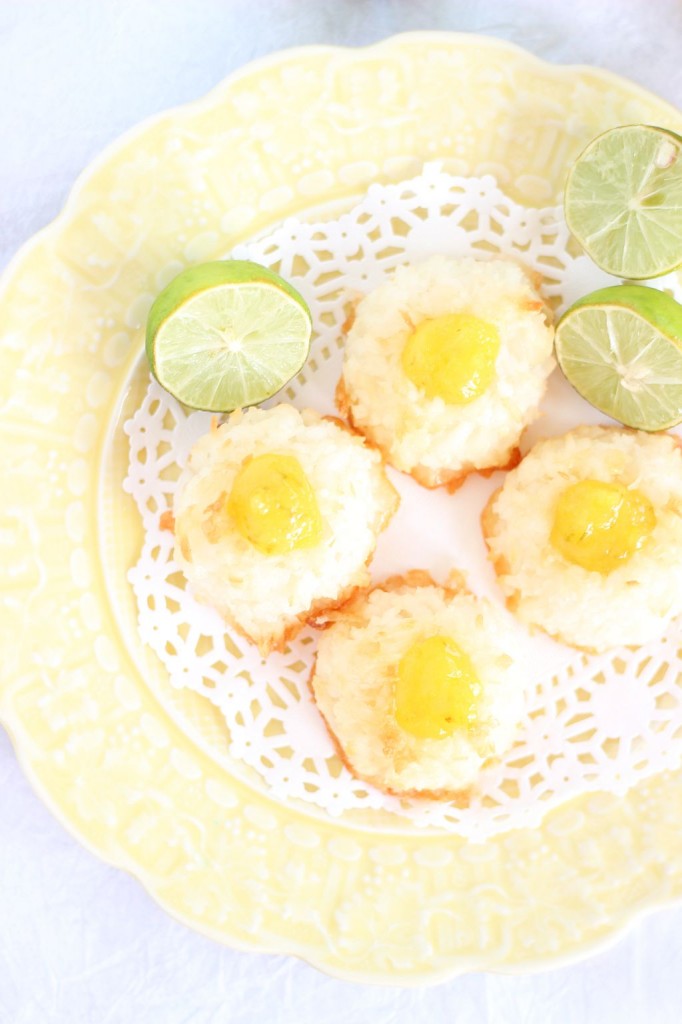 We just eat SO many egg whites and I hate to waste the yolks. If they can be repurposed, I do it. We were buying the cartons of just egg whites for a while, but we got out of the habit of that, and I think we need to get back to it. You can only do so many things with yolks before you really are just eating key lime, lemon, grapefruit, or orange curd right out of a jar. I'm not ashamed, but it's definitely been happening. Probably not the healthiest of condiments to unabashedly eat spoonful by hefty spoonful.
I remember seeing thumbprint recipes in the past that call for dropping a dollop of curd into the center, and I thought that would be the perfect way to use some of this stuff up. I also had it in my head that this key lime curd should pair with coconut… for obvious reasons that don't need explaining. Key lime and coconut are quite a match, after all. So that's what I did!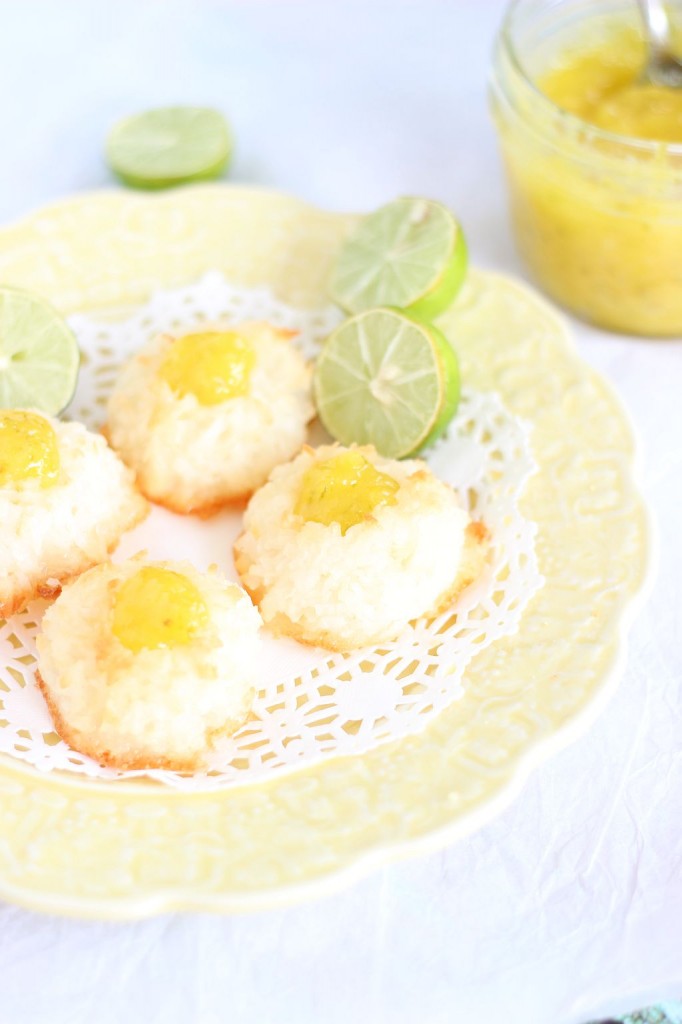 Luscious and creamy homemade key lime curd with lots of concentrated and zesty lime flavor tops a coconut macaroon thumbprint cookie! These are really, really easy thumbprints with only a few ingredients. The shredded coconut gets toasted and crispy as the cookie bakes, but the center of the thumbprints are still really soft and chewy. They're super simple, and full of coconut. Because, they are coconut, and not much else. That's what makes them sooo good.
They're also made with several egg whites. The only problem is that I'd already made the key lime curd from other eggs, so I ended up with still more egg yolks to use up. You see the vicious cycle here?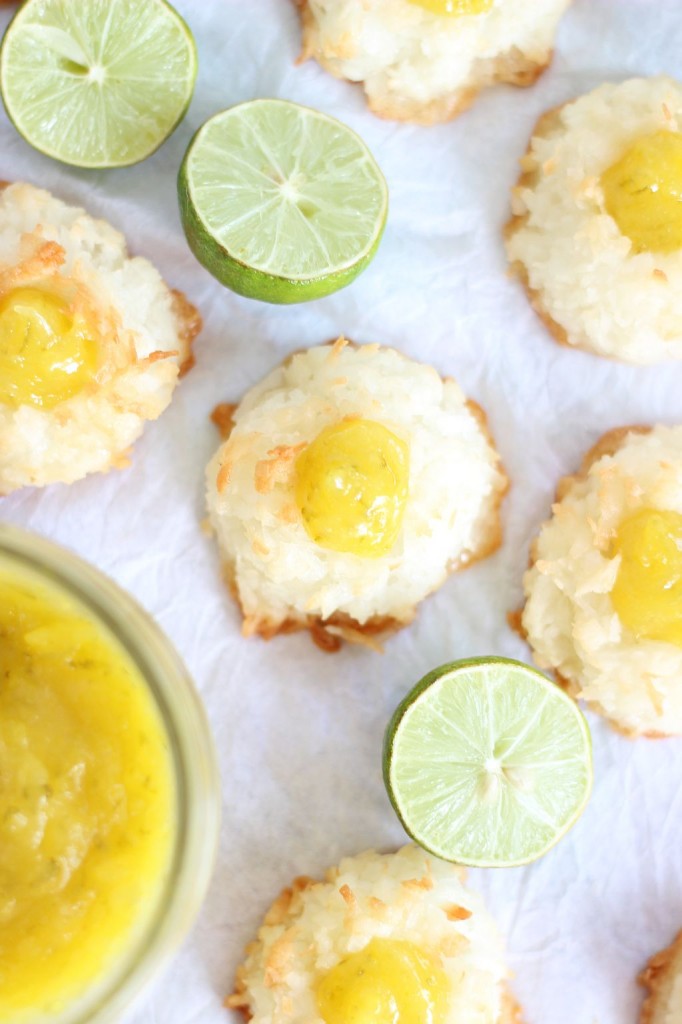 Soooo, more to come later in Citrus Week!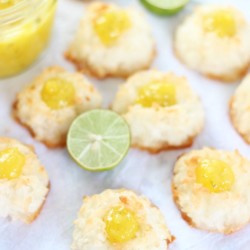 Key Lime Macaroon Thumbprints
Easy coconut macaroon thumbprints are filled with homemade key lime curd for a very simple and tasty tropical dessert!
Ingredients
For Key Lime Curd:
4

egg yolks

at room temperature

2

tsp.

key lime zest

1/3

c.

key lime juice

1/2

c.

sugar

pinch

of salt

4

tbsp.

unsalted butter

softened
For Macaroon Thumbprints:
1/2

c.

sugar

3

c.

shredded coconut

3

egg whites

1

tsp.

vanilla extract
Instructions
For the curd:
In a small bowl, whisk together the egg yolks, key lime zest, key lime juice, sugar and salt. Transfer to a small saucepan.

Cook the mixture over low-medium heat, stirring constantly, until it is thick enough to coat the back of a spoon, 3 to 5 minutes.

Remove from heat and add the butter. Mix until smooth.

Transfer the curd to a small bowl and cover with plastic wrap.

Refrigerate until chilled, about 30 minutes.
For the thumbprints:
Combine all ingredients in a large bowl and mix well.

Drop by tablespoonfuls (I used a cookie scoop) onto baking sheets lined with parchment paper or silicone baking mats.

Using the end of a wooden spoon or your finger, make a small indentation on top of each mound.

Bake at 300 degrees for 20-25 minutes, or until the cookies are pale golden brown on the edges.

Cool for 2 minutes on the baking sheets, then transfer to a wire rack to cool completely.

Once the cookies are cool, fill the centers of each with about 1 tsp. key lime curd.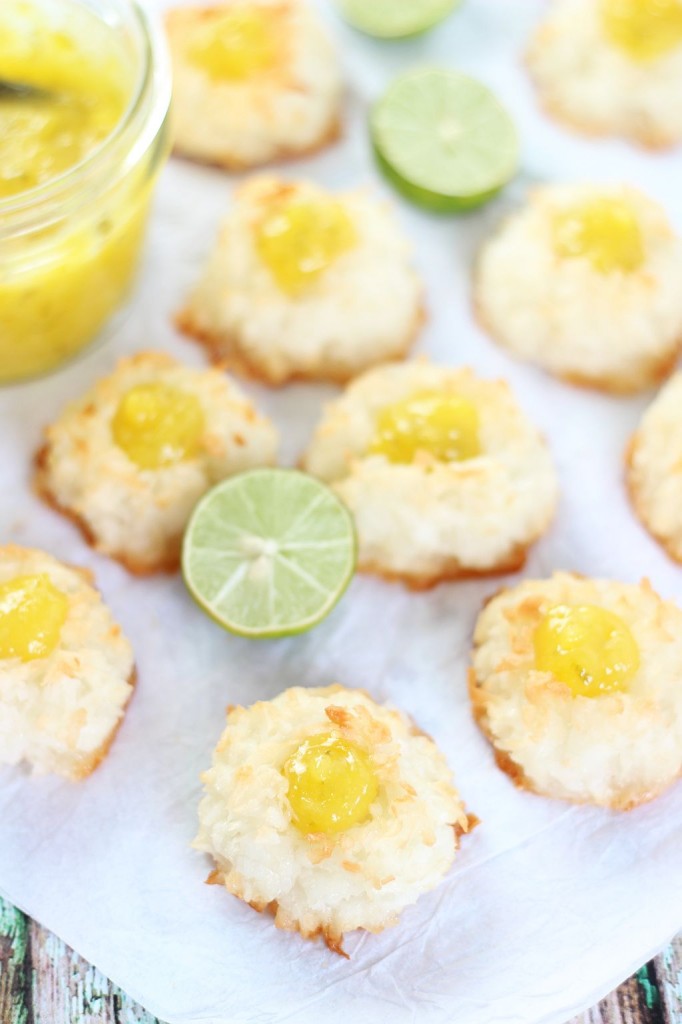 All this rambling and nonsense about eggs, and what's funny is that these cookies actually sort of look like eggs, don't they?