A creamy and rich key lime cheesecake with a salty and buttery pretzel crust and whipped topping! This Key Lime Cheesecake with Pretzel Crust is the ultimate summer treat!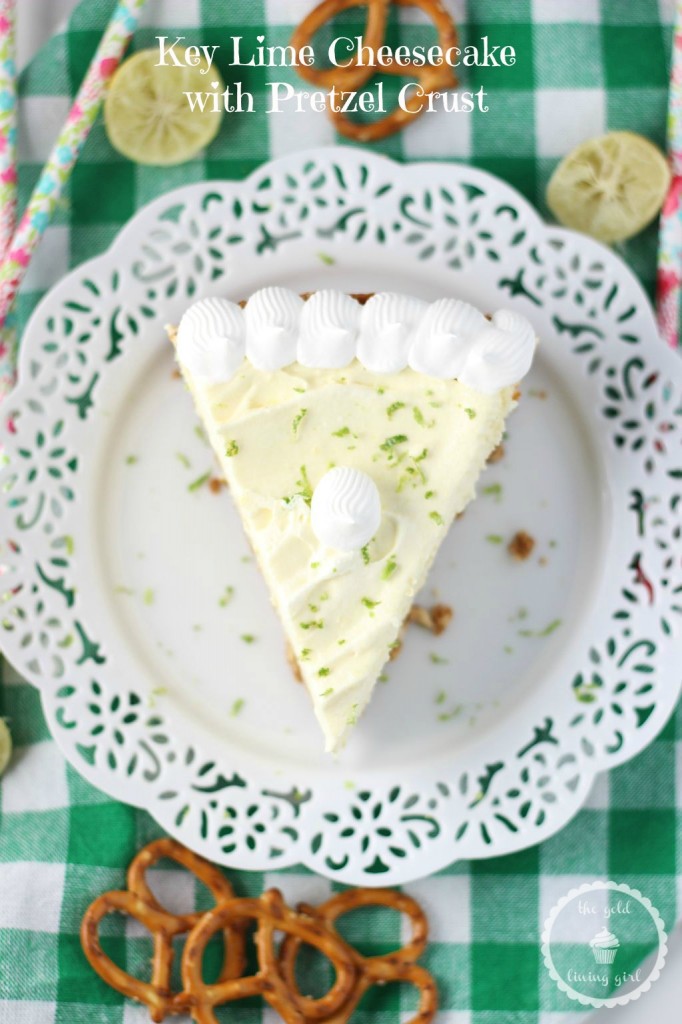 I really wanted to make Pink Champagne Cupcakes with Marshmallow Frosting for Valentine's Day. I had it in my head. I thought they'd be so pretty, maybe clever, and just perfect for the holiday.
I had an issue though – S.O. doesn't like marshmallow. Come to think of that, I don't think he's much of a cupcake person either. He's never indicated that he isn't, but if I think about it, I don't think I've ever seen him eat one (update: since originally writing that a few days ago, he ate these!).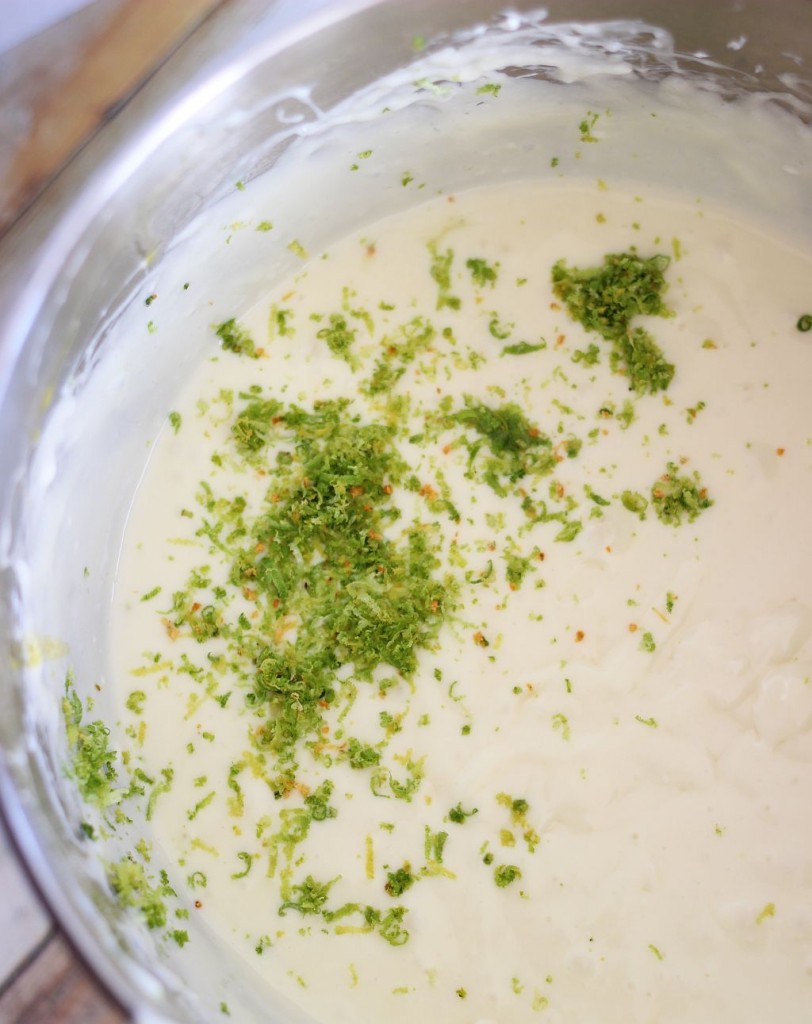 So, when I made those cupcakes, I presented myself with a problem: I love them and they were pretty and delicious, but Valentine's Day wasn't about me. I guess. I needed (and wanted) to make something for S.O. For him, the answer is always cheesecake. It doesn't really matter what the question is, the answer is cheesecake. It's the way to his heart. This Key Lime Cheesecake with Pretzel Crust was a total winner.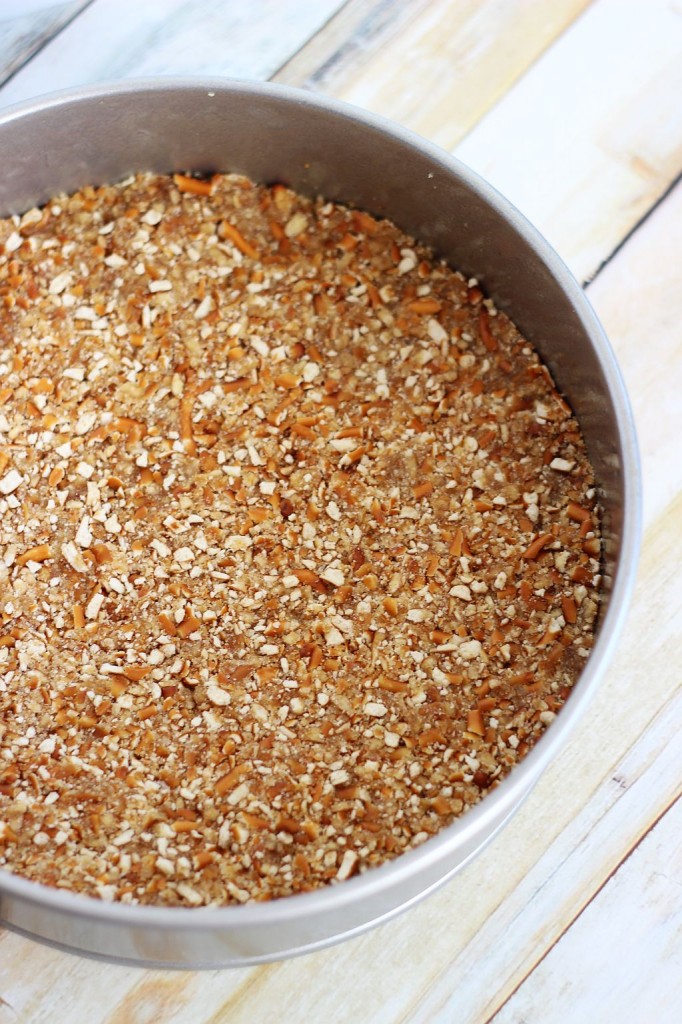 His absolute favorite cheesecake is my Double Layer Pumpkin Cheesecake. In his mind, that is the apex of desserts. It can't be topped. I make that cheesecake year-round. It really doesn't matter what season it is and whether pumpkin is fitting, we make it anytime because we LOVE it. Still, I was determined to make something more seasonally appropriate than pumpkin, and I also had a ton of key limes leftover from when S.O. brought home a big bag of like 30.
The verdict: it was decided that key lime cheesecake, and key lime dessert in general, are something that we adore, but do not eat enough of. Key lime zest and fresh key lime juice flavor this super rich and creamy Key Lime Cheesecake with Pretzel Crust. Over time, I've personally found that my favorite cheesecakes are very dense.  If the mood strikes, I like a light and fluffy cheesecake, but for the most part, I want a really rich and dense cheesecake, but still very creamy.  This delivers.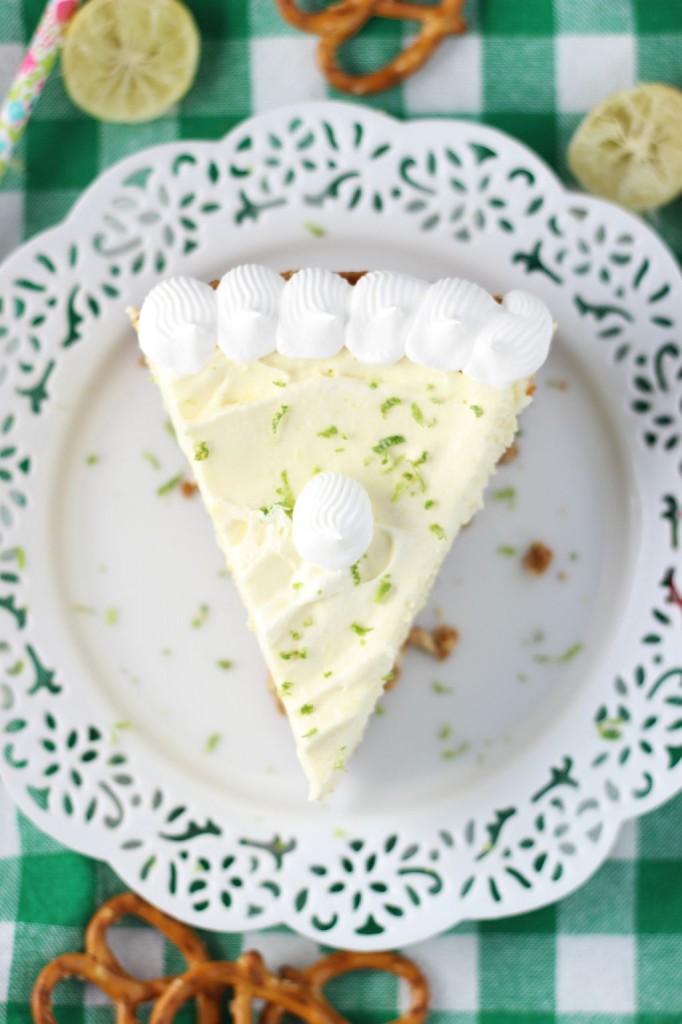 With a crushed pretzel crust, you also get that delightful sweet and salty flavor combination. The key lime and pretzels together taste a little margarita-like. Sweet, salty, AND tart. This is a unique Key Lime Cheesecake with Pretzel Crust is one that doesn't disappoint.
I know that it went over well with my S.O., not just because he told me so, but because this dessert did a partial disappearing act overnight, as cheesecake is so prone to doing in this house. All desserts, actually!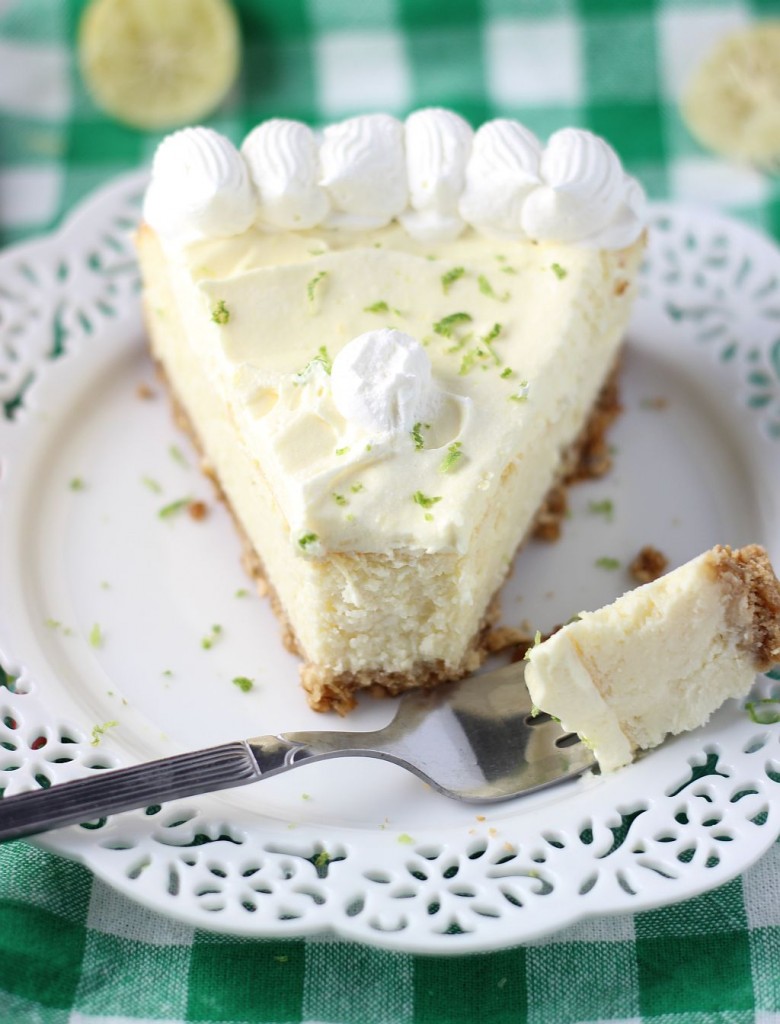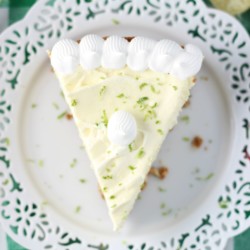 Key Lime Cheesecake with Pretzel Crust
A creamy and rich key lime cheesecake with a salty and buttery pretzel crust and key lime whipped topping!
Ingredients
Pretzel crust:
2 1/2

c.

crushed pretzel twists

1/4

c.

sugar

1/2

c.

unsalted butter

melted
Key Lime Cheesecake:
4 - 8

oz.

packages reduced fat cream cheese

softened

1 1/4

c.

sugar

1

tbsp.

vanilla

4

eggs

3/4

c.

fresh key lime juice

2

tbsp.

key lime zest
Topping:
1 1/2

c.

heavy cream

2

tbsp.

powdered sugar

1

tsp.

key lime zest
Instructions
For crust:
In a large bowl, combine crushed pretzels, sugar, and melted butter.

Mix until crumbly, and press into the bottom of a 9-inch springform pan, pressing the crumbs slightly up the edges.
For filling:
In a large mixing bowl, beat cream cheese until smooth.

Add in sugar and vanilla, and beat until smooth and well-combined.

Beat in eggs, one at a time. Blend well after each addition.

Beat in key lime juice and zest.

Pour into prepared pretzel crust.

Bake at 325 degrees for 60-70 minutes. The edges will be golden brown, and the center will still jiggle slightly, but will set as it cools.

Allow to cool completely. Refrigerate to chill.
For topping:
In a large mixing bowl, beat heavy cream and powdered sugar until stiff peaks form.

Fold in zest.

Spread topping over cooled and chilled cheesecake. Enjoy!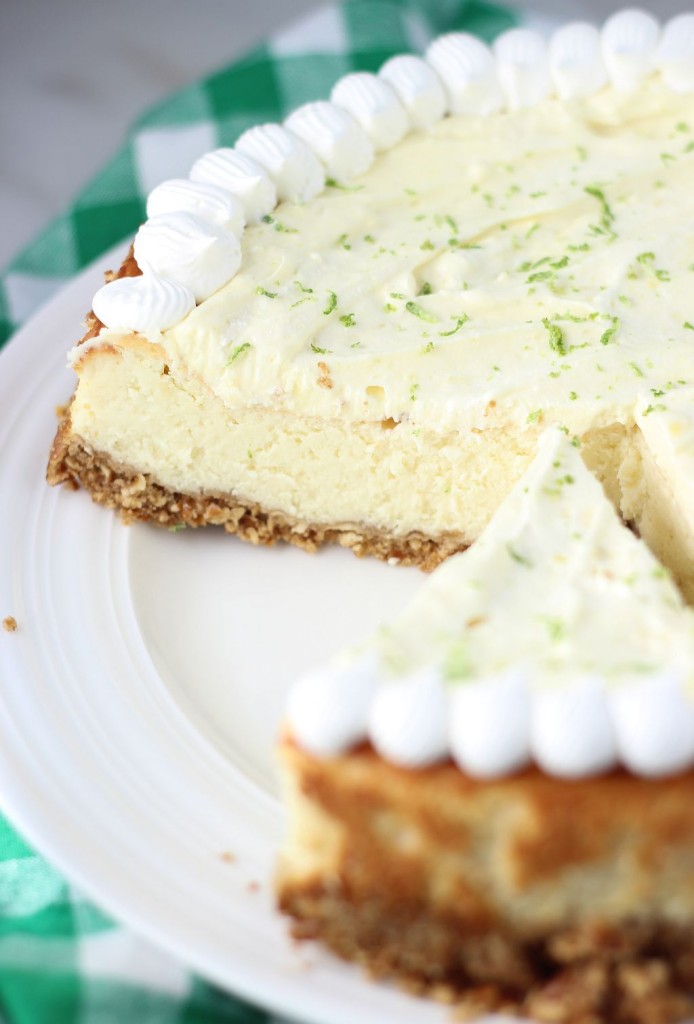 So, yeah, it's good! 🙂