These amaretto crepes are filled with a sweet vanilla Mascarpone cheese and topped with amaretto Cranberry-Raspberry sauce! A delicious and pretty holiday breakfast, brunch, or dessert idea!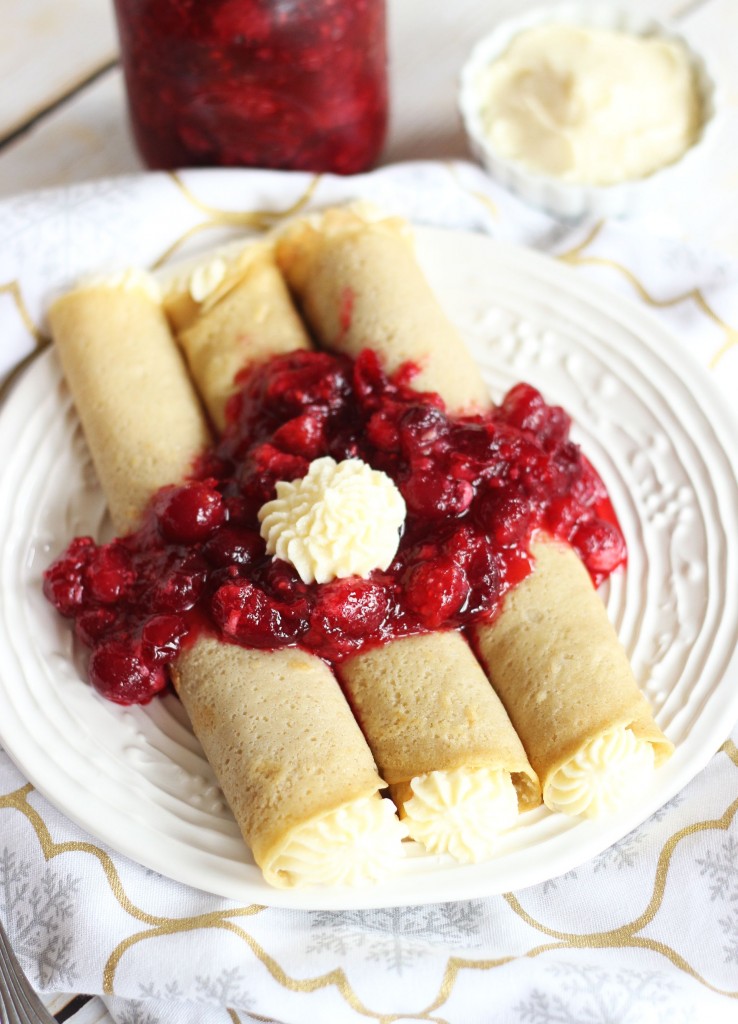 It's been a looong time since I've made crepes! My go-to recipe for a while was a healthier version that limited the amount of butter and sugar. Basically, all the good stuff. I've also made an ultra-healthy version of crepes using only egg whites and protein powder. Trust me, it's much better than it sounds. But these…. no skimping on the ingredients in these! And I don't just mean the crepes themselves. I pulled out all the stops on the filling and the sauce too!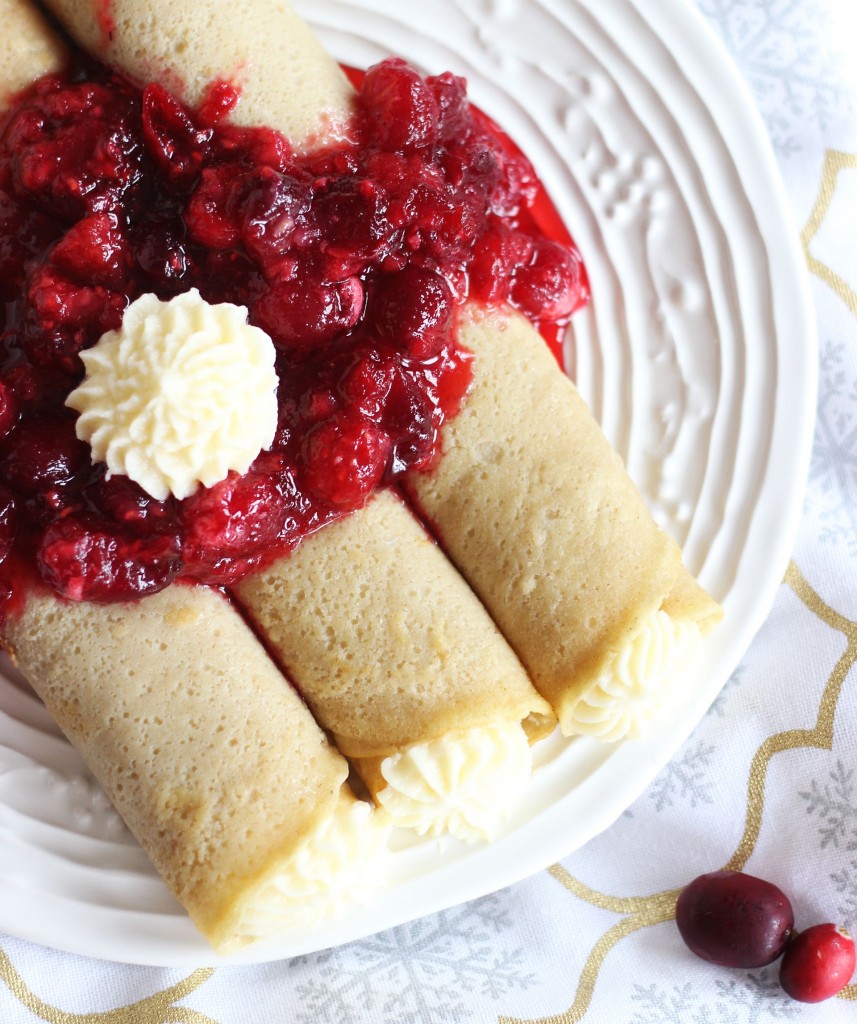 These crepes make for a really pretty and fancy-like holiday brunch or dessert. They may seem like a lot of ingredients and parts, but the steps are super simple, and all the components can easily be made ahead of time! I did a heck of a lot of multi-tasking while these were going down in the kitchen, and still managed not to ruin everything.
If there's one tricky part, it's flipping the crepes. They're delicate and thin, so they can tear easily if you're not gentle. In an ideal world, S.O. would've been home from golf in time to help with the flipping part because he does that cool and special trick where he can flip everything without a spatula. But I did it myself. If I can do it, you can too. And I had ZERO patience about it, so you'll probably be off to a better start already.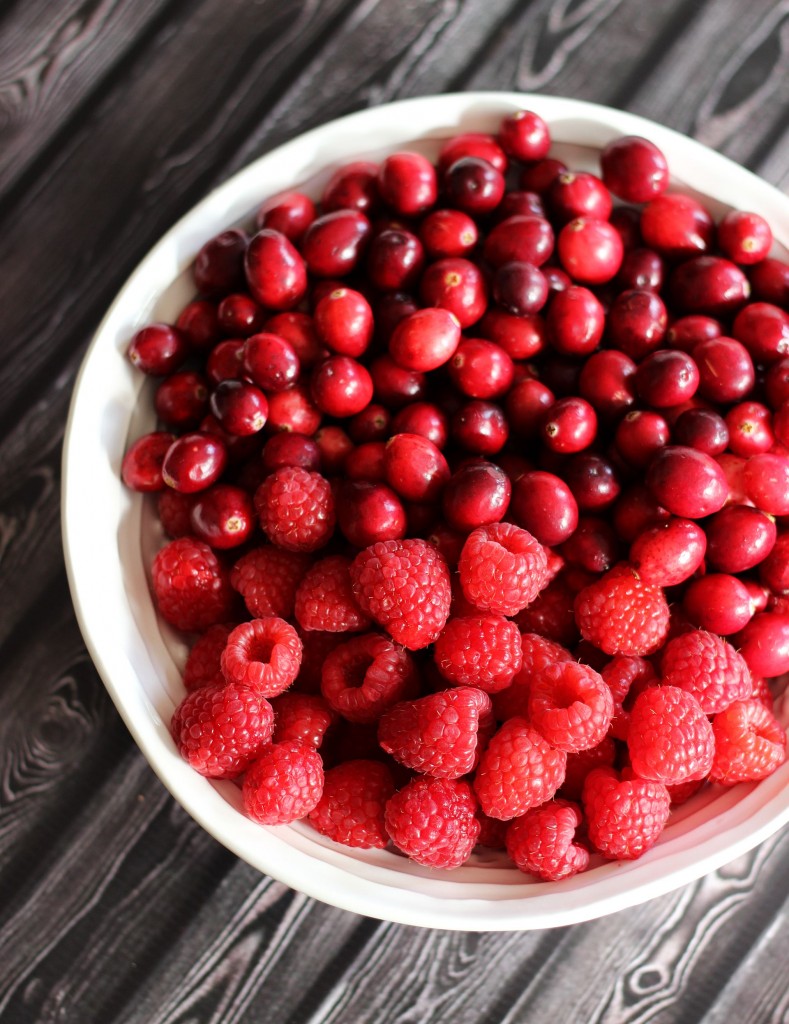 The crepes themselves are SO good, I found myself rolling one up and dunking it straight into a jar of raspberry jam. That was before the Cranberry-Raspberry Sauce had cooled to an eatable temperature. Classy. Fancy and classy. That's the sort of household I run. Actually, the cat runs this house, but that's a whole other story.
Once the Cranberry-Raspberry Sauce reached a temperature that wouldn't burn my mouth like the devil, I was eating it by massive spoonfuls. It is life-giving. I swear there are few things on earth that taste better than this stuff. The amaretto with the cranberries and the raspberries…. dying over the flavors altogether. Ladle it onto everything you eat from this point on… ever.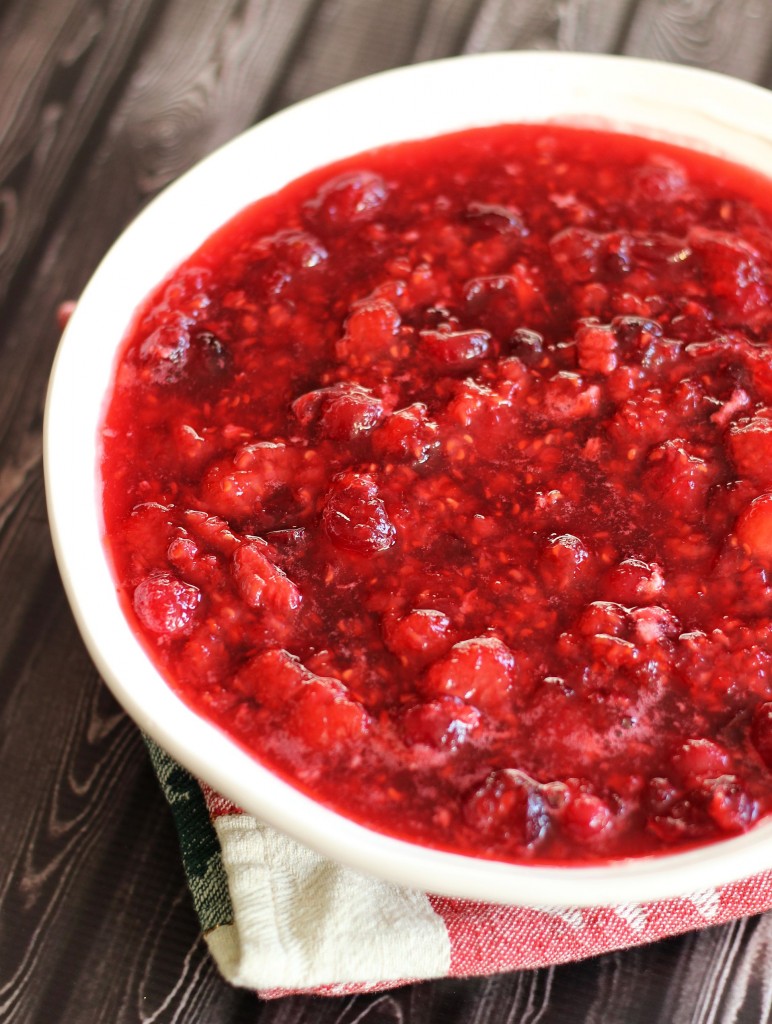 And the filling. It's divine too. Mascarpone cheese is a funny thing. It's kinda bland all on it's own, but the tiniest bit of sprucing up takes it to a whole new level. A little sugar and vanilla is all it needs to have serious wow factor. That's it.
Dessert for breakfast. At it again. I'll never stop finding ways to make that happen. This is one of my favorite recipes of all time. Really.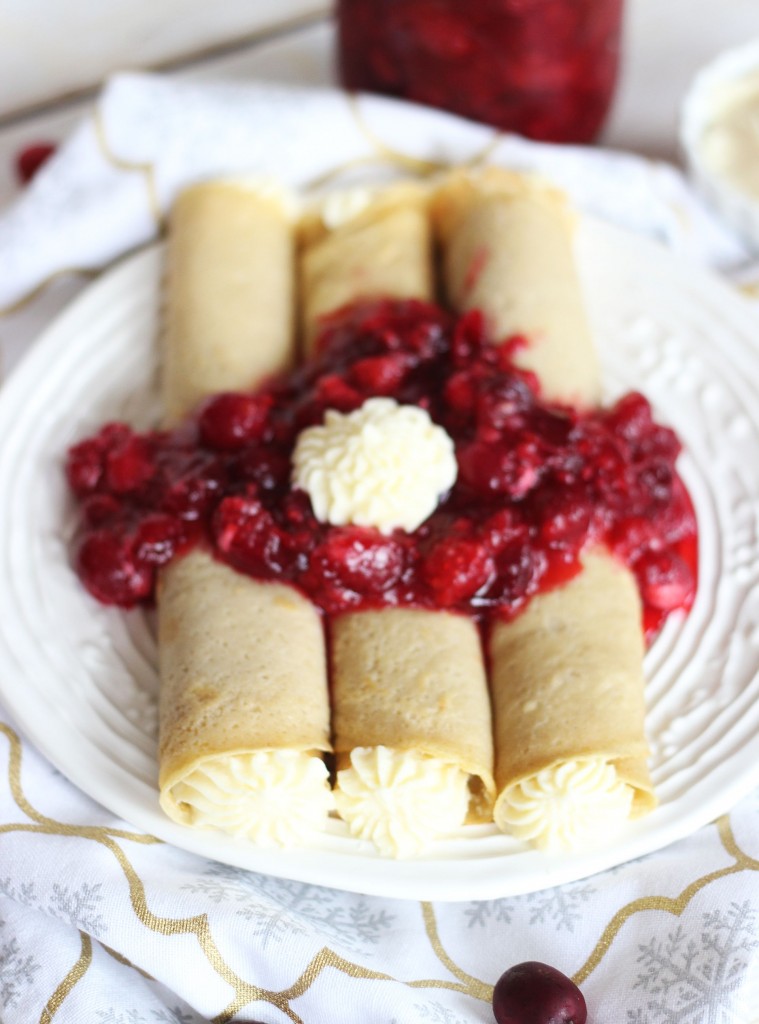 Also, today, I teamed up with some fabulous blogger friends to create berry-themed holiday recipes for a Merry Berry Christmas Blog Hop! Be sure to pop around to the other bloggers to check out their berry recipes! Enjoy the party! 🙂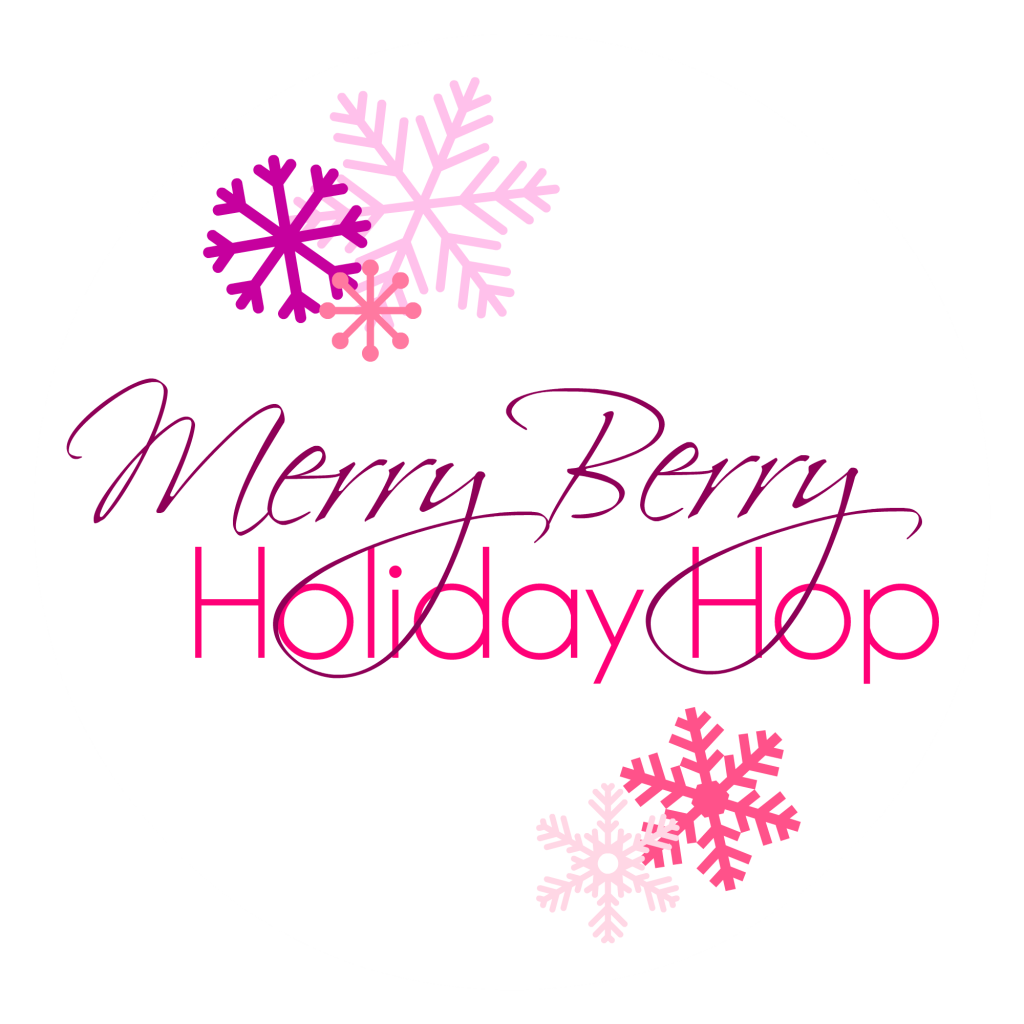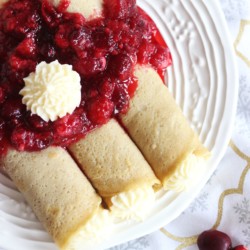 Amaretto Crepes with Cranberry-Raspberry Sauce & Sweet Mascarpone Filling
Amaretto liquer crepes with sweet vanilla Mascarpone cheese filling and topped with amaretto Cranberry Raspberry sauce!
Ingredients
Cranberry-Raspberry Sauce:
1 - 12

oz.

package fresh cranberries

1 - 12

oz.

package fresh raspberries

1

c.

sugar

3/4

c.

water

1/4

c.

amaretto liqueur

1/2

tsp.

almond extract
Amaretto Crepes:
4

eggs

1 1/2

c.

milk

3/4

c.

water

2

c.

flour

I used oat flour!

1/2

c.

melted butter

slightly cooled

1/4

c.

sugar

1/4

c.

amaretto liqueur
Mascarpone Filling:
1 - 8

oz.

container Mascarpone cheese

at room temperature

2

tbsp.

sugar

1

tsp.

vanilla
Instructions
For Cranberry-Raspberry Sauce:
In a large pot, combine all ingredients and cook on medium-high heat, bringing it to a boil.

Reduce heat to low, and simmer for 15 minutes.

Remove from heat, and allow to cool.
For Amaretto Crepes:
In a large bowl, combine all ingredients and whisk until smooth.

In a large saucepan over medium heat, pour about 1/3 - 1/2 c. batter, covering the entire bottom of the pan in a thin layer.

Cook for about 2-3 minutes, or until the top looks mostly cooked too, even before flipping. Carefully (it will be thin and delicate) flip the crepe over, and cook for about 30 seconds.

Remove crepe from pan, and continue making crepes with remaining batter.

Let them each cool flat on a plate. They stack well between plastic wrap lightly greased with non-stick spray.
For Mascarpone Filling:
In a small bowl, combine Mascarpone cheese, sugar, and vanilla.

Mix until well-combined.

To serve, spoon cheese evenly across the diameter of the crepes, and roll them into 1-2 inch tubes, spoon sauce generously over top. Enjoy!
The crepes only are adapted from this recipe by Alton Brown.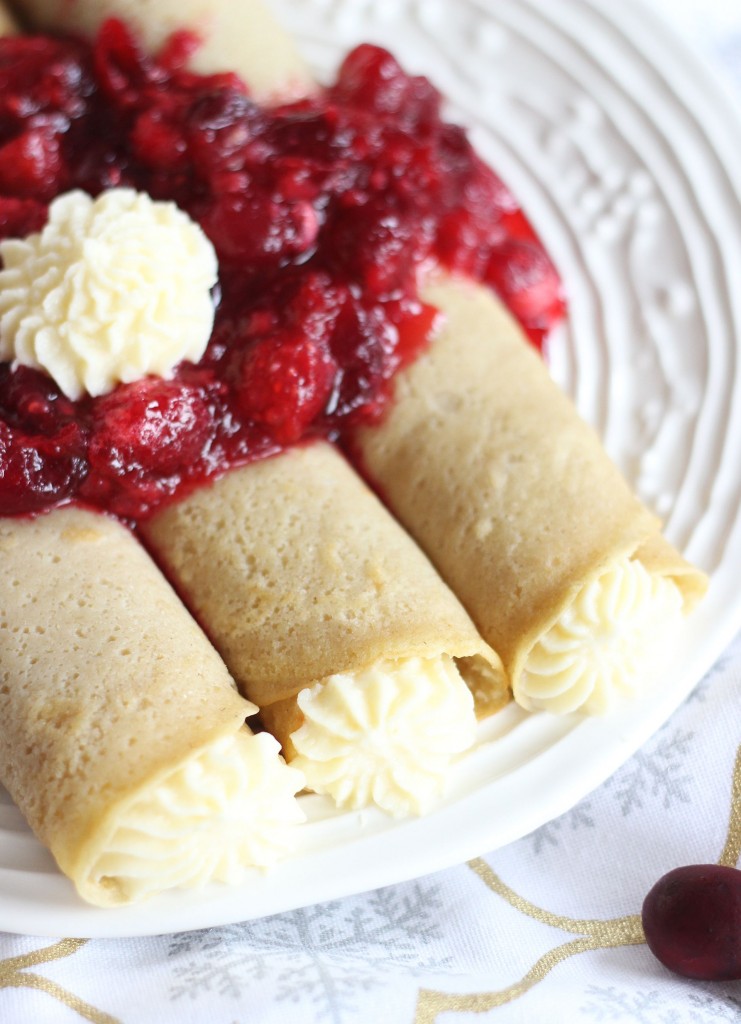 Enjoy!
'); // ]]>