A buttery, flaky, and tender scone, packed with creamy white chocolate chips, slivered almonds, and fresh pomegranate seeds! Super easy, and ready in about 30 minutes!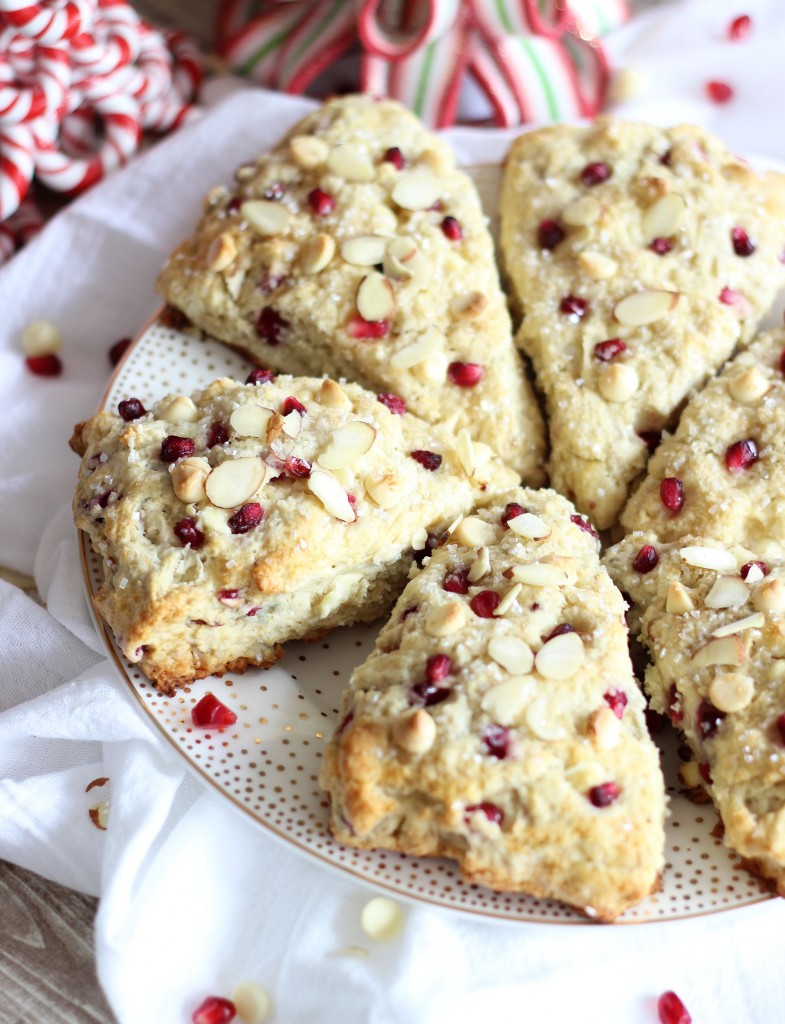 So. These super pretty scones! They were gone in under 24 hours. 21 hours to be exact. True, there are only 8 scones to a batch, but for just the two of us in the house, that's really saying something. They're not little either. They're quite large and filling!
They were that good. Seriously, that good.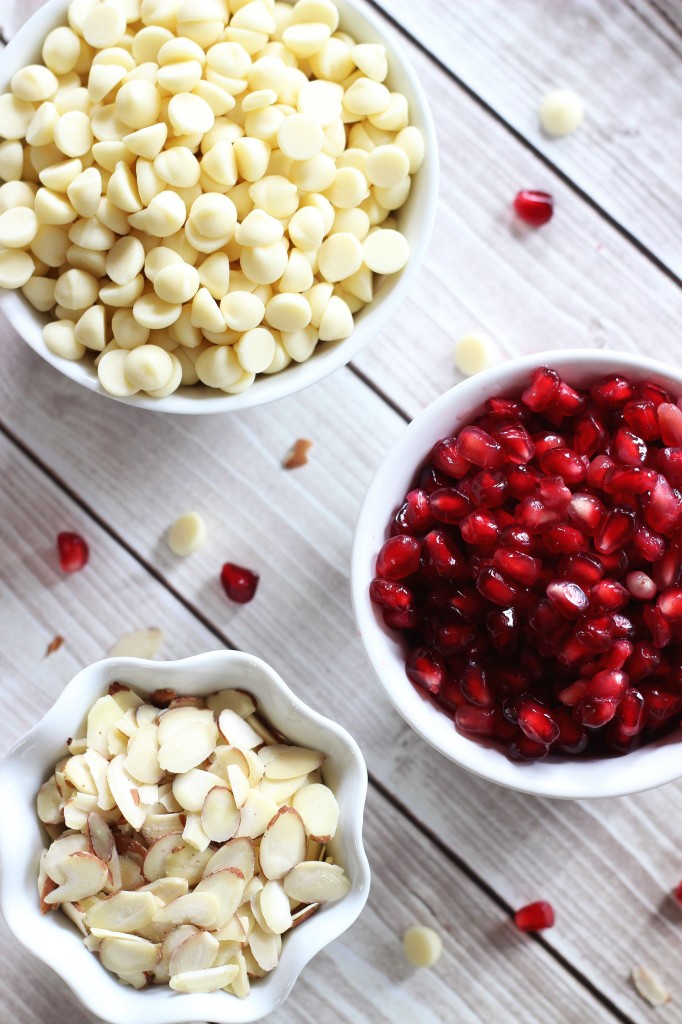 In fairness, part of their fast disappearance can also be attributed to late night munchies. Friday night we went to a gala… because that's what we do on our weekends, we attend galas. We're fancy. Food was plentiful, and there was no shortage of beverages either, but you know how it is when you stay out too late and inevitably come home craving a snack? Doesn't really matter how much you ate, you still need a little something? That happened, and these scones hit the spot.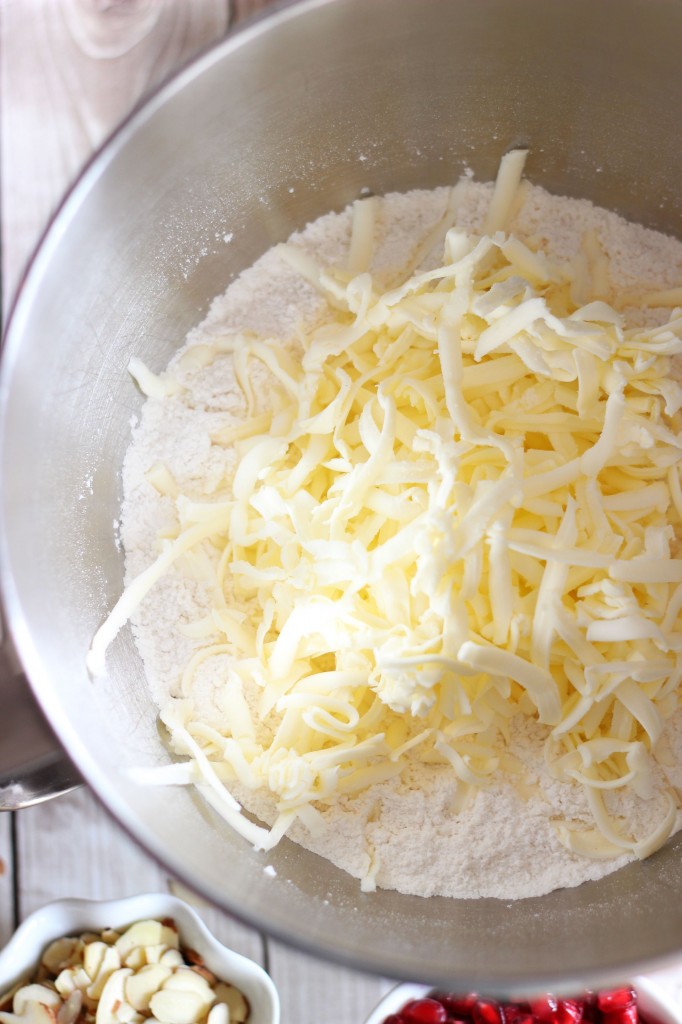 Thus, I made them Friday morning  and 7 of them were gone the same day. I savored the last one Saturday morning with a protein shake after a leg workout. That is how I roll. Whatever you pair with a protein shake, it's automatically a healthy meal –> these cancelled each other out, don't cha know?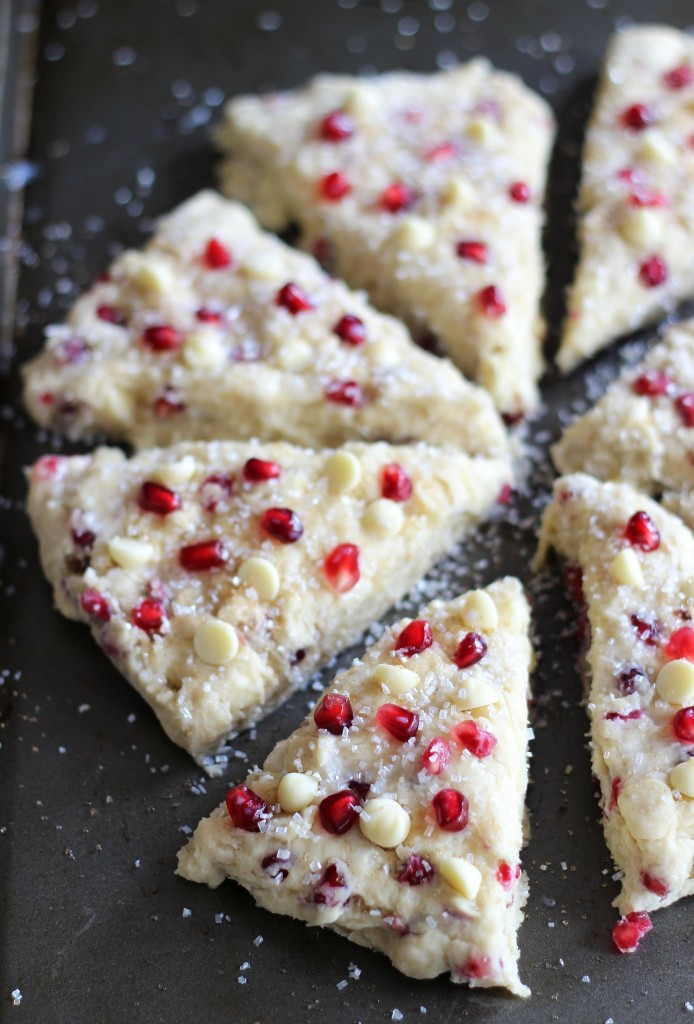 Despite that I have 46,000 other recipes I'm planning to make over the next few weeks, I almost made these again yesterday anyway. But when we're not attending galas on weekend evenings, we're at the grocery store (we have no in-between, apparently). Sadly, my plan to repeat these scones fell flat when Trader Joe's was out of pomegranates on Saturday night. BAH! I guess I'm over it.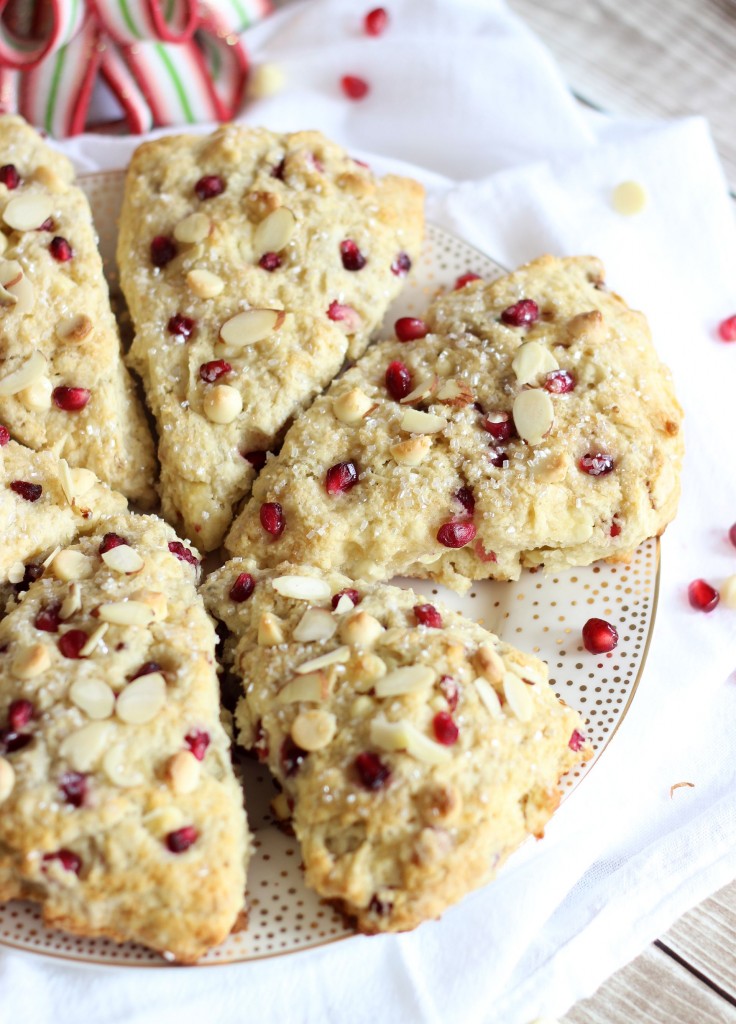 These scones were AMAZING while they lasted, and you can bet I'll still be making them again very soon. They were flaky and tender, airy, but rich and moist, and packed with white chocolate chips, slivered almonds, and almond flavoring. Pomegranate seeds – where do I begin? A love affair in the making. They are so juicy, tart, and fresh. They literally burst in your mouth. There's nothing quite like it.
These are just the right amount of sweetness. Not too cloying or overbearing to enjoy for breakfast, but still sweet enough that they could pass as a light dessert! They're perfection and I wouldn't change a thing! Also, from start-to-finish, they were ready in about 30 minutes! Not shabby. Suitable for a holiday brunch, perhaps? 🙂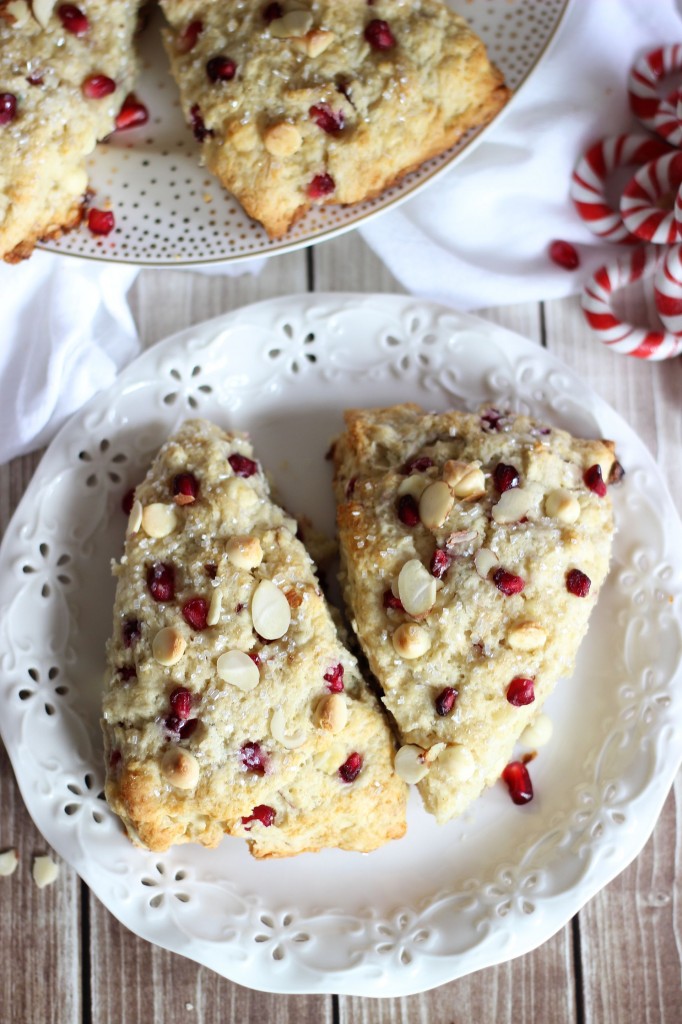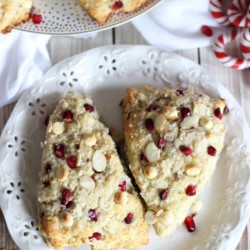 Pomegranate White Chocolate Almond Scones
A buttery, flaky scone bursting with juicy and tart pomegranates, white chocolate chips, and slivered almonds!
Ingredients
2 1/2

c.

flour

3

tbsp.

sugar

1

tbsp.

baking powder

dash of salt

1/2

c.

cold unsalted butter

1

c.

white chocolate chips

1/3

c.

slivered almonds

1

c.

pomegranate seeds

2

eggs

lightly beaten

1/2

c.

eggnog or half-and-half

1

tsp.

almond extract

1-2

tbsp.

eggnog or half-and-half

for brushing scones

sugar

for sprinkling
Instructions
In a large bowl, combine flour, sugar, baking powder, and salt.

Using a pastry blender or a knife, cut in butter until mixture is crumbly.

Add in white chocolate chips and slivered almonds, tossing to combine well.

Carefully fold in pomegranate seeds.

In a small bowl, stir together eggs, eggnog, and almond extract.

Make a well in the center of the flour mixture, and pour the egg mixture into the well.

Turn dough out onto a generously floured surface, and knead dough 6-8 times, slowly forming it into a large ball.

Place onto a greased baking sheet, and carefully flatten the ball into a large disk, about 3/4-inch thick.

Cut into 8 wedges, and gently pull the wedges slightly apart.

Brush each scone lightly with eggnog, and sprinkle with a pinch of sugar.

Bake at 400 degrees for 15-18 minutes, or until edges are golden brown.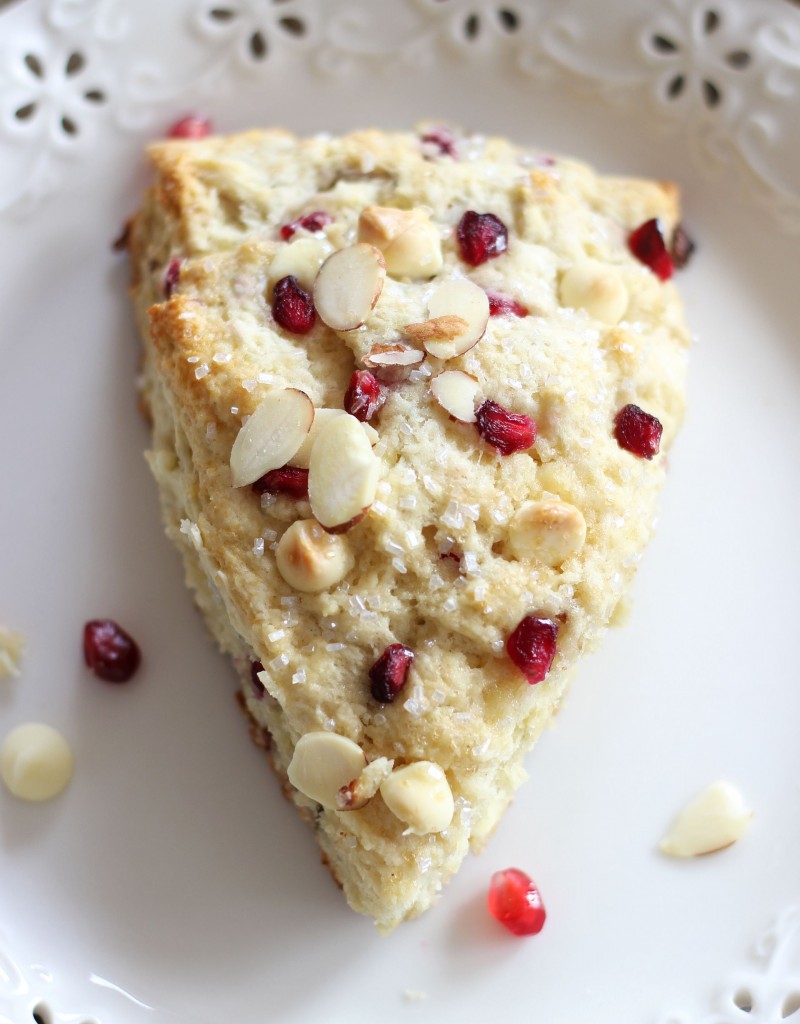 Bet you they don't make it 24 hours in your house either!