A buttery, tender, and moist sweet potato scone with brown sugar, eggnog, pecans, and cinnamon chips. Like sweet potato pecan pie in a scone!
Ever since I made the Pomegranate White Chocolate Almond Scones a few weeks ago, I have had scones on the brain. I seriously can't stop thinking about them! Those were so unbelievably good, they disappeared in under 24 hours.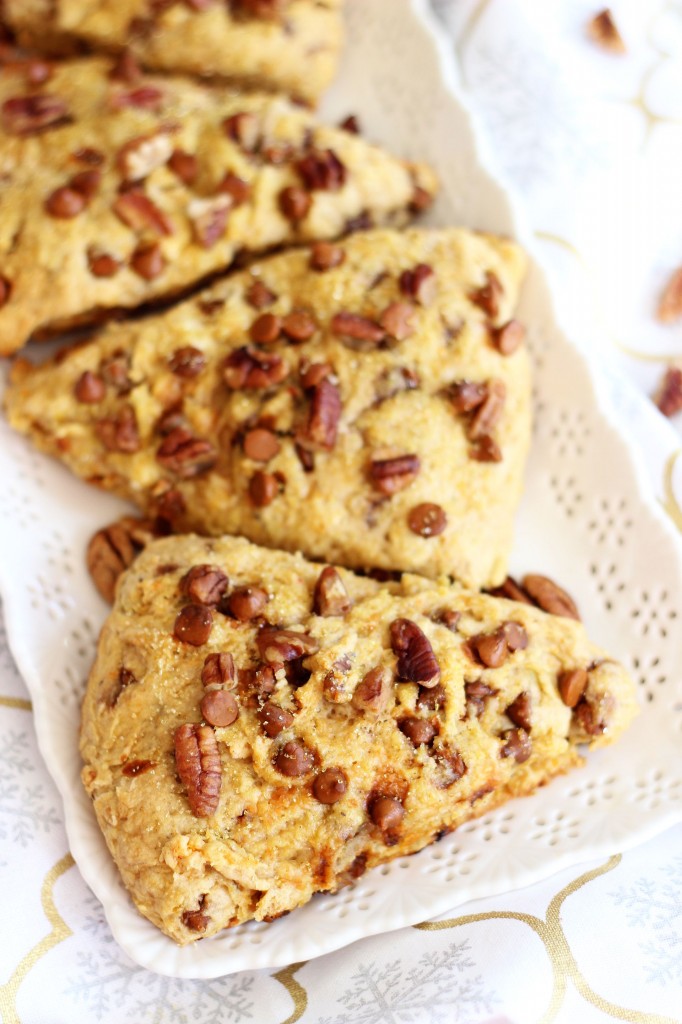 These were pretty much the same deal. I really don't think of myself as a scone person either. I'm not NOT a scone person, they're just not something I generally pick out at a bakery. How many people are like "I have to have that scone" when at a bakery counter? Not me, anyway. I'm staring at layered cheesecakes and cupcakes the size of my head.
Well… except for the Starbucks pumpkin scones with cream cheese glaze. Those I actually do gravitate towards… and pretty darn often, I must say.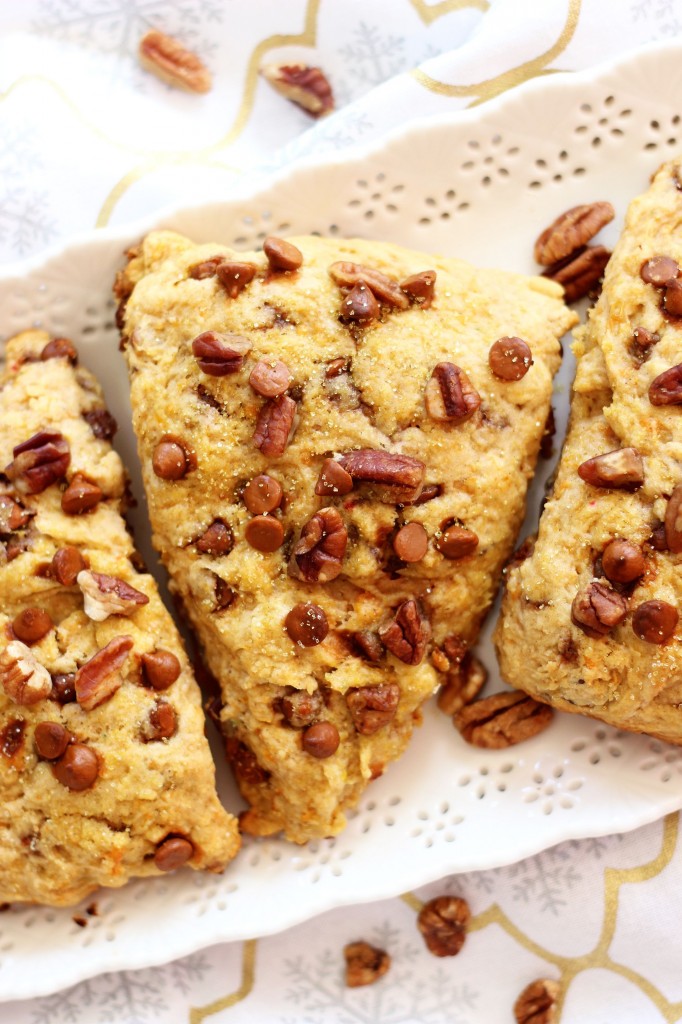 Still, scones are all I have been thinking about lately. I think I just never had enough experience with homemade scones to understand how truly amazing and delicious they can be. Now that I've experimented more and understand their potential, I can't stop.
I'm finding that part of the charm in making scones is how simple they can be too. Sometimes I have a mental block against making bread and biscuit type foods because I build them up in my mind to be so challenging. These are not so bad! They're even easy, dare I say.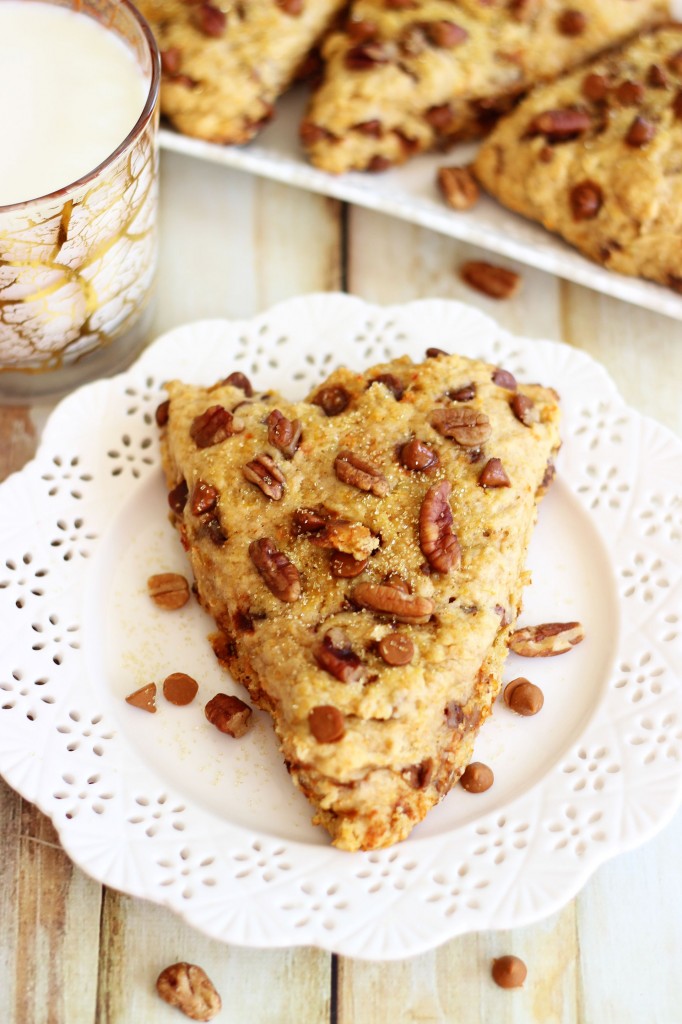 With lots of mashed sweet potatoes in the dough, these scones are particularly moist! Plenty of butter makes them super flaky and tender. Brown sugar provides them even more moisture and flavor. Then they're loaded up with pumpkin pie spice, pecans, and my favorite part: cinnamon chips. The chips get all melty and gooey. Cinnamon chips are kinda awesome, you guys. I used eggnog in the dough too, and while it's optional (whole milk will also work), it adds an extra boost of spices and seasonal flair!
The end result is a pastry that reminds me of, you guessed it, both Sweet Potato and Pecan Pie in a scone. 🙂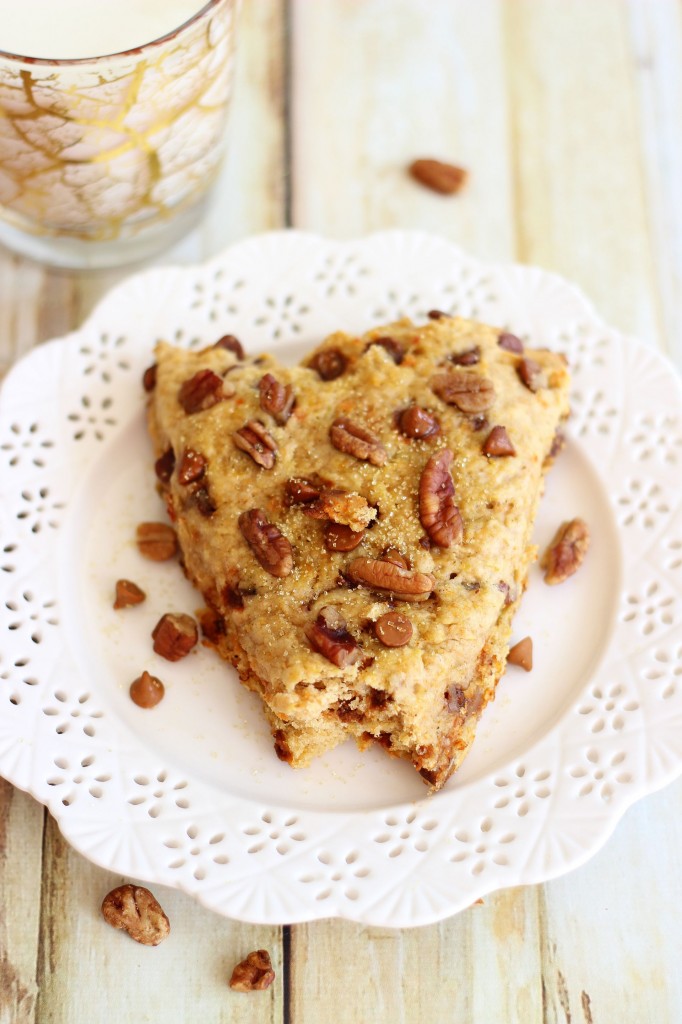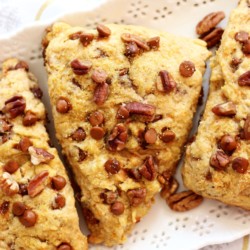 Sweet Potato Pecan Pie Scones
A buttery, tender, and moist sweet potato scone with brown sugar, eggnog, pecans, and cinnamon chips. Like sweet potato pecan pie in a scone!
Ingredients
1/3

c.

eggnog or whole milk or evaporated milk

1

tsp.

vinegar

2 1/4

c.

flour

1/3

c.

packed brown sugar

2

tsp.

baking powder

2

tsp.

pumpkin pie spice

1/2

tsp.

salt

1/4

tsp.

baking soda

1/2

c.

unsalted butter

cold

1

egg

lightly beaten

1

c.

mashed sweet potatoes

1

c.

cinnamon chips

2/3

c.

chopped pecans

1

tbsp.

eggnog

1-2

tbsp.

coarse sugar
Instructions
In a small bowl, combine eggnog and vinegar. Set aside.

In a large bowl, combine flour, brown sugar, baking powder, pumpkin pie spice, salt, and baking soda. Blend well.

Using a grater, grate the cold butter into the flour mixture. Fold butter into flour mixture until well-blended.

In a medium bowl, combine the eggnog mixture, egg, and sweet potatoes. Whisk until well-blended.

Add the sweet potato mixture to the flour, along with the cinnamon chips and pecans.

Mix altogether until just combined.

Turn onto a lightly floured surface, and knead 10-12 times. Gently form dough into a large ball.

Place the dough onto a well-greased baking sheet and flatten into a circle about 10-inches in diameter, and about 3/4-inch thick.

Brush the dough lightly with eggnog and sprinkle evenly with coarse sugar.

Using a long knife, cut into 8 wedges.

Carefully separate wedges on baking sheet, pulling them just slightly apart.

Bake at 400 degrees for 16-20 minutes, or until edges are golden brown.

Cool slightly, and serve!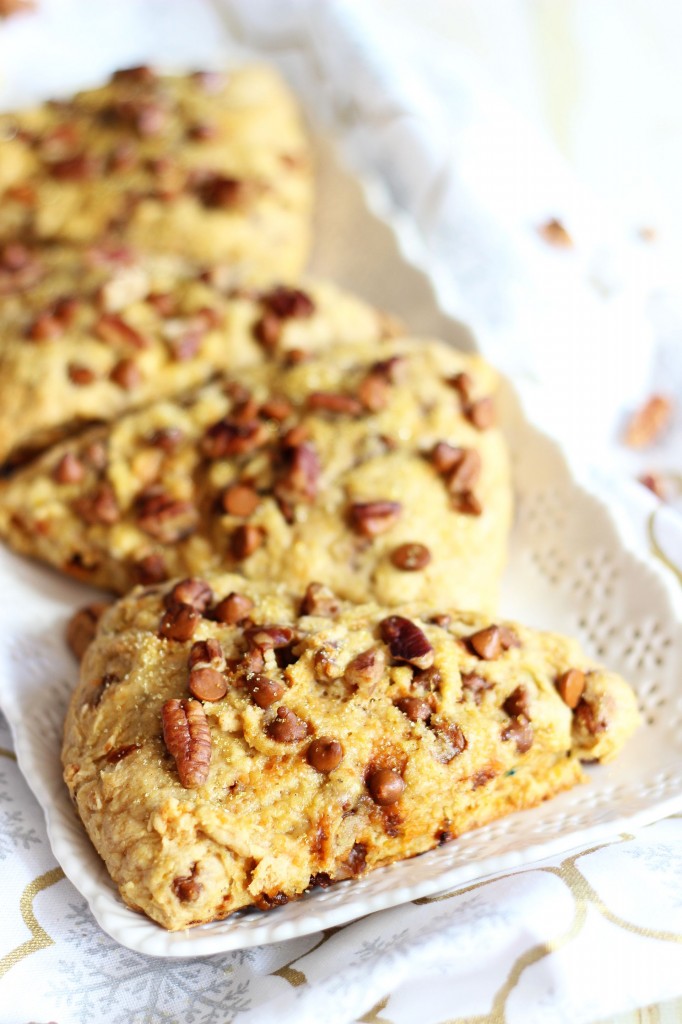 Enjoy!