Ultra-moist and rich pumpkin gingerbread coffee cake with a crumb topping!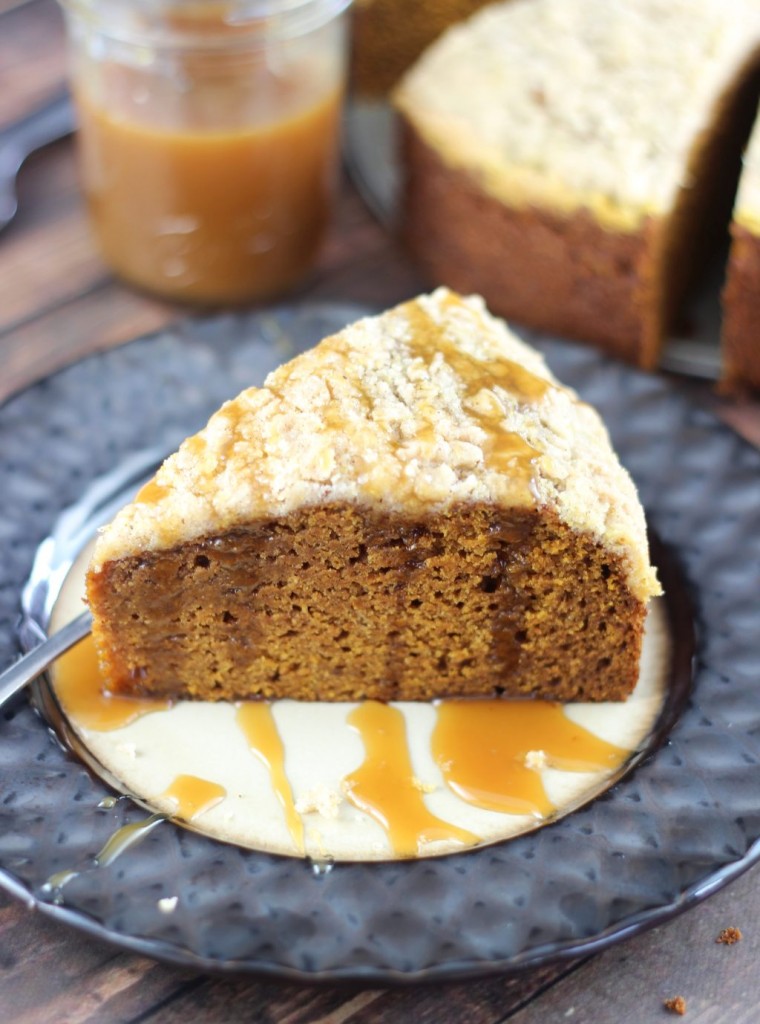 Heeeey, it's the weekend. Thank goodness. Happy brunch days! The best days of the week, not just because many people don't have to work on the weekends, but because they are BRUNCH days.
I can't wait til every day of my life can be a brunch day.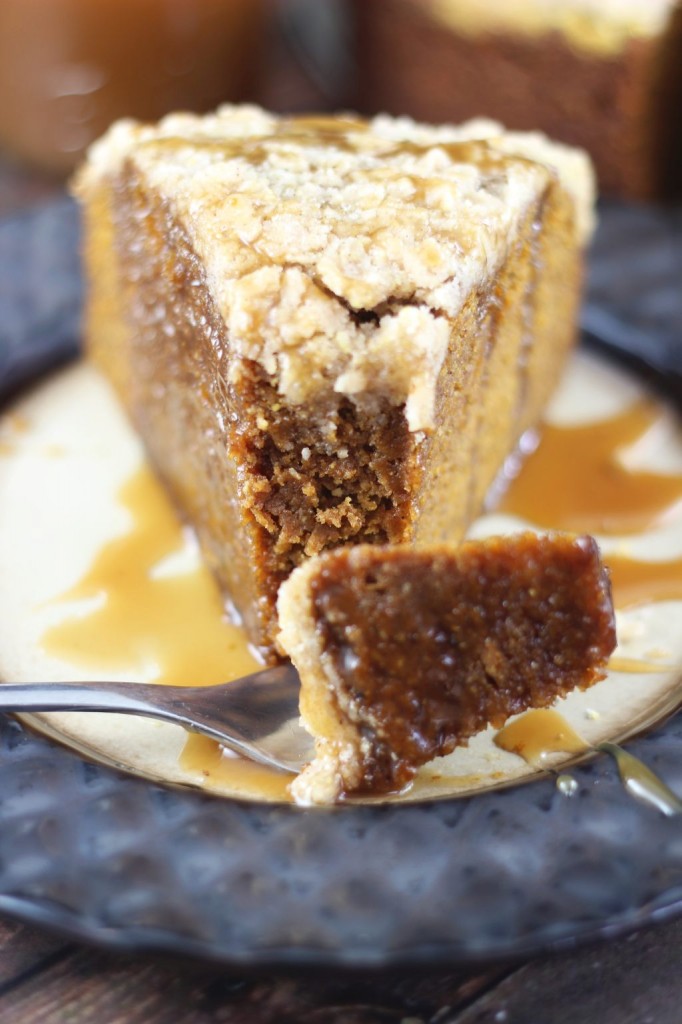 Yesterday I flew to Erie, PA, to visit my family for the holidays. In the course of planning for Christmas and doing some grocery shopping, I can't tell you how many times my Gma asked "what day is it again?," "what's the date?," or "how many days til Christmas?" To live in a world where the day of the week or date or even month doesn't matter would have its benefits, amiright?
Fortunately, I'm on vacation until after New Year's, and so my year of real work at my real job is DONE. *Sigh* Relief. I will fill my days with brunching, baking, and gift-wrapping. Though, I must actually finish purchasing gifts first.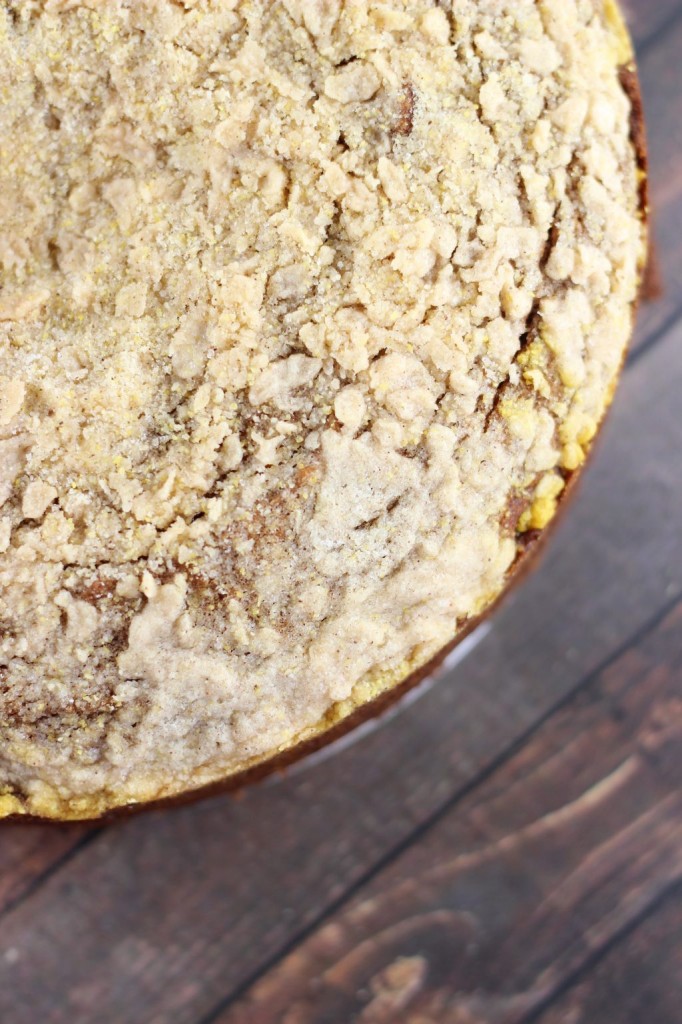 No sooner had I dropped my suitcases by the door, we were off to Wegman's for all the baking essentials. And bagels… because, it's Wegman's. By evening, we completed a double batch of Cracked Top Ginger Cookies and a batch of Cinnamon Bun cake mix cookies.
Those will easily be gone before Christmas though, so the baking must go on. Not that two kinds of cookies is enough anyway. 🙂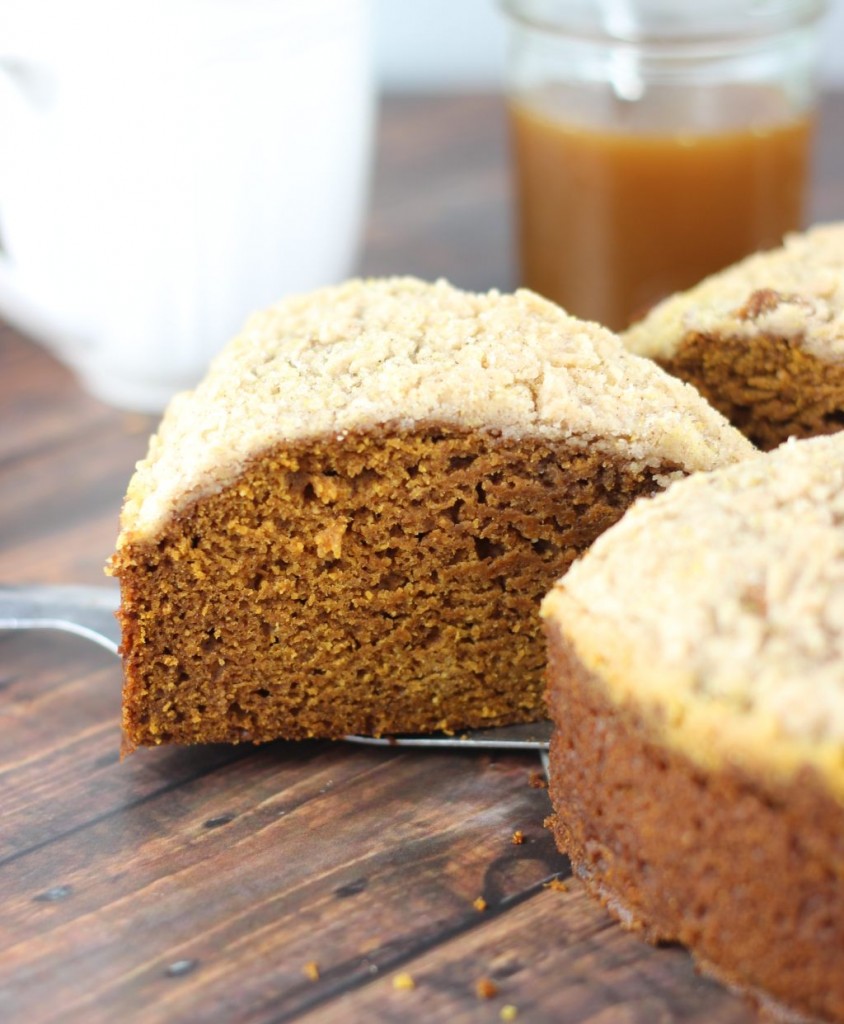 Cookies for breakfast are swell and all, but weekend mornings are for true brunch.
This Pumpkin Gingerbread Crumb Coffee Cake might be the BEST coffee cake I've ever had. THIS is brunch. I wish I'd somehow stashed this in my luggage and brought it to Erie, but half of it is in my freezer in Florida.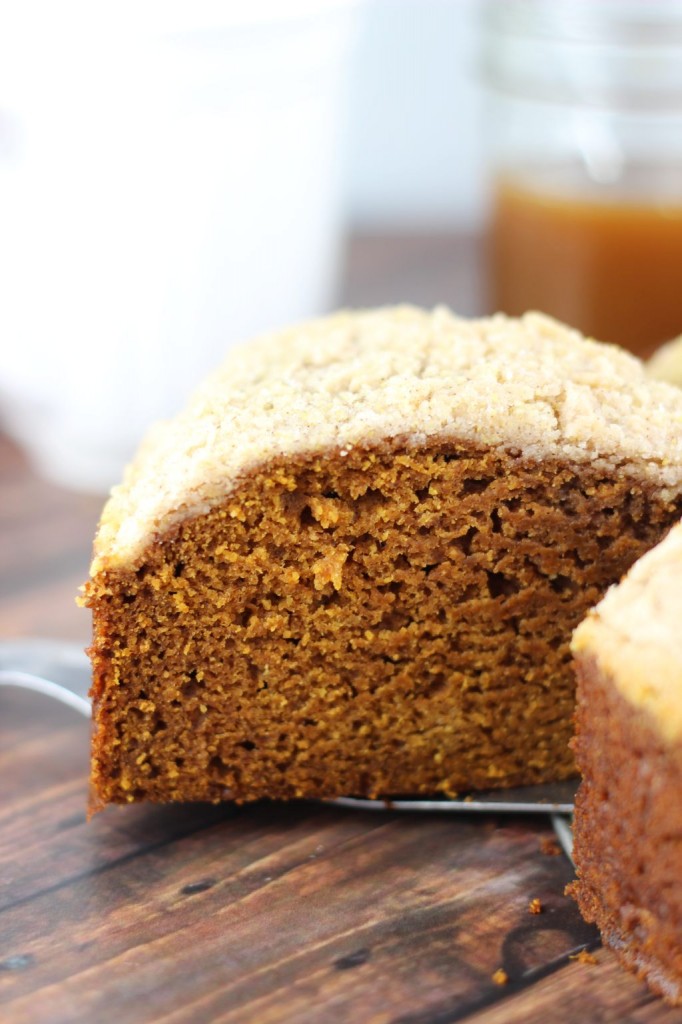 It's just the most moist and rich coffee cake. Super deep flavors. Both the pumpkin and gingerbread flavors shine through strong, but neither overtakes the other.
It's the perfect marriage of the two. It's warm and spicy, sweet and buttery, and just represents everything we love about this time of year in food form.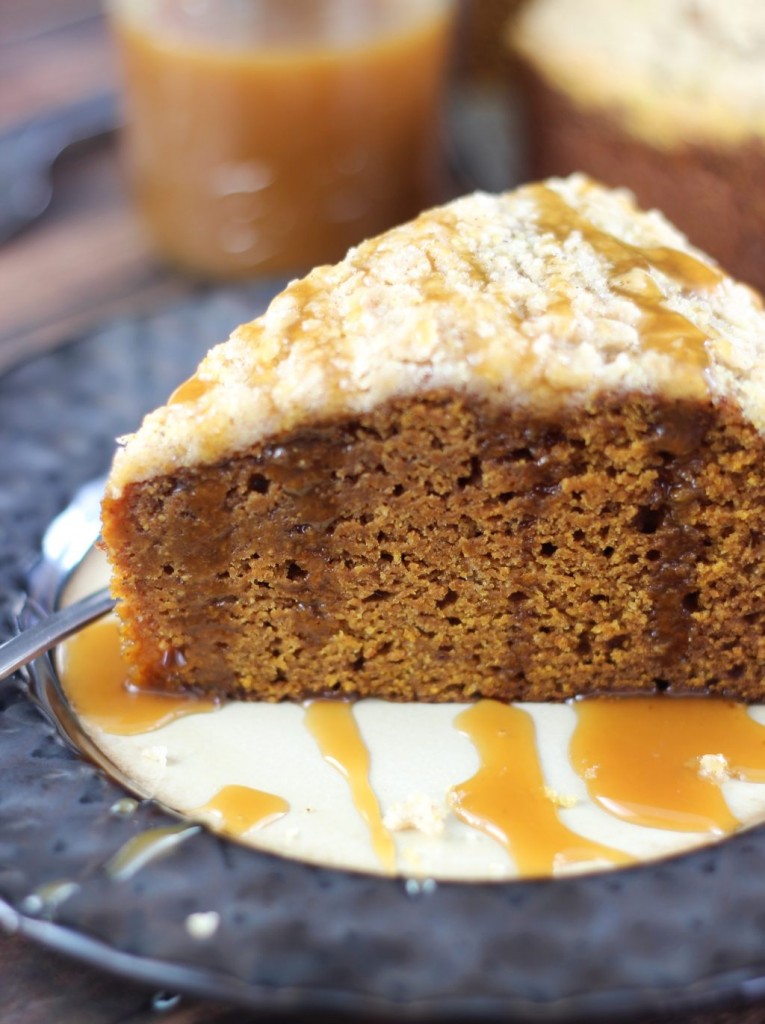 It looks elegant and sophisticated (I think?), but it's nearly as simple as combining dry ingredients, combining wet ingredients, and throwing them together. Done. Well, sprinkle with crumb topping. Now, you're done.
Drenched in caramel sauce, butterscotch sauce, or even just melted butter, and this is easily one of the best brunches I've ever had.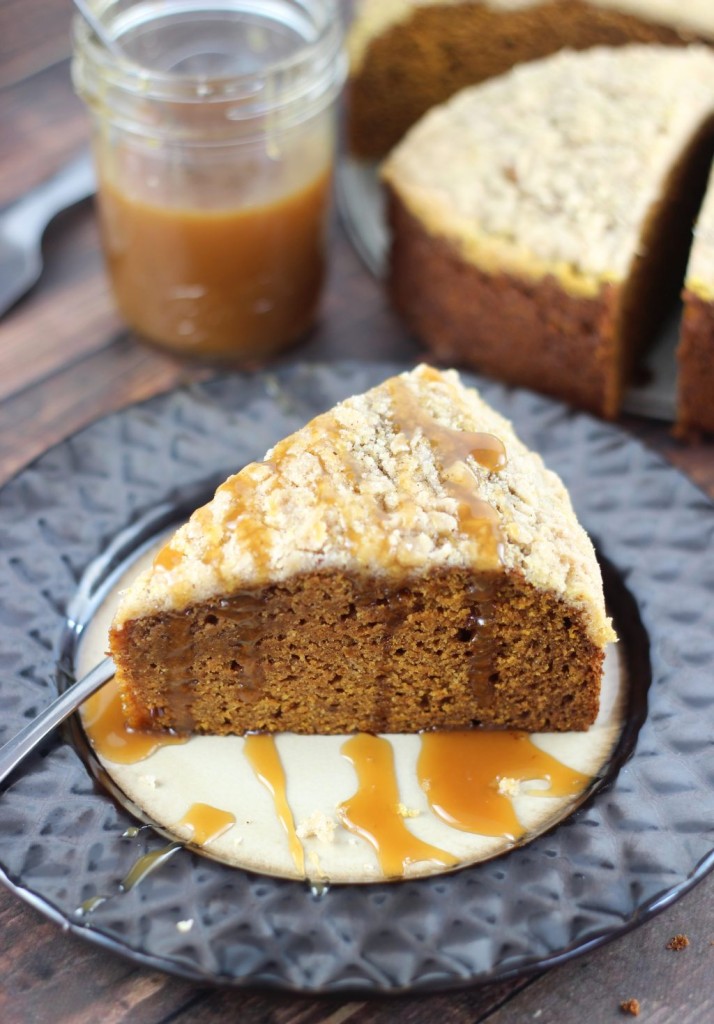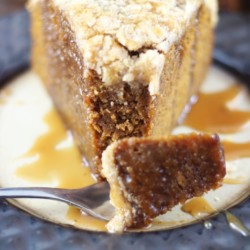 Pumpkin Gingerbread Crumb Coffee Cake
Ultra-moist and rich pumpkin gingerbread coffee cake with a crumb topping!
Ingredients
2 1/2

c.

flour

1/2

c.

yellow cornmeal

1

c.

sugar

2

tsp.

ginger

1

tsp.

cinnamon

1

tsp.

pumpkin pie spice

3/4

c.

cold unsalted butter

1 - 15

oz.

can pureed pumpkin

2

eggs

1/2

c.

molasses

1/3

c.

buttermilk or sour milk

1 1/2

tsp.

baking soda

1 - 12

oz.

jar prepared caramel sauce
Instructions
In a large bowl, combine the flour, cornmeal, sugar, ginger, cinnamon, and pumpkin pie spice.

Using a grater, grate the cold butter into the flour mixture, mixing until it resembles coarse crumbs.

Remove 3/4 c. of the crumb mixture and set aside. We will use this as the crumb topping.

In another large bowl, whisk together the pumpkin, eggs, molasses, buttermilk, and baking soda.

Add the pumpkin mixture to the flour mixture, stirring until just combined.

Pour the batter into a greased 9-inch springform pan.

Sprinkle the reserved crumb mixture evenly over the batter.

Bake at 350 degrees for 50-60 minutes, or until a toothpick inserted near the center comes out clean.

Cool on a wire rack for 30 minutes before removing sides of the springform pan.

Best served warm. Cut and serve with a drizzle of caramel sauce, if desired.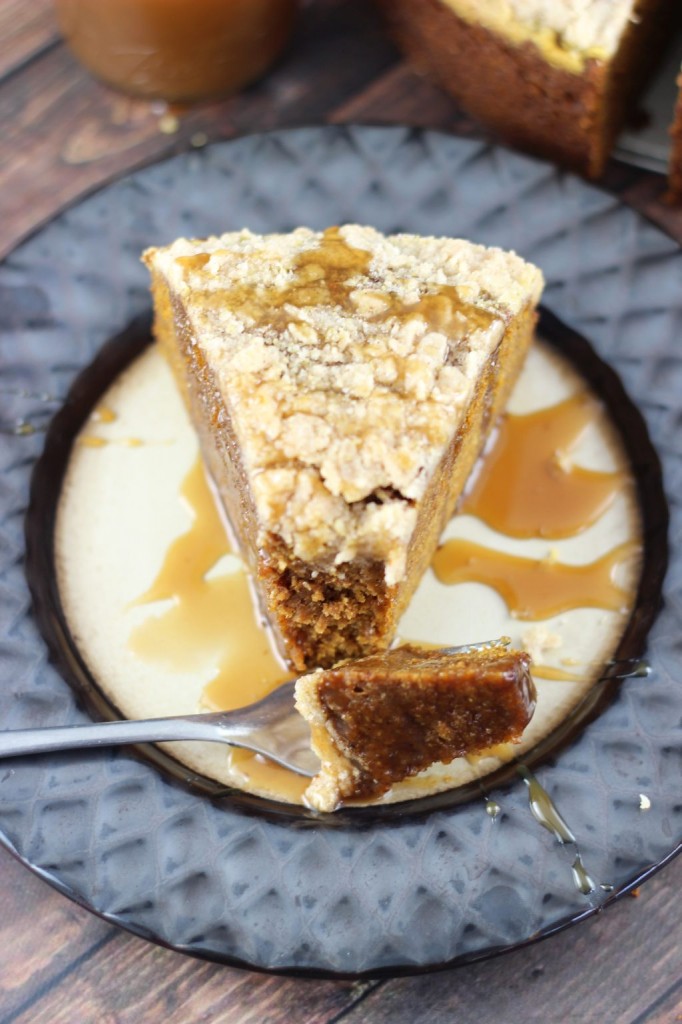 If only I hadn't left it in Florida. S.O. will probably find it and it will be gone before I get back!