These scones are better than a bakery scone, tender, moist, and buttery, with fresh orange zest and loads of cranberries and plump pomegranate seeds. If that's not enough to convince you, they're ready in about 30 minutes, start-to-finish!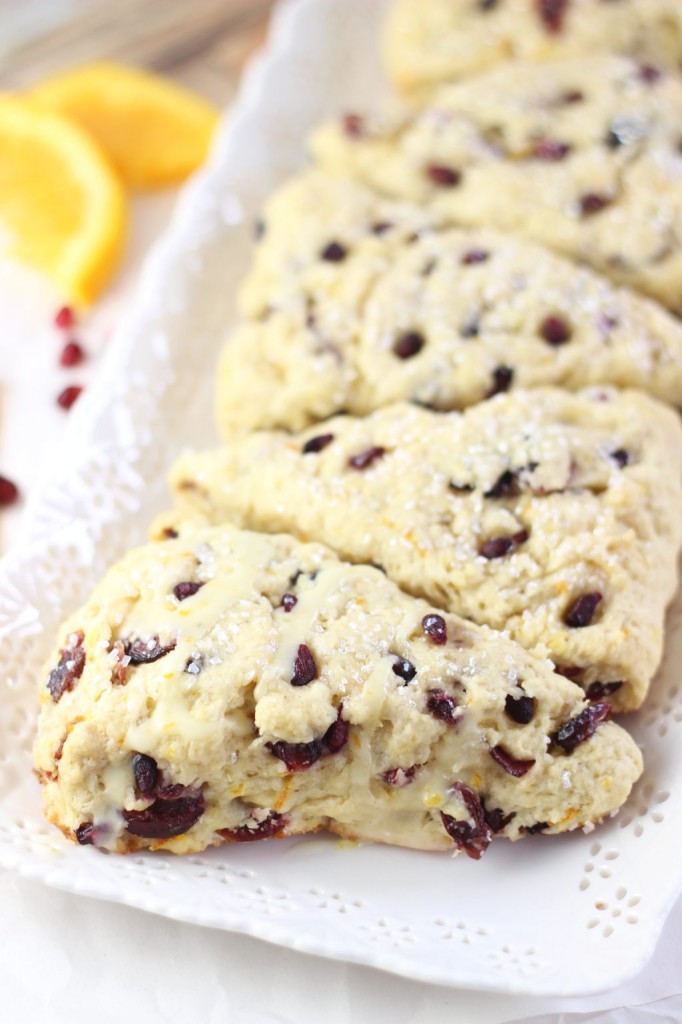 I've done it again – I wrote six (SIX!!) posts on a 2.5 hour flight. Why can't I be this effective at home?? This will be my seventh.
I even stopped writing for 15 minutes while one of the flight attendants did magic tricks. Side note: has anyone ever had that happen to them on a flight before? Delta is stepping up their game for in-flight entertainment.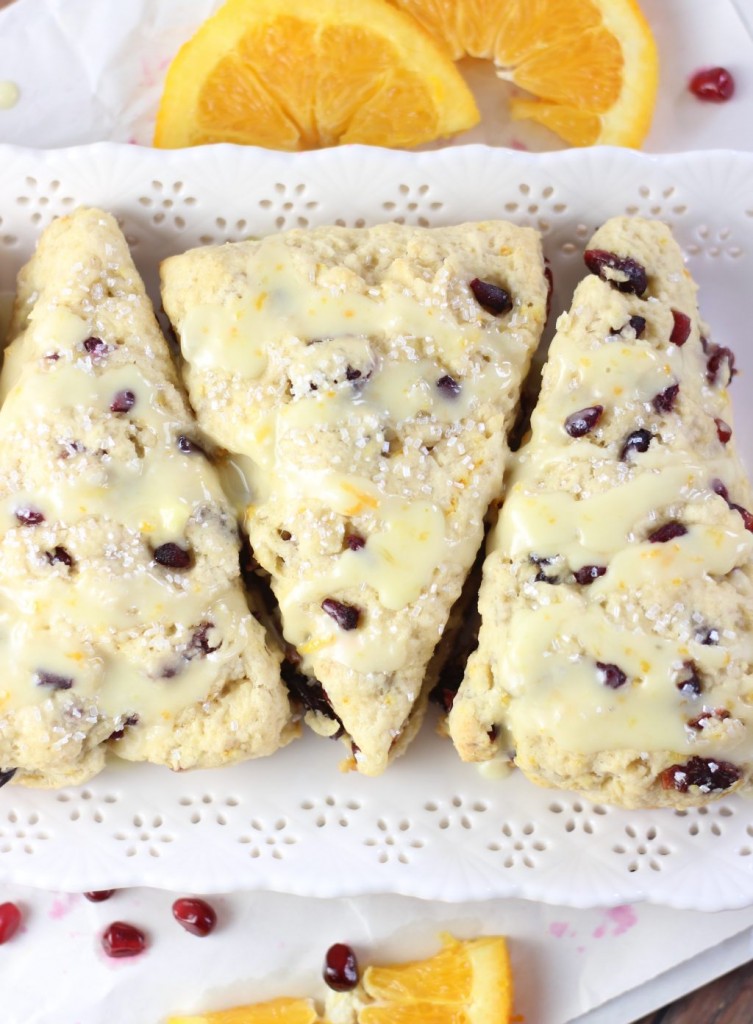 I think the secret to my productivity is the lack of internet connection. The internet is such an easily accessible source of distraction and procrastination. Without it, I can focus. I won't check all my social media channels every 20 minutes.
Damn Instagram. It's the real time-sap for me. So many pretty pictures, so little time.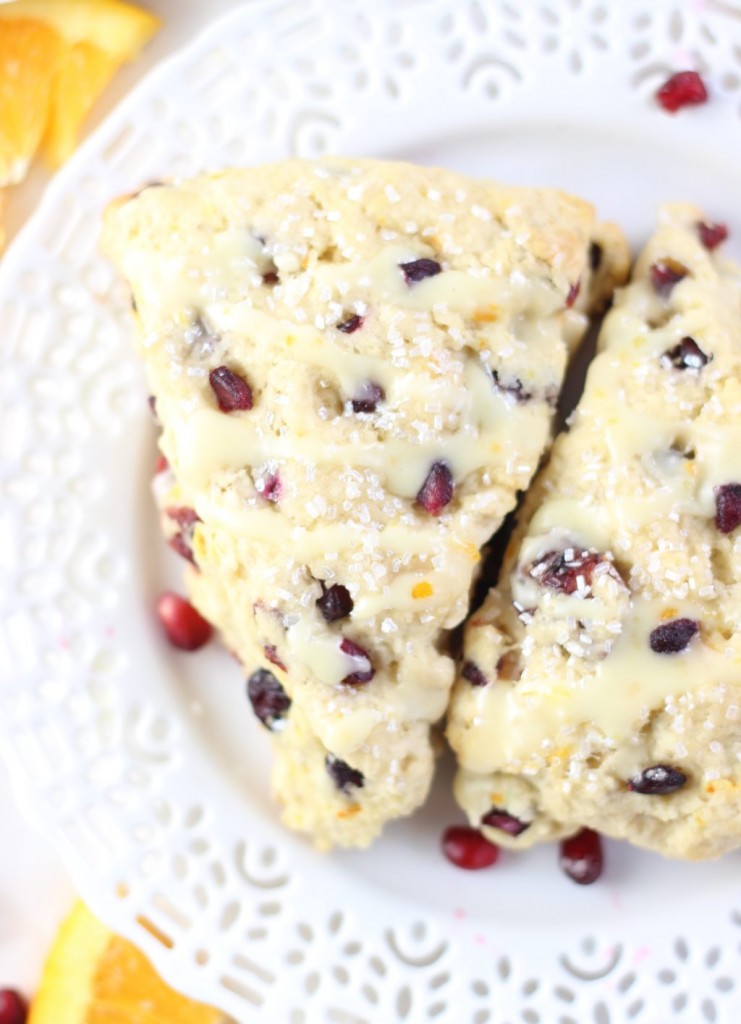 Anyway, one of the many traditions we have when I'm in Erie visiting my family is that my mom, Gma, and I will drive out to a small lake in nearby Edinboro, pick up bagel sandwiches at a little local spot, and sit at the picnic benches by the lake having lunch. We don't always get to do this in November, but it was an astonishing 75 degrees my first day there.
In addition to freshly-baked bagels, the small luncheonette also makes a variety of cookies and scones. It is a carb-tastic place.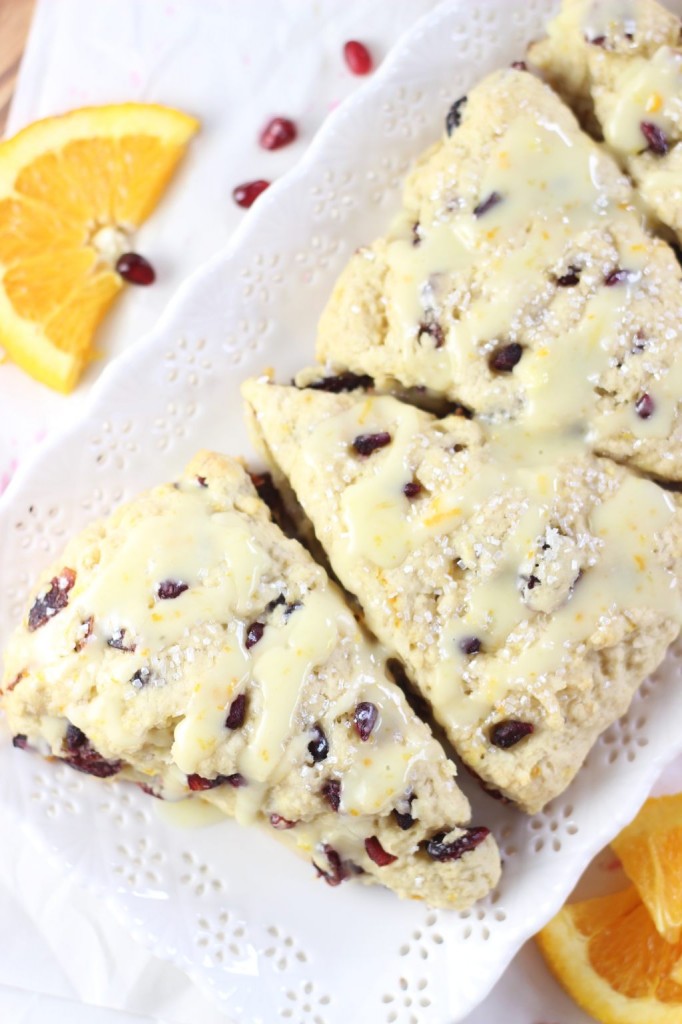 My mom sampled their Cranberry Orange Scones with Orange Glaze and loved them. They really are quite good, but what I didn't say at the time is: mine are better. At least, I think so. They're thicker and more tender, flaky. Moist in the middle, but the edges are a little crumbly. More buttery too.
There's no denying that they got the flavor right though. Cranberry and orange are a dynamic duo. In my scones, I used dried cranberries, fresh orange zest, and fresh orange juice and zest for the glaze. I also tossed in pomegranate anils. They complement the orange and cranberry perfectly, and the juicy little seeds burst in your mouth with each bite! The glaze has fresh orange flavor, and it just melts into the cracks and crevices.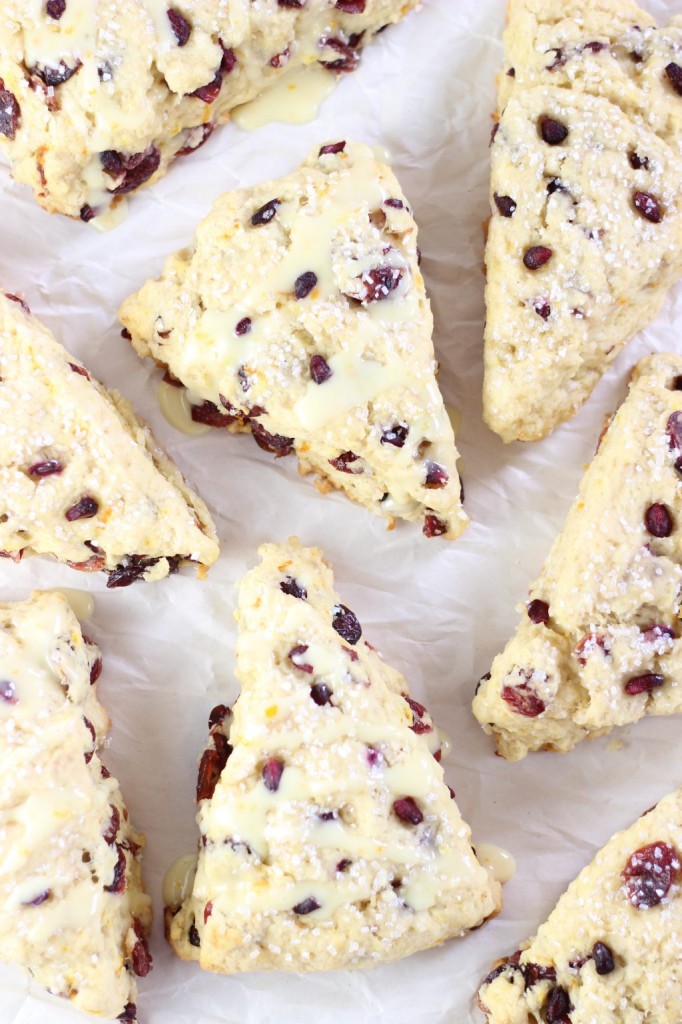 As with most of my other scone recipes, you can have these fresh from the oven in 30 minutes, start-to-finish. There aren't a whole lot of other recipes that can claim that. Freshly baked goods in only half an hour!
These are perfect for this time of year – boasting some of the best seasonal flavors. When you're planning for holiday brunches, don't forget to include these scones on the menu!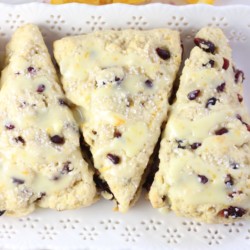 Cranberry Orange Scones with Orange Glaze
Tender, moist, and buttery scones, made with loads of cranberries, pomegranates, and fresh orange zest!
Ingredients
2-1/2

c.

flour

1/4

c.

sugar

1

tbsp.

baking powder

dash of salt

1/2

c.

cold unsalted butter

2/3

c.

dried sweetened cranberries

1/2

c.

pomegranate seeds

2

eggs

lightly beaten

1/2

c.

cream or half-and-half

1

tsp.

orange extract

zest of 1 large orange

1-2

tbsp.

cream

for brushing scones

2-3

tbsp.

coarse sugar

for sprinkling

juice of 1 large orange

1 - 1 1/2

c.

powdered sugar
Instructions
In a large bowl, combine flour, sugar, baking powder, and salt.

Using a grater, grate the cold butter into the flour mixture. Fold butter into flour mixture until blended.

Add the cranberries and pomegranate seeds, stirring to combine. (Mixing them into the dry scone ingredients will ensure they are evenly distributed, and will avoid over-kneading once we add the wet ingredients.)

In a small bowl, mix together eggs, cream, orange extract, and orange zest.

Make a well in the center of the flour mixture, and pour the egg mixture into the well.

Mix altogether until just combined.

Turn dough out onto a lightly floured surface, and knead dough 10-12 times. Gently form it into a large ball.

Place the dough onto a well-greased baking sheet and flatten into a circle about 10-inches in diameter, and about 3/4-inch thick.

Brush the dough lightly with cream and sprinkle evenly with coarse sugar.

Using a long knife, cut into 8 wedges.

Carefully separate wedges on baking sheet, pulling them just slightly apart.

Bake at 400 degrees for 16-20 minutes, or until edges are golden brown.

Remove from heat, and allow to cool on the pan while preparing glaze.

In a small bowl, whisk together orange juice and powdered sugar.

Drizzle over warm scones, and serve!