Ready in 30 minutes, these pumpkin cranberry biscuits are quick, easy, tender, buttery, and full of favorite seasonal flavors!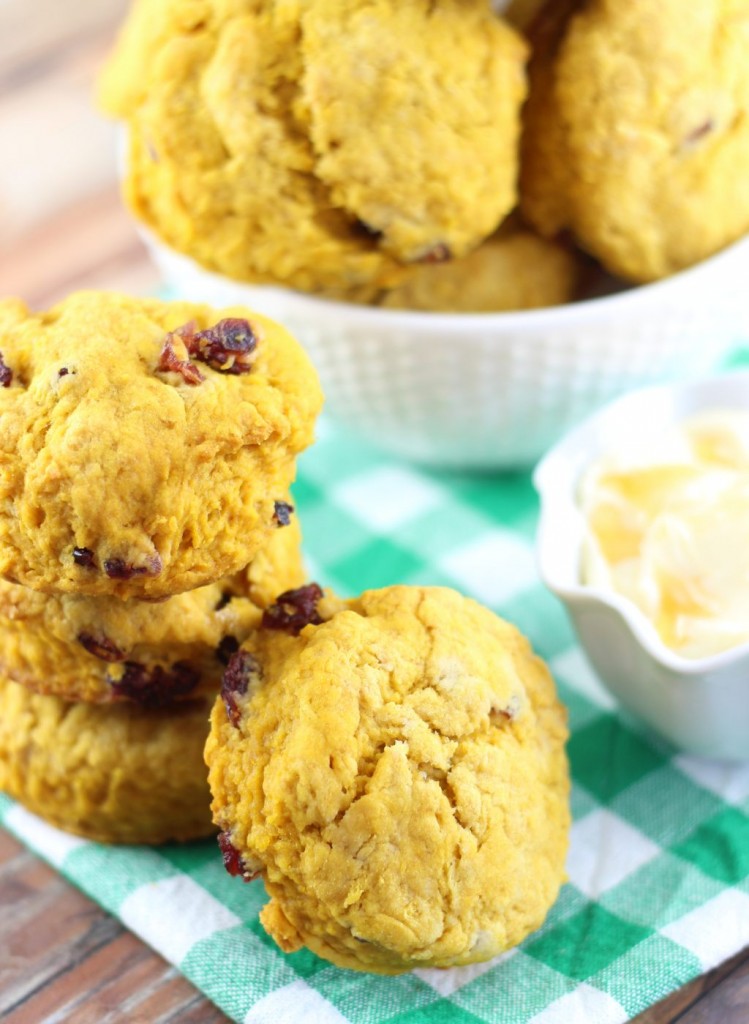 Objects in photos are more orange than they appear IRL. Uh, these look pretty orange in the photos, but that just means they are full of that much pumpkin flavor! Ha! So consider it a good thing. More pumpkin flavor is always a good thing, yes?
I think it's the camera or lighting because they aren't quite that pronounced of an orange. I wasn't even heavy-handed with the editing in these pictures, I swear.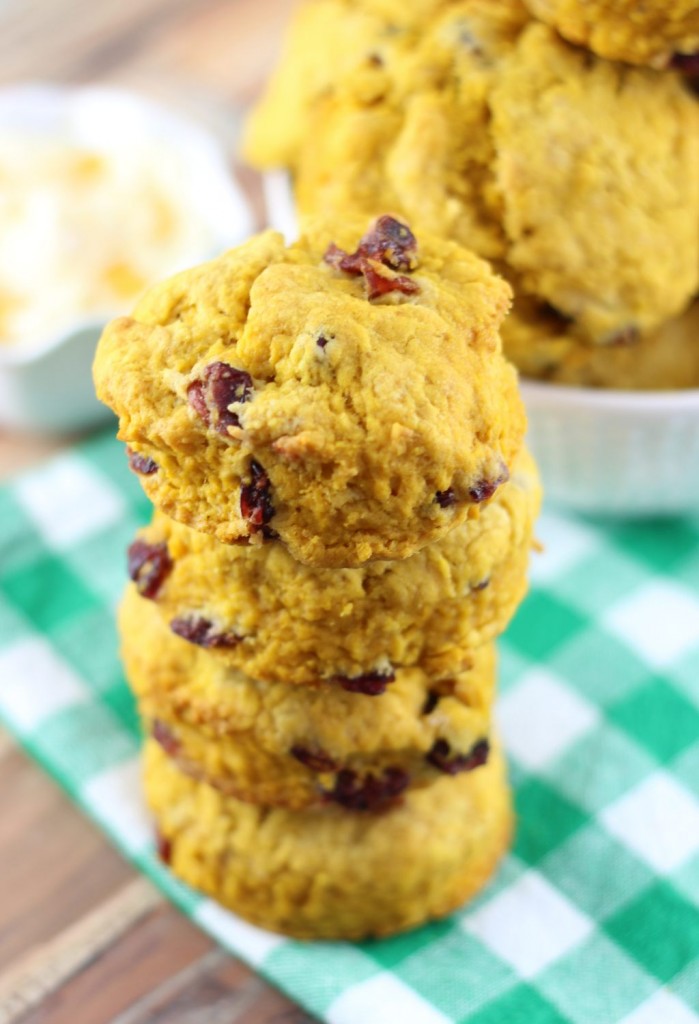 Whenever I get an idea for a scone or biscuit recipe, I get really excited. Honestly, I never dabbled much in bread-baking when I was growing up. We were all about desserts in my family, and biscuits were what you picked up in cans from Pillsbury (still love those tho).
We made quick breads, yes, but not so much scones or biscuits. And yeasted bread? Forget it. Never happened. That is why I have a fear of yeast-based breads.. still working on conquering that, though these Pumpkin Beer Soft Pretzels were a big step in the right direction.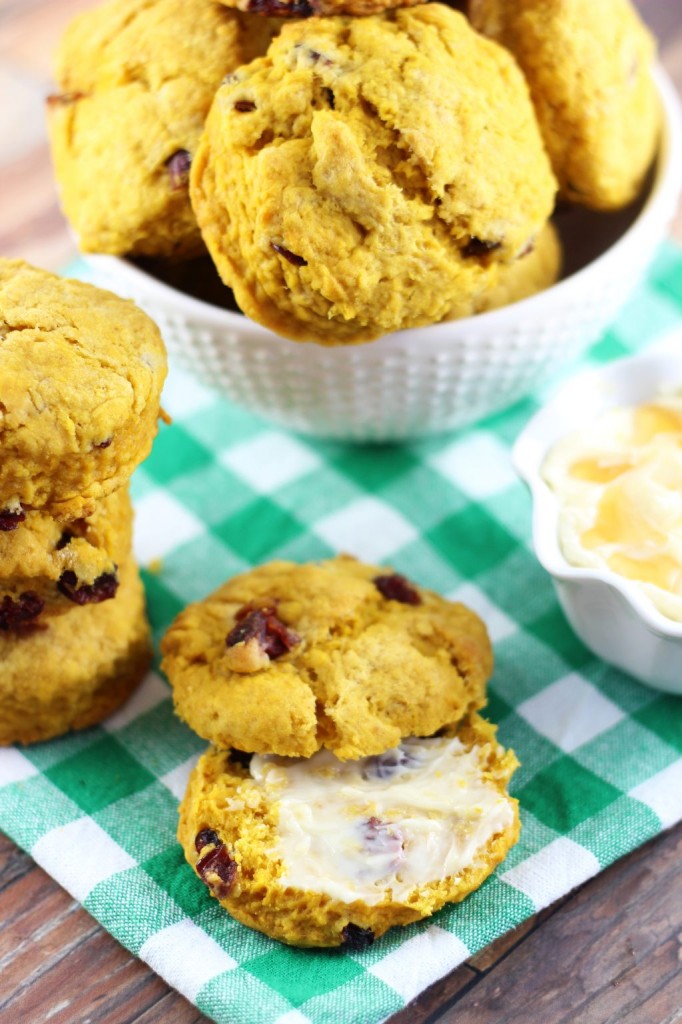 I just love how quick and simple it is to throw together biscuits and scones. You can literally be eating them, hot from the oven, in about 30 minutes. That's your complete start-to-finish timeframe. It's brilliant. It's so gratifying to enjoy the fruits of your labor in such a brief window.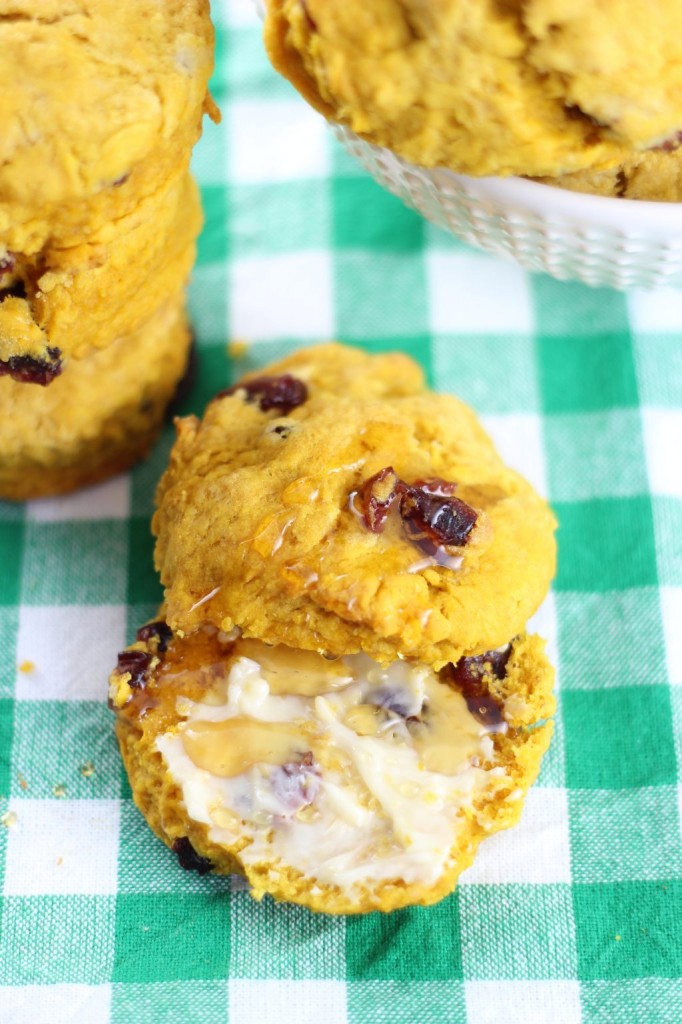 Yes, there are easy and quick no-bake types of things that you can whip up, and those are awesome too, but it feels special to actually BAKE something, and have it be a full, finished product in such a short time. You know what I mean? I know you fellow bakers out there relate to this!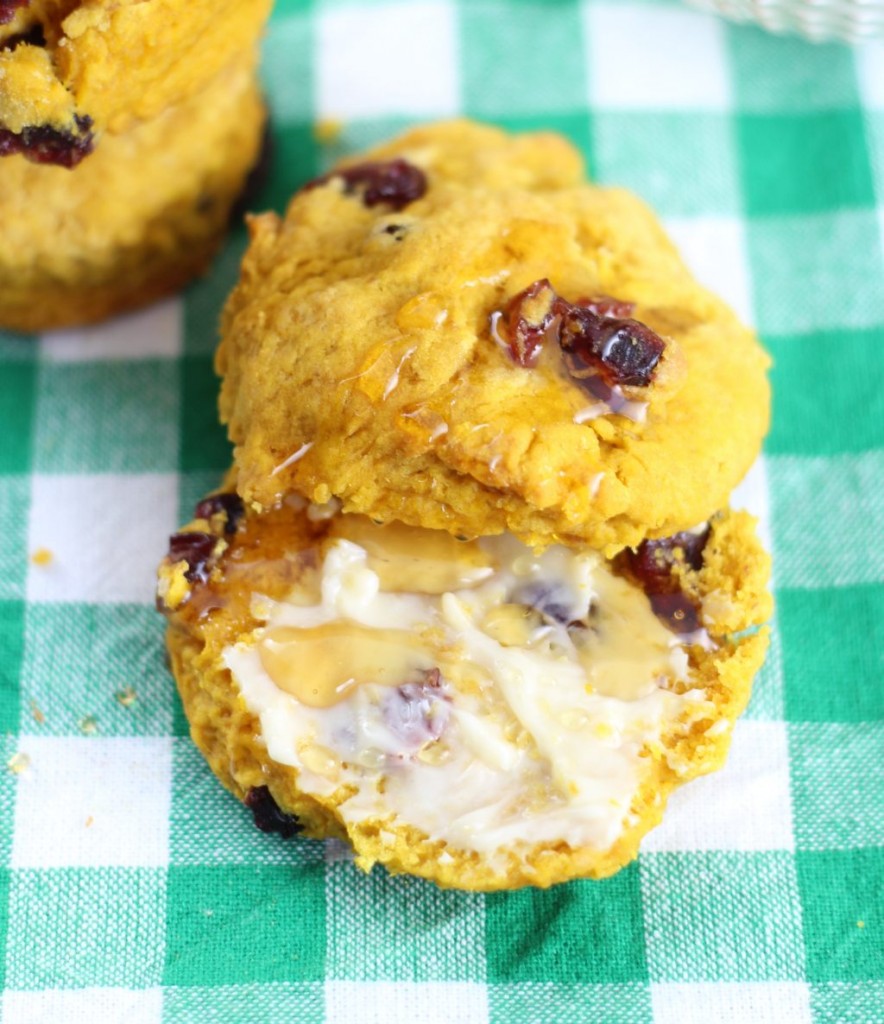 So now you know that these are quick and simple, but we haven't talked about flavors. Do we even need to though? Pumpkin. Cranberry. Boom. I feel like there isn't much more to say, because I KNOW everybody loves pumpkin, and I feel pretty confident that you'd like the addition of another delicious seasonal favorite – cranberries. Cranberries are always a hit too.
These two make for a delightful pair, and the biscuits are perfect for sharing at your holiday brunches or dinners throughout the season. They're flaky and buttery, and full of the best of fall flavors!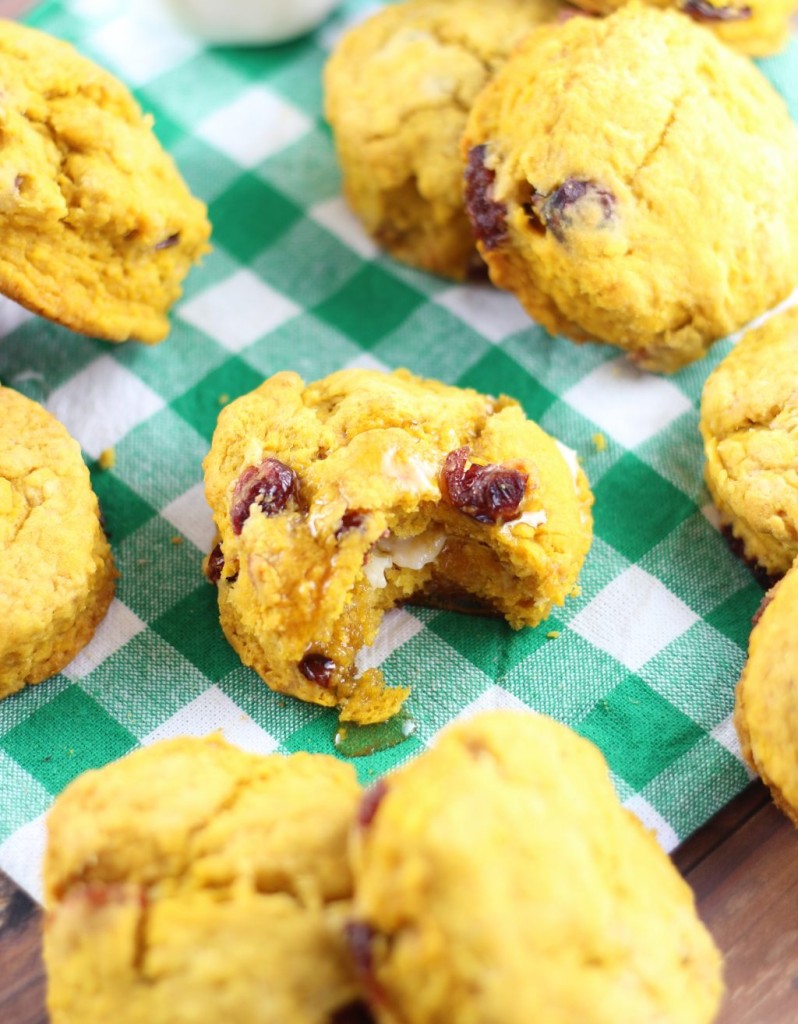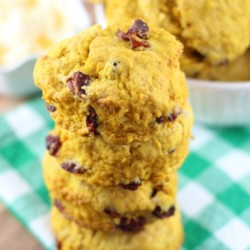 Pumpkin Cranberry Biscuits
Ready in 30 minutes, these pumpkin cranberry biscuits are quick, easy, tender, buttery, and full of favorite seasonal flavors!
Ingredients
1 3/4

c.

flour

3

tbsp.

brown sugar

2 1/2

tsp.

baking powder

1/2

tsp.

baking soda

1

tsp.

salt

8

tbsp.

cold unsalted butter

1

c.

canned pumpkin puree

chilled

1/3

c.

buttermilk or sour milk

I used sour milk

1

c.

dried cranberries

1

tbsp.

salted butter

melted
Instructions
In a large bowl, combine flour, brown sugar, baking powder, baking soda, and salt.

Use a grater to grate in the cold butter, mixing until it resembles coarse meal with some small lumps of butter remaining.

In a small bowl, whisk together the pumpkin puree and buttermilk.

Add the pumpkin mixture and the dried cranberries to the flour mixture, stirring until just combined. Do not overmix.

Turn the dough out onto a lightly floured surface and knead gently, 5-6 times, or until dough comes together, but is still slightly lumpy.

Shape into a disk, about 1-inch thick.

Using a 2-inch biscuit cutter or round cookie cutter, cut out biscuits as close together as possible.

Arrange the biscuits into lightly greased 8-inch round cake pans, leaving about 1/2-inch space between them.

Brush each biscuit with melted butter.

Bake at 425 degrees for 18-20 minutes, or until they're pale golden brown at the edges. Best served warm, but delicious in any form!