The cornbread is ultra-moist and flavorful thanks to the addition of caramelized apples and pecans, two fall favorites!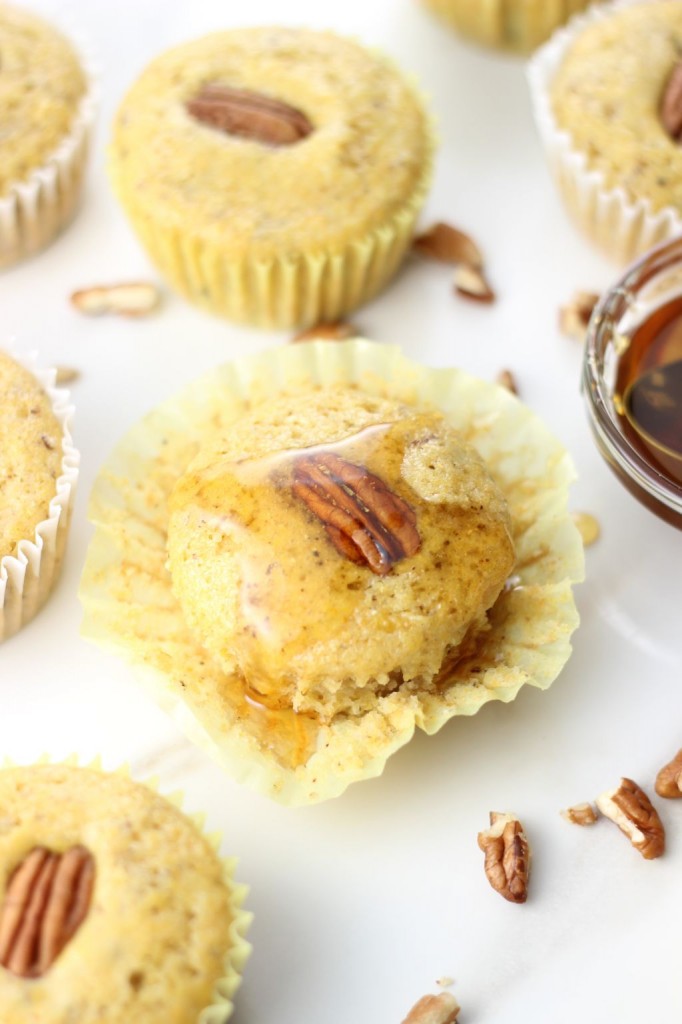 I've gone down a similar road before. Twice. You may have read about my first attempt  last year in my 2014 Recipe Fails. I thought that Honey Apple Cornbread sounded incredible. I love sweet cornbread. Correction: I love sweet ANYTHING, let's be real.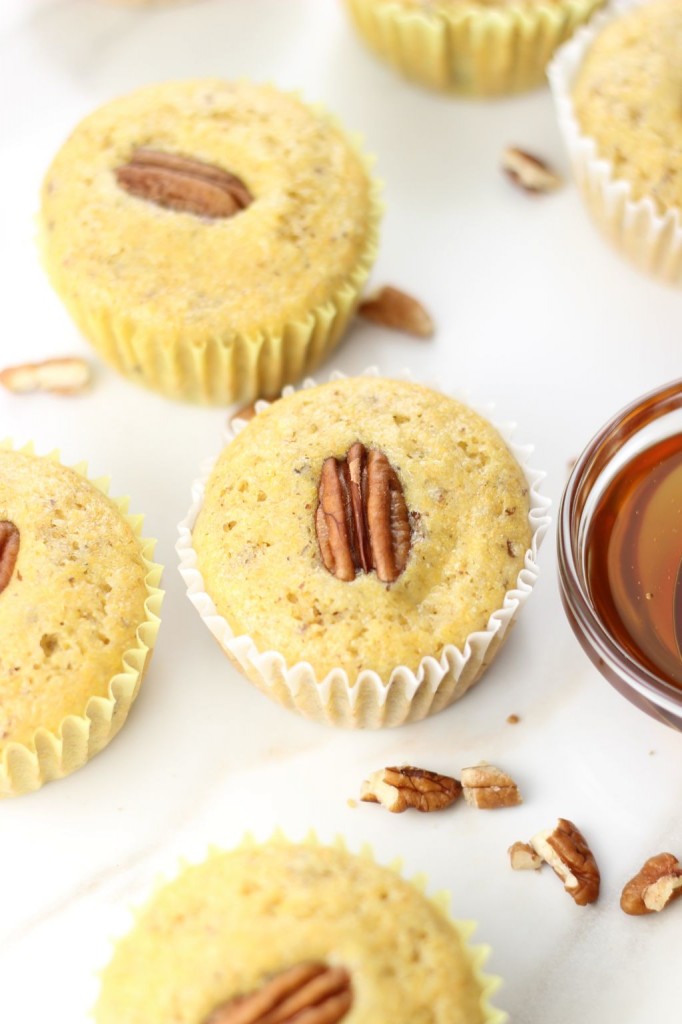 The idea of that cornbread was great, but the execution was epically disgusting. NOT a good result, at all. Scrapped the Honey Apple Cornbread altogether, and instead for Round 2 I decided on caramelized apple & sage cornbread.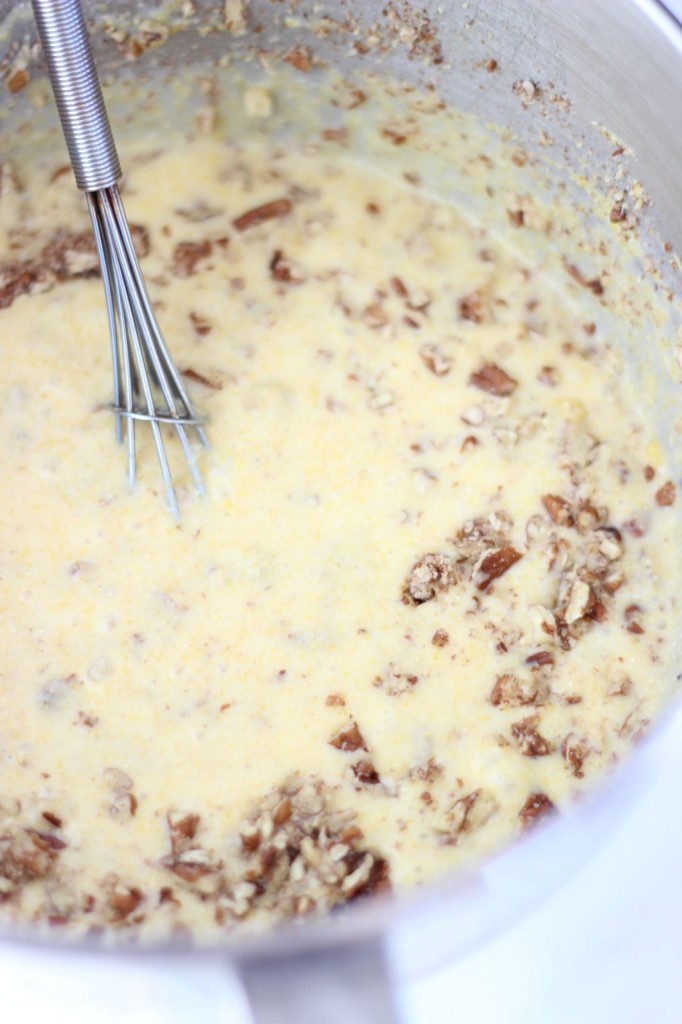 Cornbread can go sweet or savory, and of course I like it sweet, but I was feeling the savory vibe because I was pretty hooked on sage last fall. Especially if it was fried…. crispy fried sage leaves are incredible, and I was wanting to stash them in everything. The caramelized apple was a winner (much improved over regular apples), and so was the sage, but I just used waaaaaaaay too much of it. You'll see that recipe appear in this year's fails, unfortunately.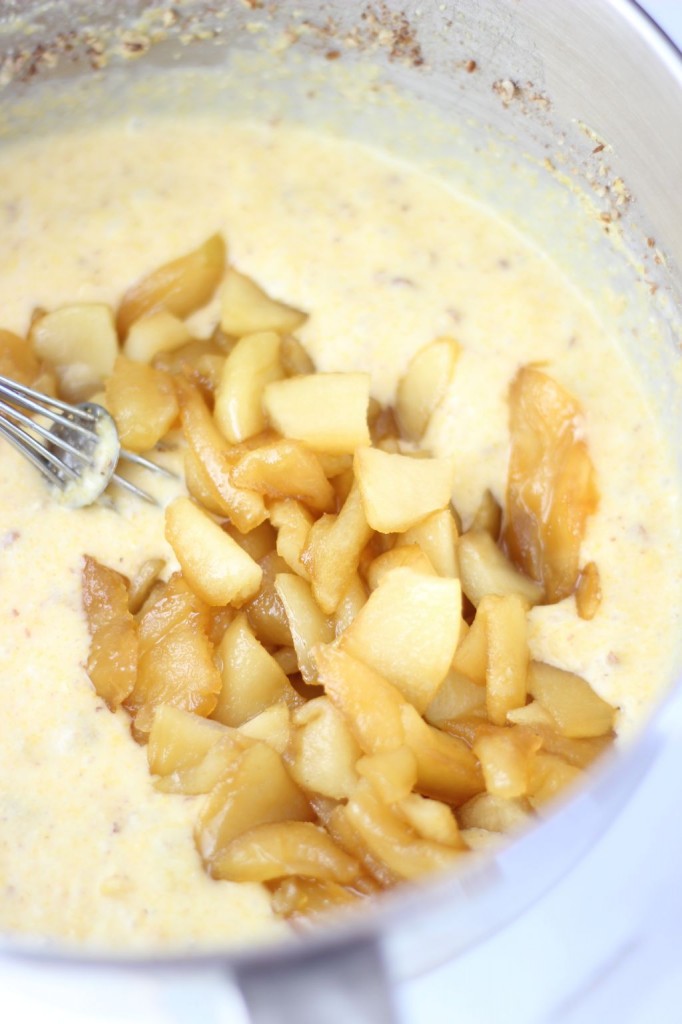 No matter though – I will make it again at some point and will nail it, but by the time I wanted to keep after it, the holidays were over, and nobody was interested in cornbread anymore. Hmph.
This year I have two uber-successful cornbread recipes to share. I love them both, but in different ways.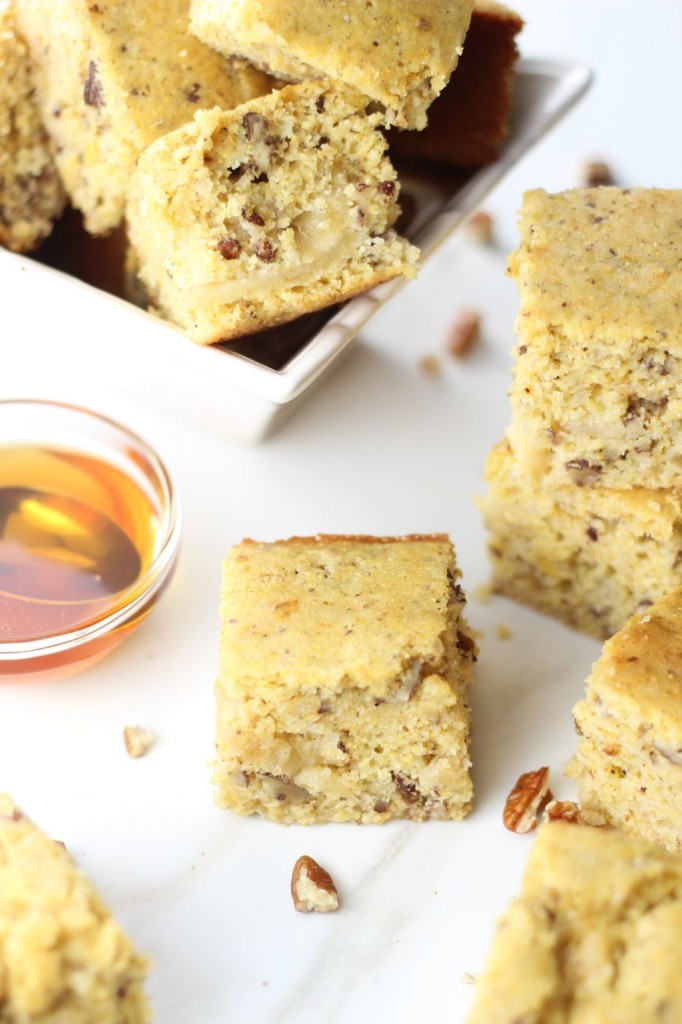 This Caramelized Apple & Pecan Cornbread makes me happy because I finally incorporated apples into cornbread in a way that worked deliciously. Apples just have to be caramelized first to function well in baked goods. If they aren't, they get soggy and mushy, and are flavorless. If caramelized first in butter and brown sugar, they taste better at the outset (because, hello, butter and brown sugar…), but they also bake much better, holding their texture and flavors.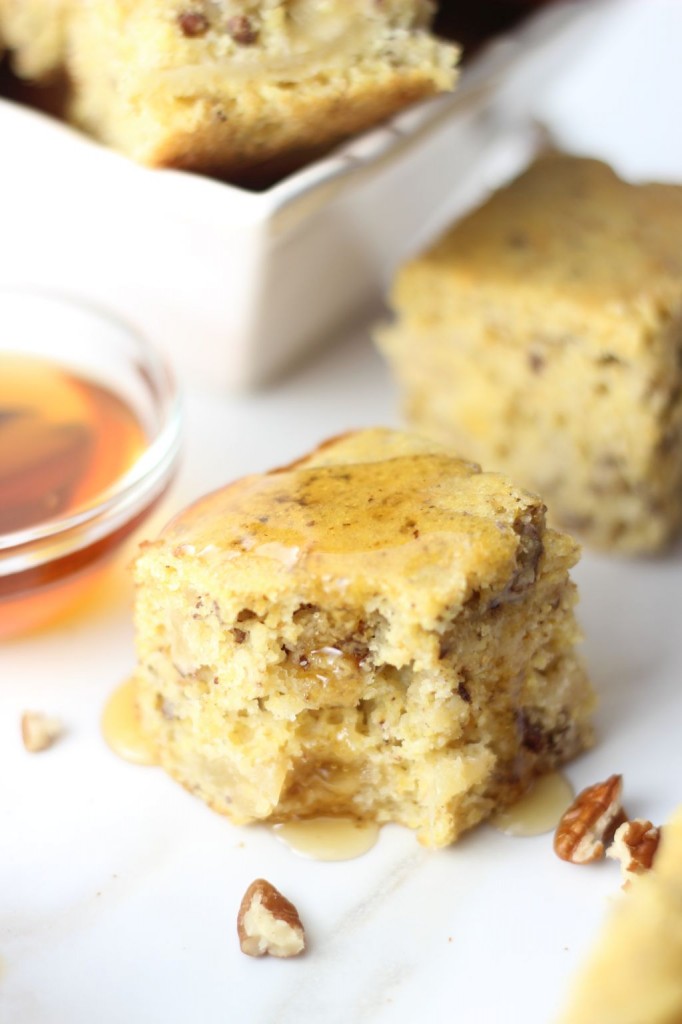 And pecans, well, they're just my favorite nut of life, and they are the first nut I think of when I think of fall baking and cornbread. I dunno. That's all I got for rationalization. It's where I went with this, and the decision was good.
It's everything I love in cornbread and I hope you love it too. It's sweet, moist (veeeery), flavorful, and 'fall-like'!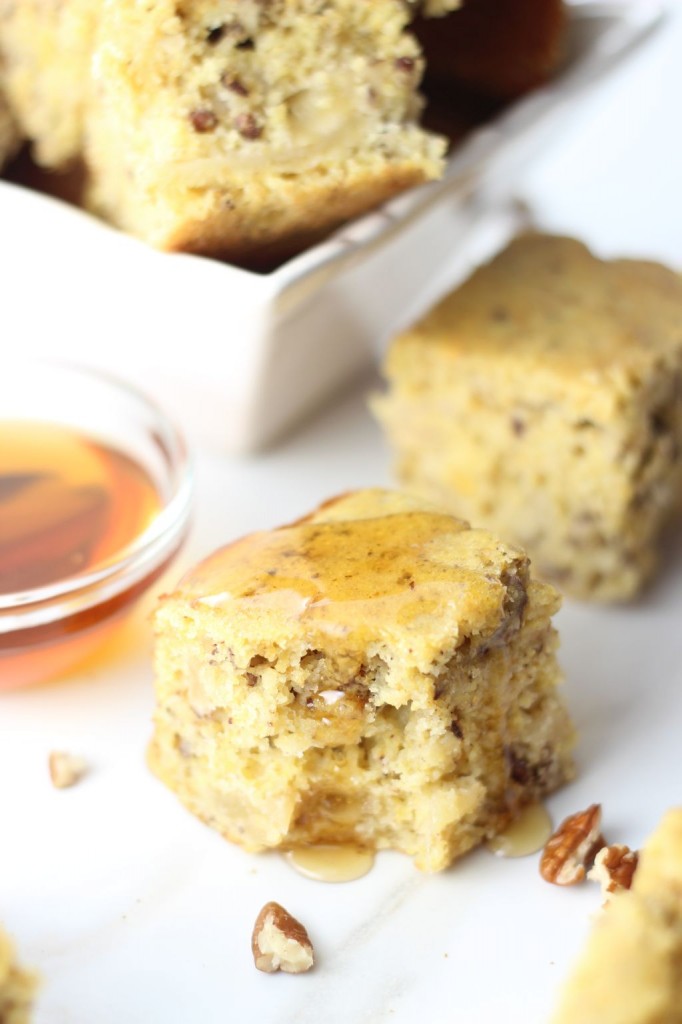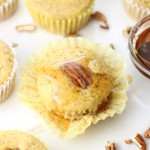 Caramelized Apple & Pecan Cornbread
The cornbread is ultra-moist and flavorful thanks to the addition of caramelized apples and pecans, two fall favorites!
Ingredients
2

large apples

peeled, diced (I love Granny Smith for baking)

3

tbsp.

unsalted butter

1/4

c.

brown sugar

1 1/2

c.

yellow cornmeal

1 1/3

c.

flour

1/2

c.

sugar

2

tsp.

baking powder

1/2

tsp.

baking soda

1 1/2

c.

buttermilk or sour milk

3/4

c.

canned creamed corn

3

eggs

1/2

c.

unsalted butter

melted, slightly cooled

1

c.

chopped pecans
Instructions
In a large saucepan over medium heat, combine the diced apples, butter, and brown sugar.

Cook, stirring occasionally, until the apples start to soften and brown, about 4-5 minutes. Set aside to cool.

Meanwhile, in a large bowl, combine yellow cornmeal, flour, sugar, baking powder, and baking soda, stirring them altogether.

In a small bowl, combine buttermilk, creamed corn, eggs, and butter, stirring them altogether.

Add the wet ingredients to the dry ingredients, stirring until just combined. Do not overmix.

Fold in the apples and pecans.

Lightly grease an 8x8-inch baking pan, and line 8 regular-sized muffin cups with paper liners (or to make all muffins, you'll need to line about 16 muffin cups).

Fill the 8x8 pan 2/3 full, and each muffin cup 2/3 full.

Bake at 400 degrees - 30 minutes for 8x8 pan, and 10-12 minutes for muffins, or until edges are golden brown.

Remove pans to a wire rack to cool. DEVOUR!!