Traditional pecan pie gets a bright and fresh makeover with the addition of orange zest, orange juice, and shredded coconut! Sweet and rich, but tastes lighter and brighter too!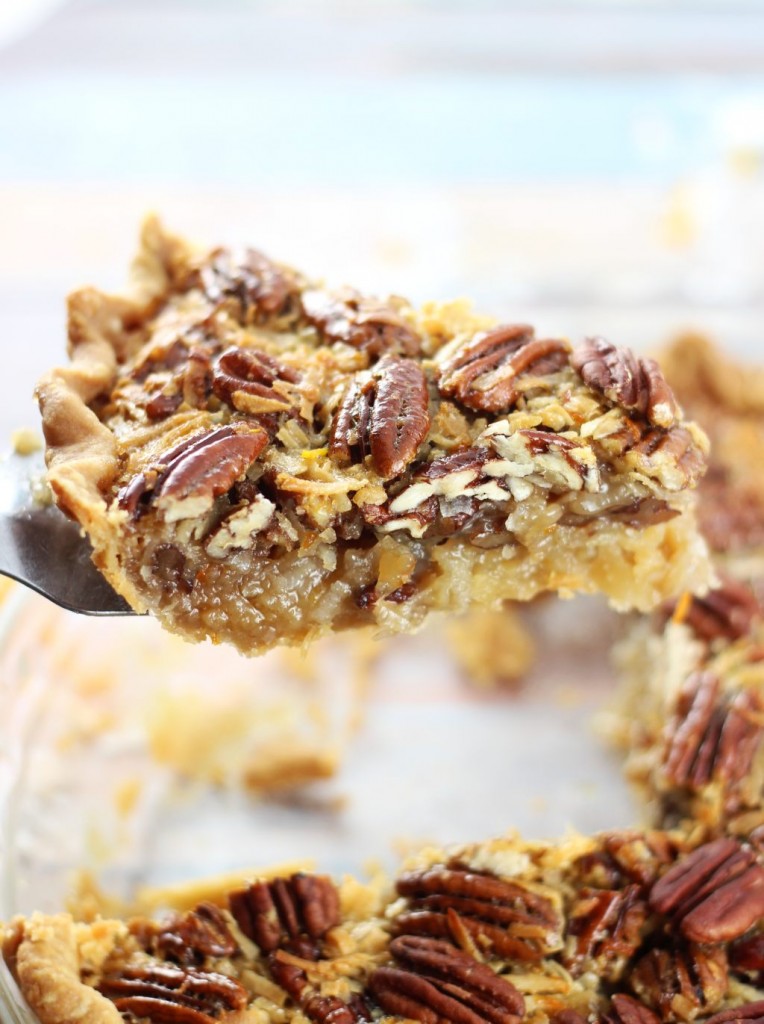 I promised you another pecan pie recipe, and dang it, you'll get it. It won't be in time for the holidays, obviously, but you'll get it. It will be WAY ahead of time for next Christmas. Yikes. Who can even think about that right now? Forget I mentioned next Christmas.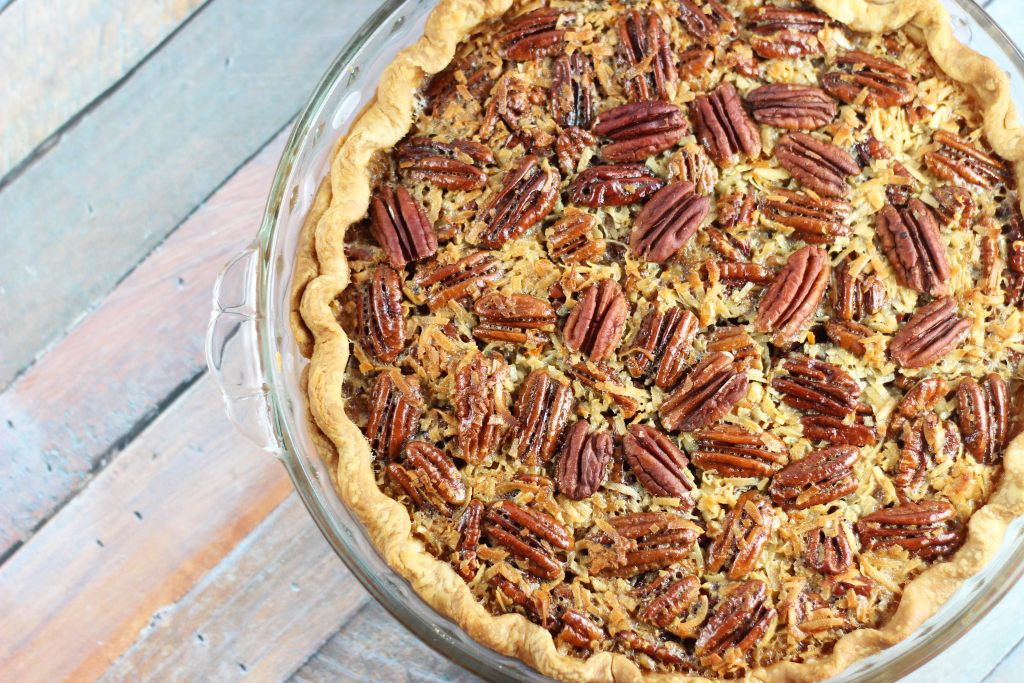 I made a trio of pecan pies this year. I shared this Brown Butter Bourbon Pecan Pie (which has received many great reviews), and this Chocolate Espresso Pecan Pie, which is to-die-for. I scarcely have the right words for properly describing what a gem that one is.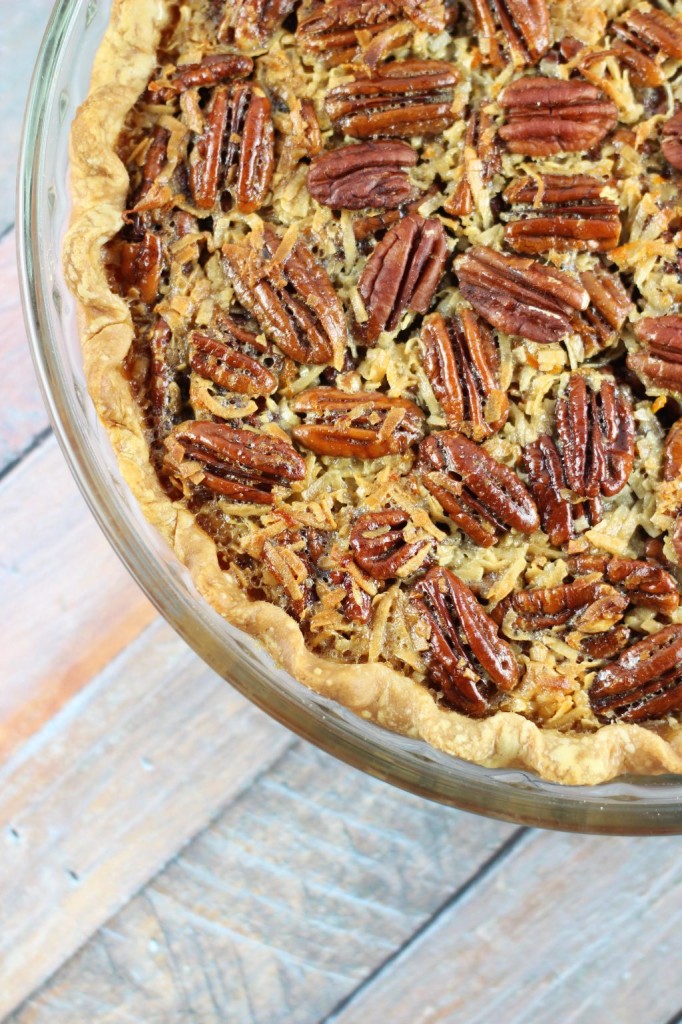 I rounded out my infatuation with baking nut pies with this Orange Coconut Pecan Pie.
It would be truly impossible to tell you which of these three is my favorite. They are all awesome pecan pie recipes, but in different ways.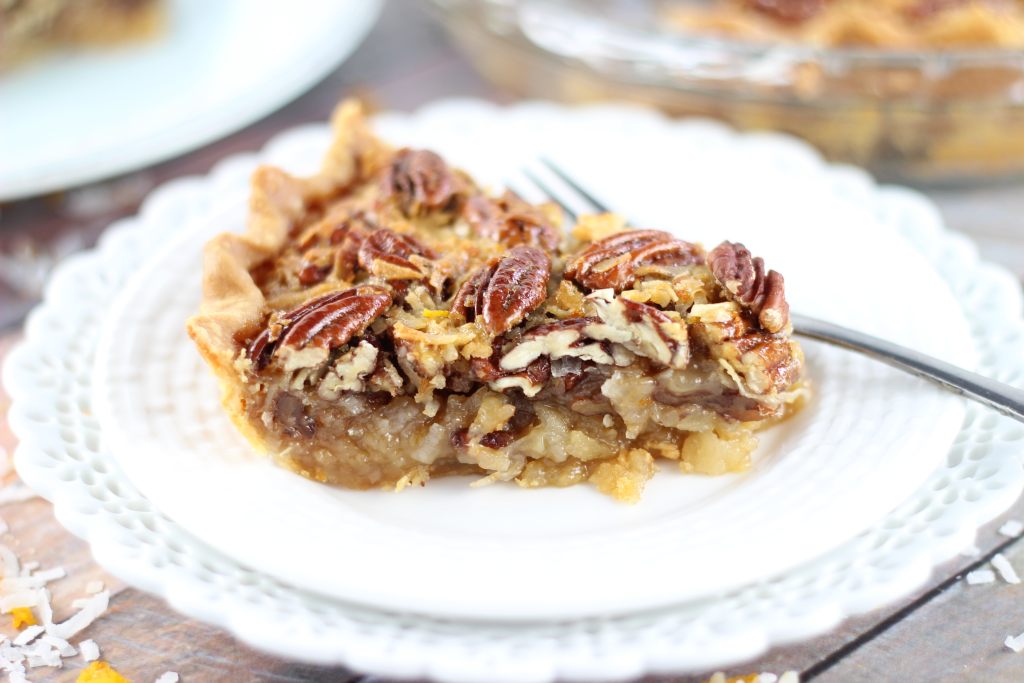 The Brown Butter Bourbon version and the Chocolate Espresso recipe are both deep and rich and heavy. They are not light, but rather they are decadent and gooey with sticky sweetness.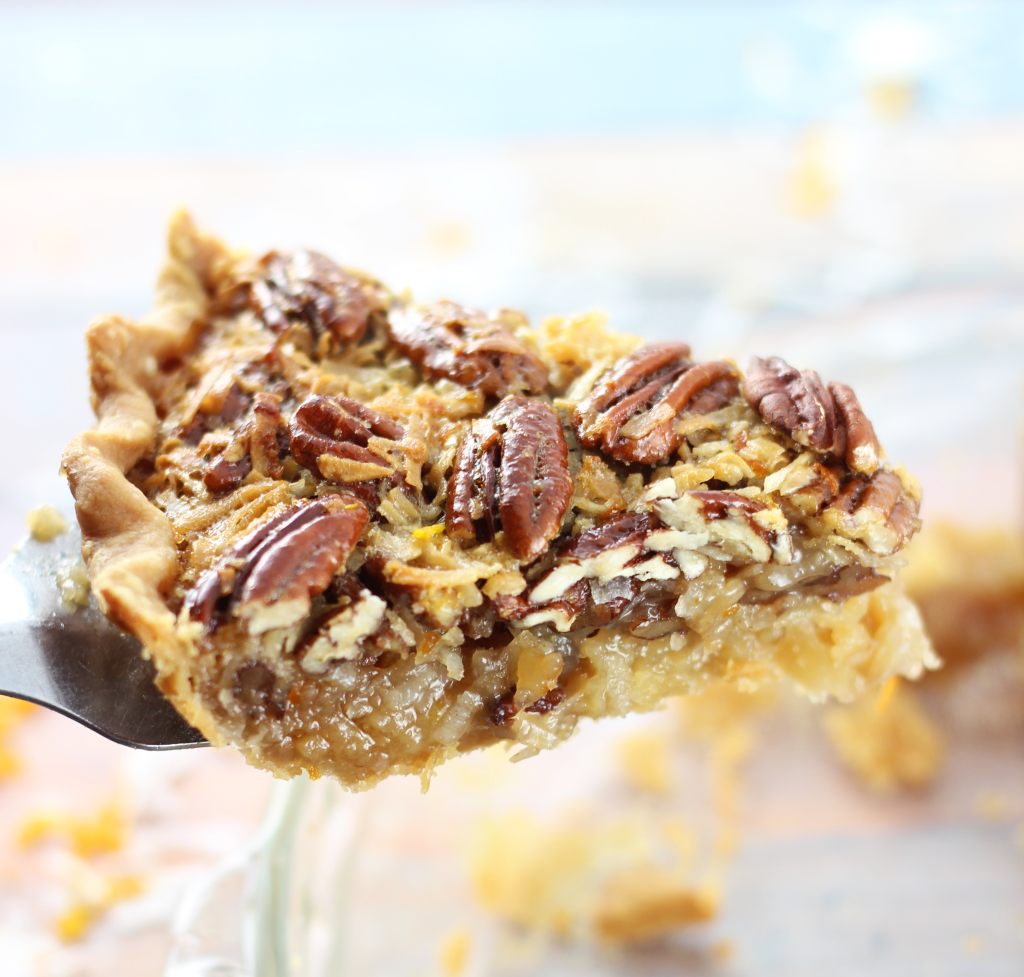 Actually, this Orange Coconut Pecan Pie is also gooey and sticky and sweet, but it feels lighter and brighter because of the citrus and coconut. It's strange to think of a pie as refreshing, let alone a pecan pie, but the orange zest, orange juice, and coconut made this pie feel sunny and refreshing, while still being wintry and holiday-ish.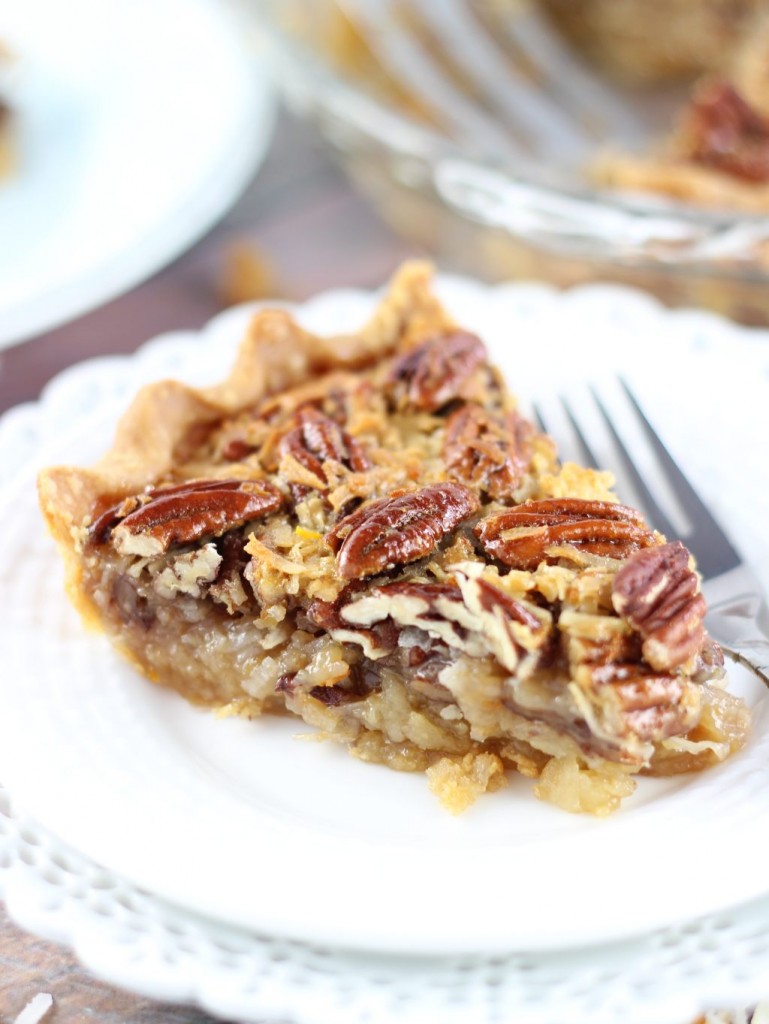 It warrants a spot on your Christmas dessert table (I know, I know, Christmas is over), but also, if you crave a pecan pie in the spring or summer, this is the one you go with. Like, Easter, for example. This pecan pie is zesty and fresh, so it's fitting for the warmer months too.
Do you really need an excuse to eat pecan pie whenever you want though?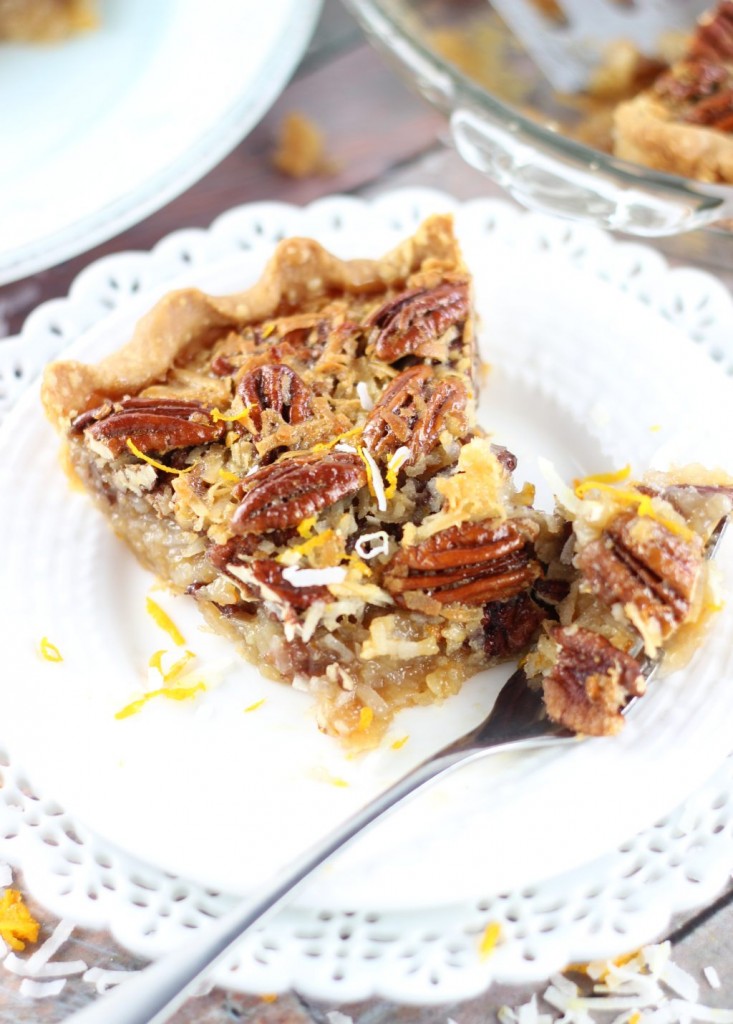 Oh, and I almost forgot that it has all the wonderfulness of a classic pecan pie, liiiiike pecans. We never did talk about those. Buttery, toasted pecans that are swimming in brown sugar goodness.
It's also remarkably simple! Nope, it does get much better than this. Christmas or not, any day can be a pecan pie day.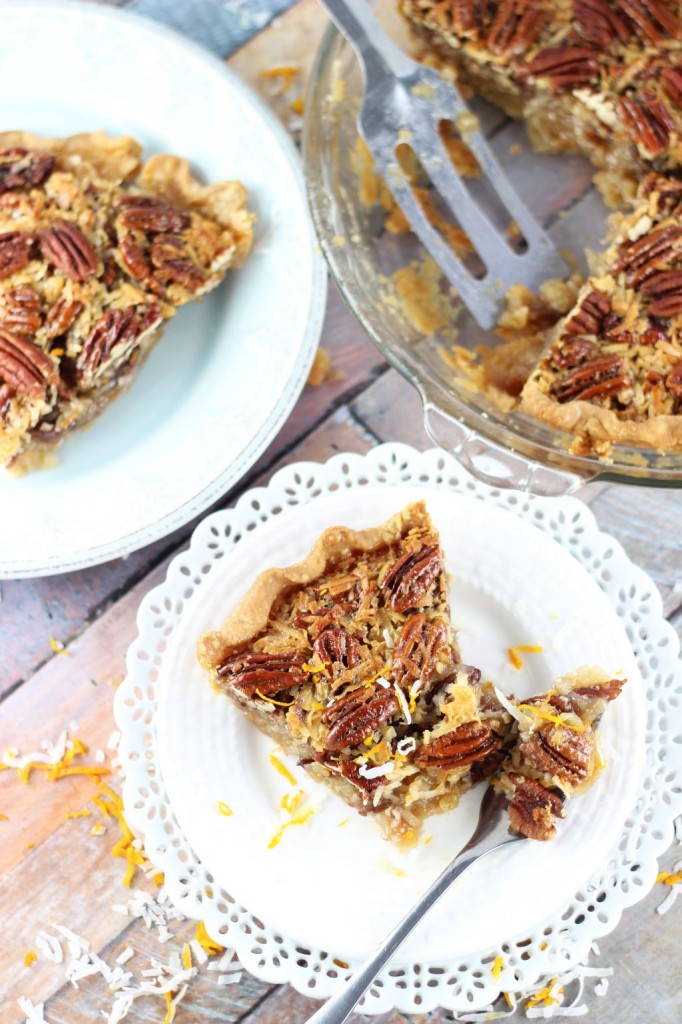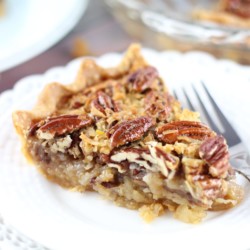 Orange Coconut Pecan Pie
Traditional pecan pie gets a bright and fresh makeover with the addition of orange zest, orange juice, and shredded coconut!
Ingredients
1 - 9-

inch

unbaked prepared pie crust

3

eggs

1

c.

light corn syrup

1/2

c.

sugar

1/4

c.

packed brown sugar

1/4

c.

fresh orange juice

zest of 1 orange

2

tbsp.

unsalted butter

melted

2

c.

pecan halves

1

c.

shredded coconut
Instructions
Carefully unroll the pie crust, and arrange it in a 9-inch pie plate. Crimp or scallop the edges of the crust.

In a large bowl, whisk together eggs, corn syrup, sugar, brown sugar, orange juice, orange zest, and butter.

Stir in pecans and coconut.

Pour into pie crust.

Bake at 350 degrees for 45-50 min, or until a toothpick inserted near the center comes out clean.

Remove from heat to a wire rack to cool. Cut and serve. EAT!!
Adapted from this recipe.