Traditional sweet and gooey pecan pie gets a makeover with the addition of rich and melty chocolate, and coffee!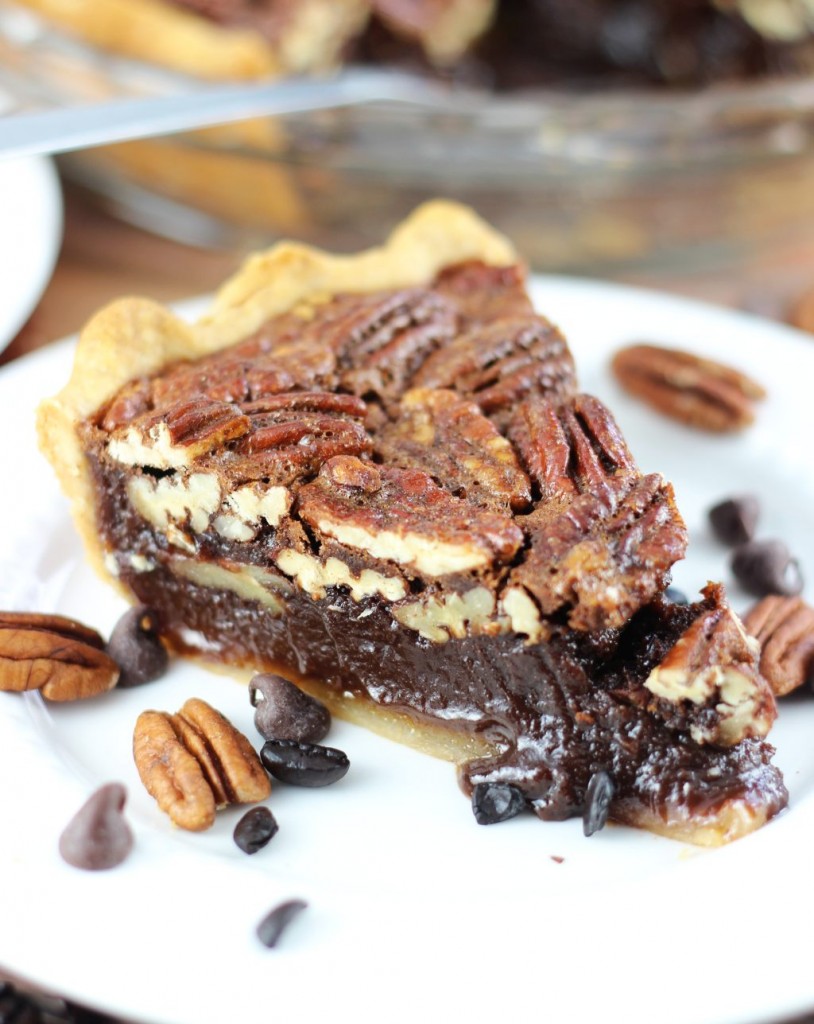 Sometimes (most of the time), I feel like I don't have the right words to really capture just how good something is. I also don't feel like I have the photography skills (yet) to best capture how good something is either.
I'm always saying "just trust me." But really, you'll just have to keep trusting me!!
I love a classic pecan pie, but this Chocolate Espresso Pecan Pie takes the cake pie. It is virtually indescribable. Amazeballs, if you will.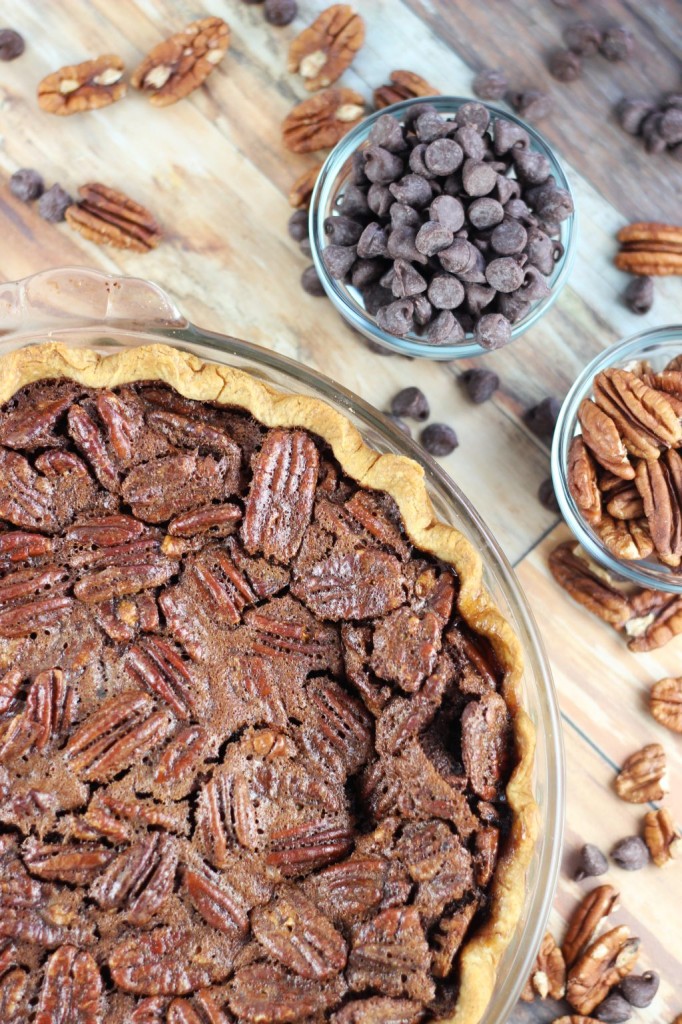 It's the perfect amount of coffee and the perfect amount of chocolate. Neither one overtakes the other, and neither dominates the traditional pecan pie flavors either. Chocolate and coffee together are really something special.
This pie still has all the brown sugar goodness, sweet, sticky, ooey-gooey filling that you know and love in a classic pecan pie, but is exceptionally rich with a heap of melted chocolate, and a jolt of coffee.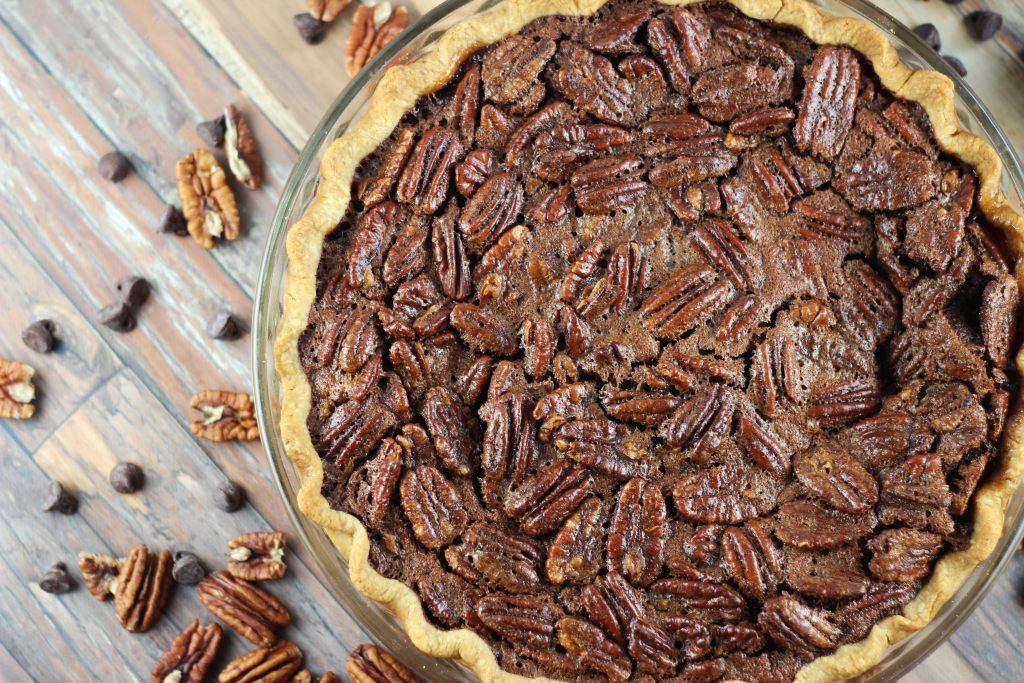 I made a trio of pecan pies a few months ago leading up to the holidays, and it's hard to say which I love the most. Don't make me choose. They're all splendid in different ways. I shared a Brown Butter Bourbon Pecan Pie before Thanksgiving, and I have a third twist on pecan pie coming up in a few days.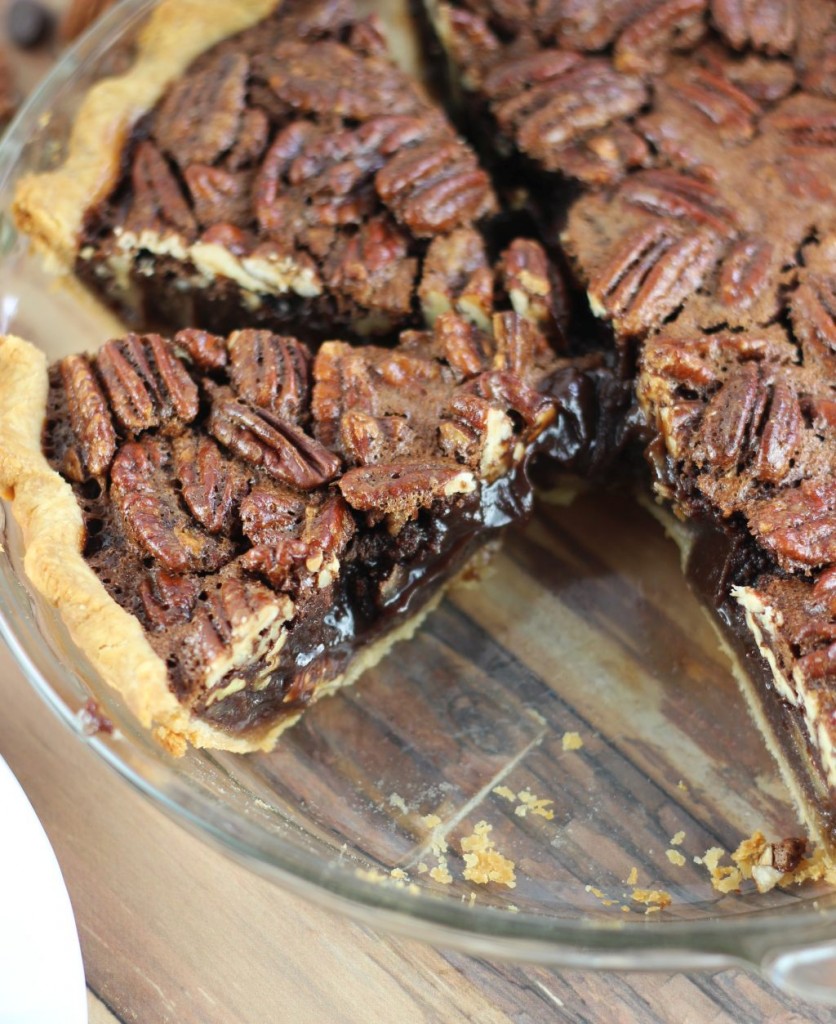 Not going to lie – I used prepared pie crusts for ALL of them. I just can't make myself roll pie crusts lately.
I have to point out my S.O.'s contribution to this post… beyond just eating the pie. When I was shooting the photos, he said: Hey, there's coffee in this. Why don't you have coffee beans in the shoot?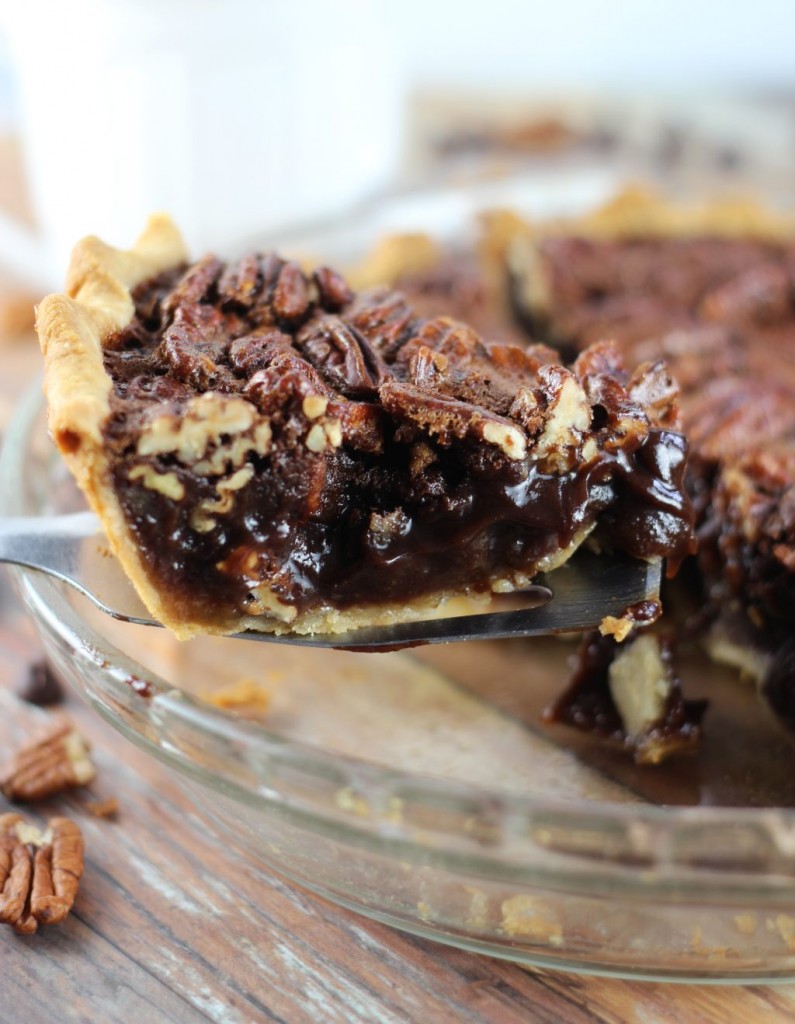 Yeah, why don't I have coffee beans in the shoot?? Two heads are better than one. I had everything else I needed to show the ingredients – chocolate chips, pecans, but no coffee beans. It's a minor thing, but I appreciated that he pointed out my oversight. Why didn't I think of that?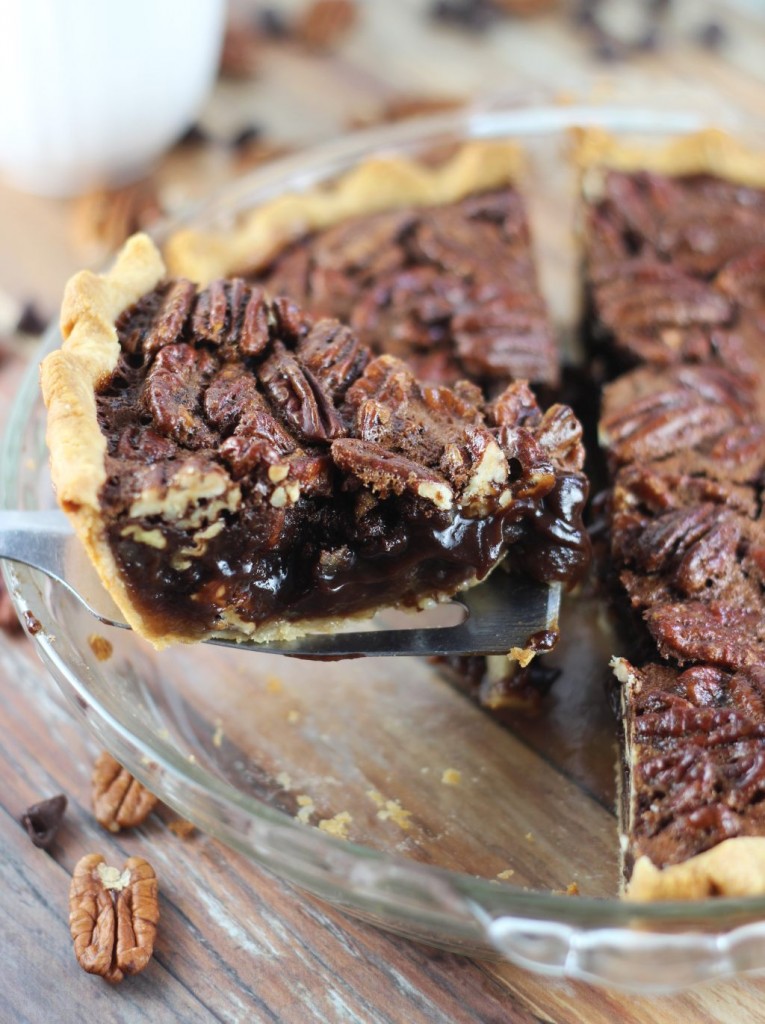 This is not not the first time that he's given me some valuable advice during a photo shoot. For a total non-creative type, he can definitely have his moments of helpfulness and profound insight. God bless him.
You know what else he did to help me out? He stole that fork from Germany for me, strictly for blog prop purposes. Isn't he a keeper? Smuggling utensils into the country? It wasn't the souvenir I'd asked for (hello, soft pretzels and beer!), but it was even better!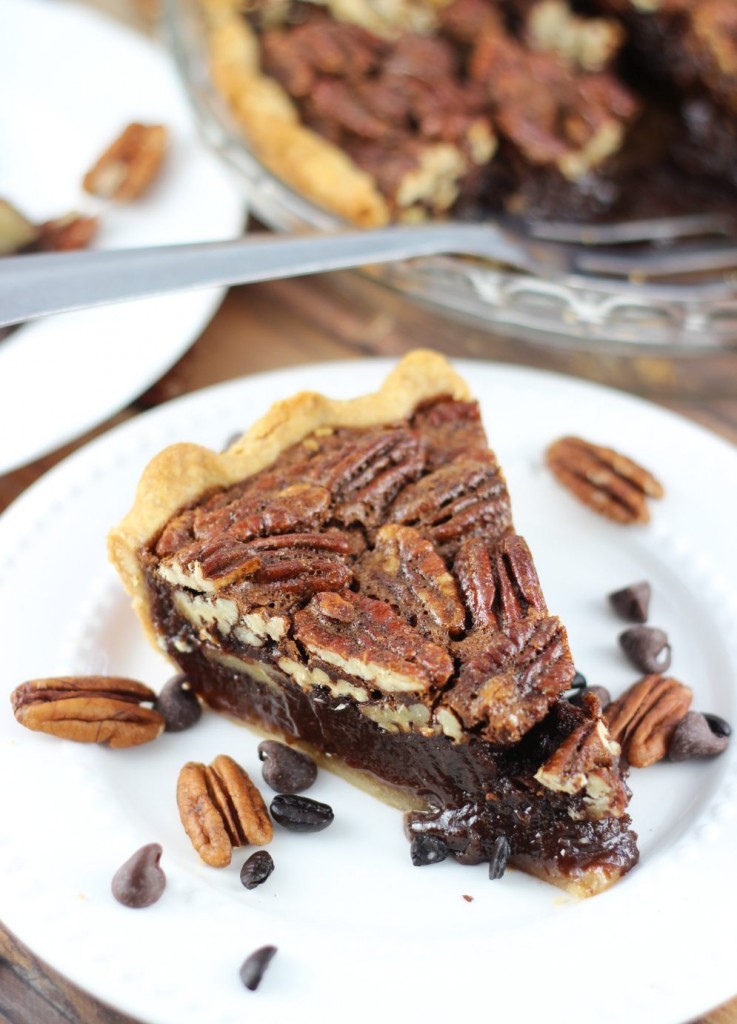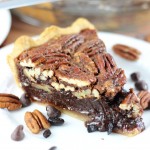 Chocolate Espresso Pecan Pie
Traditional pecan pie gets a makeover with the addition of chocolate and espresso flavors!
Ingredients
1 - 9-

inch

unbaked prepared pie crust

1 - 4

oz.

bar semi-sweet baking chocolate

coarsely chopped

4

tbsp.

unsalted butter

2

tbsp.

instant coffee granules

1

tbsp.

hot water

4

large eggs

1/2

c.

light corn syrup

1/2

c.

dark corn syrup

1

c.

sugar

2

c.

pecan halves
Instructions
Carefully unroll the pie crust, and arrange it in a 9-inch pie plate. Crimp or scallop the edges of the crust.

In a small bowl, combine the chocolate and butter.

Microwave for 30-second intervals until the chocolate is melted, and the mixture is smooth.

In a small cup or mug, combine the instant coffee and water.

Stir until the coffee granules dissolve.

In a large bowl, combine the eggs, light corn syrup, dark corn syrup, and sugar, whisking until combined.

Add the coffee mixture and chocolate mixture to the egg mixture.

Carefully fold in the pecans.

Pour into the prepared pie crust.

Bake at 350 degrees for 45-50 minutes, or until it begins to puff in the middle and appears set.

Remove to a wire rack to cool completely.

Chill thoroughly before cutting and serving, at least 2 hours.